🎉🎉🎉 Greetings, fellow WordPress enthusiasts! The moment you've been waiting for has arrived – Otter Blocks Version 2.4 is here to revolutionize your content creation journey. Picture having your very own AI-powered writing assistant, always ready to craft brilliant content with ease. In this post, we're going to unveil the incredible features that make Otter Blocks 2.4 a game-changer.
But wait, there's more!
In addition to these incredible AI-powered tools, we have a lineup of other exciting upgrades ready to be revealed. Keep reading to learn how you can enhance your WordPress experience with all the new Otter Blocks 2.4 features. 🤩
🧠 Content generation with AI inside Otter Blocks
Tired of staring at a blank screen, struggling to find the perfect words for your content?
Say hello to your new best friend: AI content generation!
With Otter Blocks 2.4, we've integrated powerful AI tools right into your editing environment. Crafting compelling headlines, insightful paragraphs, and well-organized lists has never been easier.
No more creative roadblock – simply tell the AI what you need, and watch the magic happen. It's like having a creative assistant right at your fingertips, ready to bring your content ideas to life. You'll find the AI content generator inside our AI block, making content creation a breeze.
Using the AI toolbar, you can effortlessly create headings, summarize text, adjust tone, and more with a simple click. Say goodbye to the hassle of switching between tools – these powerful AI features are designed to streamline your content creation process and unlock your content's full potential. Give them a try and experience the difference for yourself!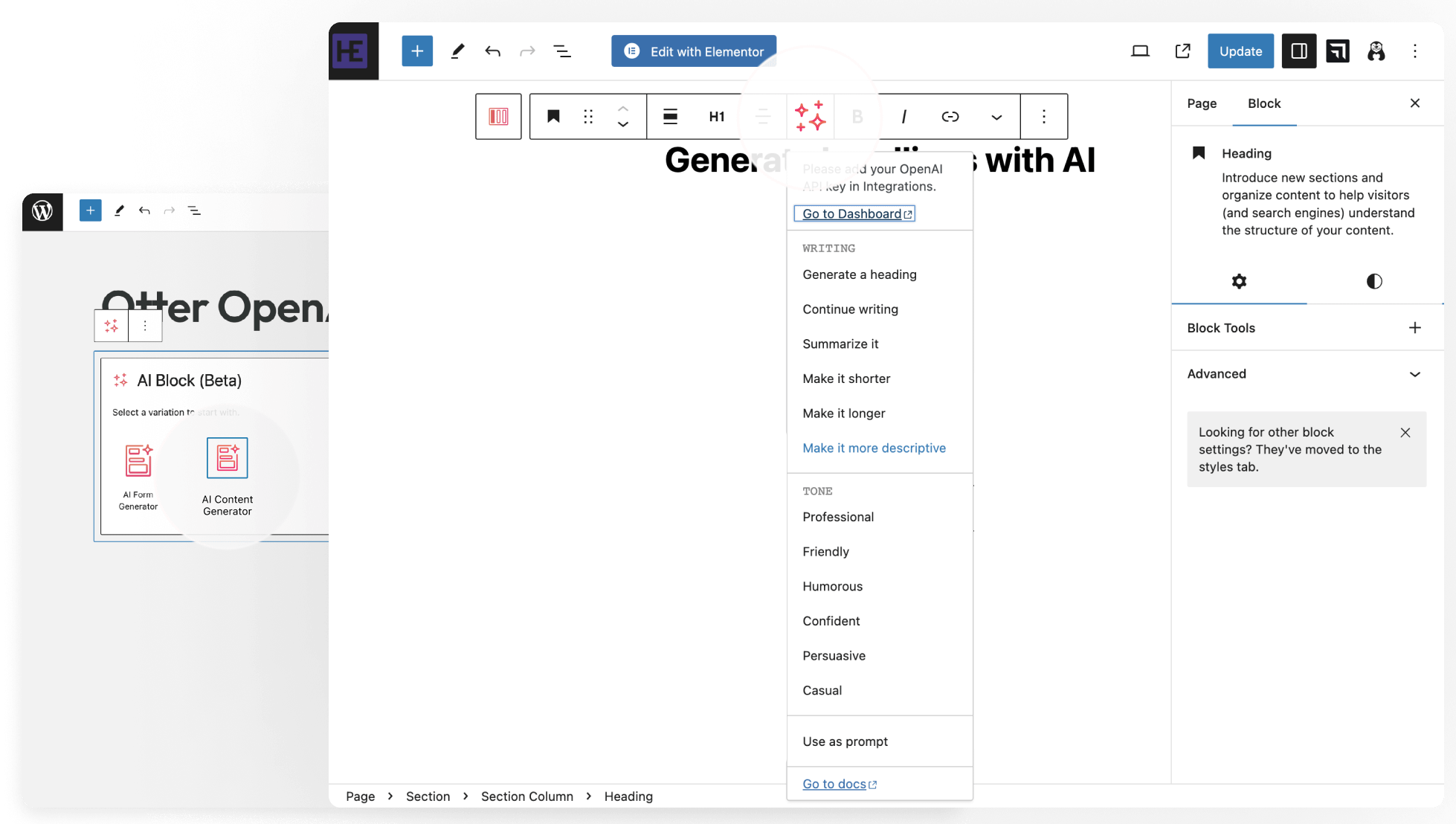 ✨ Introducing AI form generator
Otter Blocks now proudly presents the AI Form Generator. We've integrated OpenAI into our plugin, allowing you to seamlessly add your OpenAI API and leverage its capabilities. This gem resides within our AI Block. Add it to your editor, and you'll discover a world of possibilities for crafting forms like never before.
Meet Emily, just an everyday user like you and me. She stumbled upon the AI Form Generator, and it transformed her form creation process. Emily simply inputs her topic, hits "Generate," and voila! Custom forms are ready to roll. No hassle, no stress – it's like having a form-making companion by her side.
🌐 Form Webhook integration
Ever dreamed of automating tasks and effortlessly connecting your forms to your favorite apps? Dream no more! Our Form Webhook Integration, available exclusively in Otter Pro, is your secret weapon for making data dance to your tune.
Meet Mike, a tech-savvy user, who has unlocked the wonders of Webhook Integration. With this powerful tool, he seamlessly links his favorite apps, such as Zapier or IFTTT, and automates tasks with ease. Whether it's sending data to his CRM or triggering notifications, Mike sets it in motion, and Webhook Integration takes care of the rest. It's like having a tech-savvy assistant simplifying his daily grind.
👨‍🎓 To learn more about Webhook integration, you can explore our comprehensive documentation.
💳 Form Stripe Addon
If you've ever considered monetizing your forms, you're in for a delightful surprise! Our Form Stripe Addon, available exclusively in Otter Pro, simplifies the process of collecting payments.
🔎 Looking to create a donation form using Otter Blocks? We've got you covered! Check out our detailed, step-by-step guide to build one.
Introducing the "Hidden" field in our Form block. This feature is your ticket to effortlessly track essential data, like UTM parameters from your page's URL. It's designed to keep things user-friendly while offering admin-exclusive functionality. Take your tracking game to the next level!
📈 If you want to build a complete traffic tracking system using Otter Blocks Hidden Field, check out our complete documentation.
Let's conclude
We hope you're as excited about the features in Otter Blocks Version 2.4 as we are! With AI-powered content generation, seamless form creation, and a host of other enhancements, your website-building journey just got smoother.
But we're not stopping here – the journey continues, and we have big plans for the future. We're committed to improving your WordPress experience, and there's more on the horizon. Cheers to what's to come!
Show us some love ❤️
Click the "Click to Tweet" button below to share your thoughts on the Otter Blocks v2.4 release. Your tweets are our inspiration, driving us to create exceptional features for WordPress. Let's keep innovating together! 🤝
Free guide
4 Essential Steps to Speed Up
Your WordPress Website
Follow the simple steps in our 4-part mini series
and reduce your loading times by 50-80%. 🚀
Free Access