There are a lot of ways to use Artificial Intelligence (AI) to create content for your website, including images. However, figuring out how to AI generate images for WordPress can be difficult. You need to know what kind of images AI can generate, how to create them, and what to avoid when using these types of files.
If you use the right AI tools in the right way, you'll be able to generate unique images that help make your website more engaging. With AI tools, the possibilities for what kind of images you can generate are almost endless. 🤖
What to consider when using AI-generated images online
AI image generators can create almost any type of image that you want. However, not all tools offer the same styles of images or work well with different types of prompts. If you want to use AI-generated images, you need to understand when and when not to use them.
Most AI image generators don't offer the best results when it comes to graphics that include humans. It's common for images that include humans to come out with quirks or oddities that are easy to spot and that distract from your content: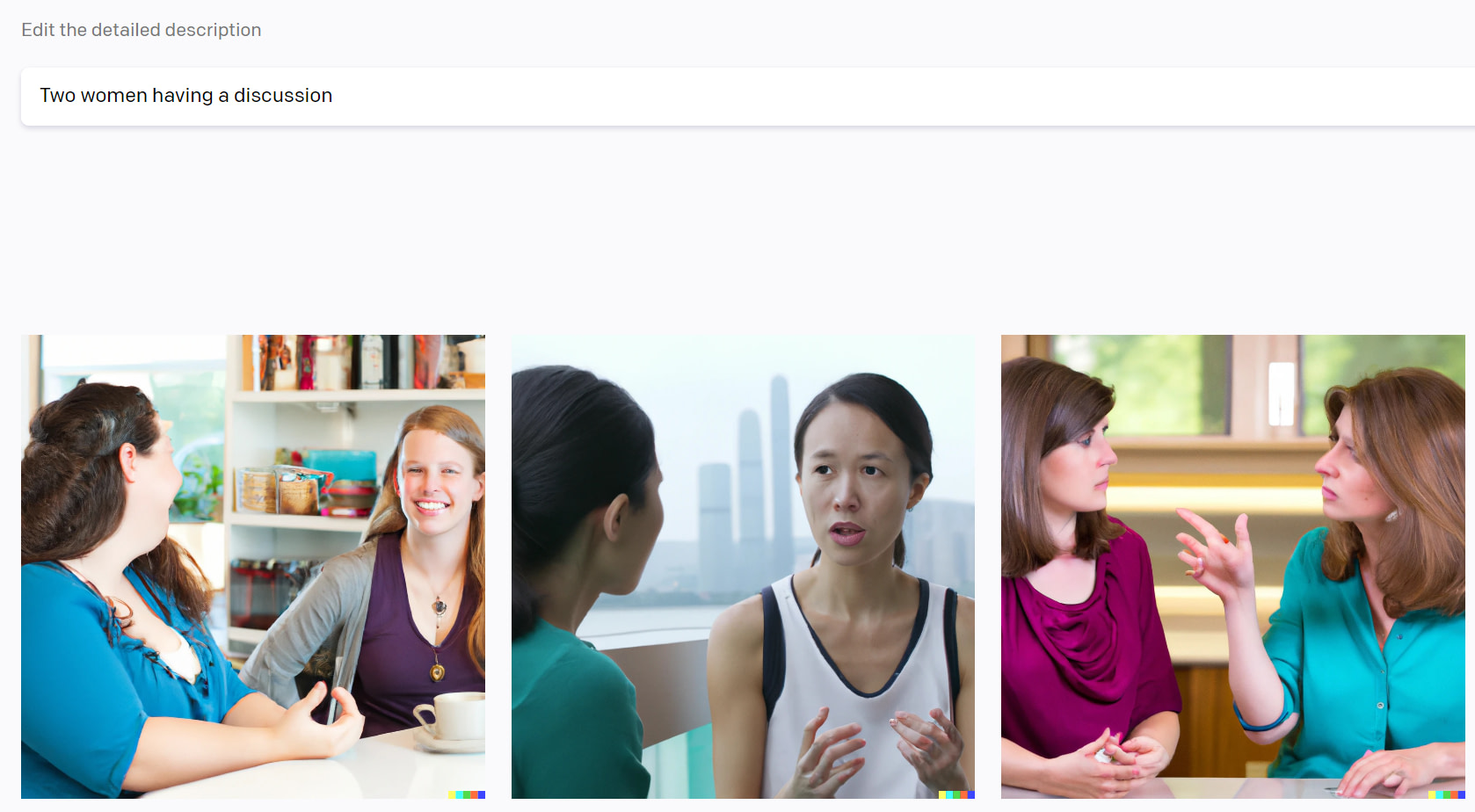 It's also worth noting that you shouldn't use AI to generate branded images. Unless the brand is very well known, the AI tools will likely not be able to represent it well. Moreover, AI image generators tend not to do well when it comes to including text, which can clutter a lot of branded images:
Overall, it makes the most sense to use AI image generators for graphics that highlight your site's content. You can't generate logos or infographics, but you can create images to accompany posts, to use as headers, or in other parts of your site's design.
In terms of legality, at the time of this writing, it's technically a gray area. However, most tools state that you can use AI-generated work produced by them on your website without attribution. That means you don't need to link back to them (unless a specific tool says otherwise). Though to be on the safe side, we recommend avoiding using AI-generated images that depict specific products or brands in a negative light.
How to AI generate images for WordPress (or any type of website) in 3 steps
Using AI to generate images for your site (running on WordPress or otherwise) largely comes down to deciding which tool(s) to use and structuring prompts in the right way. Here's how that process works:
Step 1: Consider which AI image generator to use
There are a lot of AI image generators to choose from. For our purposes, we recommend (mostly) free tools such as DALL-E and Adobe Firefly. DALL-E offers you 50 image credits to use when you sign up for an account. Each subsequent month, you get another 15 free image generations.
DALL-E is a solid choice for most types of images. It can generate almost any type of image you want, starting from a prompt. The more detailed the prompt, the better the results that you may get:
Adobe Firefly is in beta, which makes it free for the time being. You can use it on the web by signing up for an Adobe account, even if you don't pay for any of their products.
Firefly enables you to select between several types of graphics for the images you want to generate. Its Digital art setting can be a great option for websites looking for stock graphics, as it uses a versatile cartoon style:
Keep in mind that Adobe Firefly is not likely to remain free forever. Once the product is out of beta, you may need to pay for a subscription to use it, as with other Adobe products.
Step 2: Test different image generation prompts
This step in learning how to AI generate images for WordPress is fairly simple. You need to get a handle on how the AI image generator you're using works. That means testing multiple prompts until you can figure out what wording gets you the best results.
If you've used tools such as ChatGPT before, you should be familiar with this process. Think of it as testing what the AI is capable of, so you know what kind of images you can ask the tool to generate for you. Here, you can see what happens when we ask DALL-E to help us generate an infographic:
For this step, we recommend going through your site and making notes of what types of images you want to add to it. Come up with a prompt for each image and test it to see what the AI generates for you.
Step 3: Fine-tune the prompt to get the best possible images
The first prompt that you use will almost never get you the exact kind of image you want. Depending on your approach, you might need to fine-tune it several times until you get the best possible results.
For example, if you want to include images of teddy bears shopping on your site (and why wouldn't you?) here's what DALL-E might come up with if you use a simple prompt:
The thing is, if you're using an AI image generator, you want to avoid simple prompts. If you want to see teddy bears shopping for shoes, you can use that as a prompt, and the tool will try its best to come up with images that fit that criteria:
Using AI to generate images is nearly instant and, depending on which tool you use, free. That means you're free to re-try prompts until you're happy with the results.
Final thoughts on how to AI generate images for WordPress 🧐
Learning how to AI generate images for WordPress largely comes down to what types of graphics you need and what tools you want to use.
There are a lot of amazing AI image generators you can use (mostly) for free, as long as you're not seeking to create hundreds of images per month. These images can be great elements to include alongside your site's content or to use as part of its design.
👉 If you're looking to try using AI-generated content on your site, here's how the process works for images:
Consider which AI image generator to use.
Test different image-generation prompts.
Fine-tune the prompts to get the best possible images.
Do you have any questions about how to AI generate images for WordPress? Let's talk about them in the comments section below!
Free guide
4 Essential Steps to Speed Up
Your WordPress Website
Follow the simple steps in our 4-part mini series
and reduce your loading times by 50-80%. 🚀
Free Access