Welcome to another edition of Pirate Interviews with Themeisle. Today, we talk with Ahmad Awais about success in the WordPress development world, coding, design, community, and blogging.
Oh, and one more thing… If you missed our last interview, check it out here!
Ahmad Awais Interview – Core contributor, front-end fanatic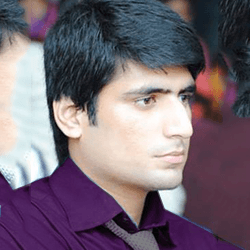 Ahmad Awais is a full stack WordPress developer, WP core contributor, front-end fanatic and an accidental writer. He's deeply involved in everything that's related to WordPress in one way or the other. Writing, public speaking, open source development, you name it…
He is known in the community for his contributions building frameworks, plugin boilerplates, WPGulp, and also more than a couple of dozens of CMS-based websites and other web projects.
Ahmad loves to share his experience with other people, teach and give talks on various WordPress-related topics. He is also a workflow optimist – you can find him sharing/building all sorts of small automation workflows.
Here's our full Ahmad Awais interview:
When and how did you start working with WordPress? Is there an interesting story here?
If my recollection of the lost isn't misleading me, then I used WordPress for the very first time, back in 2004. But it was not until 2007 when I started working with WordPress for building websites for my clients. I have had been blogging for more than 12 years now. I had written this tutorial about building a contact form with PHP, a customer reached out, he wanted me to add a contact form on his static site. Long story short, I ended up installing WP with (new at that time) Contact Form7 plugin. And then I thought, man — this is so cool!
I have been fortunate enough to be introduced to the internet in the late 90s. That was exactly when I stopped playing computer games (as a kid) and jumped into computer programming. Later I ended up becoming an engineer and had freelanced for more than five years in the fields of graphic design (Logo design, Web Design, and then UI/UX) and development.
Throughout my career, I have worked with WordPress in many different positions, as a freelance web developer, contractor, consultant, senior software engineer, lead developer, and once as a manager. Currently, I build products and work with a few clients as a Full Stack Web Developer. I am deeply involved with the WordPress community; I have been contributing to the WordPress Core for every major release since WordPress 4.2; I love to write, talk, build and share everything about WordPress.
Like with everyone else, there's more to the story here, I have written about it in the piece This Part of My Life Is Called … WordPress. If you prefer watching a video, I had a lot of fun talking to John Parkinson at WP.tv WP Community Series.
What's your technique for staying productive throughout the day?
Hah! That's a good one. I am a workflow optimist. IMHO there is no single technique to stay productive. I always keep working on building a better workflow. I keep changing the schedules, and that's mostly how I stay productive.
There are many things that I have done to improve productivity — I have kept more than 3 timetables per day to incubate any unforeseen variables (e.g. having three different schedules for if I wake up at 6 AM, 10 AM or 1 PM), and I have also used a lot of various apps to make things better.
Nowadays, I stay productive by using any of the following techniques
I use Trello; I have a board which incubates the schedule of every single day of a month. I use checklists to keep track of my goals milestones and whatever I get done. Then there are four cards which enlist what I missed or achieved in the current week. I keep using the same cards for every single month — which helps me figure out my backlog, how much time it takes for me to do certain things and in every six months I analyze patterns to help understand how my brain works 🙂 — I know it's not ideal, and it's a lot of work, but I am wired that way. I love Trello.
I use RescueTime to keep track of my time.
Google Keep has become a part of almost my every other workflow. I have it installed on my Android, and since I use Google Chrome, there is a Google Keep app for your Mac or PC. I can save any thought anywhere via Mobile or Mac and share it with my teammates. Add to it, my notes and to-do lists are all synced across the devices.
Off and on, I use the Pomodoro Technique. Since I use Trello, there's a Chrome Extension called Pomello App which combines the Pomodoro technique with Trello. I also use a Pomodoro Time Mac app.
I hate repeating things, which is why I build small scripts, workflows, CLIs to automate my work as much as I can. This keeps me interested in whatever I am working on, and I get to open source a good deal of my workflows. E.g. WPGulp, WP Customizer Snippets for Sublime, Labs (Work In Progress), etc.
And last but not the least, I think it is completely OK to abandon all this workflow for a day or two and even a week, to avoid monotonicity.
Nowadays, I sleep at 9 PM to 11 PM and wake up at the most by 5 AM. Then I work till 12 PM to 2 PM and after that I cook food (relatively new habit to learn something new). More often than not I spend time binge-watching TV seasons, and then I hang out with my friends/partner to play Badminton (sort of an attempt to workout while playing).
How do you define "being successful"?
Honestly, for me, the definition of success changes almost every year or two. But generally, I define being successful by being happy, by taking care of my obligations, family, and all. As an entrepreneur, I get to choose when I work, what I work on, and if I work or not. That makes me happy.
I crave leadership and teaching. I do NOT write-off any particular career choice; I have like what I did as a freelancer, as an employee, and as an entrepreneur. I really have no issue with moving from one of these choices to another — none of them is superior or inferior to another. These are merely options for software developers (best viewed at 1920p resolution, otherwise just zoom out in Chrome to roughly 60%).
If you look at any developer or designer you admire, whose work inspires you, and whose approach somehow resonates with you, I promise you'll find a person who does not think of what they do as just their job.
"As an entrepreneur, I get to choose when I work, what I work on, and if I work or not."
What do you like to do when you're not WordPress-ing?
Professionally, I like DevOps — building automation scripts, managing, and self-hosting websites, learning new languages, building relationships and new partnerships.
Otherwise, I have recently bought a DSLR D5300 Nikon and have started taking lessons from a few professional photography courses at Lynda. There's a whole new world out there, and so far I love it. I am planning on starting a CC0 stock images site and contribute to the open design community.
Did I mention, I binge-watch TV seasons, a lot?
What do you wish more people knew about WordPress?
I wish people knew more about the WordPress community. I think there are so many great examples of selfless, generous, helpful, and highly empathic people. WordPress is mostly termed as unsafe and less secure, which is not true. People do NOT understand the mere fact that "With Great Power Comes Great Responsibility" — if you self-manage a site, you are the one responsible for keeping it up to date. While WP is easy to install and use, it's certainly not easy to manage. There's no such thing as set and forget when it comes to self-managed websites.
Who's doing things that are just cutting-edge and incredible in the WordPress space right now?
There are so many folks building cutting-edge software with WordPress. HumanMade has really stepped up their game in the last couple of years, with Ryan as Co-Lead of WP API project, and Rachel Baker — both of them have been working tirelessly to improve WP. Weston Rutter (and his team at XWP) & Nick Halsey for their work on WP Customize component. Matt Cromwell & Devin Walker from GiveWP, Josh Pollock & David Cramer from CalderWP, UpStatement's work on Timber, Harvard Law, and MIT Tech Review, ModernTribe's take on distributed remote team of full time and part time contractors, etc.
There are so many new businesses which do not get enough air time in the WP Community, which are working on building incredible WP based products. Not to overstate the obvious but huge companies like 10up and Automattic are always playing their part in helping WP move forward.
Describe the WordPress community in one word.
What's the main threat to WordPress these days? Other platforms like Ghost, or maybe things like Squarespace?
I'd say that the word "Threat" is not necessarily the right word for this. Competition is always good. REST API can help us catch on with some of the technical debt. There's a definite need for more WP based SaaS solutions to help WordPress users. Soon, Squarespace might have more than a few competitors from the WP Community itself. Shopify is solving a problem; WooCommerce can solve that too. WooSaaS is something that I think we need. With WooCommerce acquisition by Automattic, that might just happen.
What are your recommendations for a WordPress novice?
I'd say get involved with the community, join your local meetup groups, meet with people, build relationships/partnerships, and most importantly make GPL based products. Do NOT hesitate to help a competitor. The more you give back to the community the more you grow. Instead of doing it all alone, try and contribute to the open source community. You'll learn so much from the experience of working with a few different developers.
Also, there are so many choices out there, about what to do and what not to do, stay distinct and do build side projects, you might as well git pull —yourLifeTogether. 😉
"Do NOT hesitate to help a competitor. The more you give back to the community the more you grow."
Being your own boss is a serious task. You get to set your own schedules, priorities, and offer yourself all the freedom you need, but, on the other hand, "with great power comes great responsibility" … just like Ahmad says. What do you think? Do you have any questions for Ahmad?
Free guide
4 Essential Steps to Speed Up
Your WordPress Website
Follow the simple steps in our 4-part mini series
and reduce your loading times by 50-80%. 🚀
Free Access