In today's short tutorial, we show you how to add Facebook Reactions to WordPress.
In February 2016, Facebook revamped their Like feature by introducing "Reactions." This new feature allowed users to share how they felt about a post – whether it made them laugh or cry, or express emotions such as surprise or anger. This finally resolved one of Facebook's perpetual problems, too: knowing how to respond to a friend sharing bad news without implying that you "like" their unfortunate predicament.
For WordPress webmasters, we tend to analyze our audience's engagement using cold hard statistics – number of comments, social shares, and Google Analytics metrics. If, however, you want to present more human emotions on your website, well, now you can!
Since Facebook Reactions was released, a number of plugins have appeared on the official directory that let you add Facebook Reactions to WordPress.
Why might you want Facebook-style reactions on your website, though? Well, for starters it offers another way for your audience to interact with you. More importantly, though, the emoji are instantly recognizable and they're good fun. Owners of social media-driven, viral content websites will find them especially useful.
If you want to add Facebook Reactions to WordPress, I recommend the DW Reactions plugin – it's available for free by following the link below.
Using the DW Reactions plugin to add Facebook Reactions to WordPress
Before we can use the plugin, we need to install it (here's our detailed guide on how to install a plugin).
In short, log in to your WordPress dashboard, then click Plugins / Add New. Now search for DW Reactions.
The plugin should be the first one returned – in fact, it's currently the only plugin returned. If you're unsure, it's the one by DesignWall with the emoji icons.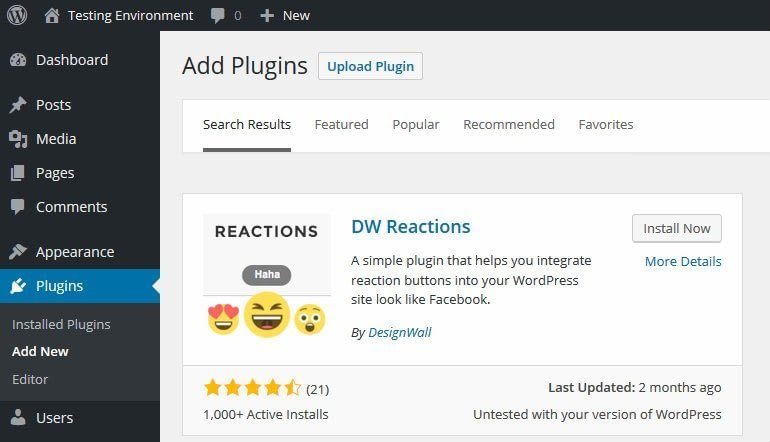 Complete the installation by clicking Install Now / Activate Plugin.
How to configure the DW Reactions plugin
The plugin is really simple to configure, too, and should take no more than a few minutes. You can begin setup by navigating to Settings / Reactions. There are only a few fields to work through, so things are relatively straightforward.
To add Facebook Reactions to WordPress, start by activating the reaction buttons by checking the "show reactions button" checkbox. Next, you can decide whether you want to display reaction counters, too. Displaying the counters utilizes social proof to encourage more clicks, so it's highly recommended.
At this point, you can also decide whether visitors need to be logged in before they can vote. This additional hoop is not recommended if you want to maximize "reaction" clicks.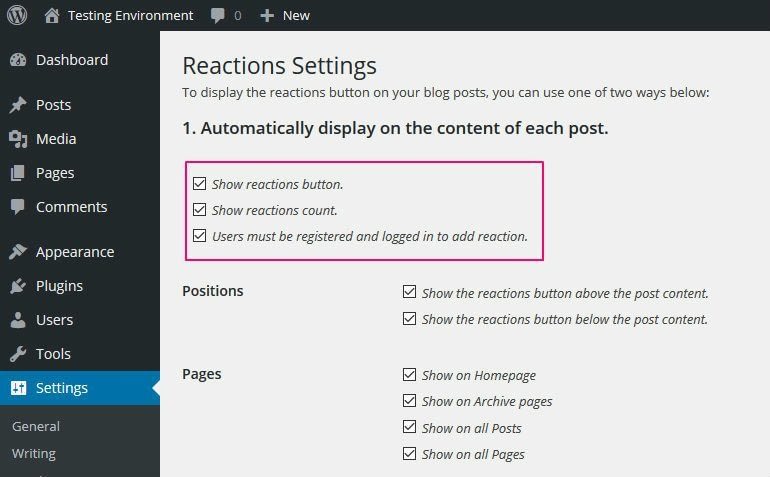 The Facebook reaction buttons are fully responsive and include stylish animations – when visitors hover over the Like button, the reactions pop up. The buttons look like this:
If you decide to display counters, too, they look something like this:

Next, you get to choose where the buttons are displayed – the positioning on the screen and which page types they appear on.
Choosing the positioning on the screen is incredibly straightforward. There are only two options: above and/or below the content:
Finally, you must decide which page types the buttons appear on. You can display reactions on any post/page, plus you can choose to display them on specialist pages such as the homepage and/or archive page: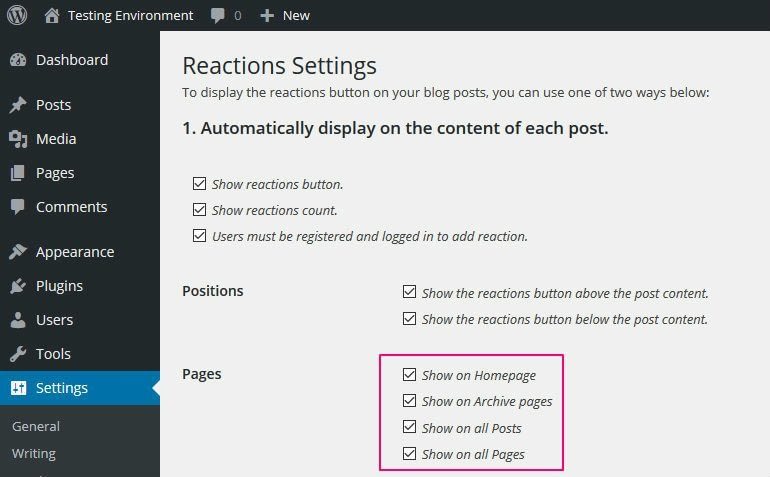 When you're happy, hit Save Changes.
Job done! Depending on your chosen settings, the reactions will now automatically appear on your  site.
If you'd like more control over the button's placements, deselect all the checkboxes in the Pages section. Now you'll be able to choose as and when the buttons appear by copying and pasting the [reactions] shortcode. This will embed the reactions only onto the current post/page.
And that's all there is to it! Quick, easy, and painless.
DW Reactions Pro
So far, we've only discussed the functionalities available in the free version of DW Reactions – and the free plugin has all the features you need, really.
If, however, you want to support the developers and unlock a few extra features, you can upgrade to DW Reactions Pro – it's available from CodeCanyon for $17.
The pro version supports a few additional styling options, a Facebook reactions widget, and also a simple analytics function that lets you track user reactions across your entire site.
Final thoughts
Now you can add Facebook Reactions to WordPress quite easily, courtesy of the free DW Reactions plugin. The plugin takes no more than a few moments to setup – or no time at all, as the default settings are usable out-the-box – and adds stylish reaction buttons and counters to your website, as the screenshots above demonstrate.
Reactions give your visitors a cool new way to interact with your website, plus your audience can collectively indicate how they feel about your content – and you can use this feedback to craft even better content!
Are you using the DW Reactions plugin? Share your thoughts and ask any questions in the comments below!