Giving out a WooCommerce free gift coupon may sound counterproductive to making money. Ecommerce stores usually stick to the "value-added promotions," where you're prompting customers to buy more in exchange for a better deal. An example of this is "buy one get one 50% off."
Free gifts are interesting because, when done right, they are usually "value-added" perks. You're also able to convince more people to come to your WordPress store. When implemented well, a WooCommerce free gift coupon has the potential for boosting sales.
In this post, we'll show you how to create a free gift coupon in WooCommerce using the built-in coupon feature. Then, we'll also share some plugins that you can use to get more control over your free gifts.
Benefits and strategies for free gift coupons
What are some reasons and methods used for offering a WooCommerce free gift coupon?
To convince people to buy more from your store. An online golf store may have a promotion that says "Get a free box of ProV1 balls when you spend $100+ before March 1."
Giving away a free gift just for visiting your site. This can help get visitors to your site, especially if the store is new. An example: "Receive a free camping flashlight after you sign up for our email newsletter." Some of these promos require shipping payments. You want to ensure you're gaining something in return, like the email sign up. Most of the time, these gifts cost very little to the merchant.
Providing seasonal gifts after any purchase. "Get free gift wrapping this holiday season," or "We'll send you a pack of National Park stickers for all purchases before July 4." This prompts purchases during holidays, and the free gift is usually very inexpensive.
Sending out gifts to VIP customers. Gifts like these often tie into loyalty programs, where the person receives a gift or discount after hitting a sales benchmark (similar to a 10-punch card).
Gifts for all new customers. It's similar to the gift for all site visits, but this tactic adds a rule to the system, blocking past customers.
Sending out gifts to inactive customers. Or, you can use gifts to draw back people who have abandoned their carts.
How to give your customers a WooCommerce free gift coupon
As you can see from the "ways to offer a coupon" section above, creativity plays a tremendous role in finding the right gifts for your company. There are also dozens of ways to give free gift coupons to your customers.
For this tutorial, we'll cover the most basic free solution for adding a WooCommerce free gift coupon. After that, we'll talk about alternative methods, with a list of plugins for advanced functionality.
WooCommerce provides a standard coupon feature that helps with creating several varieties of free gift coupons – here's how to use it.
1. Choose the product that you want to give away
To get started, create the product that you want to give away for free. That is, when a customer enters their free gift coupon, this is the item that they'll get for free.
For this tutorial, I'll be giving away a t-shirt. Go to the product page. Note the price for that item. In this case, I have a VNeck t-shirt listed at $12. You can use any price – you'll just need to remember the exact price in the next steps.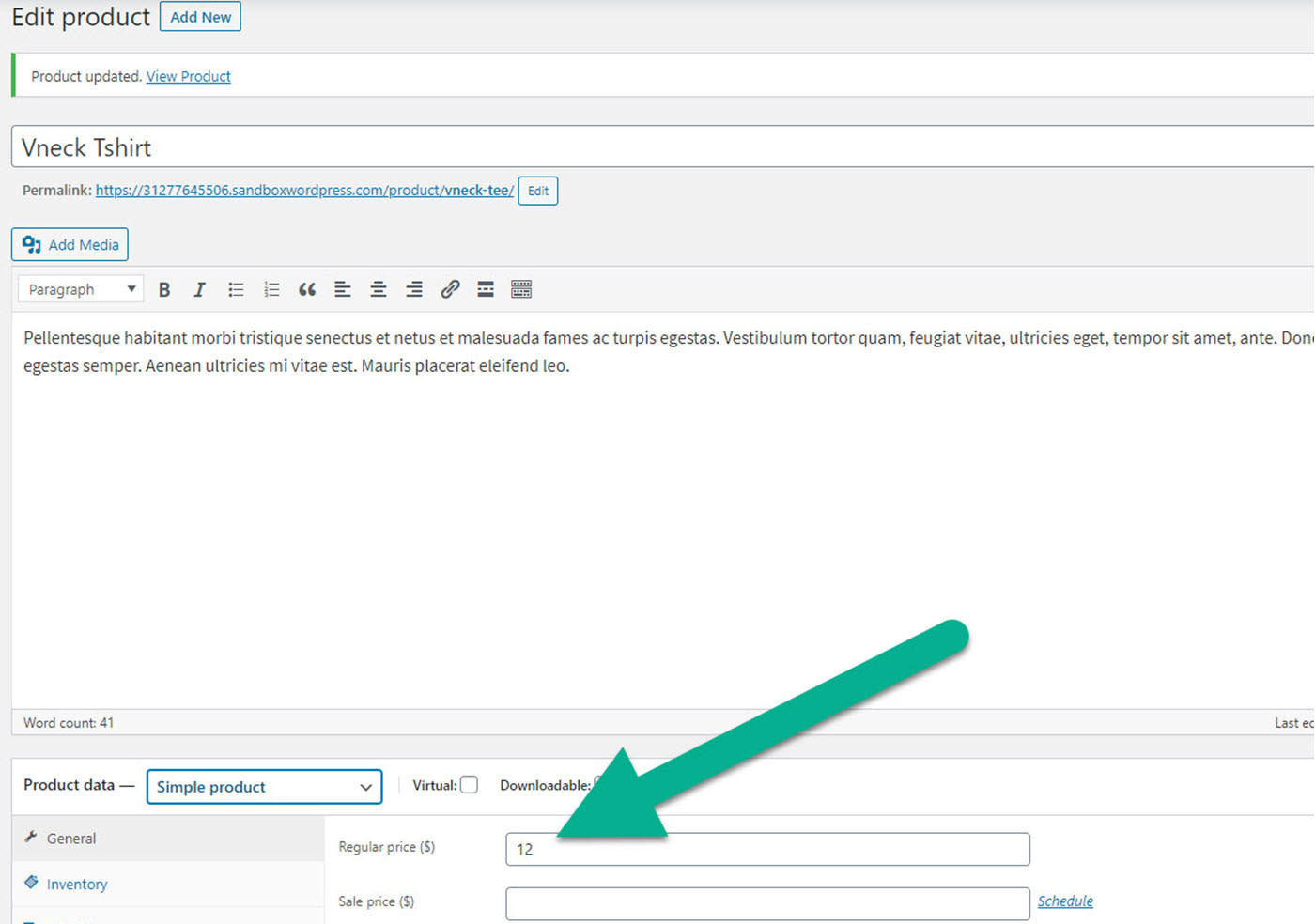 2. Create a coupon
Go to WooCommerce > Coupons in the dashboard.
Click the Add coupon button.
Enter the name for your coupon code. This is both the name of your coupon for reference and the actual code that customers type in to receive the discount.
In the Coupon data box, select the General tab. Choose the Fixed product discount as the Discount type. This tells WooCommerce to provide a discount for one item in the shopping cart.
Then, set the Coupon amount equal to the price of your product from the previous step. For my VNeck t-shirt example, that's "12".
Go to the Usage restriction tab. Use the Products box to search for the product that you want to give away for free.
There are several other optional settings for coupons. For instance, you may want to add an expiration date or require a minimum spend amount (more on minimum spends later on). You can fill these out if you want or leave them blank.
Once you've made your choices, click the Publish button to activate the coupon on your website.
3. Test your coupon
On the frontend of your store, add a few items to the shopping cart. Also, add the free gift item to the cart. In your marketing, you'll have to let customers know that they must add the free gift and paste in the coupon code.
Right now, no discount appears in the cart.
Paste in the coupon code generated from before. This doesn't necessarily make that Vneck Shirt free in the cart, but it removes the $12 the customer would have to pay for it in the overall cost!
If you want to more directly "mark" the free gift product, I'll share some plugins that can help you do that later in this post.
How to require a minimum purchase to get the free gift
The previous method eliminates the entire price of one product in the inventory. However, a customer could technically come to your store, only add that item, then check out without buying anything else. There are settings to minimize this, but another approach is to set a minimum order price to get that free gift.
Navigate back to the coupon that you created in Step 2. You can leave all of the settings the same except for one option. Go to the Usage restriction tab and set the Minimum spend equal to the minimum order value to use the coupon.
If a customer only adds the $12 Vneck, your store won't let them use the free gift coupon. The same error comes up as long as the total cart price is under the minimum threshold that you set.
Once the customer surpasses the minimum, the discount code works to provide the Vneck as a free gift.
Use plugins for advanced WooCommerce free gift coupons and rules
There are various ways to utilize the free coupon, bundling, and product tools in WooCommerce to offer unique free gifts.
However, premium plugins are available to make it a one-click process and incorporate other gifting and discounting tactics.
One useful option here is called Free Gifts for WooCommerce.
It provides a Rules panel to automatically add free gifts to shoppers' carts based on products that are already placed in the cart.
As an example, you could generate a Buy One Get One (BOGO) promotion.
In the extension, you'd name the rule, choose that rule type, then select the Gift Product Type and the Buy Product field. You could make them the same product (for a BOGO deal) or you could offer a different product as a free gift – e.g. "Buy one pair of sunglasses, get a free sunglasses case".
As you can see, the free product is shown to the customer without the need to paste in a coupon code or place a gifted product in the cart.
Other plugins to give customers a WooCommerce free gift coupon
If you're interested in more control over the free gifts, or you like the idea of unique gifting options, give the following plugins a try:
Tips for choosing the items to use as free gifts
Free gifts aren't any good if you end up losing money or no one wants them. Here are a few rules to follow for deciding on the right gifts:
Choose relevant items that cost close to nothing. Bulk order a small item from Alibaba for pennies per unit.
Consider branded merchandise like pens or stickers. These end up making your customers happy and serve as marketing for you.
Think about items that get daily use. Stickers, pens, paper pads, mousepads, and cheap water bottles all make sense. Printful is a great source to find popular branded merchandise ideas, while Alibaba has areas to see popular, unique, items.
Accessories are wonderful for promoting the use of your products. Do you sell artsy phone cases? Why not gift cheap phone chargers for VIP customers? High-end clothing stores are known to gift less expensive handbags.
Coupons are nice as well, especially when used to reward regular customers or bring back old customers.
Are you offering gifts on your WooCommerce store?
The basic free gifting method through WooCommerce is a decent solution for smaller businesses running the occasional free gift promotion. However, we highly recommend paying for a premium coupon or gifting plugin for improved functionality.
And if you're interested in some other ways to use coupons to grow your eCommerce store, check out our guide to coupon marketing.
Do you have any questions about how to create free gift coupons on WooCommerce? Let us know in the comments!
Free guide
4 Essential Steps to Speed Up
Your WordPress Website
Follow the simple steps in our 4-part mini series
and reduce your loading times by 50-80%. 🚀
Free Access