Everybody wants a faster website… that would be logical. And to make it so, there are many methods that you can apply to various elements of your website, such as hosting, media files, homepage structure, images … yes, images. Let's stay with that one.
Optimizing your images is one of the main and most effective things that you can do to speed up your site. Images can affect your site's loading times by much if you upload them in high resolution –
unless you use a tool to compress them
.
And this is where the Image Optimizer plugin by 10web comes into play.
Let's see how it works and how you can use it to decrease your site's loading times significantly.
Note. This review was sponsored by Image Optimizer. All opinions are our own.
Image Optimizer plugin review: What is Image Optimizer?
Image Optimizer is a free plugin, built to resize, compress, and optimize your high-resolution images while keeping their quality intact. In a few words, it makes them more lightweight.
A nice thing about this tool is that it lets you optimize your images in bulk and not only individually. Moreover, it keeps evidence and informs you about how many images you managed to compress so far and how many are yet to compress (in case you upload new ones to your media library and forget about them). 
Image Optimizer supports three image formats in the free version – PNG, JPG, and GIF – and an extra one in the premium version – PDF.
Before optimizing images, the plugin provides two methods: Lossless and Lossy. With the Lossless method, you can resize your images without losing anything in quality, while the Lossy compression resizes them with a minimal quality loss: the plugin will be able to compress the image up to 80% but its quality will be at stake – not to a high extent, though.
Another interesting thing about this plugin is that it also comes with three compression modes, which is different from compression methods. The modes include conservative, balanced, and extreme ways to compress a file (the latter being available in the premium version).
Last but not least, you can keep track of your optimizations and files by accessing the statistics section. Here, you can find out how many files were optimized, how much space you saved, and other interesting numbers.
Key features of Image Optimizer
Before we move to the testing part, in which I'll show you how the plugin works and how you can maneuver it to strip your images of some unneeded weight, let's have a quick look at its most important features (no premium features included here):
Automatic optimization. You can set the plugin to auto-optimize every new image you add to your media library so you won't waste time to do it manually.
Two compression modes: conservative and balanced. Choose the one that you find more efficient for your website.
Media type conversion. Not only that you can compress and resize the images, but you can also convert them from a format to another – JPG to PNG, GIF to PNG, and so on. The vice-versa also works.
Bulk optimization. Save time by optimizing multiple images at once. It comes without saying that you can take them one at a time as well if you prefer so.
Optimization quality. You have the option to choose the maximum level you want to go to when it comes to compression. You can pick either of the four modes available: Lossless, Lossy, Maximum Lossy, and No Compression.
Reports. The plugin provides a report page that displays the compression results and overview analytics with interesting numbers related to the optimization processes. This way, you can keep track of the effectiveness of optimizing images.
How to use the Image Optimizer plugin
Now, let's get to the practical part in which I install the plugin and show you how it works, step by step, so you can make an idea of how all the features from above look like when applied to actual images.
Okay, so after you install and activate the plugin, go to its dedicated page in the dashboard. I first had to upload some images to my testing site, images that I took from our own free stock photos (taken and edited by our team members).
Once you enter the page, the plugin counts your images and invites you to bulk optimization. You can either go bulk or go to the media library and optimize each photo separately. When you click on a single picture in your media library, you can find the Optimize button right below its default options.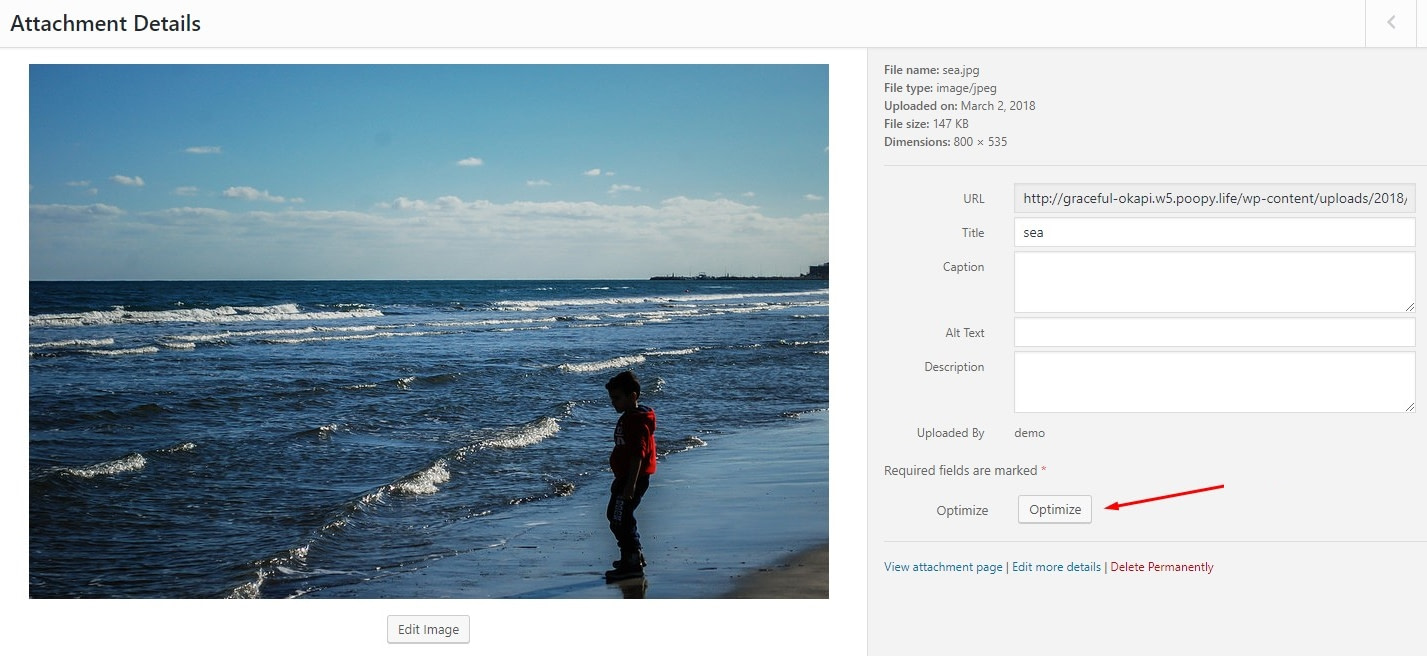 Wait a few seconds until the optimization is over, which is when Stats (+) link appears. Click on it to see the reductions made for each picture size (full, medium, thumbnail, large etc.):
And this is how an individual image can be compressed. But now let's get back to the plugin's dashboard page and bulk optimization.
Before doing the bulk optimization, you can choose from conservative and balanced compression. After the optimization is done, the homepage status will change into "All images are optimized and up to date". With every new image you upload to the media library, the plugin will let you know that there's one (or more) image un-optimized. I optimized three images and left two of them just like they were before, so the plugin now tells me that there are still two images ready to be optimized.
Also, if you don't want to compress your images manually, you can simply check the Auto-optimize box and the plugin will optimize all the pictures from your media library automatically, so you don't have to do anything in this regard anymore.
But this is just the easy (default) mode. To tune up the plugin preferences to your liking, go to Advanced and make your changes. Here's what's available:
The images from the media library are not the only ones that can get optimized by default. The plugin provides the option to compress the images uploaded in other directories too. And you can change that in two steps. First, you have to check YES in the settings where it says "Resize other directory images" (as it is shown in the image above). The next step is to choose the directory that you want the plugin to take over. The option is also available on the dashboard homepage right below the Bulk Optimizing button.
In the Reports sub-section of the plugin, you can find the whole optimization history and all the files that you ever converted. All of them can be filtered by name, size, date, and image format. Besides that, you have a summary widget on the dashboard homepage of the plugin where you can see the last optimization, the total amount of reduction in the media library, and the total amount of space that you reduced since you started optimizing images.
Pricing plans
Like I said at the beginning of the review, the basic version of Image Optimizer is totally free.
But of course, like most of the free WordPress image optimizer plugins out there, it has a premium version too, which can be found here. You can notice the differences and the extra features. The premium version of the plugin comes bundled with 10web's maintenance plans that also include backup, SEO, and security services, together with multiple premium themes and plugins. The pricing starts at $12 per month, continues with $30 per month, and ends at $80. Plus, there's a free 14 day trial.
So, if you want to buy the Image Optimizer plugin, keep in mind that it only comes in bundles with the other services I just mentioned and not independently, which is a nice perk.
What's different in the premium version of Image Optimizer?
40,000 images to compress per month (instead of 1,000 in the free version).
PDF files optimization and conversion.
Extreme Compression mode.
Scheduled optimization (you can schedule the plugin to optimize the images on an hourly or daily basis).
Priority support and updates.
Who should use Image Optimizer?
First of all, the plugin's user interface makes it a reliable solution for everybody who wants a lightweight website. WordPress beginners can handle it without needing extra help from professionals. Image Optimizer is that kind of plugin that people should keep installed on their site because it cannot harm you in any way; on the contrary, it will save you time and megabytes. It works just as promised and it takes you only a few minutes to understand what it does and how. Plus, being a free, modern resource turns it into the right solution for a novice to deal with image optimization in WordPress using a plugin without any hassle.
Where can you get Image Optimizer?
The plugin can be quickly and freely downloaded from its WordPress.org dedicated page.
If you think its premium features bring extra value to your site, then you can purchase one of 10web's plans, with the Basic one starting at $12 per month. Again, just pay attention to the fact that the plans provide a lot more things than the plugin itself.
That's it for my Image Optimizer plugin review. What do you think of this plugin? Overall, for me, Image Optimizer is a modern and easy-to-manage solution that can be grasped even by complete novices. It's the kind of tool that's good to have around the house site when you need to get stuff optimized.
How do you go about optimizing your blog images right now? Feel free to share in the comments.
Free guide
4 Essential Steps to Speed Up
Your WordPress Website
Follow the simple steps in our 4-part mini series
and reduce your loading times by 50-80%. 🚀
Free Access