Looking for a solution to build a digital product marketplace on WordPress? While in the past you might have needed a development team to get your digital product marketplace off the ground, now you can create your marketplace using simple, pre-made extensions.
In this article, you're going to learn how you can use WordPress, a free theme called Themedd, and the freemium Easy Digital Downloads plugin to create a digital product marketplace with similar functionality to stores like ThemeForest and iTunes.
We can't promise you'll grow as big! But you will be able to create a marketplace that sells all kinds of digital files, including:
Photos
Fonts
Audio files
Videos
eBooks
etc.
Ready to get started? Here's your step-by-step guide to creating a digital product marketplace on WordPress.
Step 1: Download and install the Themedd theme on WordPress
To get started, download Themedd at Easy Digital Downloads and install it at your site. Themedd is a theme dedicated to creating digital product marketplaces, and it will handle much of the setup process for you.
Step 2: Follow the Themedd setup guide
Once you've installed and activated Themedd, go to Setup Guide on Themedd download page: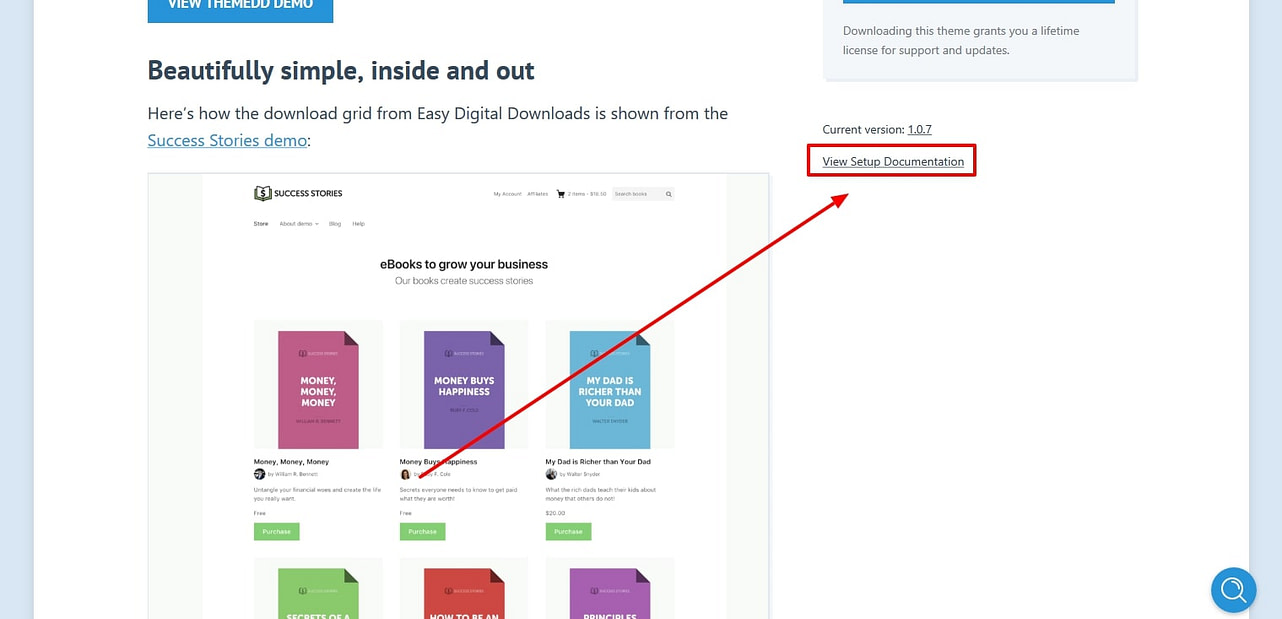 We won't walk through all of the steps in the setup guide as the guide does a good job of explaining everything. By following the guide, you'll handle important steps like:
Turning on automatic updates.
Installing the necessary plugins for full functionality, including the Easy Digital Downloads plugin.
Importing demo content.
Customizing your site.
Once you finish the setup guide, you'll be able to go to the frontend of your site and see a pretty good looking design. It starts to appear similar to what the demo showed, without some of the premium images and plugins from that demo.
Step 3: Configure the Easy Digital Downloads pages
Within the setup guide, there's a bulk installer for all of the recommended plugins. One of them is called Easy Digital Downloads, which is a platform for selling digital products from your WordPress site.
While the setup guide handles installing the plugin, you'll need to configure a few settings to make it work right.
To get started, go to Downloads > Settings in your WordPress dashboard to set up the core Easy Digital Downloads pages.
Easy Digital Downloads uses shortcodes to set up each page. For example, the Checkout page has its own shortcode that must be placed on one of your pages.
Therefore, you would create a new page in WordPress, add the [download_checkout] shortcode to the page, then go back to this Settings module to set that page as your Checkout page. The same must be done for the Success, Failed Transaction, Purchases History, and Login Redirect pages.
Step 4: Install necessary premium plugins for your digital product marketplace on WordPress
As you've already learned by now, you're not making a marketplace for free. You can have a decent digital marketplace with just the theme and Easy Digital Downloads, but there are a few other plugins that make your digital product marketplace on WordPress much better.
For example, I can't imagine a marketplace that doesn't have some sort of commissions system in place. This way, you're able to automatically divide the right commissions between vendors when a user checks out with products from multiple sellers.
That's why it's required to download and install the Commissions extension from Easy Digital Downloads. After you install the plugin, you'll see a Commissions tab under Downloads where you set automatic calculations for vendors.
Step 5: Install the Frontend Submissions add-on so users can add products
The second requirement for a respectable multi-vendor marketplace is the Frontend Submissions add-on from Easy Digital Downloads. This opens a frontend registration form for potential vendors. After they submit their information to you, there's a button for approving the vendor and opening up access to the vendor dashboard. Here, they can upload their own products, manage payments, and tweak their storefront.
On the admin backend, you'll go to the EDD FES tab, then to Vendors. This gives you all sorts of control, with information on your vendors, approval buttons, suspension buttons, sales numbers, and information on products.
Step 6: Consider some other premium add-ons
As for the add-ons, the most important ones include the Commissions and Frontend Submissions add-ons. However, some marketplace owners might want to improve the functionality and make the interface better for customers.
The best value would be to purchase the Digital Marketplace Bundle for $499.
You also have the option to buy all of these add-ons separately. The bundle includes the following add-ons:
Step 7: Customize your site and add a product
Themedd will provide you with a basic design work. The WordPress customizer has some extra tools for changing items like colors and logos, but your main focus should be on activating the right pages for the digital product marketplace on WordPress.
This WordPress digital marketplace theme has several predesigned widgets, sidebars and styling options to fine tune your site.
All you have to do is make a completely new page on your website, then choose the desired page template. After that, you might want to link to some of the pages by adding them to your main menu.
In terms of adding a product, you're the admin of the site, so the goal is to get the vendors to do this for you. However, it's important to see how the product creation process works. To do so, approve yourself as a vendor (through the Frontend Submissions add-on) and go to your author page.
This area has an Add Product tab, where you can fill in information like the product name, description, preview image, and more. You then upload the product file and hit the Publish button.
After that, you can navigate to the frontend and see that product page with all of the details you just typed in.
Enjoy your new digital product marketplace on WordPress
After completing the steps above, you're ready to start recruiting vendors and marketing to buyers. Several other steps can be taken to tweak your digital product marketplace on WordPress, but those are all optional and can be found in the Themedd documentation.
If you have any further questions after walking through this tutorial, let us know in the comments below.