Recently, WordPress announced a change to the way it categorizes plugins. So now, when you browse them in the directory, you'll see that tools are sorted between community vs commercial plugins. However, you might not know the difference between these two groups.
Luckily, there are some key differences between community vs commercial plugins, making them a good match for different users. For instance, the former are meant to be 100% free all the way, whereas the latter provide their main/basic feature set for free, while also offering a paid upgrade with additional features.
In this post, we'll take a closer look at 🔎 community vs commercial plugins. Then, we'll discuss the reasons for the divide and explore the impact this may have on developers.
Let's get to it!
An introduction to community vs commercial plugins
In late 2022, WordPress introduced a new way to sort plugins and themes in the directory. Rather than browsing all plugins and themes available, you can filter through the options using the community or commercial tabs: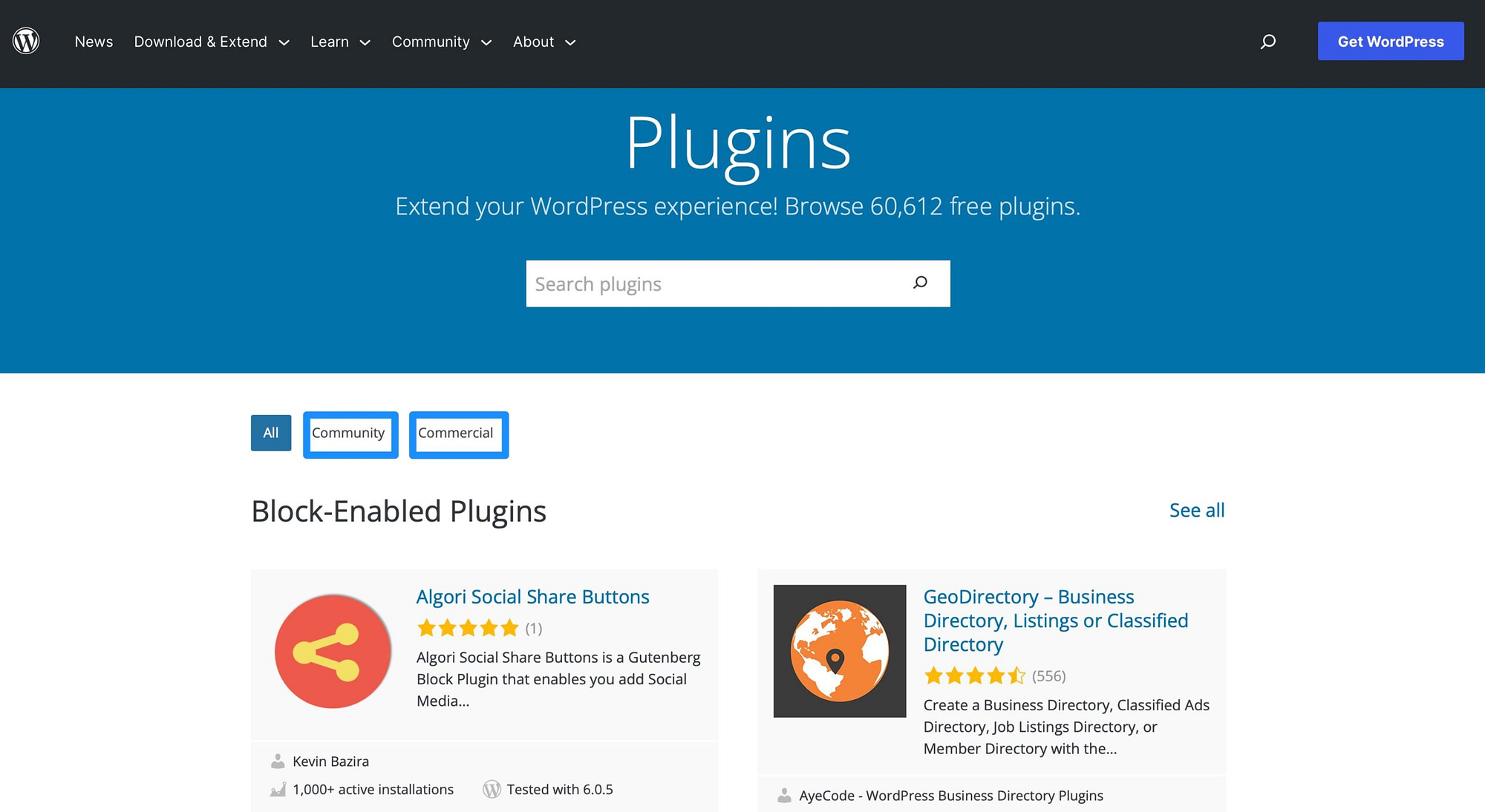 Community plugins are those that are designed by members of the WordPress community. This means that they're completely free and open-source, created by passionate individuals that want to share their work.
As such, community plugins are a great choice for WordPress users that want a high-quality, affordable option for their website. For instance, knowing that they're going to get the entire package of features in a way that's not limited, small businesses might prefer to get started with these free tools.
Popular examples include the WordPress Importer plugin that enables you to import posts, pages, comments, categories, and more from a WordPress export file. Or, Force Regenerate Thumbnails by Exactly WWW.
While commercial plugins might also be developed by companies or individuals, the key difference is that some of their more advanced feature sets might only be accessible for a fee. So while you might be able to install a free version of the plugin, you'll also find premium versions of the tool that usually come with advanced features and support.
These types of plugins can also be referred to as "freemium:"
For example, Yoast SEO offers a free plugin, but you can also upgrade to Yoast Premium. Elementor is another popular example of a commercial plugin, with a free solution, and a paid plugin that comes with additional widgets, features, and customization options. Our own Otter Blocks plugin would fall under the realm of this category as well.
The reason WordPress has divided plugins
The main reason why WordPress has split plugins into community vs commercial categories is to "enhance your browsing experience [1]." With these new features, you can quickly find the most suitable options for your website without scanning through pages and pages of products.
Additionally, WordPress has stated that more work will be carried out in the future as part of the website redesign [2]. This process is set to improve the browsing experience and refine the visual aspects of the theme and plugin directory.
WordPress also found that a lot of community plugins were listed on GitHub or other repository systems. However, WordPress didn't have an easy way to link back to those systems to help users contribute to the community.
What's more, WordPress found that the directory was filled with "freemium" plugins that had an overwhelming number of users. This meant that the platform was often inundated with questions about the premium versions of these tools. Therefore, the new taxonomy system [3] should clear up some of these queries.
Community vs commercial plugins: What the divide means for developers
While WordPress has already implemented the categorization of community vs commercial plugins, not all developers have classified their products accordingly. The taxonomy system is not yet mandatory, so it's up to the company or the individual to categorize their products in this way.
However, according to WordPress, there are some immediate drawbacks to the classification system. For example, they've described community plugins as open-source and "developed by passionate individuals".
This has led to some discussion whether this new system is the best way to classify plugins. Kevin Batdorf (a WordPress developer) stated in the comments that:
All plugins are open source regardless of whether they sell something, and that doesn't make those developers any less passionate.
Meanwhile, WordPress has claimed that commercial plugins come with "dedicated support" and "advanced features." While this statement is surely well-intentioned, some users may interpret that community plugins aren't as sophisticated.
Additionally, the implementation of community vs commercial plugins may cause some unhealthy competition between developers. And, it might make it very difficult for small plugin developers to gain visibility in the directory if users believe commercial plugins offer more sophisticated solutions.
It's also important to note that there are some limitations to the plan where regular WordPress users are concerned. For example, the terms "commercial" and "community" don't make it immediately obvious what they refer to.
Therefore, the distinction between solutions may be confusing to users that are less familiar with the platform. And in this case, people may end up making the wrong decision about which plugins to use on their websites.
Conclusion 🧐
Late last year, WordPress implemented a new way to organize plugins in the directory. The new taxonomy system introduced a divide between community vs commercial plugins that separates free tools from those with a premium version.
Community plugins are completely free and developed by the WordPress community. However, while commercial plugins may offer a free version, they also have a paid tool that provides advanced features or support. This system was introduced to improve the browsing experience, helping you quickly find the right solution for your website.
Do you have any questions about whether to use community vs commercial plugins? Let us know in the comments section below!
Free guide
4 Essential Steps to Speed Up
Your WordPress Website
Follow the simple steps in our 4-part mini series
and reduce your loading times by 50-80%. 🚀
Free Access