As a website owner, you'll want to ensure that your content is accessible to all users. Otherwise, you might lose a lot of potential conversions – or even end up in legal hot water. So, you're probably wondering if it's worth your time to learn more about WordPress accessibility plugins to help you avoid these problems.
The simple answer is yes! 😎 By using one of these plugins, you can improve WordPress accessibility for your visitors and create a better user experience (UX). Fortunately, many WordPress tools are also very intuitive and beginner-friendly.
In this post, we'll briefly discuss the importance of accessibility for WordPress sites. Then, we'll look at five plugins you could use to make your content more accessible. Let's get started!
Why accessibility is important for WordPress sites
Making your site accessible involves catering your content to a diverse range of people, including users with disabilities. For example, people who can't use a mouse should still be able to navigate your pages.
You'll also need to make sure that your images have alt text. This way, users who rely on screen readers will still be able to understand the contents of your photos.
While ensuring accessibility is important ℹ️ for boosting conversions, it can also help you avoid legal issues. For example, in the US, the Americans with Disabilities Act (ADA) requires all websites to be accessible to users with disabilities.
There are guidelines to help site owners make their sites more accessible. The Web Content Accessibility Guidelines (WCAG) outline how to cater to physical and visual impairments. These recommendations include ensuring that there's substantial contrast between the background and text and using large and easily readable fonts.
Five best WordPress accessibility plugins for your site
Making sure that every page and element on your site is accessible can be tiring and time-consuming. Fortunately, WordPress accessibility plugins can do some of the work for you, or at least point you in the right direction to fix things yourself. Let's look at some of the best options on the market.
⚠ Note that using an accessibility plugin does not guarantee complete adherence to ADA, WCAG, and other similar regulations. Therefore, we also recommend using an accessibility testing tool and making changes as required.
WP Accessibility is designed to fix common accessibility issues in WordPress themes. It comes with various settings that you can enable or disable, depending on your site's needs: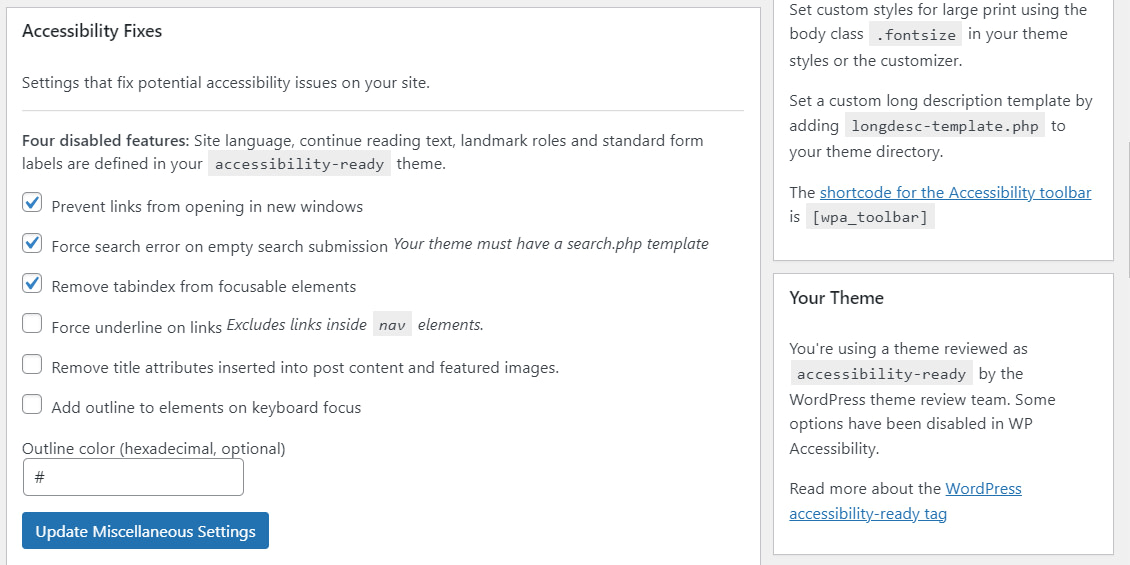 It also gives suggestions for customizing your stylesheets to make your site more accessible. For example, you might need to set custom styles for large fonts.
⚙️ Key Features:
Test the contrast between two colors using the plugin's Color Contrast Tester.
Add skip links with user-defined targets to facilitate easy navigation around the page.
Quickly identify images on your site that don't have alt attributes.
Add labels to standard WordPress form fields.
Prevent links from opening in new windows to minimize obstacles for users with physical impairments.
💵 Pricing: WP Accessibility is available for free.
WP Accessibility Helper can help you solve accessibility problems on your site. These may include issues with font sizes, contrast, alt text, and more.
All you have to do is use the toggle buttons to enable your preferred settings. For example, you might enable keyboard navigation and contrast mode:
If you use the pro version of WP Accessibility Helper, you'll also be able to choose a layout for your front-end accessibility sidebar. It enables users to select their preferred font sizes, colors, and other features easily.
⚙️ Key Features:
Enable a skip links menu for more straightforward navigation.
Underline and highlight all links to make them more visible.
Remove CSS animations from your website.
Choose a font resize option, such as zoom in/out page or a script-based resize.
Enable a dark theme and grayscale images for users with visual impairments.
💵 Pricing: You can get started with the free plugin. If you upgrade to the pro version, you'll get access to features such as an Attention-Deficit Hyperactivity Disorder (ADHD) helper and advanced letter spacing settings. Premium plans start at $199 per year.
Web Accessibility by accessiBe can help you achieve ADA and WCAG compliance. Once you create an account and install the plugin, you'll be able to configure the settings for the accessibility widget that appears on the front end of your site:
The plugin uses two applications. The AI-powered tool automatically optimizes your website for screen readers and other assistive technologies. Meanwhile, the accessibility interface (or widget) handles design-related adjustments on your website. It enables users to customize your site's appearance according to their needs.
⚙️ Key Features:
Its AI tool scans your content for accessibility issues every 24 hours.
The plugin includes automatic screen reader adjustments, including alt tags and ARIA attributes.
Access automatic keyboard navigation modifications to menus, pop-ups, and forms.
An accessibility interface called "accessWidget" helps provide an optimal user experience based on the user's needs.
An "Accessibility Statement & Certificate" shows users that your site is WCAG-compliant and designed with their individual needs in mind.
💵 Pricing: Web Accessibility by accessiBe is a premium tool, with plans starting at $49/month. A free seven-day trial is also available.
⚠ Note: Some accessibility advocates recommend avoiding these types of "one-click" overlay solutions to accessibility – you can read more here. However, many larger businesses use this approach, so there are pros and cons.
AccessibleWP adds an accessibility toolbar to the front end of your WordPress site. This way, users with visual or physical challenges can make minor adjustments to your site's design and navigation.
You can customize the style of this toolbar and choose which options you want to make available to your visitors:
For example, you can enable users to increase or decrease the font size. You might also allow navigation with keyboard arrows and the Tab key.
⚙️ Key Features:
Add an accessibility toolbar that allows users to customize your website's design elements.
Enable keyboard navigation, high contrast, and readable fonts.
Allow users to mark all links and titles and disable animations.
Add a link to your accessibility statement.
💵 Pricing: AccessibleWP is a free plugin. You can also download two other WordPress accessibility plugins by the same developer: ALT Detector, which helps you find images without alt text, and Skip-Links, which enables users to navigate between primary page sections easily.
Accessibility Checker is a freemium accessibility plugin from Equalize Digital, a WordPress agency that specializes in helping businesses make their WordPress sites accessible.
The plugin scans your site whenever you publish a new post or page. Then, it gives you real-time feedback on the content's accessibility and flags issues right on your screen.
You can select the type of content you want to scan for accessibility issues, along with other settings:
The plugin will add a "Simplified summary text" option to the Accessibility Checker meta box in the WordPress editor. It will remind you to provide a simplified summary of your post. You have the option to do this for every post or only when the reading level of the content is above the 9th grade.
⚙️ Key features:
Scan an unlimited number of pages and posts for accessibility issues.
Use readability analysis and auto-insertion of simplified summaries.
Generate an accessibility statement that you can customize and publish on your site.
Close errors and warnings that have already been viewed.
💵 Pricing: The free plugin includes unlimited scans and all other features listed above. If you upgrade to the pro version, you'll be able to scan additional post types, view all existing issues in one place, and more. Premium plans start at $12 per month.
Try these WordPress accessibility plugins 🔌
Making sure that your site is accessible to all users is essential to your success. It's also a legal requirement in some countries. Overall, people with disabilities should be able to navigate and consume your content easily.
In this post, we've looked at some of the best WordPress accessibility plugins on the market. 🐿️ If you're looking for an automated and comprehensive solution, you might want to opt for Web Accessibility by accessiBe. Meanwhile, if you'd prefer a tool that gives you more control over your accessibility settings, WP Accessibility Helper might be a better option.
For some other ways to improve your site's accessibility, check out 👉 our tips for making WordPress more accessible.
Do you have any questions about using WordPress accessibility plugins for your site? Let us know in the comments section below!
Free guide
4 Essential Steps to Speed Up
Your WordPress Website
Follow the simple steps in our 4-part mini series
and reduce your loading times by 50-80%. 🚀
Free Access