WordPress Custom Post Type Plugin
Easy Content Types
Custom Post Types, Taxonomies and Metaboxes in Minutes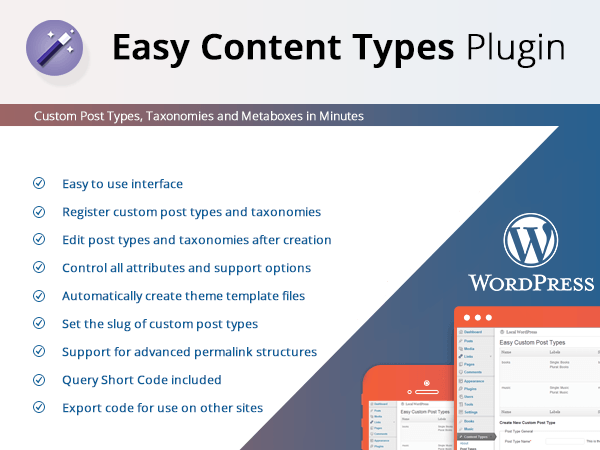 Plugin Details
Updated

Version

2.8.4

Compatibility
Licence Types
Easy Content Types provides an extremely easy to use and intuitive interface for creating custom post types, taxonomies, and meta boxes.

Register Anything
Register custom post types, taxonomies and metaboxes without a hassle.

Template files
Automatically create theme template files for post types and taxonomies

Easy to use interface
A really easy to understand user interface that smooths the workflow for registering, using and exporting everything

Code exporting
Easily export code for custom post types and taxonomies for use on sites without the plugin
 This is the best custom post type plugin and will completely remove the difficult task of manually creating custom post types, taxonomies, and meta boxes.
Custom Post Types in Seconds
With Easy Content Types simple-to-use interface, you can create many different custom post types in just seconds. Simply choose the options you want enabled for your post type, enter a name and click "Add Post Type". It's that easy.
Custom post types make it exceptionally easy to create advanced organization schemes for your website. Have a movie or book review site? Place all of your reviews into a "Reviews" section, instead of a non-intuitive "reviews" category under Posts.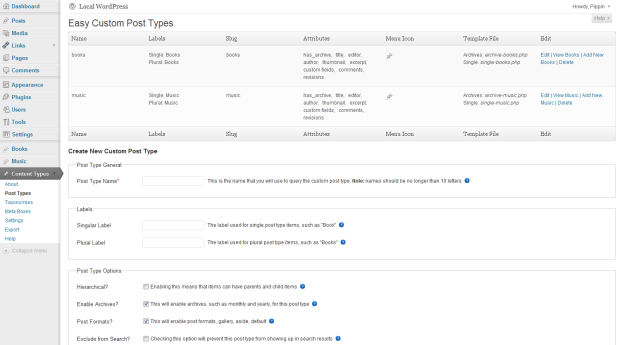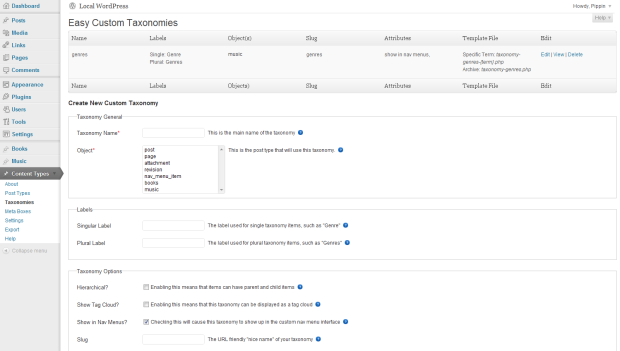 Custom Taxonomies to Organize and Sort Your Custom Post Types
Much like the built-in Categories and Tags, custom taxonomies allow you to define an organization within your custom post types. In just seconds you can add a "Genres" category to your movies or books review website and "categorize" all reviews into their correct Genres. It works just like the regular categories, but is so much better because you get to define the exact name your taxonomy uses.
Taxonomies can be used to organize the display of your content on the front-end of your website as well, they are not just for administration. This means that your website becomes much easier to navigate for your users!
Meta Boxes and Custom Post Meta Fields
Meta Boxes allow you to add additional information sections to your post editor. Going back to the reviews example, this means that you could easily have a section with fields for "author name", "publication date", "rating", publisher", etc. These fields can be created in just seconds and there are many types to choose from, including text inputs, drop down menus, radio buttons, check boxes, and more.
The custom meta fields can be used to display additional information, or used (if you're a developer) to control aspects of your layout in your theme files. They are extremely powerful, and so simple to use.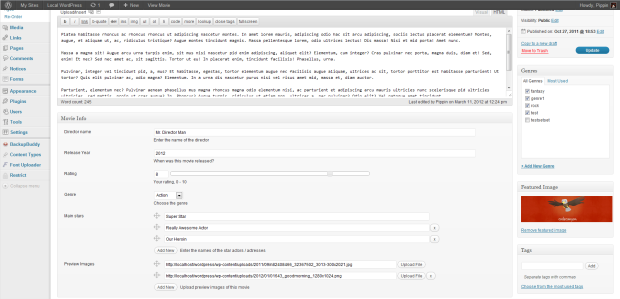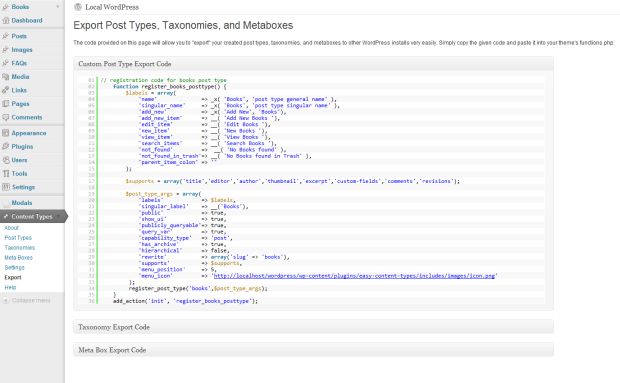 For Developers and non Developers Alike
Easy Content Types has been built with developers and regular users both in mind, and has been optimized to be as easy to use as possible. It does everything for you, from registering the post types, setting up the menu icons, creating meta box fields, saving data, and even automatically creating theme template files (based off of existing theme files).
If you are not a developer, then you will love how much power and control this plugin gives you; if you are a developer, then you will absolutely fall in love with how Easy Content Types does all the heavy lifting for you. Forget about writing lines and lines of code to setup your post types, taxonomies, and meta boxes: Easy Content Types does it all for you.
Integrates perfectly with the WordPress Interface
Easy Content Types has been designed to fit perfectly into the core WordPress design. All aspects of the admin utilize stylesheets and other assets provide by WordPress core. This means that when WordPress's UI is updated, so is Easy Content Types.
Because of how perfectly Easy Content Types fits into WordPress, you can include it in your client projects or in for-sale themes and your clients/users won't even know it's not part of WordPress core.
Testimonials
From PixelInPrint:
I want to add my voice as a testimony to Pippin. This is such a great Plugin which keeps getting better. What makes it truly awesome however is the support. If every dev were like Pippin life would be would be wonderful. So many ways to get in touch and unbelievably considerate and fast response to emails. You can buy this and other plugins from this guy with complete confidence! Thanks.
From kalelvz:
I wanted to leave a testimonial for this plugin. Not only is the plugin intuitive, Pippin has taken care to really consider users and make sure documentation is written out quite well. That's a rarity with most devs I know, but Pippin is quite adept at it, with support in the form of a discussion board, tutorials and – gasp – actual emails that are responded to within an hour or so. I can't speak enough of the support, it's truly phenomenal, and well worth the nominal price of the plugin.
From coldfirepromotions:
This is not only a 5-star plugin with an incredible amount of utility and functionality, but the support deserves AT LEAST 5 -stars, too. It hasn't been more than ~12 hours since I purchased this plugin and the author has already helped me solve an issue I was having. Big shout out to mordauk! If you're thinking about purchasing this plugin, I can assure you it will be well worth the money spent!
Features
Custom Post Types
Easy to use interface
Register custom post types and taxonomies
Edit post types and taxonomies after creation
Control all post type and taxonomy attributes and support options
Automatically create theme template files for post types and taxonomies(based off of existing theme files)
Set the slug of custom post types and taxonomies
Support for advanced permalink structures
Query Posts Short Code included to list your custom post type entries anywhere
Query Posts by custom taxonomy short code included to show posts from a taxonomy anywhere you want
Export code for custom post types and taxonomies for use on sites without the plugin
Thorough documentation and explanation of post types and taxonomies
Meta Boxes
Easy to use interface
Register custom meta boxes
Edit meta boxes after creation
Complete meta box placement control
Choose the post type(s) that receives the meta box
Add unlimited fields to meta box
Drag and drop field ordering
10 field types
Edit fields after creation
Add descriptions to fields
Automatic shortcodes for every field
Automatically display all meta fields
Export all meta boxes and fields
Field Types
Text
Textarea – with rich editor option
Select
Radio
Checkbox
Datepicker
jQuery UI Slider
File Upload
Repeatable text input
Repeatable upload field
User Access Control
Control which user levels have access to the custom content type menu
Control which users can create custom post types
Control which users can create custom taxonomies
Control which users can create custom meta boxes
30 day money back guarantee
Cancel or Upgrade your account at any time after signing up!