Multiple Pages Generator
Generate bulk pages, posts, or custom entity posts in a matter of minutes to increase your SEO presence. Unlimited pages, one plugin, no hassle.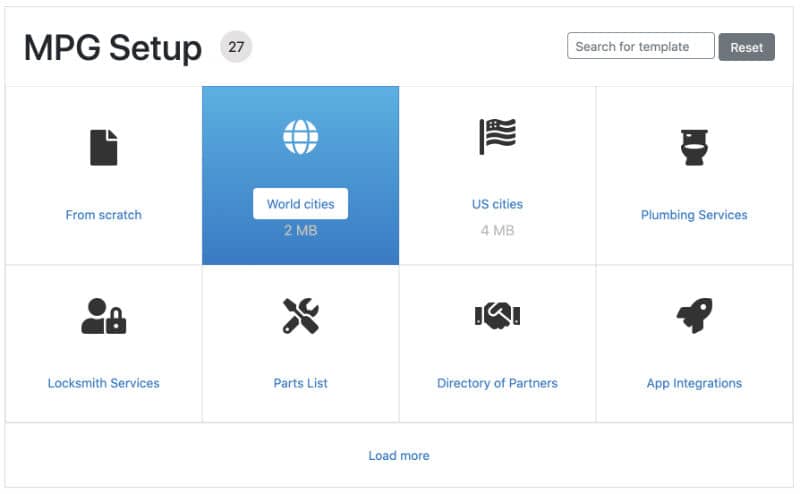 Complete Content Control
From city or locality-specific landing pages to keyword-focused fresh content posts to your blog, you can create them all in bulk with the WordPress Multiple Pages Generator plugin.
Count on MPG's hassle-free functionalities to generate unique content fast. Manage every page detail to create unlimited pages, posts, and custom posts that boost your search engine presence.
Import unlimited keywords, or even choose from our ready-to-use dataset library templates. From the pages' design to each piece of content, you have full control of ALL your new pages.
Are you in eCommerce? Choose MPG to automatically create beautiful product pages based on your existing product data.
Ease of Editing
Update and make edits at any time. Because the WordPress Multiple Pages Generator plugin creates pages from a template page and a database sheet file, you can add, update, or delete your content easily, and even automatically.
Whether you use a page builder plugin, or if you code the page design from scratch, any changes or updates you choose to make are instantly published across every generated URL.
Unique content gets pulled from your database files, whether they are stored offline (.csv, .xlsx or .ods file), or online (.csv or Google Sheets). The MPG WordPress page creator plugin then populates each new page with the content of the file.
Each header in your file represents a different set of content groups, renamed as shortcodes. These can be everything from Header titles to meta descriptions and even snippets of code.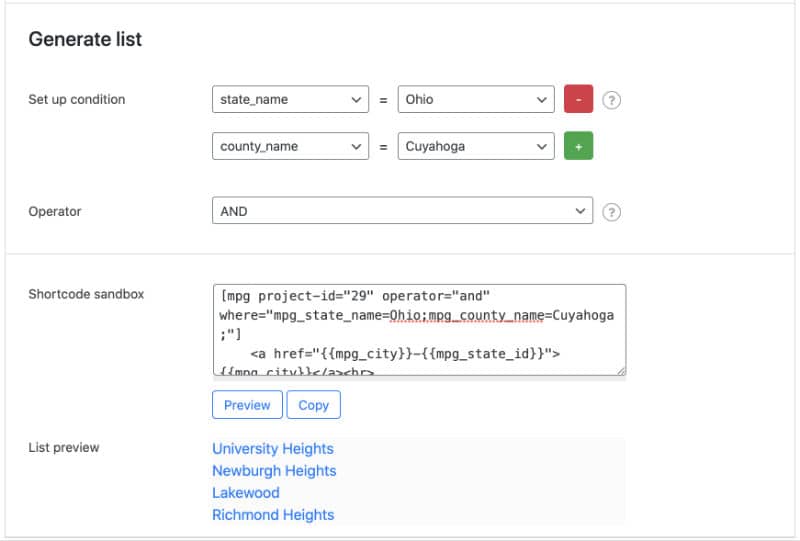 Internal link Generation
Forget orphaned or dead-end pages that can hurt your SEO performance. The Multiple Pages Generator plugin makes it easy to create generated lists or inlinks between the generated pages, and between existing pages on your WordPress website.
Connect your content and help search engines, like Google, understand the structure of your website. You can determine page attributes by creating inlinks and lists within specific pages in your list.
Generate location keyword-focused landing pages in mass. Location keywords such as city names, counties, ZIP codes, phone area codes, and phone country codes, and even Google maps can be easily embedded or generated for each custom page.
Combine powerful, unique content to quickly generate mass, rich location-specific content for each page. Need to save time? Use one of MPG's database templates that include a full list of cities (with latitude, longitude, and population) in the world, in the USA, a list of app integrations, and more.
Scheduled Importing
If you are using MPG Pro to create your product pages, you can count on automatically scheduled importing to keep your thousands of landing pages up-to-date.
When you connect a public CSV or Google Sheet, you have the choice to have the Multiple Pages Generator update the published pages at a given frequency. You can even set up a notification to your email for every update.
Add special announcements for offers and special holidays, or drip-feed content to your WordPress website just by adding the information to your database and scheduling the import through MPG Pro.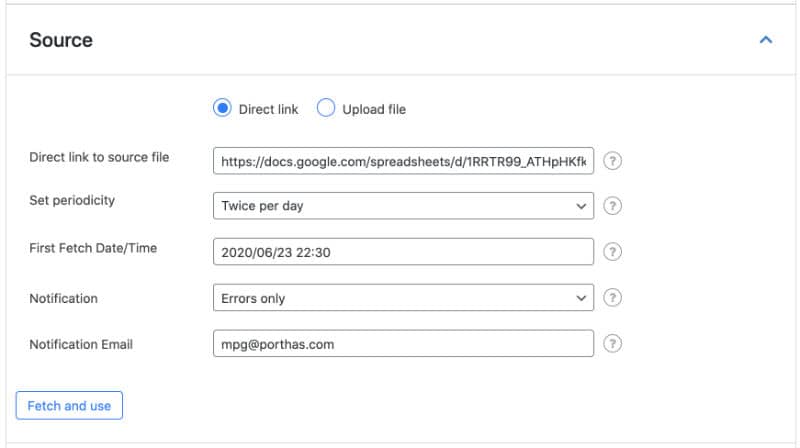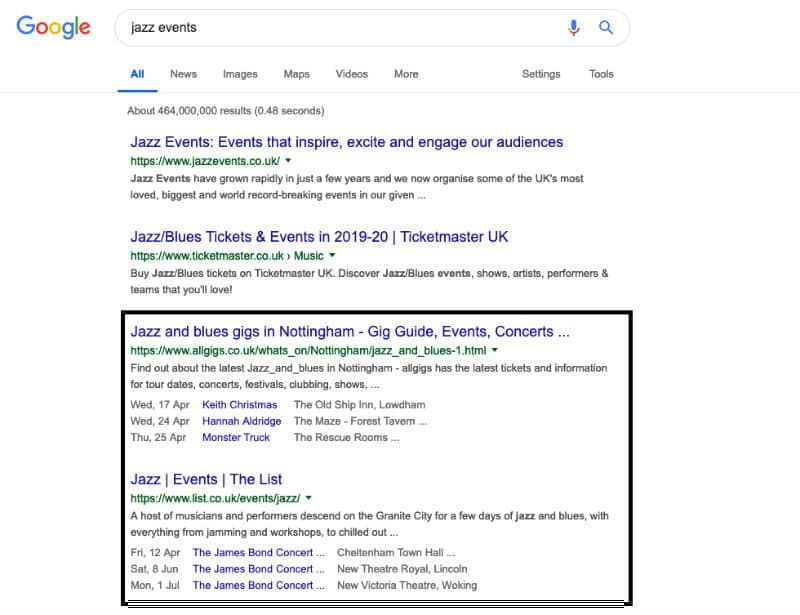 Schema Markup
MPG Pro's interface makes it easy for you to incorporate unique Schema markup data into your generated content, whether they are blog posts, landing pages, or product pages.
Schema markup is the information that helps Google and other search engines interpret exactly what your content is about.
You can add the shortcode to the microdata you are using to your template page, so that each new page generated has its own unique schema markup data.
Dominate Local SEO with Spintax
Create truly unique content for each locality-specific page you generate. By using the Multiple Pages Generator plugin, you can create thousands of location pages instantly.
What is Local SEO? It's the process of optimizing your website content to bring more relevant search traffic and business from a specific location.
If you service multiple locations, you can easily boost your local SEO by creating unique content pages for each of them. And MPG lets you generate all these new pages in minutes.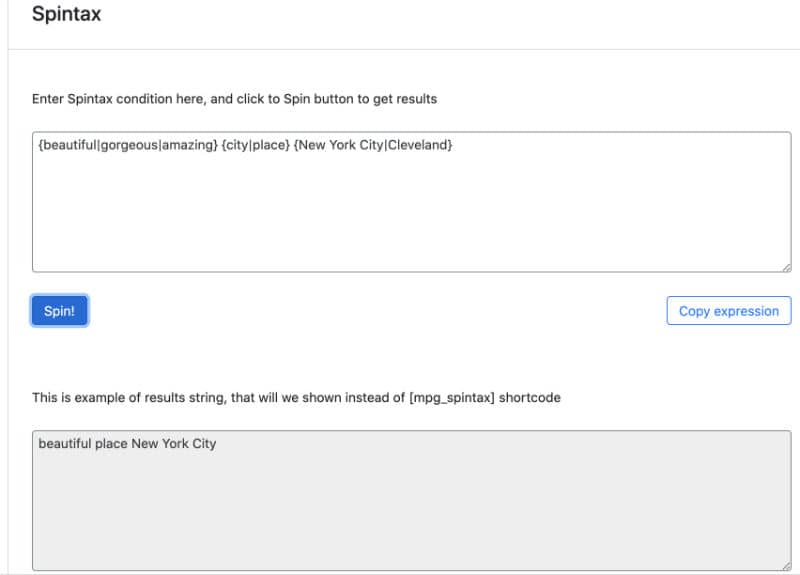 Frequently Asked Questions
When a URL is requested by your browser, the first priority is to load an actual existing page or post. If it doesn't exist, before returning 404, MPG will check if the URL is within its database. If it is, it will render the selected template page, replace all URL-related data and shortcodes, return status 200, and load the page for the end-user. Check out our tutorials here.
MPG has been tested and works out of the box with the next page builders and themes (not limited to those listed):
Neve (Theme)
Hestia (Theme)
Ark (Theme)
Avada 5.0+ (Theme)
Avia Layout Builder (Plugin)
Beaver Builder (Plugin)
BeTheme 21.1.x+ (Theme)
Bold Page Builder (Plugin)
Divi 3.0+ (Theme) and The Divi Builder (Plugin)
Elementor and Elementor Pro(Plugin)
Enfold (Theme)
Flatsome (Theme)
Fusion Builder (Plugin)
Live Composer (Plugin)
Oxygen Page Builder (Plugin)
Pro and X (Theme)
SiteOrigin Page Builder (Plugin)
Themify Builder (Plugin), Themify Ultra (Theme)
Thrive Architect (Plugin)
Visual Composer (Plugin)
WPBakery Page Builder (Plugin)
And more!
The Multiple Pages Generator WordPress plugin is a truly powerful SEO tool, since it allows you to target thousands of keywords with unique content.
On top of that, it also works seamlessly with your favorite SEO plugins, like Yoast SEO, All in One SEO, SEOPress, Rank Math SEO, and others.
Is the Page Builder you work with not listed above? Contact us if you face issues with another page builder not listed above.
First, make sure the plugin is properly installed, the CSV is loaded and the template is properly set.
If the problem persists:
Check that the requested URL doesn't belong to an existing page, especially in Trash.
Check that the requested URL is identically included in the data file uploaded to the MPG plugin.
Make sure to disable any custom 404-page plugins. Sometimes they check page URL in the database before MPG does and return 404.
Check this documentation.
Still getting the error message? Write to support here.
If you are trying to upload a file and the MPG plugin isn't able to extract the data in it, the likely reason is that the file doesn't have the columns and types of values that it should.
A quick and easy solution is to go to: https://csvlint.io/
There you can upload or link your CSV file and it will standardize your file so it can be uploaded to the MPG file without a hitch.
Absolutely! With the Agency plan, you can active license on an unlimited number of websites. Be sure to check the Fair Usage policy here – Terms
Build Impressive Websites
Choose your plan to get started
Personal
129

$€

99

/year
Ideal for getting started
1-Year of Support for 1 site
1-Year of Updates for 1 site
Unlimited Pages
Unlimited Templates
Scheduled Import
Best value!
Business
259

$€

199

/year
Managing more than one site
1-Year of Support for 5 sites
1-Year of Updates for 5 sites
Unlimited Pages
Unlimited Templates
Scheduled Import
Priority support
Agency
529

$€

399

/year
Professional sites and portals
1-Year of Support for unlimited sites
1-Year of Updates for unlimited sites
Unlimited Pages
Unlimited Templates
Scheduled Import
Priority support & Live Chat support
Purchase With Peace of Mind
If you find out that this plugin does not meet your needs, we offer a 30-day money-back guarantee.
You can change plans or cancel your account at any time! Special introductory pricing, all renewals are at full price.