Note: Zyro Website Builder is now acquired by Hostinger. This new equation is expected to bring a host of new features to Hostinger Website Builder, enhancing the website building experience for users. With Hostinger's industry-leading web hosting and Zyro's intuitive website building technology, users can look forward to a seamless, all-in-one platform for creating and managing stunning websites effortlessly.
Web development evolves almost every month, especially for publishing platforms such as WordPress. In fact, this isn't the only area where non-coders get to build a full-featured website. You can also find dedicated and standalone platforms such as WordPress.com and Squarespace. This Zyro website builder review will look at another one vying for attention.
👨‍🎓 For this post, we're going to give you a full Zyro website builder review, and sum up whether you should choose it or not. Here's what we're going to cover:
First, let's look at Zyro itself – where it comes from, and what it is.
What Zyro is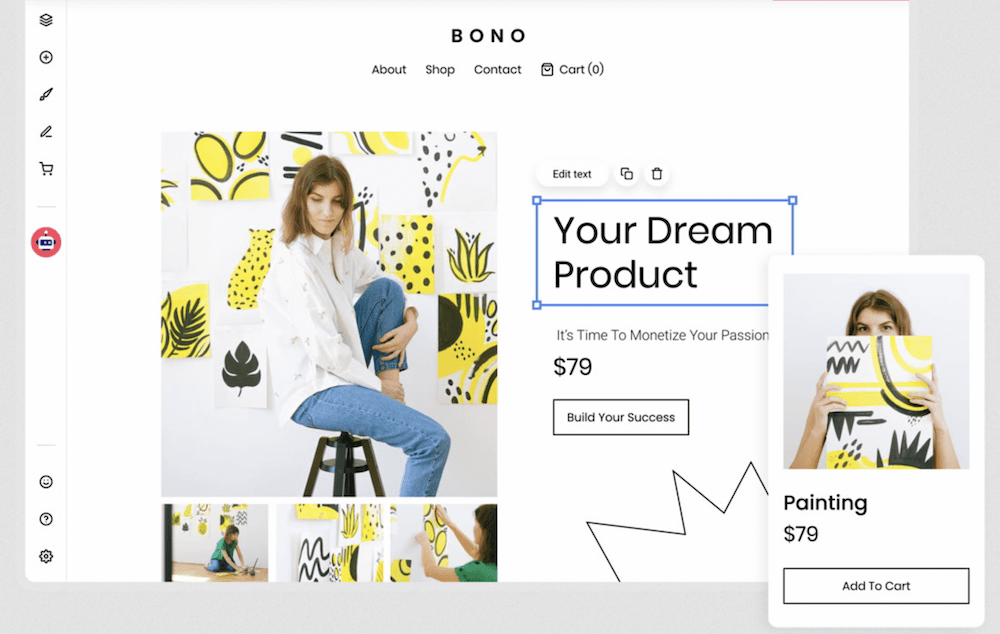 Zyro sits in the 'website builder' camp of site publishing tools. It's a complete product, without the need for third-party tools and services. Indeed, you can't extend the platform at all, but Zyro includes lots under the hood:
There's a drag-and-drop editor, and a selection of fantastic templates to kick-start your designs.
You get a bunch of search engine optimization (SEO) tools out of the box. For example, each site has mobile optimization, encrypted security, analytics to pore over, and eCommerce functionality (depending on your plan).
There are lots of integrations too, such as with Facebook Live Chat, Facebook Pixel, and Hotjar.
The builder is a development of Hostinger – a popular web host that we cover elsewhere on the blog. Because of this, Zyro's infrastructure is essentially Hostinger's web service, with a drag-and-drop builder. Even so, this doesn't mean you have creative restrictions. We'll show you this next.
The types of websites can you build with Zyro
Hostinger market Zyro as a complete and full-featured website builder, which means you can create almost any type of website. A good place to start is with the template library:
There are all sorts of categories here to choose from – straightforward and typical ones such as fashion and eCommerce, but also smaller niches such as resumes and home decor sites. You should be able to find a suitable template within the library to start your own site, regardless of the niche.
👉 In the real world, there are lots of site that use Zyro. For example, you have Gud.Renders: an archtectural portfolio site:
You also have the option to build more traditional eCommerce sites, as is the case with children's clothing brand, Millaw:
However, you can also create simple landing or holding page site. Jared McCormack uses Zyro to promote his writing and podcast:
As such, the question isn't: Can I build my site with Zyro? You can. Instead, ask: What are the good and bad parts of Zyro? Let's answer that question next.
The positives and negatives of the Zyro website builder
Over the next two sections, we're going to look at some of the plus points and drawbacks of Zyro. Some of these will replicate what you'll read in other reviews, too, as they can be inherent when you use a standalone website builder.
Regardless, we'll start with the positives, then look at the negatives. 😎
Pros 👍
As with lots of other website builders, a plus point (and also a selling point) of Zyro is that you have practically everything you need to create a website under one roof. This means you won't need to head off to plugin directories or third-party libraries to find the features you need.
The setup process is quick and straightforward too. We entered credentials, then got to choose from the library of templates. However, at the bottom is one of Zyro's marquee features: artificial intelligence (AI):
The AI site generator takes you through a number of questions to help create the necessary pages and styling for your site.
You'll get to do things such as choose site features from a selection of checkboxes, select the pages you want to create, and more. Once Zyro finishes, you can select your primary design, and begin to edit:
Speaking of AI, you can also use a number of other tools to help build your site. There's a logo maker, but the content generator and heatmap will likely pique your interest more:
The AI Content Writer lets you select some categories, and once you click the Generate Text button, you'll see a number of paragraphs that you can copy and paste into your site. The results aren't perfect, but it's going to be welcome if you want to fill your site fast:
We should also mention the drag-and-drop editor, because it works well:
You have a number of options within the sidebar, and you'll drag elements onto the visual editor. From there, you can select each element, and work with its options. This is a good time to mention the drawbacks of Zyro, because the editor itself brings up some shortcomings.
Cons 👎
While the feature set of Zyro is strong, you can see that it's not as full-featured as a platform like WordPress. You have less flexibility for starters, which is evident if you take a look at the elements that are available to build your site:
It takes a few more clicks to access formatting such as heading styles. In comparison, you can find these with ease in other builders, such as the WordPress Block Editor and Elementor.
ℹ️ We can't argue with much of what Zyro offers, but there are two other subjective points to note. First, you will run your site on Hostinger's servers. If you like the performance of Hostinger, you'll enjoy Zyro. However, if the opposite is true, you'll likely want to skip past this one.
Also, whereas WordPress is an open system, in that you can take your content to and from other platforms if you wish, Zyro doesn't allow for this. This means you can't import or export your site. This is a big deal if you want to go elsewhere – the 'lock in' isn't ideal, and means you'll need to stay with Zyro forever. As such, we wouldn't recommend this as a long-term solution for your main site unless you will always want to use the website builder.
Zyro's pricing
Much like Hostinger's web server pricing, Zyro is competitive. There are four different tiers to choose from, that restrict functionality as you upgrade:
Website. This tier is $1.99 per month and includes all the core features of Zyro. However, it does not include eCommerce functionality.
Business. While you get some level of eCommerce functionality with this $1.99 per month tier, you'll only receive a basic set of features. For instance, you can't offer coupon codes, gift cards, run a multilingual store, and other essentials are also missing.
Online Store. This tier costs $8.90 per month, and lets you set shipping and tax rates, along with the ability to create and manage coupons and gift cards. It's really the bare minimum you should choose if you want to sell online.
Advanced Store. If you choose this tier at $15.90 per month, you'll get the full experience of Zyro. It includes a product filtering system, automated marketing, the ability to integrate email marketing, the option to sell subscriptions, and a whole host of other features.
However, note that the prices here include discounts. Hostinger's business model – much like some other hosts – is to offer almost perpetual deals to entice you onboard. Once your initial term ends, the price can more than double. For example, the Website plan offers the $1.99 rate only for a two-year subscription that you'll need to pay upfront:
You'll note that you can choose a month-by-month plan, but this is $8.99 per period. As such, you'll need to bear this in mind (and wallet) when you attempt to sign up. For higher tier plans, this upfront cost and renewal will increase.
Who should use the Zyro website builder
You'll likely want to look at Zyro if any of the following apply:
You use Hostinger and want a minimalist, all-in-one approach to your site.
Your budget is small, and you want the most bang for your buck.
You simply don't like the experience of using WordPress.
As such, Zyro could be a good option. However, we'd still go with WordPress for the majority of situations, as you can match what Zyro can achieve and more. Additionally, WordPress is still easy enough for non-technical people to use.
👉 If you still feel overwhelmed by WordPress, you could try something like Bluehost's WordPress-based website builder.
Zyro website builder review: Our final thoughts 🧐
While we believe WordPress to be the leader, there are many website builder alternatives on the market. As such, you'll want to look at a few to understand which one is best for your needs.
📌 In this Zyro website builder review, we looked at the tool's offering and how this cheap website builder can help you launch a website fast.
If you already use Hostinger's services and like them (the company behind Zyro), it could be a no-brainer to go with the Zyro website builder as well. Still, WordPress is flexible, expandable, and intuitive – and should still be your go-to regardless of your web host, in our opinion.
Does this Zyro website builder review answer all of your questions? If not, ask away in the comments section below!
Zyro Website Builder
Zyro is a website builder tool from the team behind Hostinger web hosting. Zyro can be very useful for building basic sites fast. It offers all of the most common features and a good selection of website templates to choose from.
Pros
All in one tool for website building
Nice selection of site templates
Cons
Less flexibility compared to tools like WordPress, and also not as versatile
Free guide
4 Essential Steps to Speed Up
Your WordPress Website
Follow the simple steps in our 4-part mini series
and reduce your loading times by 50-80%. 🚀
Free Access