If you've found yourself trying to puzzle out the differences between Wix vs Squarespace, you're not alone. Each is a strong competitor with impressive features. However, your needs are unique to your site. Therefore, you'll want to be fully familiar with what each builder can offer before you commit.
Fortunately, you can accomplish this with a little bit of research. By understanding the pros and cons of each website builder, you can make an informed decision about which platform is right for you.
In this article, we'll introduce you to the basics of both website builders. Then we'll compare Wix against Squarespace in three essential areas. Finally, we'll wrap up with our personal assessment and explain our top choice. Let's dive right in!
📚 Table of contents:
An introduction to Wix vs Squarespace
If you want to compare Wix vs Squarespace, you need a general idea of what each offers. This is because while they're both popular website builders, they remain distinct. Let's look a little closer at each, starting with Wix: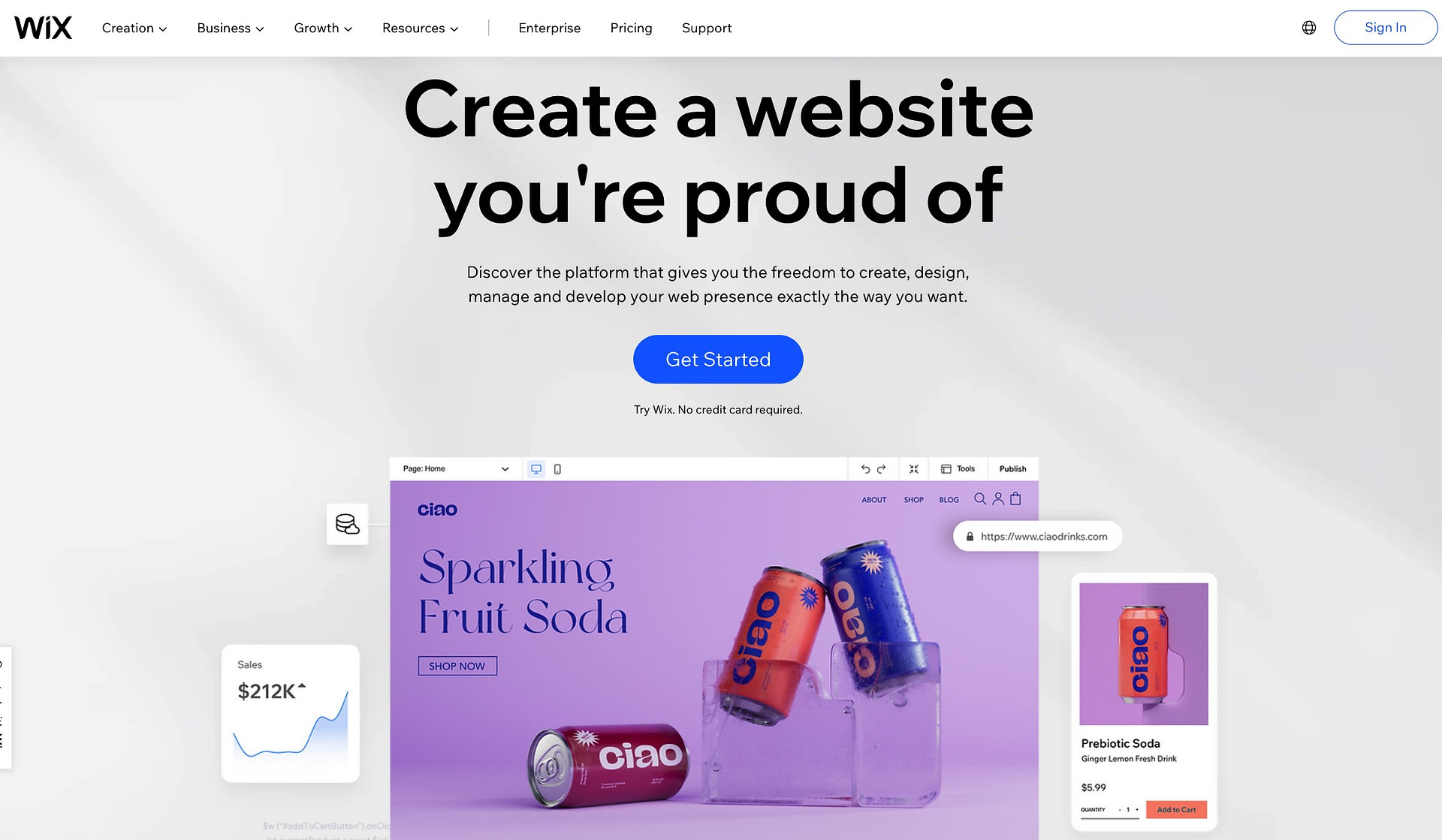 Wix launched in 2006. Its founders wanted to provide users with a simple way to build websites. As such, the platform doesn't rely heavily on code or overly complex technical knowledge. These days, Wix boasts an impressive 200 million users[1].
As the platform has grown, so has its feature set. Wix's developers continue to prioritize simplicity. However, they have also expanded the platform's customization options. Therefore, Wix offers users an easy way to tailor their individual websites to meet their needs.
Squarespace was founded a few years earlier in 2003: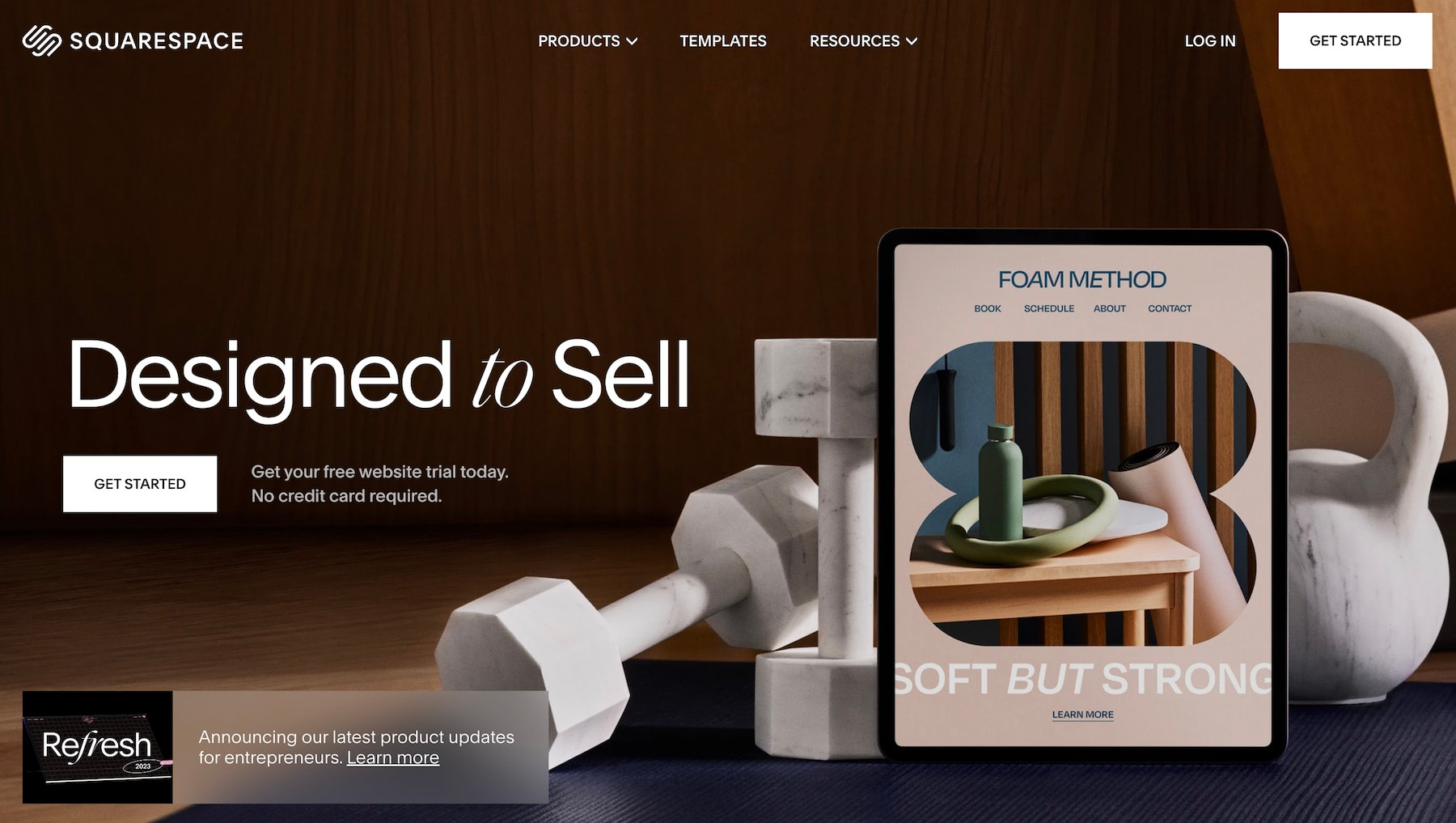 In contrast to Wix's focus on ease of use, Squarespace has more of an eye towards design. Its developers strive to help individuals with creative ideas present their work in elegant ways. Millions of people have responded to the company's slogan of "Build it beautiful".
For this reason, Squarespace tends to lean towards features that prioritize your site's front-end appearance. One example is the option to connect with a web professional through Squarespace's network rather than build your site yourself. If you choose to go it alone, you'll still be provided with a large variety of templates to work with.
Nevertheless, Squarespace does strive to be user-friendly. By the same token, Wix provides plenty of attractive designs. This means that crowning a winner in the battle of Wix vs Squarespace can be tricky. Therefore, we recommend that you review each platform's performance and your needs to find the perfect match.
Wix vs Squarespace compared: Three key criteria
To help you get started, we've done the research on Wix vs Squarespace. Here are three critical areas you might want to consider when making your choice.
1. Features
First, let's take a look at the key Wix vs Squarespace features head-to-head:
Wix vs Squarespace: FEATURES

| | Wix | Squarespace |
| --- | --- | --- |
| Drag-and-drop builder | ✅ | ✅ |
| Blog | ✅ | ✅ |
| Contact forms | ✅ | ✅ |
| Marketing solutions | ✅ | ✅ |
| Social media integrations | ✅ | ✅ |
| Custom frontend code | ✅ | ✅ |
| Custom backend code | ✅ | ❌ |
| Ecommerce support | ✅ | ✅ |
| Membership support | ✅ | ✅ |
| Drag-and-drop style | Extremely flexible | Section-based |
| Available templates | 500+ | 100+ |
| Available apps | 250+ | 20+ |
| Comment moderation | ✅ | ✅ |
| Easy content export | ❌ | ✅ |
| Free plan | ✅ | ❌ |
To dive in deeper, we'll begin by taking a closer look at the design process. You may have noticed that you can use your coding knowledge on either platform. Nevertheless, it's not required. You can use either builder to its full potential without any technical knowledge. However, the option is available to you if you're looking for a more hands-on approach.
When it comes to creating your website, both platforms feature drag-and-drop editing technology. However, there's a key difference: flexibility. Consider Wix's editor, for example:
Wix is a true drag-and-drop builder. You can place content nearly anywhere on the page. There are few boundaries, giving you a lot of creative control. In contrast, here's the Squarespace editor:
Squarespace is a bit more limited. It's still a drag-and-drop system, but it operates on a sectioned basis. This means you can only place content in pre-determined spots. You may find this a bit limiting if you're looking for complete layout control.
Each platform also offers a large selection of templates. However, whereas Wix offers more options, Squarespace arguably offers better ones. Each Squarespace template has been crafted by web-designing pros. Therefore, they're often aesthetically pleasing and easy to work with.
Finally, search engine optimization (SEO) is critical to your site's performance. When it comes to Wix vs Squarespace, each offers robust tools in this area. However, Squarespace does not offer individualized SEO suggestions, while Wix does. If you're new to building websites, this lack of guidance may make Squarespace less beginner-friendly.
2. Ease of use
Ease of use is an essential factor to consider when choosing a website builder. Clunky interfaces can take up a lot of time and cause frustration. If you're comparing Wix vs Squarespace, both are simple to use, but in different ways.
Wix has an extremely intuitive interface. You click on what you want to change to access available settings, and can move page elements with ease. The platform also comes with a few 'guide rails' that make it an excellent option for beginners.
For one thing, it offers a 12-step walkthrough on how to set up your site for the public. If that's a bit too much for you, Wix also includes an AI-powered page building process that can quickly get your site up and running:
Squarespace, by contrast, requires a bit more effort to use. Despite the fact that it also prioritizes drag-and-drop functionality, it's more rigid with placement. There are select areas where you can include elements such as text and images.
Additionally, you'll mostly be working with pre-made templates in Squarespace. While this might limit creativity in some areas, it can also make the design process a lot easier. Complex features such as animations come pre-built. Therefore, you can simply adjust a few settings to get your desired results – no guesswork required:
The most user-friendly option depends on your needs. Squarespace is simpler than Wix, making it a smart choice if you're uninterested in technical details. However, Wix is more intuitive, making it the best option if you'd like to have more granular control over your growing site.
3. Price
Nearly all site builders will need to consider their budgets when choosing a platform. So how do Wix vs Squarespace compare in terms of pricing?
First, let's look at the basics. If you're searching for a free plan, Wix is your best bet. Squarespace doesn't offer a free plan option (though it does offer a free trial to test it out before going live). Wix also offers a free trial of its premium plans. As such, we recommend that you give it a try if you're curious.
In terms of the cheapest entry-level plan without strict limits, you'd be looking at:
Squarespace – $16.00 / month
Wix – $16.00 / month
But, overall, there's not much difference between Wix and Squarespace in terms of premium plans. Wix comes with five plans, while Squarespace offers four.
As you will see below, despite not providing a free option, Squarespace is the more affordable website builder if you plan to upgrade to the Business plans. Squarespace's Business plans range from $23 to $49 per month, while Wix's Business plans cost between $27 and $159 per month.
Beyond that, Wix also offers an Enterprise plan in which you get custom pricing depending on your personalized needs and technical requirements.
Wix pricing
Wix provides five pricing plans that differentiate through the features included.
In the cheapest one – which is $16/month – you get 2 GB of storage, basic marketing tools, a free domain for one year, and two collaborators.
To accept payments, sell products, and significantly increase the storage space, you need to upgrade to $27 per month or higher for advanced functionalities. The last plan focuses on enterprises and has custom offers based on your business needs and advanced requirements.
Squarespace pricing
On the other hand, Squarespace offers four plans. You also have the option of contacting the company for an enterprise solution.
For a better idea of how comparable plans measure up, here's a side-by-side comparison of the entry-level ecommerce plan from each platform:
| | Wix (Core) | Squarespace Basic Commerce |
| --- | --- | --- |
| Price | $27 / mo. | $27 / mo. |
| Added transaction fee (beyond payment processing) | 0% | 0% |
| Storage & bandwidth | 50 GB; unlimited | Both are unlimited |
| Subscription options | ❌ | ❌ |
| Customization features | Professional logo and custom domain | Professional email and a custom domain |
At this level of pricing, the two competitors are fairly similar, though Squarespace has a nice perk of offering unlimited storage while Wix only gives you 50 GB.
At this level, neither platform offers subscription options. However, that feature becomes available on both site builders with higher-tier plans. Therefore, we recommend that you carefully review all of the plans that are within your budget, to ensure that you have all the features you need.
Ultimately, we feel that Wix takes this round, as you get more flexibility in the features you'll be paying for. That's especially true if you want to open an online store. Wix has more options available than Squarespace, even if they come with a higher price tag.
Conclusion
As with most things, there's no one-size-fits-all answer for deciding between Wix vs Squarespace. Either might fit you better, depending on your needs, budget, and goals.
However, we crown Wix as the overall winner. This platform is easy to get started with, creatively accommodating, and comes with scaled pricing options to help your site grow. While Squarespace has powerful design features for creators, it falls a bit short in terms of usability and formatting freedom.
If you're ready to get started with Wix, you can follow our full guide on how to make a Wix website.
Which platform do you plan to use for your website? Let us know in the comments section below!
Free guide
4 Essential Steps to Speed Up
Your WordPress Website
Follow the simple steps in our 4-part mini series
and reduce your loading times by 50-80%. 🚀
Free Access
* This post contains affiliate links, which means that if you click on one of the product links and then purchase the product, we'll receive a commission. No worries though, you'll still pay the standard amount so there's no cost on your part.