Considering using Wix to build a website? In our hands-on Wix review, we'll help you decide if it's right for your needs.
Creating and maintaining a website can be a lot of work. Website builders aim to simplify this process by providing everything you need in one package, including hosting, a site editor, blogging tools, ecommerce features, and more.
Wix is one of the more popular website builders on the market. Known for its large library of excellent templates, it has a lot to offer new website owners, including accessible prices. However, Wix may not be the perfect fit for every type of website, so you need to have a comprehensive understanding of what the platform offers and how it works.
In this Wix review, we'll take a look at the website builder and some of its key features. Then we'll offer recommendations on whether it could be right for you.
Let's dive in!
An introduction to Wix 👷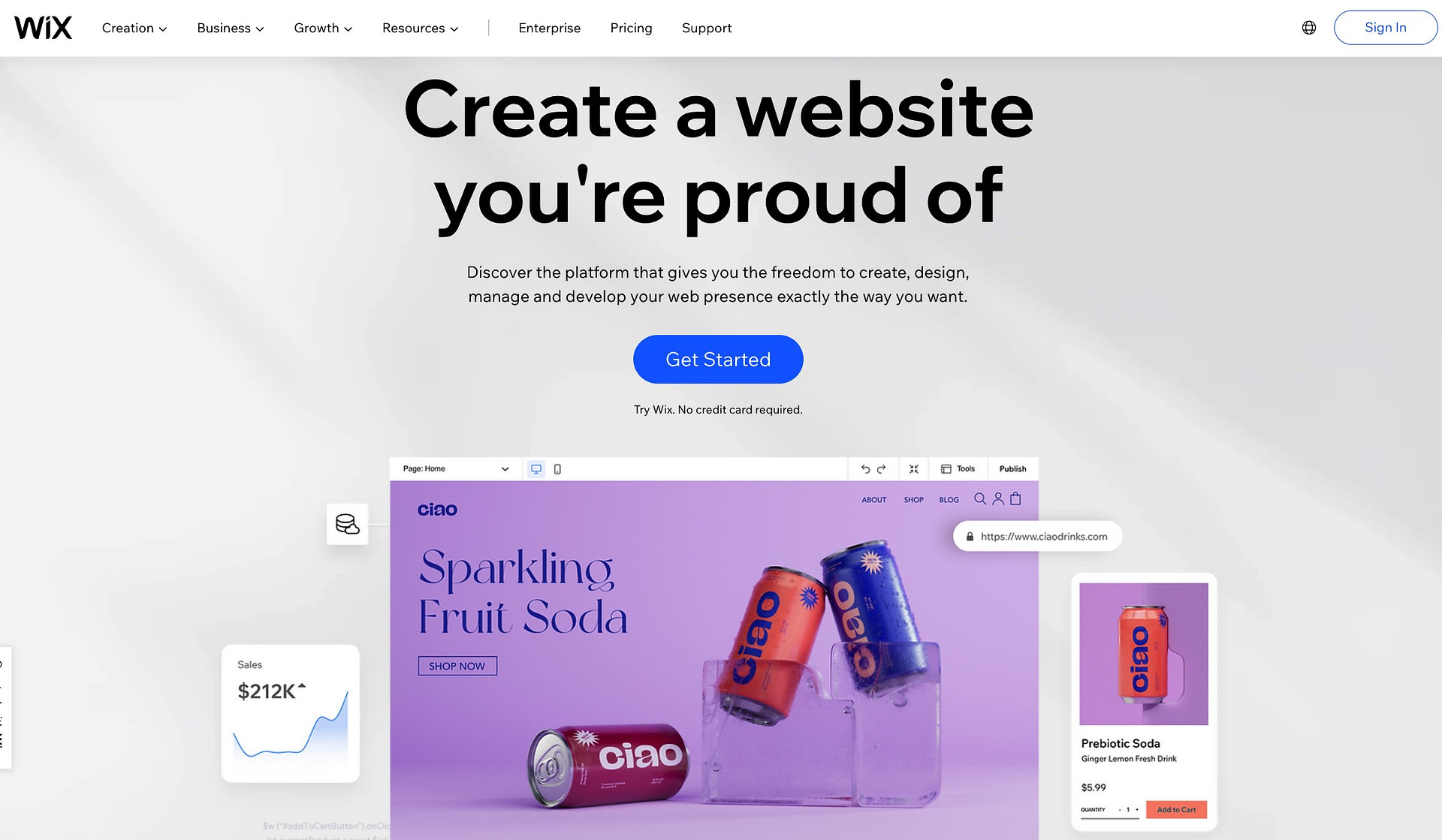 Website builders are platforms that come packaged with everything you need to build and launch your own site. Generally, this includes a choice of themes or templates, an editor, and blogging tools. Many also offer ecommerce functionality, and most include hosting.
Website builders are incredibly convenient if you want to pay for a single service that includes everything you need to for a web project. However, they can also be expensive, and often sacrifice flexibility in the name of simplicity because you (or a developer you hire) can't fully edit the underlying code of your website, nor can you add new features beyond the features that are already there.
Wix is a relatively popular website builder that offers a balanced mix of functionality and user-friendliness. It includes a huge selection of templates to help get your site off the ground, and its ecommerce and business features are quite extensive. For this reason, many people looking to start their first websites consider this platform.
Wix review: The key considerations 💡
With the introductions out of the way, let's dig into our Wix review. Below, we've examined five of the key aspects of a website builder to consider, so you can see how Wix stacks up.
1. Templates and the Wix Editor
When you first sign up for Wix, you'll be presented with a questionnaire designed to help start you off on the right foot:
In fact, you can even have the Wix Artificial Design Intelligence (ADI) create your website for you based on your answers [1]. As convenient as that might sound, you're much better off using the Wix Editor to build your site manually.
Why?
Because it gives you full control over the experience. That's also why for this Wix review, we're going to focus on that feature.
Before entering the Editor, you'll be asked to select a template for your new site. This is one of Wix's strengths – there is a huge variety of templates available, for all manner of sites:
You can filter the list using various categories, such as Business & Services or Blog. Then refine the results by navigating the subcategories until you find a design that suits you. There are even blank templates if you want to start from scratch:
If you find a template you like, you can use the Wix Editor to fine-tune it. This is much faster than working with a blank slate. The interface is relatively simple to use. You can select any element on your page and edit it or move it around:
Along the left, you'll find a column of buttons that enable you to add and adjust various elements on the page, such as your site's theme and background. You can also use this menu to add media files to your website, such as images and videos. On the right, you'll find a toolbar that provides editing functionality and details about any element you select.
Overall, the Wix Editor is flexible and easy to use. Even if you're working on your first website, Wix makes building pages feel as simple as putting together Legos (if you could fully customize every Lego piece you use).
2. Blogging features
Publishing content on a Wix website is downright simple. When editing your site within the Wix Editor, you can click on the 'pen' icon in the toolbar to access the blogging features:
The post editor is clean and easy to navigate. Along the right, you'll find the text editor and formatting options, while the left side houses a variety of tools to enhance your post:
The Add button lets you embed images, videos, GIFs, and code snippets in your post. The Settings tab contains options for a cover image, scheduled publishing, descriptions, and comments. The SEO tab is where you'll find features related to search engine optimization (SEO), including the post's SEO title, meta description, and other tools.
The Categories and Tags sections enable you to organize your posts into groups based on common themes. Finally, the Sell Subscriptions tab is where you'll find options to monetize your blog by requiring users to subscribe and read posts. You can place all of your content behind a paywall, or just some of it.
Wix makes it incredibly easy to monetize content, which makes it a great option if you want to set up paywalls for a blog. The platform's SEO settings are also surprisingly robust [2], as Wix includes a lot of advanced features for every plan, including schema markup. It also offers custom SEO setup plans for customers at an additional cost.
3. Business tools
Wix offers an entire suite of business tools. These were previously known as Ascend and were offered as a standalone premium feature. However, as of February 1st, 2023, the Ascend toolkit was absorbed into all of Wix's premium plans [3].
These premium tools provide a wide variety of extra functions, including:
A video maker to help you create promotional content for social media
Targeted marketing, A/B testing, and enhanced analytics
A live chat function for your website
Customizable forms
Invoicing and coupon creation
Email marketing
Membership site functionality
Built-in tasks, reminders, and other administrative features
All of the tools are built directly into the Wix dashboard, so they're simple to use.
4. Ecommerce features
Wix, like most website builders, offers ecommerce features to help users build online stores. You can create a storefront, add products, and accept payments. However, ecommerce functionality is only available if you use one of Wix's Business & Ecommerce plans, which are significantly more expensive than the platform's default options (ecommerce plans start at $17 per month).
Putting cost aside, Wix's ecommerce features are straightforward and easy to use. When building your storefront, the large number of ecommerce templates (over 500) make it easy to get started [4]. Once you have your online shop up and running, Wix offers plenty of tools to help you manage it, including:
Custom shipping rules
Inventory management
Automated sales tax [5]
Built-in payment gateways for credit and debit cards
Wix ecommerce plans offer built-in functionality for a lot of specific use cases, including building restaurant ordering systems, ticket and event management, online booking, reservations, and subscriptions.
In general, Wix offers all the ecommerce features that most straightforward stores will need. For example, if you want to add a simple merch shop to your website, Wix ecommerce can definitely get the job done.
However, it does lack some advanced ecommerce features such as customizable, "build your own" products [6]. You can add basic product variations (e.g. for size, color, material). However, it's not as easy to create a full "build your own"-type product, unless you're willing to use Wix's Velo code editor (which requires technical knowledge).
You also might miss a few other more "nitty-gritty" features, like the ability to automatically notify customers when an out-of-stock product is back in stock (again, unless you use Velo).
For those reasons, if you're 100% focused on ecommerce and looking to create a serious, standalone ecommerce store, you might be happier with Shopify or WooCommerce.
5. Pricing
Anyone can use Wix to build a website for free. However, on that tier, Wix displays ads on your site and forces you to use a Wix-branded URL.
Wix offers five premium options: Light, Core, Business, Business Elite, and Enterprise. All of them offer the same core features, including a custom domain, an ad-free experience, and increased storage and traffic limits.
The Light plan gives you too little storage and bandwidth, however, which makes it a non-viable choice, unless you plan to build a very simple website (such as a personal blog or a portfolio). For that reason, most people should start with at least the Core plan for a basic website:
Light: $16 per month
Core: $27 per month
Business: $32 per month
Business Elite: $159 per month
Enterprise: Custom pricing
Depending on where you are in the world, you will also see some region-specific plans that will be shown to you based on your IP address location. These are the Connect Domain, Combo, Unlimited, and VIP.
The former is a notch below the Light plan (which is similar to the Combo plan), and therefore unsuitable for any sort of serious website project. It's also not available in the U.S. so the price below reflects the cost in euros.
The Wix Unlimited plan is wedged in between the Light and the Core plans, and makes a good choice for someone who requires more storage space, but doesn't want to double their cost.
Connect Domain: €5.50 per month
Combo: €10 per month
Unlimited: €17 per month
VIP: €29 per month
If you want to accept online payments, you'll need to pay for one of the Business plans. The Core plan provides basic ecommerce tools, too.
In the non-US regions, Wix comes with a different type of pricing offer for business and ecommerce, called simply Business and eCommerce Plans, which includes:
Business Basic: €20 per month
Business Unlimited: €30 per month
Business VIP: €44 per month
To gain access to all of Wix's best features and avoid limitations, we don't recommend that you sign up for Wix's basic plans, either for regular websites or online stores. This means that if you plan to use Wix for serious projects, you'll need to budget for around $27-$32 per month.
Some third-party Wix apps also cost money, so you might need to budget beyond the Wix subscription if you want to use those apps [7].
Wix review: Should you use it? 🤔
Website builders aim to simplify and streamline the process of creating a site. Their goal is to offer everything you need under one roof, so you can get your online content up and running quickly. Wix is no exception, but it's important to evaluate whether it can meet your needs before you sign up for a paid plan.
All in all, Wix is an excellent platform that manages to combine simplicity with useful features. It covers most of the essentials needed by website owners. For those looking to build simple sites quickly, it can be a useful option.
Its ecommerce tools are varied, and its template library is large enough that you should be able to find a design you love. In general, you'll get access to all the features that you need for simple ecommerce stores.
However, at the end of the day, Wix is a closed platform for the most part (with the exception of its Velo feature). This means that if you need a specific feature that's not offered, or are planning a project that Wix doesn't support with its native tools, you're better off looking elsewhere. Similarly, Wix's basic plans are very limited in terms of bandwidth and storage. So if you're on a tight budget, you might better off using an open-source platform like WordPress to build your website.
If Wix is the right option for your situation, you can follow our step-by-step Wix tutorial to create your site.
Wix
Wix is a cloud-based website development platform that empowers users to create professional websites without coding knowledge. It offers a user-friendly drag-and-drop interface, a wide range of customizable templates, and a variety of built-in tools and features to design and manage websites with ease.
Pros
User-friendly drag-and-drop interface
Wide selection of customizable templates and design options
Built-in hosting and security features
Excellent customer support and resources
Cons
Limited flexibility and customization compared to self-hosted platforms
Switching templates can be challenging
Do you have any questions about our Wix review? Let us know in the comments section below!
Free guide
4 Essential Steps to Speed Up
Your WordPress Website
Follow the simple steps in our 4-part mini series
and reduce your loading times by 50-80%. 🚀
Free Access
* This post contains affiliate links, which means that if you click on one of the product links and then purchase the product, we'll receive a commission. No worries though, you'll still pay the standard amount so there's no additional cost on your part.