If you're just getting started with WordPress, you're probably wondering: "What is Gutenberg?" This feature is mentioned on several plugin and theme pages, but as a novice, you might not know what it is or what makes it so special.
Also known as the Block Editor, Gutenberg is a user-friendly builder that enables you to design your posts and pages more easily. It has replaced the WordPress Classic Editor to offer a more intuitive web-building experience.
In this post, we'll take a closer look at Gutenberg. The full breakdown is below. Feel free to read everything or jump to any section.
📚 Table of Contents
Let's get started!
What is Gutenberg?
Gutenberg is a block-based editor for the WordPress platform. It was introduced in WordPress 5.0, which was released in November 2018. Since then, many website owners have switched out the classic editor for Gutenberg.
Gutenberg is now the default editor for WordPress installations.
If you're still wondering, "What is Gutenberg exactly?", don't worry. In this post, we'll cover all the basics and show you how to try the block editor out for yourself. Let's get into it!
Gutenberg overview
Since its inception, the Classic WordPress Editor in its current format — i.e., powered by the open-source TinyMCE editor — hasn't changed much: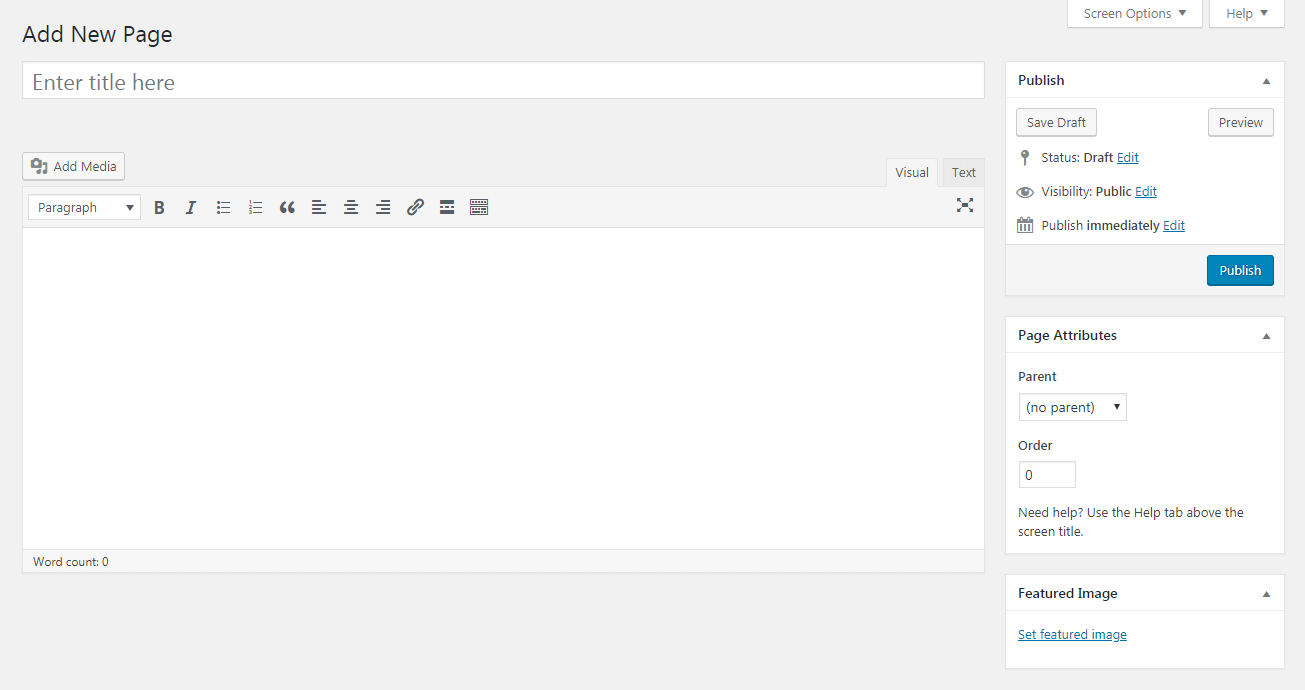 This isn't unusual since development on the core WordPress platform is usually slow and gradual. However, this means some of its elements, like the Classic Editor, have become outdated (at least in the opinions of some users).
In recent years, more visual and intuitive ways of creating online content have become very popular. There are easy-to-use website builders such as Wix and Squarespace, for example. Even the WordPress community has contributed to this evolution by creating page builder plugins (such as Elementor and Divi) that let you use a drag-and-drop tool to design layouts using distinct elements.
Furthermore, WordPress has caught up with the trend by creating its own page builder, Gutenberg:
So, what is Gutenberg? It's a block-based WordPress editor designed to be more like popular page builder tools. It enables you to add elements like images, paragraphs, lists, and buttons to a page or post with customizable blocks.
We'll look more closely at how it works in a moment. However, let's first discuss its potential advantages and drawbacks.
The pros and cons of Gutenberg
If you're a Classic Editor user, you may be wondering whether to switch to Gutenberg. Meanwhile, if you're new to both editors, you might want to know if Gutenberg is the better option.
Let's look at both the pros and cons of Gutenberg!
Pros
Makes the content creation process more intuitive and easier for beginners to pick up
Helps you see your content in a format closer to how it will look on the front end
Unifies the content creation experience by eliminating the need for separate shortcodes
Provides more options for customizing your content through a variety of discrete elements
Eliminates the need to install a separate page builder plugin
Cons
Although Gutenberg intends to provide an intuitive interface, it may actually be harder to learn than the Classic Editor due to its wide range of options and settings.
If you're switching from the Classic to the Block editor, it may break your site. You might have to go through every single post and page and redesign them with Gutenberg.
Gutenberg has become the default WordPress editor. In fact, the WordPress team discontinued support for the Classic Editor in 2022. Therefore, if you're still using the old editor, now is the time to switch to Gutenberg.
How to try out Gutenberg for yourself
At this point, we've answered the question, "What is Gutenberg?" and covered its pros and cons. Now, it's time to try out Gutenberg for yourself.
If you've just installed WordPress, Gutenberg will be automatically enabled on your site. You can access it by opening a new post or page:
However, if you've updated your WordPress site to the latest version and you were previously using the Classic Editor, you'll now have the option to use both editors concurrently:
If you're worried that opening a post in the Block Editor may break it, you may want to test it out on a local or staging site. This way, you can fix any issues with your posts without disrupting the user experience.
You can also experiment with Gutenberg on the editor's official page:
This tool allows you to familiarize yourself with the Block Editor before you start using it on your site. You can browse the available blocks, check out the customization settings, and more.
How Gutenberg works
As the name suggests, the Gutenberg Block Editor lets you create content with individual blocks. It offers many different types of blocks, which you can see by clicking on the plus icon in the top-left corner of the page, or within the body of the page itself:
A simple paragraph or image block lets you add text or media to your page. However, you can also create lists, galleries, tables, etc.
Once you select a block, it will be added to your post and page. Then, you can click on it and use the settings in the toolbar to customize it. You'll also find more customization options in the right-hand sidebar:
For example, if you're working with a Paragraph block, you might create an anchor link, change the color and typography of the text, and more.
In a basic sense, that's all there is to Gutenberg. You're able to add each piece of content as a block, customize it with the available settings, and arrange all blocks on the page in your preferred order.
Plus, Gutenberg comes with a selection of pre-designed block patterns:
You can use ready-made designs for headers, galleries, and other elements and customize them to suit your needs. You also have the option to save customized elements as reusable blocks to easily insert them into other posts and pages.
We strongly recommend playing around with Gutenberg, trying out different blocks, and getting a feel for how it all works. This way, you'll be able to decide for yourself how it stacks up against the Classic WordPress editor and popular page builders.
Conclusion
As it turns out, the answer to the question, "What is Gutenberg" is simpler than you might have imagined. Essentially, it's a user-friendly WordPress editor that lets you build pages and posts with blocks.
Gutenberg is now the default editor for WordPress. While the Classic Editor is still available, the WordPress team has discontinued support for this tool.
Therefore, if you haven't started already, now is the time to familiarize yourself with the Gutenberg Editor and explore the vast range of features that it offers. Be sure to also check out our more in-depth WordPress Block Editor tutorial for additional tips on how to get the most out of it.
🛑 Highly Recommended 🛑
Once you get a feel for how to use the Gutenberg Editor, we strongly urge you to install our free Otter Blocks plugin, which significantly expands upon the functionality of the default Gutenberg options. In short, it allows you to create an aesthetic, functional site with many of the cool features you'd get with a page builder like Elementor or Brizy, but without the heavy code that comes along with using those plugins. While you're at it, if you haven't chosen a theme yet, check out Raft, which comes bundled with Otter Blocks, and is currently the most popular Gutenberg block theme in the WordPress repository.
Have you tried Gutenberg, and what do you think about it? Share your thoughts in the comments section below!

Free guide
4 Essential Steps to Speed Up
Your WordPress Website
Follow the simple steps in our 4-part mini series
and reduce your loading times by 50-80%. 🚀
Free Access