Running a modern WordPress website often requires you to use a lot of disconnected plugins and third-party services. You need to post on social media accounts, prepare email marketing campaigns, send updates on Slack, and a thousand other little things. These little things can add up to almost a full-time job unless you find ways to automate them – that's where SureTriggers can help. 🖱️
In this SureTriggers review, we will explore this relatively little-known automation solution that can help you automate all of those tasks and more. The tool claims to be able to help you create complex automations in a matter of minutes, so we wanted to test whether it lived up to those words.
In the paragraphs that follow, we'll talk 💬 about what features this plugin offers, what kind of automations you can set up, and how much everything costs. Let's get right to it! 🙋‍♂️
An introduction to SureTriggers 🎬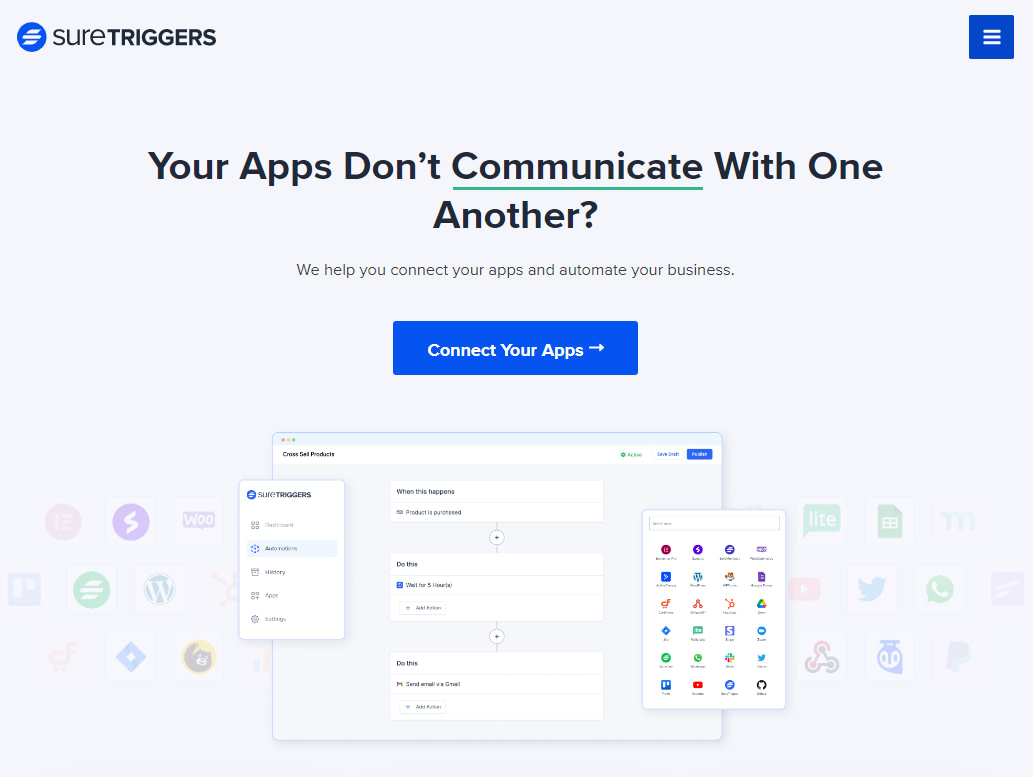 As we begin this SureTriggers review, it's important to note that when comparing it with other WordPress automation plugins, it's a newcomer. At the time of writing, SureTriggers is still in "beta." However, it's available to the public for testing, and it's already showing a lot of promise.
By "promise," we mean that SureTriggers already integrates with dozens of plugins and third-party apps. Moreover, it doesn't limit integrations to its premium version (at the moment). Instead, the plugin offers different plans that vary in how many automations and tasks you can run.
Automations in SureTriggers are called "workflows." Just as with other similar automation plugins, they involve a trigger and an action. What actions you can automate will depend on the events you pick as triggers.
Another standout feature in SureTriggers is that some plans enable the plugin to retry failed automations. That means if an automation fails to run due to a timeout or being unable to connect to a third-party service, the plugin will try again until it works.
👉 Key Features:
Automate processes in WordPress
Create automations that involve events in WordPress, plugins, and third-party tools
Integrates with plugins and third-party tools
Retry automations if they fail
Under the hood, it's an SaaS solution where the WordPress plugin only serves as the layer between your site and it
👉 Key Integrations Available:
AffiliateWP
ActiveCampaign
Amelia
Asana
bbPress
Beaver Builder
Bitly
BuddyPress
Calendly
CartFlows
ClickFunnels
ConvertBox
ConvertKit
Divi Builder
Dropbox
Easy Digital Downloads
Elementor Pro
Events Manager
EverWebinar
Formidable Forms
GetResponse
GiveWP
Gmail
Google Calendar
Google Docs
Google Drive
Google Forms
Google Sheets
Gravity Forms
Jetpack CRM
Kadence Forms
LearnDash
LearnPress
LifterLMS
LinkedIn
Mailchimp
MailerLite
Mailgun
MailPoet
MemberPress
monday.com
Notion
OpenAI
PayPal
Sendinblue (Brevo)
Slack
Stripe
SureMembers
The Events Calendar
Todoist
Trello
Twitter
Typeform
UltimateMember
Vimeo
Wishlist Member
WooCommerce
WPForms
Xero
Zoho Forms
Zoom
What can you automate using SureTriggers? 🔧
In this section of our SureTriggers review, we're going to show you some examples of processes you can automate using this innovative plugin. Keep in mind this isn't a tutorial but an overview of how the plugin works and what it feels like to use it for the first time.
1. Update a spreadsheet when someone purchases a product
As we mentioned before, SureTriggers integrates with both plugins and third-party tools. That means you can use it to set up useful automations such as exporting data to a spreadsheet when someone buys a product from your WooCommerce store.
Before you do anything else, SureTriggers will ask you to register an account. Then you can start setting up workflows from the SureTriggers page in the dashboard. Here's what the workflow screen looks like when you're choosing a trigger:
Unlike other automation plugins, SureTriggers shows you every available integration from the get-go, even if you don't have the plugin installed or the third-party platform connected yet. This can be a bit overwhelming, but finding options is easy, thanks to the search feature.
When you select an integration that's already set up, the plugin will ask you to choose what event to use as a trigger. Interestingly enough, SureTriggers enables you to connect events from other WordPress websites too, and you can test if the trigger works during the setup process:
After testing a trigger and adding it to the workflow, you can pick the action that will result from it. This process works just the same. However, if you haven't authorized the app or plugin that you want to use, you'll need to do so now. For some apps, such as Google Sheets, this involves a permissions screen that details what SureTriggers can do if you give it access:
Once the action is set up, SureTriggers will ask what spreadsheet and worksheet to add the data to. Keep in mind the plugin will ask you to test both the trigger and the action before you can activate a workflow, which is great since it forces you to validate them.
2. Send a message when a user purchases a course
A lot of businesses want to receive notifications when they get a new lead or purchase. For example, if you run an online academy using a learning plugin and you get a course signup, you might want to send an automated message via Slack detailing the information. That way, someone on your team can reach out and help with the onboarding process.
That's a niche example, but it represents the kind of automations you can pull off using SureTriggers. The tool integrates with several WordPress online learning tools, such as LearnPress:
This type of integration is easy to set up if you already have online courses ready to go and a Slack workspace that you can authorize access to. SureTriggers will ask for access to the workspace and you can select the option to send a message to a specific channel of your choosing:
Overall, configuring SureTriggers to work with different platforms and plugins is easy. With plugins, you only need to make sure they're active. Most third-party platforms will simply ask for authorization the first time you set up a workflow that involves them. After that, you'll be able to create further workflows seamlessly.
SureTriggers Review: Free 🆚 Premium
At the time of writing this SureTriggers review, the tool is still in its beta period. They plan to monetize the plugin in the future using premium licenses, but you can use it already. Right now, all SureTriggers plans are free, so you can experiment with the different sets of features they offer:
If you like using SureTriggers, it's important to note they will start charging for automations at some point. The free plan is expected to support up to five workflows and 1,000 actions per month.
For more automations, you'll need to pay for a premium license. The basic Pro license is planned to launch at $99 per year, which makes it a cheaper option over automation plugins such as Uncanny Automator and AutomatorWP.
Concluding our SureTriggers review 🧐
Recommending new plugins is often risky. As the plugin develops, it might shift course drastically and you might end up with a product that you don't enjoy using anymore. However, SureTriggers has been around for long enough that we can say it's an automation plugin worth using.
Its main selling point is that it doesn't restrict integrations behind a paywall. SureTriggers's free version enables you to set up workflows that involve any plugin or third-party app that it supports. The limitation is that you can only set up a handful of automations and they can only run up to 1,000 times per month. For a free plugin, that's pretty generous and more than enough for a lot of websites.
💡 Found this useful? Then you might also want to check out our roundup of Zapier alternatives, which will give you even more options for setting up automations.
Do you have any questions about our SureTriggers review? Let's talk about them in the comments section below!
SureTriggers
SureTriggers is a newcomer among WordPress automation plugins. However, it's a lot more user-friendly and open than a lot of its competitors. For now, it offers an amazing deal (since it's fully free).
Pros
Doesn't restrict integrations
You can test automations before they go live
Works with a large library of plugins and third-party apps
The current beta version allows you to use the premium tiers for free
Cons
It's still in beta, so the product experience might change a lot
The WordPress plugin is more of an integration layer with the main SaaS solution rather than a standalone plugin
Free guide
4 Essential Steps to Speed Up
Your WordPress Website
Follow the simple steps in our 4-part mini series
and reduce your loading times by 50-80%. 🚀
Free Access