Not sure which Shopify pricing plan is right for you? In this article, we'll explain the Shopify plans and help you choose the option that's right for your current needs.
Beyond that, we'll also talk about some of the other expenses that go into running an eCommerce store, beyond the price of the Shopify service itself.
We'll start with a quick comparison table of the plans. Then, we'll highlight some of the other costs and finish things up with our recommendations for which types of store owners should choose which plan.
Table of contents:
Shopify pricing plans explained and compared
Shopify pricing plans

| | Shopify Lite | Basic Shopify | Shopify | Advanced Shopify | Shopify Plus |
| --- | --- | --- | --- | --- | --- |
| Price | $9 per month | $25.00 per month | $79 per month | $299 per month | Starting at $2,000 per month |
| Staff accounts | 1 | 2 | 5 | 15 | As many as needed |
| Store Locations | 2 | 4 | 5 | 8 | As many as needed |
| Max shipping discount | None | 77% | 88% | 88% | Custom |
| Credit card fees (online) | 2.9% + 30¢ | 2.9% + 30¢ | 2.6% + 30¢ | 2.4% + 30¢ | Varies |
| Full online store | ❌ | ✅ | ✅ | ✅ | ✅ |
| Discount codes and gift cards | ✅ | ✅ | ✅ | ✅ | ✅ |
| Abandoned cart recovery | ❌ | ✅ | ✅ | ✅ | ✅ |
| Advanced reports | ❌ | ❌ | ✅ | ✅ | ✅ |
| Advanced report builder | ❌ | ❌ | ❌ | ✅ | ✅ |
| Automated third-party shipping rates | ❌ | ❌ | ❌ | ✅ | ✅ |
To clarify, here are short descriptions of what to expect from each Shopify plan:
Shopify Lite – No complete online store, but a point-of-sale and a Buy button generator to add selling functionality to another website or blog. You also receive features for invoices, reports, customer profiles, order management, product management, discounts, and a few other basic features.
Basic Shopify – A full online store with unlimited products, multiple sales channels, discount codes, a website builder, free SSL, abandoned cart recovery, and gift cards.
Shopify – Everything from the previous plan plus professional reports, discounted credit card rates, better shipping discounts, and international pricing and domains.
Shopify Advanced – Everything from the previous plan plus an advanced report builder, third-party shipping calculations, improved shipping and credit card rates, and individual product pricing for international sales.
Shopify Plus – Everything from the previous plan plus optimized checkouts, improved product pages with built-in media, localized shopping experiences, advanced shipping rates and discounts, and many more customization tools.
What other costs should you expect on top of the regular Shopify pricing?
As with all businesses, multiple expenses come into play outside of the initial platform investment.
To start out, you're paying anywhere from $9 to $2,000+ on a monthly basis. That's a big difference, so we're more inclined to say that a startup company would spend anywhere from $25.00 to $299 per month, seeing as how the Shopify Lite plan ($9 per month) isn't for making a true online store and the Shopify Plus plan ($2,000+ per month) isn't necessary for a small to mid-sized business.
But what else can you expect besides that monthly payment?
First of all, several website building and online store features you would usually have to pay for are included with the monthly fee.
You won't have to pay extra for:
Website hosting
A website builder
Many of the apps
A blogging interface
An SSL certificate
A payment processor and shopping cart
A point of sale system
However, the following elements present the potential for higher operational costs:
Domain names
Domain names usually aren't that expensive. We encourage you to stick with a domain name that's around $10 to $30 per year, as it's easy to think that a domain name can make your business and end up spending thousands just for the "perfect" domain, when the quality of your business means far more than the name.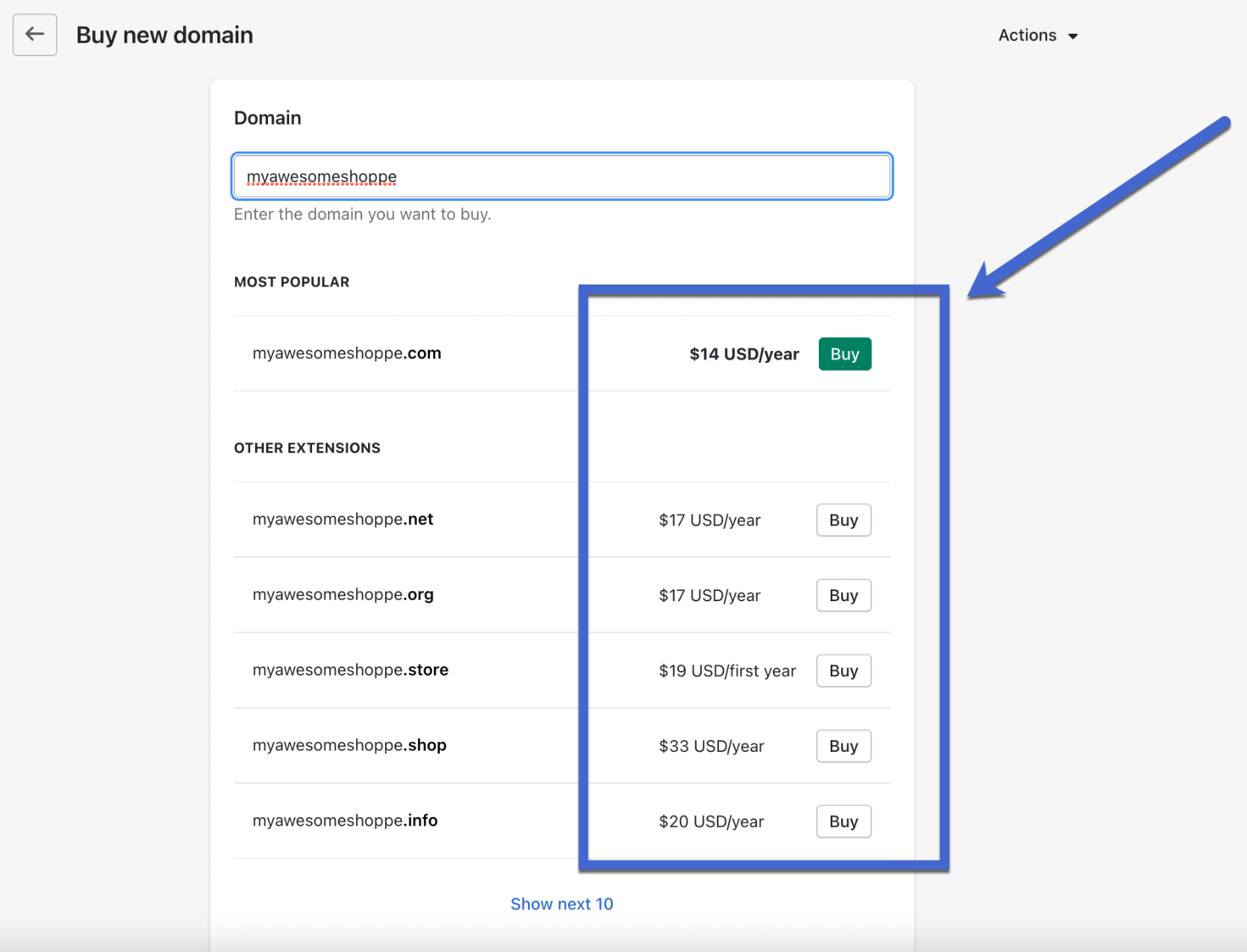 Having said that, you must still factor in some sort of cost for the domain name.
And as long as your domain name is available, you should see pricing around $10 to $30 per year. You can save a few bucks if you use a cheap domain registrar rather than Shopify's built-in service.
Expected cost for a domain name:
$10 to $20 per year.
Website design themes
Shopify provides you with an online store website. It's no different than any other website, except the site has built-in payment processing, a shopping cart, and product management.
Therefore, building the website, with informational pages, product pages, and even a blog, stands as one of your most important tasks.
Much like other eCommerce platforms and content management systems, Shopify offers website themes, or templates, so you don't have to design the site from scratch.
Overall, a theme makes your site look pretty without having to know much about coding or web design.
You have two options when selecting a theme: choose a free theme or opt for a premium one.
The free themes work well for smaller, simpler stores, while the premium themes include advanced features and highly professional design variants.
The official premium themes cost anywhere from $140 to $180, and that's a one-time payment. You can also find third-party themes from marketplaces like ThemeForest for more in the $60 range.
Expected cost for a theme:
$0 to $180 (one-time payment).
Shopify apps
The Shopify App Store boasts a large selection of apps to expand upon the already built-in features of your Shopify plan.
Some app categories and collections include:
Finding products
Places to sell
Store design
Marketing
Orders and shipping
Inventory management
Customer support
For example, the "Pick Your Products" collection has options like Printful (a print-on-demand service) and Oberlo (a dropshipping solution).
You can link your store to many free apps. In fact, we recommend seeking out free apps before selecting a premium one, since you can often find a suitable alternative.
However, these app makers need to get paid as well, so it's not uncommon to stumble upon subscription fees for apps that require more advanced functionality.
As a rough estimate, a standard premium Shopify app costs around $5 to $50 per month.
Others charge more than that, like $100 to $300 per month, but they're rare.
You also must factor in the number of apps you add to your website. It's easy to see costs skyrocket if you add 10 or 20 low-cost apps. Remember, if the apps aren't free, they're usually costing you a recurring monthly or yearly fee.
Expected cost for Shopify apps:
$0 to $500+ per month. In general, it's best to budget at least $20 to $50 per month for apps.
Some payment processing fees in addition to your Shopify pricing
All Shopify plans include the Shopify Payments gateway to accept credit card and debit card payments (as well as Apple Pay). Shopify Payments has no added transaction fees beyond the basic card processing fee.
The card processing fee for Shopify Payments depends on your plan:
Basic Shopify – 2.9% + $.30 per transaction
Shopify – 2.5% + $.30 per transaction
Advanced Shopify – 2.4% + $.30 per transaction
If you want to use a third-party payment processor like Stripe, you'll pay an extra transaction fee on top of that gateway's card processing fee, which varies depending on your plan:
Basic Shopify – 2.0%
Shopify – 1.0%
Advanced Shopify – 0.5%
You'll also need to pay the processing fee for your third-party gateway, which is usually 2.9% + $0.30 per transaction.
So if you're on the Basic Shopify plan and you want to accept Stripe, you would pay a total of 4.9% + $0.30 per transaction.
Expected costs for payment processing:
Up to 2.9% +30¢ per transaction for credit card payments.
There's no additional fee when using Shopify Payments, but you should add up to 2% per transaction if you have a different payment provider.
Shipping fees
Shipping rates involve the money you pay for services like UPS and USPS to send products. You also may have to spend money printing out shipping labels.
These prices vary based on product size, dimensions, and weight, along with the packaging materials used, speed of shipping, and destination.
With Shopify, you gain access to competitive shipping rates (up to 88% off) and a free label printing tool.
Expected costs for shipping:
You must estimate this yourself based on your own shipping processes. Factor in shipping labels, packaging materials, and the cost to ship with a provider. Fulfillment services also come into play.
Additional site development and design
It's not necessary for some stores, but you may find you need assistance with site design, development, marketing, or some other business task.
In that case, you can utilize the Shopify Experts Marketplace to find and pay for help.
Pricing varies based on the type of project, who you hire, and how long you need the worker or agency.
We've seen developers and designers starting at $40 for small one-off jobs, along with $5,000+ monthly design projects.
Expected cost for expert design or other work:
Anywhere from $0 (if you don't need help) to thousands of dollars for large jobs.
Quick, simpler projects may cost anywhere from $50 to $500.
Advertising and marketing
Shopify offers integrated advertising features for making ads and marketing campaigns through Google, Facebook, and email marketing platforms.
Advertisement pricing depends on the platform used, like Facebook or Google. A smaller company may spend $300 per month while a large store may spend thousands or even millions.
The Shopify email marketing program is free for up to 2,500 emails, and $1 for every 1,000 additional emails. You can also look into pricing for services like Mailchimp or Omnisend.
Expected costs for marketing and advertising:
Solid email marketing plans range from $10 to $100 per month. The Shopify email marketing system is more of a per-email payment plan.
Advertisements depend entirely on your budget and what they charge on the platform you're using to advertise.
Which Shopify pricing plan makes sense for you?
With five Shopify pricing plans, which one should you choose? The main elements to consider are your current feature needs and cash flow. Smaller, slower-growing companies may opt for the Basic Shopify plan and never have the need to upgrade. On the other hand, some rapidly expanding companies would be silly to not start with the Advanced Shopify or Shopify Plus plan.
Here's a list of our final recommendations for each Shopify pricing plan:
For only selling in-person with some online sales on a previously built website or blog, go with the Shopify Lite plan. It's affordable and useful if you have no plans to create a completely new online store.
If you need a full-fledged online store with unlimited products and essential selling features (like discount codes and abandoned carts), consider Basic Shopify. It's the best starting point for small businesses, as long as you don't need professional reports or third-party calculated shipping rates.
To obtain professional reports, better credit card rates, and support for international domains and pricing, look into the Shopify plan. We like this one for growing businesses with enough sales for the volume discounts to make sense.
For those in need of an advanced report builder, third-party calculated shipping rates, and even more appealing rates, go for the Advanced Shopify pricing plan. This plan works for medium to large businesses, seeing as how it offers the most advanced features (besides the Shopify Plus plan) and supports more employees.
For a completely customized solution, look into the Shopify Plus plan. It's rather affordable for an enterprise solution and you receive all sorts of automated processes, rapid integrations, and future-proof product pages.
We've compared the Shopify pricing plans and explained which features make each one stand out for certain businesses and individuals. Now it's up to you to try one to see how it goes. The good news is that you're always able to upgrade or downgrade a plan if it's not the right fit for you.
If you're ready to get started, you can follow our step-by-step Shopify tutorial to set up your store.
We also have some other useful collections, such as the best Shopify themes and the best Shopify apps.
Do you still have any questions about Shopify pricing plans? Let us know in the comments and we'll try to help!
Free guide
4 Essential Steps to Speed Up
Your WordPress Website
Follow the simple steps in our 4-part mini series
and reduce your loading times by 50-80%. 🚀
Free Access
* This post contains affiliate links, which means that if you click on one of the product links and then purchase the product, we'll receive a commission. No worries though, you'll still pay the standard amount so there's no cost on your part.