AWeber is one of the most popular email marketing services out there. However, if you're a bit more budget-conscious, you'll probably be looking for an alternative. This is where the topic of Sendinblue vs AWeber comes into play, which is now actually Brevo vs AWeber because Sendinblue changed their brand name to Brevo.
Brevo / Sendinblue is on many users' radars due to the platform's similar feature set and a pricing model that's perhaps more beginner-friendly.
Today, we compare the two and see who comes on top between Brevo vs AWeber.
📚 Table of contents:
What you get from Brevo vs AWeber 🧰
When it comes to the must-have features – the things you'd expect to find in every quality email marketing tool – both Brevo and AWeber don't disappoint.
Either tool brings all you might need to run a successful email marketing campaign. The differences are in the specific ways in which those features are delivered, but we'll get to that.
Both Brevo and AWeber allow you to:
send classic email broadcast campaigns 📢
build your emails via a visual editor with drag and drop 🖱️
choose from a range of email templates 🎨
split test your campaigns ♻️
use email API – connect third-party tools ⚙️
integrate with other apps 🔌
create sign-up forms and publish them on your website 📛
manage your contacts and segment them into different lists 👪
track your results with advanced analytics 📈
monitor your efforts via official mobile apps 📱
To make things more interesting, here are the features that are a bit more unique to each platform:
Brevo features
Starting with Brevo; it comes with an excellent module for email automation, allowing you to send emails based on a number of triggers that you can set.
For instance, you can send emails based on the user's behavior in your shopping cart, or when they visit a specific page on your site, or when it's their birthday, plus limitless other scenarios.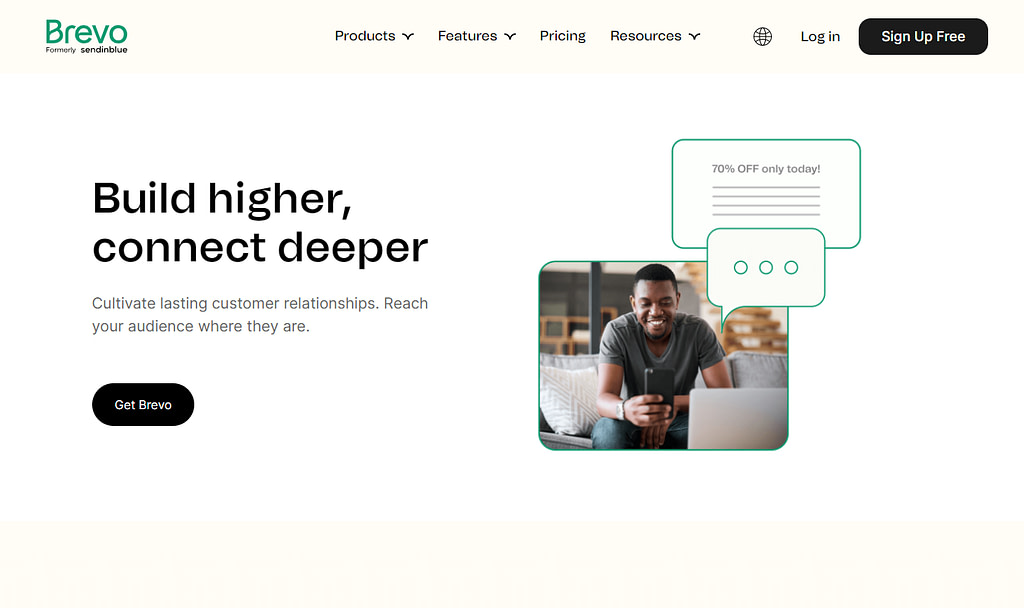 You can also take things up a notch and design complete automation workflows based on the user's interaction with the previous messages plus a range of other factors.
Brevo also comes with an SMS module allowing you to do a bit more old-school direct outreach campaigns based on SMS messages. (Messaging to different countries has different price tags attached.)
Lastly, there's also a growing social media module, currently allowing you to create Facebook ads and roll them out.
AWeber features
AWeber, on the other hand, is a bit more geared toward integrating your email marketing efforts with other marketing or client acquisition channels. The app integration catalog of AWeber's is very impressive with more than 700(!) tools there.
This opens up a lot of possibilities, including things like integrating your email lists with PayPal, so that whoever buys from you there can also subscribe to your list at AWeber. Similarly, you can enable integrations with Etsy, Eventbrite, Facebook, and other platforms.
AWeber also has some ready-made subscription forms that you can add to your Facebook page, Shopify store, WordPress website, and more.
One very blogging-friendly feature in AWeber is the possibility to trigger emails automatically from your blog's RSS feed (called Blog Broadcasts). That way, you can have your emails sent the minute a new blog post goes live on your blog.
AWeber also has its own email automation module that's similar to Brevo's. With it, you can send different emails based on the actions the subscriber takes on your other emails. Still, Brevo's offering in this regard seems to be a bit more feature-rich – you can create fairly advanced scenarios.
Lastly, AWeber's mobile app looks to be a tad bit more useful than Brevo's, which can be important if you do a lot of your list management on the go.
Overall, I'd say Brevo is more feature rich in other areas – automation, transactional emails, even social media marketing – making it a more complete online marketing platform. AWeber is set on email marketing first, which is a great thing if that's the only element you need.
Pricing 💸
This is probably something you're the most interested in. Here's how the platforms compare.
First, Brevo:
And AWeber:
There are a couple of significant details here:
First of all, their free plans have different setups.
Brevo's free plan lets you send up to 300 emails a day (adding up to 9,000 a month) to an unlimited number of subscribers. In contrast, AWeber's free plan allows you to send up to 3,000 emails in a month to a maximum of 500 contacts. It's pretty easy to see that when it comes to the free plans, Brevo is clearly the better choice.
| Free Plan | Number of Subscribers | Monthly Email Limit |
| --- | --- | --- |
| Brevo | Unlimited | 9,000 |
| AWeber | 500 | 3,000 |
Secondly, AWeber charges you based on the size of your email list, whereas Brevo charges per email sent.
Third, if you take a careful look at Brevo's plans, you'll notice there are actually four tabs. This is because Brevo also offers additional marketing tools outside of only email. These include things like chatbots and messaging capabilities via Facebook, Instagram and WhatsApp.
Because of this significant difference in pricing models and offerings, it's rather difficult to compare both platforms head to head and point out which is cheaper.
Even if we don't consider Brevo's non-email tools and keep the focus strictly on email, it's still not clear cut. It all depends on how many emails you're going to be sending and how many people you're going to be sending these emails to.
Still, in general:
If you have a relatively small list, you can probably support it with Brevo's free plan.
If you're going to be contacting your list often – multiple times a week, AWeber is going to be cheaper.
If you're only going to contact your list once a week or even less frequently, you're going to get more bang for your buck with Brevo.
Though, as always with these things, you should analyze this on your own and see how much you'll likely spend with your projected email volume and list size.
Design and email templates 🎨
This is a department where both platforms offer a lot! And, interestingly enough, they both have around 700+ email templates for you to choose from.
That being said, AWeber's templates seem to be a bit outdated compared to Brevo's. Or at least the ones presented at the top of the list haven't been that impressive:
Brevo's look a lot more modern and overall more attractive. They just don't require that much work on your part to make your emails look great:
Both companies claim that their templates are ready for mobile, which is great!
Ease of use 👐
When we compare the user interface of Brevo vs AWeber, we can see that they are both functional and don't hide any crucial features or settings.
Brevo's interface is uniform throughout, meaning that your experience as the user is consistent as you go through the different panels – from managing your list to creating campaigns and sending them out.
Here's the main dashboard:
The email builder itself is also good-looking and not confusing, and it works with drag and drop:
AWeber's dashboard looks even better if I'm honest. Every option is clearly visible, and AWeber highlights all the key features – the things you most likely want to do:
The interface of the email builder is a bit more complex, but still nothing too difficult to wrap your head around.
Both platforms score highly when it comes to reports and tracking of your sent emails. You get a lot of insight into your emails' performance and what can be done to improve these results. Here's Brevo's tracking module:
Website integration options ⚙️
Both platforms can be integrated with a WordPress website fairly easily. Though, the process itself might be a bit counterintuitive at first.
Here's the gist; while each platform has an official WordPress plugin that you can use, that's perhaps not the most effective way of integrating things. Those plugins can be wonky.
Instead, you can do one of two things:
either create a subscription form normally in your platform of choice (Brevo / Sendinblue or AWeber) and then embed the source code of it in your site – in a sidebar widget or below your posts,
or, you can integrate each platform with a third-party solution like OptinMonster, Bloom, Convert Pro, or similar – these give you some cool features and are overall much more functional than what you get with just Brevo vs AWeber.
In other words, yes, you can integrate both AWeber and Brevo with your WordPress website, but you'll most likely need a third-party tool to get the most out of this integration.
Brevo vs AWeber: which is better? 🏆
Both AWeber and Brevo are great email marketing services, and they both deliver you the full package of features that you might need. The difference is in the details.
Brevo is a more complete online marketing platform, letting you do not only email marketing but also Facebook ads, SMS campaigns, and advanced email automation. Furthermore, it's also really good at the standard stuff – sending email. Last but not least, Brevo offers a free plan and (subjectively) better email designs.
AWeber has been in the email marketing business a bit longer and has more users overall. They are your email-first solution that can be great especially if you're going to be sending a lot of emails to your list. Plus, you can also benefit hugely from their 700+ integrations with other tools and platforms.
So what do you think? Have you made up your mind between Brevo vs AWeber? Let us know in the comments.
Free guide
4 Essential Steps to Speed Up
Your WordPress Website
Follow the simple steps in our 4-part mini series
and reduce your loading times by 50-80%. 🚀
Free Access
* This post contains affiliate links, which means that if you click on one of the product links and then purchase the product, we'll receive a small commission. No worries though, you'll still pay the standard amount so there's no additional cost on your part.