If email marketing is a crucial component of your business – as it should – then you might be in the market for a top-of-the-line email marketing service. In this Brevo (formerly Sendinblue) review, we show you what you can expect from Brevo and help you decide if it is the right pick for you.
What comes next is an in-depth look at what Brevo has to offer, what its features are, how much it costs, how it compares to the competition, and who should get it. We speak from experience, as Brevo has been our main email marketing tool for a couple of years now.
What is Brevo (formerly Sendinblue)?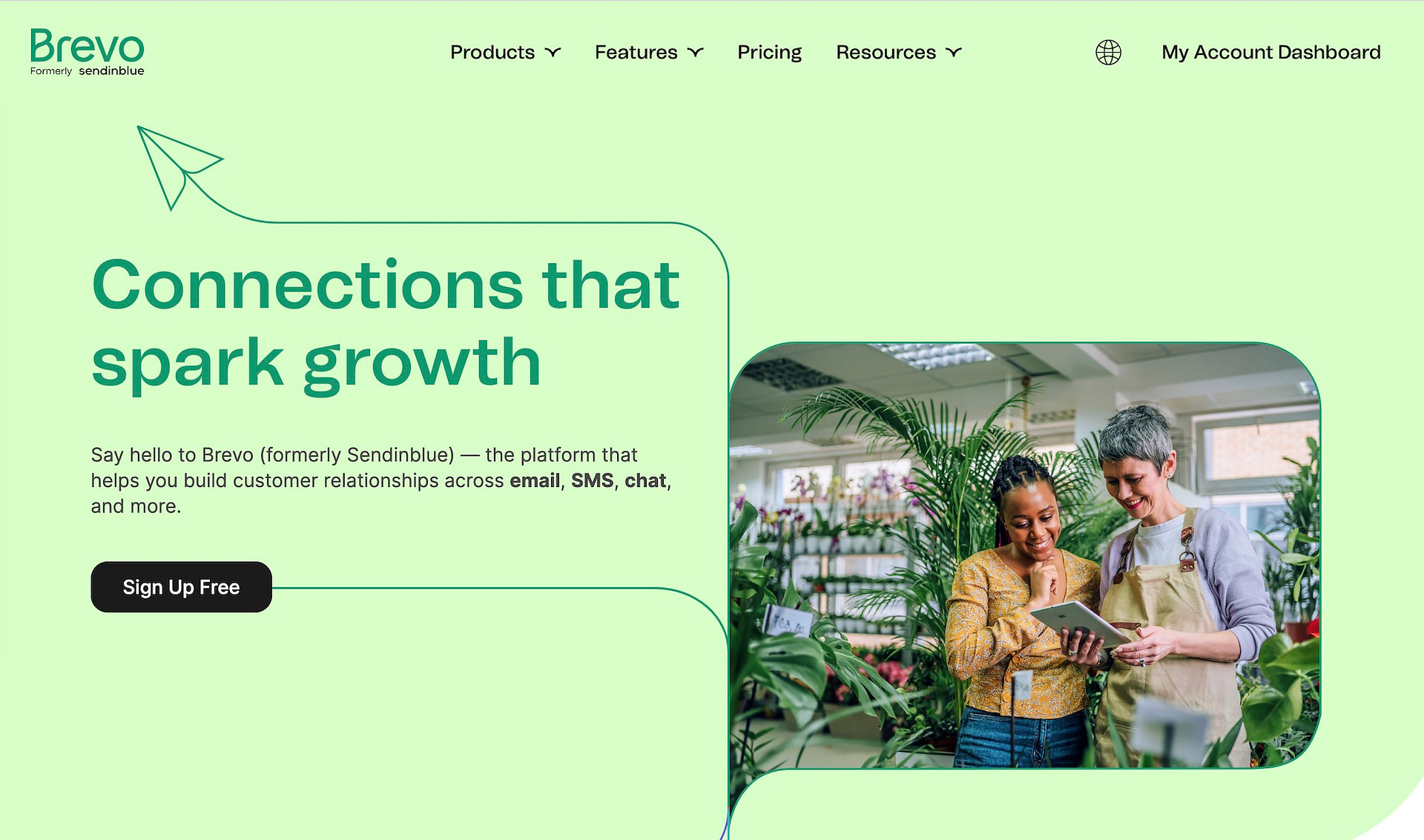 In a sentence, Brevo is an all-in-one email marketing service that's capable of taking care of the entirety of your email marketing needs.
Or, to put it more bluntly, it's a cheaper Mailchimp alternative that, surprisingly, also has more features. Speaking of which:
⚙️ Brevo features
Let's kick this Brevo review off by looking at the key modules offered by this tool:
✉️ email marketing campaigns and broadcasts
🤖 email marketing automation
🤝 transactional email and SMS
🐦 social media marketing
Let's start with the first module, the thing you're probably interested in the most – sending out email marketing campaigns / broadcasts.
Brevo offers all that you'd expect here – you can create an email blast and send it to your list of contacts. There's an easy-to-use visual interface / email builder that makes creating your messages a lot more straightforward.
It works with drag and drop and has some ready-made blocks for all the most common types of content that people send via email. The result is also fully mobile compatible.
Plus, if you're feeling confident, you can import your email template in raw HTML form. I won't be doing that in this Brevo review, though.
On the other end, to speed things up, there's also a whole template library divided into a handful of categories. All those emails look quite nice out the box, making them a great base to build upon and customize further.
As you would expect, there's also a whole separate section for contact management. You can group your contacts into lists, segment those lists, edit single contacts, see stats on how engaged someone is with your newsletters, etc.
Next, in come the email automation features. This is a serious benefit since automation is not a standard capability among the other tools on the market.
Basically, Brevo allows you to set specific triggers and email messages that will be sent when those triggers go off.
Some of the things you can do with this:
Someone visited a given page on your website → send them an email to show them more info on the topic.
Someone abandoned their shopping cart → send an email.
Someone has just subscribed → send them a whole welcome sequence of emails.
It is someone's birthday → send.
Someone clicked on a specific link on your site → send!
The possibilities really are endless, and we've only just scratched the surface in this Brevo review. Best of all, it's not only one-off actions that you can trigger. In fact, you can design entire automated sequences. Example:
Moreover, you can choose from a range of pre-made sequences:
Last but not least, Brevo offers some social media marketing capabilities as well. This is a new addition to Brevo, but they are going in strong with an excellent module for creating Facebook ads.
Overall, Brevo really does offer a complete package. There's a nice email design tool, excellent reports, advanced features, such as A/B testing, good contact management, and so on. There's literally nothing that's missing compared to the other big players on this market like GetResponse or AWeber.
Now, here's the best part:
💰 Price
This is probably the section of our Brevo review that will have a big impact on your final decision. Here are the prices and the numbers of emails you can send on each plan:
First off, as you can see, Brevo charges "per email sent" and not per the size of your contact list.
In other words, no matter if your list is 100 people or 1,000,000, Brevo doesn't charge you extra for that.
Another important point; there's a free plan! The cap of 300 emails / day translates to 9,000 / month. (Email automation up to 2,000 contacts.)
🤔 Reasonably, if you're just starting out and your list is between 100 and 500 people, then this free plan might be all you need.
(If you want to send SMS, those are more of a pay-as-you-go deal. For example, sending 100 SMS in the US is $1.34. Sending 200 is $2.68, and so on. Sending to other countries has different rates.)
👐 Ease of use
The user interface at Brevo is easy to grasp and lets you identify all the key areas of the tool pretty quickly. You get the main menu at the top – directing you to your campaigns, automation, transactional emails, and contact management.
You can switch to your emails, templates, SMS, Facebook ads, statistics, and settings from the sidebar menu. To create a new campaign, just click the big green button in the center.
Brevo will take you step by step from there and help you create a campaign. First, you get to set the main details such as the campaign name and the subject line of the email.
The next step is all about the design of the email. This is where you get to use the aforementioned email design tool. Here it is again:
Lastly, you can set the recipients of the email, double-check if everything is correct (best to send a test email to yourself), and finally hit the main send button.
Overall, nothing confusing there.
You can see the status of your campaign when you come back to the dashboard.
👊 Brevo vs the competition
Since Brevo is one of the few companies in the market that charge "per email sent," comparing their prices to the competition's head-on proves troublesome. However, for the purpose of this Brevo review, let's assume the following:
If you're going to be sending 1.5 emails per week to your contacts, then here's how much Brevo will cost compared to the others:
| # of contacts | Brevo | Mailchimp | ConvertKit | GetResponse |
| --- | --- | --- | --- | --- |
| up to 100 contacts | $0 | $0 | $0 | $15 |
| 500 | $0 | $0 | $0 | $15 |
| 1,000 | $0 | $0 | $0 | $15 |
| 1,500 | $0 | $0 | $41 | $25 |
| 2,000 | $25 | $0 | $41 | $25 |
| 2,500 | $25 | $34 | $41 | $25 |
| 5,000 | $25 | $59 | $66 | $45 |
| 10,000 | $25 | $87 | $100 | $65 |
| 50,000 | $39 | $299 | $316 | $250 |
As you can see, Brevo is generally cheaper if you're just starting out – only Mailchimp comes close – and then a lot cheaper once your list starts growing past 5,000 contacts.
🏁 Final verdict in this Brevo (formerly Sendinblue) review
Email marketing is a key component for many online businesses, and there's a very good reason for that! Even in the age of social media, there's still no better way to contact people directly than via email – especially if it's for any sort of business purpose.
With that, we'd all prefer to minimize any additional operating costs, which allows us to keep a bigger slice of the revenue pie. Brevo is a great solution that can help you achieve that, as we've shown in this Brevo review.
Thanks to the free plan, you can test the tool with no investment necessary, and see if you like it for yourself. Then, if need be, you can upgrade to a paid plan and get some additional perks + more send volume.
Feature-wise, Brevo doesn't lack anything, so it really is a tool your business can grow with. Same for the UI and ease of use. And I'm not just saying so. In fact, we use Brevo as our main email tool here at Themeisle. We migrated from Mailchimp a couple of years ago, and we really couldn't be happier!
P.S. If you want to see Brevo in action, feel free to subscribe to our free email course – it is powered by Brevo:
Free guide
4 Essential Steps to Speed Up
Your WordPress Website
Follow the simple steps in our 4-part mini series
and reduce your loading times by 50-80%. 🚀
Free Access
* This post contains affiliate links, which means that if you click on one of the product links and then purchase the product, we'll receive a small fee. No worries though, you'll still pay the standard amount so there's no additional cost on your part.