Looking for a lightweight and versatile theme that integrates with your page builder? If that's the case, you might be interested in Phlox. But, if you don't know a whole lot about WordPress themes, you may be wondering if it's suitable for your needs. You might be in need of a Phlox theme review.
A complete theme review should consider key details 🔎 like features, performance, compatibility with page builders, and more. When it comes to Phlox, it's also useful to know about its extensive demo selection.
An introduction to Phlox
Before we jump into our comprehensive Phlox theme review, here's a quick introduction to this popular option: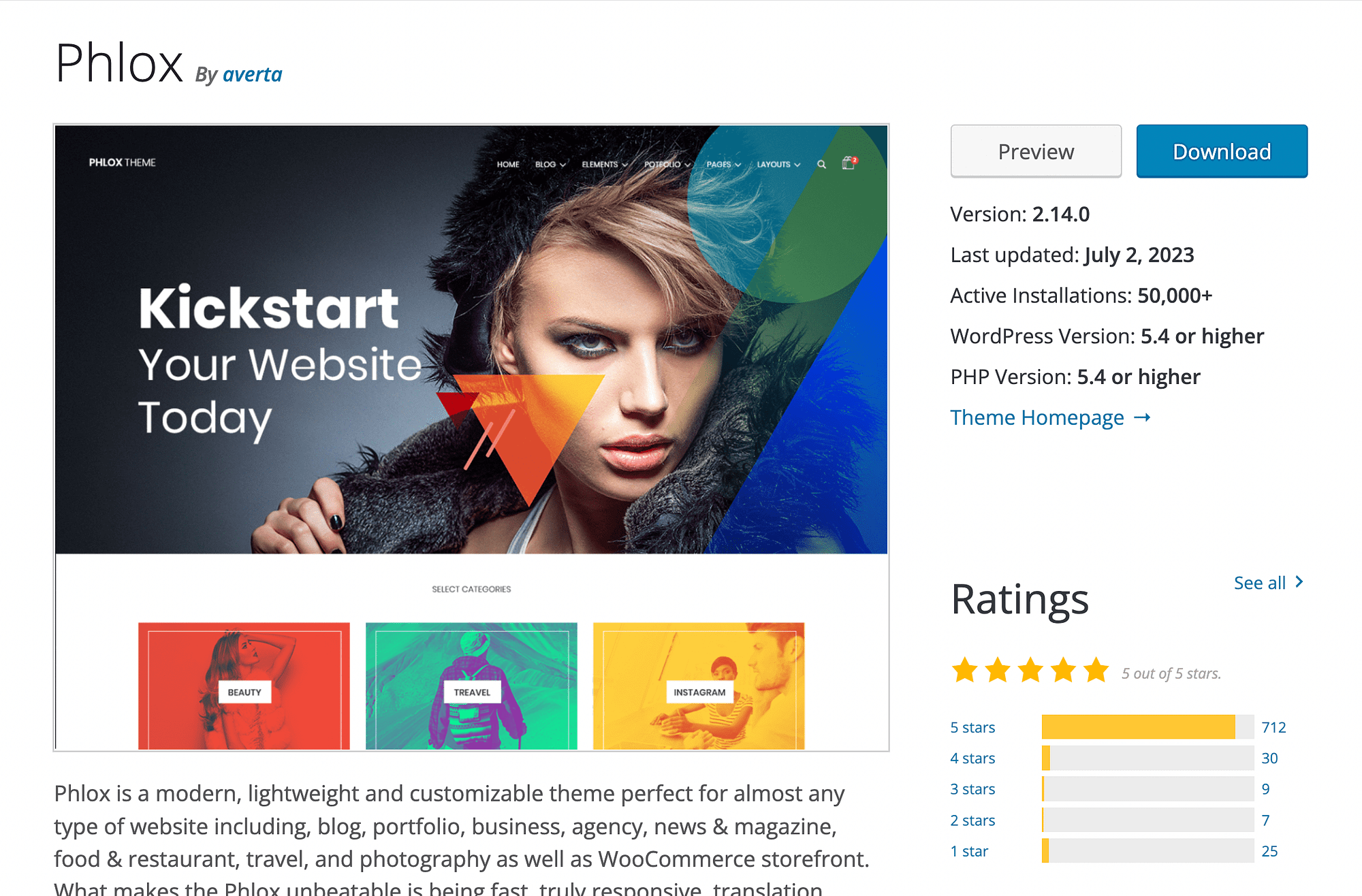 Phlox is a dynamic theme that you can use for almost any type of website. It's highly customizable and compatible with some of the most common page builders, including Elementor.
Plus, it enables you to offer a positive user experience (UX), since it's lightweight foundation won't slow down your WordPress site. It's also optimized for search engine optimization (SEO), so it can help you get your site seen.
Also, Phlox gets 4.8 out of 5 stars in the WordPress theme directory. So if you pick this theme, there's a good chance you'll be happy with what it has to offer.
Since Phlox is completely free, you can install and activate it directly from your WordPress dashboard. However, it's important to note that Phlox also comes in a premium version, which costs $39. It's a one-time payment for one website and six months of support.
In this Phlox theme review though, we'll be considering the free version only. 🎁
Phlox theme review: five factors considered
Now, let's jump in to our complete Phlox theme review! 🦘
1. Demo selection 🎬
We're going to start by checking out Phlox's demo selection. However, before you can access these demos, you'll need to install the Phlox Core Plugin. You'll be immediately prompted to do this after you install and activate the theme itself:
Simply click on the blue button to initiate the process. Once that's done, go to Phlox → Dashboard → Demo Importer:
As you can see, Phlox offers hundreds of templates. 40+ of these demo sites are completely free. To find your free options, you'll just need to look out for a green Import button. To get access to all 200+ demo sites you'll need to upgrade to Phlox Pro.
You can also filter Phlox demo sites by category. For example, a good portion of the demo sites under the Blog & Magazine category are free:
Beauty & Health also offers a good collection:
Simply click on Preview to check out each individual starter demo in more detail:
As you can see, when you choose a Phlox demo site geared toward your needs, you can get ready-made templates for all your core pages. For instance, the Yoga demo site gives you pages for About, Service, and Blog. Then, you can customize your demo.
Overall, Phlox provides a decent amount of free demo sites in most categories. However, it's ecommerce options under the Shop section are a bit limited.
2. Features ⚙️
Next up in our complete Phlox theme review, let's consider features. Here are some of the most notable ones when it comes to Phlox:
Lightweight and fast
Responsive
SEO optimized
GDPR compliant
Header and footer customization
On the whole, Phlox doesn't come with tons of bells and whistles. But, it does give you everything you need to create a beautiful professional website that's customized to your needs.
Additionally, Phlox is fully compatible with WooCommerce Multilingual & Multicurrency with WPML (WPML):
This makes it ecommerce and translation ready. Therefore, this theme can easily power a global online store.
Furthermore, it's compatible with several of the most popular WordPress page builders, but we'll dive into that a bit more later.
3. Performance 📈
Now, let's discuss how Phlox fares in terms of performance. As we've discussed, Phlox is a lightweight theme. That means it's built with efficient code, which won't slow down your site.
This is essential, since slow loading times can lead to a poor UX and lost website visitors. In fact, according to Google, the probability of a bounce increases by 32 percent as page load time goes from one to three seconds [1]:
Furthermore, Phlox is responsive, so it can adapt to different screen sizes, including smartphones and tablets. That means you can rest assured your site will perform as it should on every type of device. This is crucial, since more than 60 percent of global internet users access websites using a mobile device [2].
4. Page builders 🏗️
You may have noticed when you installed the Phlox Core Plugin to access demos that the tool automatically activated an Elementor integration. That's because Phlox is designed to work seamlessly with some of the most popular page builders, including Elementor:
In addition, Phlox is also compatible with Visual Composer and SiteOrigin.
Using any one of these page builders, you'll get advanced customization features that don't require any coding on your end. This makes Phlox an excellent option for WordPress beginners.
For instance, with Elementor, you'll get 40+ free widgets for things like buttons, social icons, image galleries, sidebars, and much more. Additionally, you'll be able to access widgets to integrate tools like Google Maps and SoundCloud.
5. Headers and footers 💻️💻️
Lastly, let's see what Phlox offers when it comes to headers and footers. As you may already know, if you're using a classic theme and you want to edit site-wide elements, you'll likely need to edit your theme files. That's because classic themes aren't compatible with the Site Editor (only block themes like Neve FSE are).
However, advanced classic themes such as Phlox give you the ability to customize your headers and footers without touching a line of code. What's more, Phlox comes with a small library of templates for both headers and footers, which can help kickstart your design:
If you're using Elementor (or another similar page builder), you'll be able to use the native header and footer builders to easily customize your designs.
Conclusion 💡
Searching for the perfect WordPress theme can be challenging. That's because each website has unique needs and each site owner has their own design preferences. If you're interested in Phlox, you're already on the right track, since it's a powerful, lightweight theme.
To recap, Phlox offers a solid demo selection of more than 40 starter sites. Plus, it's sure to perform well on any device because it's responsive, fast, and optimized. Additionally, it's great if you use page builders like Elementor, Visual Composer, or SiteOrigin.
Do you have any questions about this Phlox theme review? Let us know in the comments section below!
Free guide
4 Essential Steps to Speed Up
Your WordPress Website
Follow the simple steps in our 4-part mini series
and reduce your loading times by 50-80%. 🚀
Free Access
Phlox Theme
Phlox is a popular free WordPress theme. It's a solid choice if you're looking to build a simple website that performs well, but it lacks advanced site-wide customization options and offers limited ecommerce demos.
Pros
Integrates with popular page builders
Cons
Limited ecommerce demo sites
Requires a page builder for advanced customization