Let's agree that the information age can be overwhelming without news aggregator websites. Not only is there a lot of information in total, but it is also scattered all over the web. In order to save time, you can bring all of the news, updates, insights, tips, guides, articles into one location with content aggregators.
This article is a deep dive into news aggregator websites to highlight their diversity and how they all convert into value for both users and publishers. Along the way, I'll share some great examples with a dedicated section for some of the top news aggregator websites for 2023.
🤓 These inspiring examples will be a great motivation to build our own aggregator site with WordPress. So in the final sections, I'll run through all the steps you need to start aggregating content today.
Let's do this!
What is a content aggregator site?
A content aggregator site collects information from all over the web and posts it in one location for visitors to access. The topics are created around various keywords using RSS feeds. A content aggregator site will often provide attribution and a link to the original site to avoid plagiarism claims.
Some of the news aggregator sites allow you to follow your favorite publications, too. This way, you make sure you get more content from the websites you trust in your feed. However, a publication needs to own a profile on a news aggregator site in order for you to find it there.
There are a few different ways for an aggregator site to operate, but, generally, they don't produce content of their own.
Creators can also pay to have their content aggregated and distributed more widely among larger websites. Syndication is a particularly popular news aggregator business model because it helps publishers remove the hard work of negotiating and securing distribution.
There is an incredible diversity among aggregator websites. We have pure news aggregators like News 360, but we also have more niche publications, such as the poll aggregator FiveThirtyEight. You can even collect the best search results from multiple search engines with Dogpile, or display all social media feeds with a social network aggregator like Curator.
What is the benefit of a content aggregator site?
Users appreciate a widely sourced aggregator site because it removes the tedious search-click-search-click process. There is nothing better than finding a range of views and stories in one place through scrolling.
My favorite example of this is how the aggregator site Rotten Tomatoes helps users by collecting reviews from all over the web. You can read 329 reviews of The Dark Knight, from both digital media powerhouses to cool blogs, without any effort.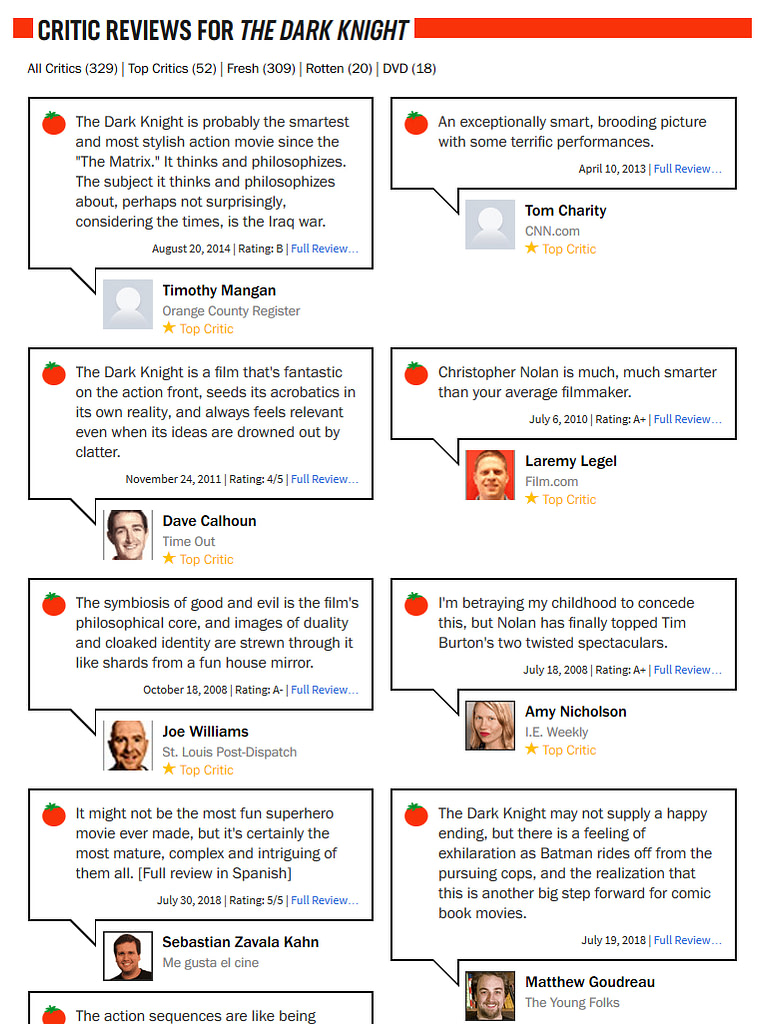 For the publishers, the aggregator sites get their content in front of more readers, and bring more traffic to the origin page.
The best news aggregator websites of 2023
It has to be on top because it is easily one of the best news aggregator websites on the web. With a clean, simple design, Feedly is an excellent way to follow news. I particularly like the vertical organization over the grid organization you find on other sites.
Feedly is fully customizable with both a paid and free aggregator service and an unrivaled range of sources.
The free plan is limited to 100 sources, and the range will get you excited. Feedly aggregates sites from every niche possible. You'll see knitting, cocktails, JavaScript, and even something for sneakers. If you can think of it, then Feedly have a feed for it.
On top of that, you can also import whatever other RSS source and have it aggregated alongside the big boys. For example, care to add Themeisle's blog feed there? Use this address: https://themeisle.com/blog/feed/
Feedly in one word: Champion. 🏆
Panda is a great tool for anyone working as a web designer, developer, or who has the entrepreneurial spirit. It is unique among aggregator sites because it follows Dribble, Behance, Product Hunt, GitHub. Not to mention Hacker News. Aggregating the aggregators!
Its interface has more visual appeal than most of the other news aggregator websites on this list. Panda is a free app with a professional look and feel, so you can expect some ads but the trade-off is acceptable.
Panda in one word: Awesome. 🤩
A brilliant technology-themed aggregator site that pulls in tech stories from all over the spectrum. It includes sites like Reddit alongside breaking business news.
You'll see that each article contains access to other sources, as well as the conversation happening on social. There's a lot happening on the front page and there's not much padding between the columns.
They also have sister aggregator sites, MediaGazer (media aggregator), Memeorandum (political news aggregator), and WeSmirch (a celebrity content aggregator site).
Techmeme in a word: Oldskool. 🕶️
Flipboard is another cool news aggregator website. Its interface gives you the feeling of reading an actual magazine. The platform is super flexible because you can thoroughly filter the topics in your feed to see only content that is relevant to you.
Flipboard is without a doubt one of the best news aggregator websites because you can follow as many worldwide topics and publications as you want. Or, if you want to narrow down your feed to local news, you can search for your country or city and add it to your topics.
What's awesome about this content aggregator is that you can go from broad to very specific niche topics. Search for any hobby and you will probably find it there!
Moreover, Flipboard lets you interact with the content. You can like, comment, and share the links to social media. You can read news from your web browser and mobile – available on Android and iOS.
Flipboard in a word: Hobbyist. ❤️
Full disclosure; Metacritic is one of my favorite news aggregator websites and easily one of the top such sites of all time. It is a review aggregator, like Rotten Tomatoes, but it also includes games and music.
I also included it because I like how they use aggregated content to create meta content like ranking the classic film franchises using the aggregated reviews.
Metacritic oozes professionalism with that awesome organization on the front page. There are a lot of ads, but I like how the categories are repeated in each section making it easy for users to find their way through.
Metacritic in a word: Essential. 🚰
I'm going a little left of field to ensure this is a truly definitive list of aggregator sites. Popular science has never been more deserving of the name, and this aggregator is a good way to stay updated with the breakthroughs.
I love the range of categories, and their location, it is both user friendly and authoritative. There's also a nice arrangement of articles into popular, latest, and breaking. The front page isn't too busy and there's no ads on this one.
(e)Science news in a word: Brainy. 🧠
I've included this one out of a sense of love. The Morning News is unique in that it only has a single column with news covering a wide variety of topics. The topics are not the usual topics you find on news aggregators with more obscure stories finding their way to the front page.
The sources range from mainstream media to more unusual sources like Reddit. I love the fact that the obscure topics are the driver for the website rather than a blanket approach.
The Morning News is a very well organized website with fewer images used. I like the hand-crafted look to The Morning News with images used on a case by case basis. The text is also selected with the idea of allowing the website room to breathe.
The Morning News in a word: Informative. 🤔
Pocket might be my favorite news aggregator at the moment because it offers me a chance to build an archive of must-read links. With the Pocket button, I can save articles, videos, pages from across the web and then read them on any device. The ability to sync is and view articles from a range of categories makes it a leading aggregator site no matter what your interests are.
One thing that immediately appealed to me was the range of categories from tech through finance to travel. Not only that, but the sources are varied with hand-picked articles regularly finding their way to the top of my feed. Highly customizable with a design and setup that allows the sections foom to breath.
Pocket in a word: Personal. 🤗
How to build your own aggregator site
With the examples of news aggregator websites out of the way, let's now discuss how to build your own aggregator website on WordPress:
To create an aggregator site, you'll need at least a few key ingredients:
Quality hosting
A good WordPress news aggregator theme
A WordPress RSS aggregator plugin to import news feeds
Here's how to do it:
Step 1: Purchase quality hosting and install WordPress
A news aggregation site isn't especially resource-heavy, but in addition to ensuring a good front-end user experience with fast page load times, your site will be constantly running RSS feed import processes in the background, which makes rock-solid hosting doubly important.
When you're just getting started with your aggregation website, Bluehost is a good option because it's affordable (from $2.75 a month) while still scoring highly in various performance tests.
Bluehost also makes it easy for you to get WordPress installed on the server. Frankly, you don't need to trouble yourself with the installation process at all. Bluehost will set things up for you on their own. When you first log in to your user panel, you'll have WordPress ready to go.
Next step: choosing a theme for your website.
Step 2: Choose a WordPress news aggregator theme
Your website's theme dictates how it looks to your visitors. Because you're aggregating content, rather than producing your own content, your theme needs are a little bit different than the average WordPress user's.
You'll want a theme that:
Is able to display a large number of articles/headlines on the homepage
Makes it easy for visitors to find different categories
There are a number of WordPress news aggregator themes out there. Here are a few free and premium themes that can help you get started.
Neve
Neve is a free theme that makes it easy to display large numbers of articles in a variety of different categories. It also has built-in advertising locations to help you monetize your aggregator site. To make building a site easier, Neve comes with a set of pre-made layouts and page structures.
Extra
Extra offers some unique design that can work well for an aggregator site. It's capable of handling a big volume of content, and presents that content in an appealing way. These are all characteristics that aggregator sites can benefit from. This premium theme is part of the $89 Elegant Themes Membership.
WP-Drudge
The Drudge Report is one of the most successful news aggregators of all-time. The WP-Drudge WordPress theme mimics that style to help you create a similar website. It also comes in a more modern style if you'd prefer to switch things up and not use the classic outdated look.
Step 3: Install a WordPress RSS aggregator plugin
Once you have your theme set up, the next step is to find a way to put your news aggregation on autopilot. The easiest way to do that – and the way other news aggregator websites often do it – is to use a WordPress RSS aggregator plugin to automatically import RSS feeds into your WordPress site.
Most news organizations provide RSS feeds of their content, so by setting up multiple RSS feed imports, you can automatically aggregate news onto your site.
Better yet, with the right syndication plugin, you can also:
Import RSS feed items as actual WordPress posts
Use filters to include or exclude feed items that meet certain criteria
Add different feeds to different categories on your site
To build an aggregator site, we recommend the free Feedzy RSS Lite plugin as well as its premium Feedzy RSS Feeds extension.
Once you install and activate the plugin, we have a guide on how to use Feedzy to import RSS feed items as WordPress posts.
Basically, you'll need to complete the process outlined in the guide for each news source that you want to use.
Step 4: Extend with additional plugins for social media
Depending on your goals for your site, you may want to add additional plugins to further enhance the functionality of your website.
Because of how popular news items are on Facebook and Twitter, it might be helpful to integrate your site with Facebook and Twitter to help your readers share the content that they find.
Conclusion
Thanks to Feedzy and WordPress, we've made a WordPress aggregator site in a few hours.
The most enjoyable thing is that Feedzy does all of the heavy lifting for us. All we need are the feeds and Feedzy will do the rest.
When you start building your own aggregator site, be sure to find the best hosting for your needs and a theme with the ability to display categories and a large number of articles in a readable fashion. Once you have those elements, you can add Feedzy to the mix and get started.
Side note; did you know there are more ways to use RSS feeds on your WordPress site? Check them out here.
Did you build some news aggregator websites yet? Let us know in the comments.
Free guide
4 Essential Steps to Speed Up
Your WordPress Website
Follow the simple steps in our 4-part mini series
and reduce your loading times by 50-80%. 🚀
Free Access
* This post contains affiliate links, which means that if you click on one of the product links and then purchase the product, we'll receive a commission. No worries though, you'll still pay the standard amount so there's no cost on your part.