Trying to decide between using the Neve vs Hello themes for your WordPress website?
Both themes are lightweight and pair well with page builders such as Elementor. However, each theme has a different philosophy when it comes to the role of your theme on your final site, so you'll want to make sure you pick the approach that best fits your needs.
This post will take a look at the Neve and Hello themes, comparing their features, price, compatibility with other tools, and ease of use. We'll then discuss which one could be the best fit for you. Let's get to it!
Neve vs. Hello: An introduction
TL;DR

Neve is a lightweight multipurpose WordPress theme that integrates well with Elementor. Neve comes with its own layouts and styles that you can easily control via the Customizer. It also includes pre-built templates that are built with Elementor.

Hello is just a blank canvas for Elementor. It doesn't come with any of its own styles or layout options. You must use Elementor to design every part of your site. By eliminating every single feature you'd expect in a theme, Hello just aims to be the most lightweight foundation possible for your Elementor designs.

Both themes offer tight integrations with Elementor – the only difference is in the "canvas", so to speak.
Neve and Hello are both what we'd call 'lightweight' starter themes, which is far from a bad thing. Both themes act as a base or skeleton that you can bolt additional functionality to.
Let's take a look at Neve first:
Neve is our lightning-fast solution for creating just about any website you'd like to build. It comes with a one-page layout you can expand upon as you design your site. Almost everything you see is customizable – the layout, headers, footers – you name it. With Neve, you get a theme that works out of the box with both the WordPress customizer and the Elementor page builder plugin.
While there's a free version of Neve, the premium version provides a greater feature set that we'll discuss later on in the article – all for a competitive price.
Now, let's introduce Hello:
Hello is literally the bare minimum needed to satisfy the WordPress requirement that every site needs a theme.
With Hello, your site will not look like a "real" website until you start using the Elementor page builder plugin.
By stripping out all of the features and built-in styling, Hello is able to offer the most lightweight foundation possible. Neve is still one of the most lightweight themes out there, but no other WordPress theme will ever be as lightweight as Hello because Hello doesn't include any of its own features or styling.
Basically, Neve still looks like a working WordPress site as soon as you install it, whereas, with Hello, you're responsible for building everything from scratch using the Elementor page builder.
Neve vs. Hello: Full comparison (4 key factors)
Next, let's dive deeper into each of these themes. We'll compare them based on four key factors: features, price, compatibility, and usability.
1. Features
First, Neve offers full control of how you want your layout to look. There are plenty of customization options at your disposal, all found within the native WordPress Customizer. You can also redesign your header and footer by dragging and dropping components into place: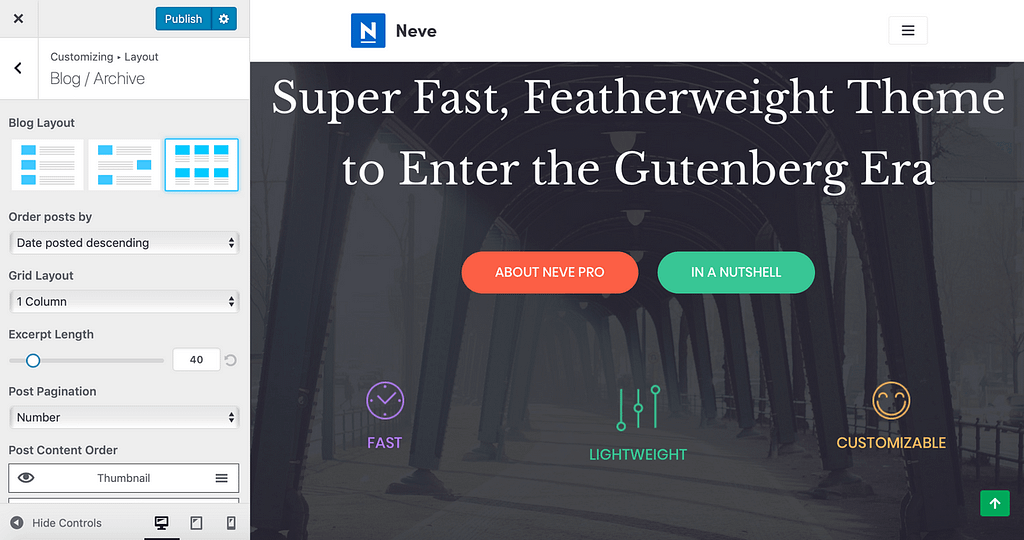 Additionally, it's flexible, mobile-ready, and AMP-compatible. If you need to get up and running quickly, the premium version of Neve includes a wealth of demo templates to choose from – all customizable, and ready to be imported with one click. As we mentioned earlier, Neve supports several popular page-builder plugins, including Elementor, which makes it highly versatile.
The premium version of Neve also offers several add-ons, such as a blog booster, header booster, and white labeling options:
With Hello, on the other hand, you literally get zero features. That's the entire purpose of this theme – you're supposed to use the Elementor page builder for everything.
Basically, Hello is a blank slate. You'll rely on Elementor for all of the "features".
2. Pricing
The Neve theme is available for free at WordPress.org.
The premium add-on plugin for Neve starts at $69.00. The Personal plan gives you most of the building features and one year of support, while the more advanced plans offer additional functionality, such as the WooCommerce booster and white labeling (you can get those higher plans for $149 and $259).
Hello is technically free, as is the basic version of Elementor.
However, most people will want to upgrade to Elementor Pro to get access to its Theme Builder features (from $59.00). Otherwise, you won't have any options for controlling your site's templates (such as how your blog posts look).
The higher tiers at Elementor will cost you $199 and up.
In other words, when you consider how integral Elementor Pro is to Hello, the two themes are priced very similarly.
3. Compatibility with other tools
As far as compatibility is concerned, Neve works with a number of page builders out of the box. You can use it with Brizy, Beaver Builder, Visual Composer, SiteOrigin Page Builder, and Elementor:
As we've discussed, Hello is designed specifically with Elementor in mind. While it technically works with other page builders, you'll get the most mileage with the tool it was built for.
One thing to consider, though, is that Hello doesn't offer a WooCommerce integration, whereas Neve does.
While you could use Elementor Pro to design the shop and product pages for a WooCommerce store, Hello doesn't include styles for the cart and checkout pages, which means that you'd need to use your own custom CSS to style those pages.
Basically, if you're running a WooCommerce store, Neve is going to be a better option.
4. Ease of use
Since this is a comparison of two starter themes, you likely won't be surprised to find that both Neve and Hello are minimalist in design and easy to use and set up. All you have to do is download your chosen theme, activate it, and get to work.
As we've said, the easiest way to modify Neve is with the WordPress Customizer. You can access it by navigating to Appearance > Customize:
From there, simply select a category and begin editing. You can also drag and drop many of Neve's features to adjust where they are positioned.
As for Hello, there's really no "ease of use" with the theme itself because it has no settings. Instead, you'll rely on the Elementor interface for everything.
Of course, Neve also integrates well with Elementor, so you can't really attribute Elementor's ease of use to the Hello theme itself.
Neve vs Hello: How to choose the best theme for you
In a nutshell, here's how you should make your decision between Neve vs Hello:
Use Neve if you want your site to work "out of the box" and have its own layouts. You'll also be able to customize everything using Neve's theme settings.
Use Hello if you're planning to use Elementor to design literally every single element on your WordPress site and want the most lightweight foundation possible.
It's important to remember that Neve also works well with Elementor and includes demo sites that are built with Elementor.
The key reason to choose Hello over Neve would be if you want to use Elementor for "everything" rather than just "some things" (or even "a lot of things").
Additionally, for a WooCommerce store, Neve is a much better option because it has its own styles for the shopping cart and checkout pages, whereas Hello requires you to use your own custom CSS for those pages.
If you'd like to learn more about Elementor and how it might fit into both of these themes, these posts offer a good starting point:
Do you have any questions about choosing between Neve vs Hello? Ask us in the comments.
Free guide
4 Essential Steps to Speed Up
Your WordPress Website
Follow the simple steps in our 4-part mini series
and reduce your loading times by 50-80%. 🚀
Free Access