If you want to get on the road to blogging fortune and glory, then learning how to start a lifestyle blog should be your first stop. With your interesting life and activities, a lifestyle blog is a great method for getting in pole position to get more traffic.
A lifestyle blog has highly visual content with a wide focus on a variety of subjects which is all brought together around the blogger and a particular hook. Your hook can be anything from beauty to the environment but it must bring everything together to link content based on your interests, your life, and your world view.
Whether you want to start a lifestyle blog from scratch, or you want to transition to a lifestyle blog from a niche, this guide will show you how to start a lifestyle blog in six simple steps:
🤔 Decide on your hook

What is it about your life that will pull readers in? What are you knowledgeable and passionate about?

📛 Come up with a name that is available as a domain

What is a catchy and memorable name for your blog? Are you able to get it as the domain name?

💻 Decide on a host and install WordPress

How can you pick a good host? Which platform is best for starting a lifestyle blog?

🎨 Choose a theme to control how your site looks

How much control do you need over your theme? What are the essentials for any lifestyle blog?

🔌 Install plugins for extra functionality

How can you get an SEO edge? How to make it easy for readers to share posts? And how can you speed up your site when you have so many images?

💰 Monetize your blog

How to make money from a lifestyle blog?
1. Decide on your hook
Before you can think about the technical aspects of how to start a lifestyle blog, you will need to decide what your lifestyle blog will cover. If your life is what separates the lifestyle blog from other blogs, then the hook is what helps separate it from a personal blog.
In terms of promotion, the hook has three valuable aspects. It will help you…
Find an audience.
Maintain your momentum and motivation to continue your lifestyle blog.
Develop a content strategy and editorial calendar.
We know that at its most basic a lifestyle blog is about your daily activities and life. But what is it about your life that will appeal to readers? And, how do you find it? It starts with two questions:
What are your interests?
What are your skills?
When you have a good list of your interests and skills, use it to think of 3-4 blog niches you can cover (these can also form the basis for building your categories and content strategy). You will start to see a pattern emerge which will reveal your hook.
Example:
IAmGalla is a men's lifestyle blog which started as a fashion blog. Now the blog covers fashion, travel, grooming, decorating, and design. But, if you check out the home page, you can see how heavily they lean into fashion-travel hook for wider appeal.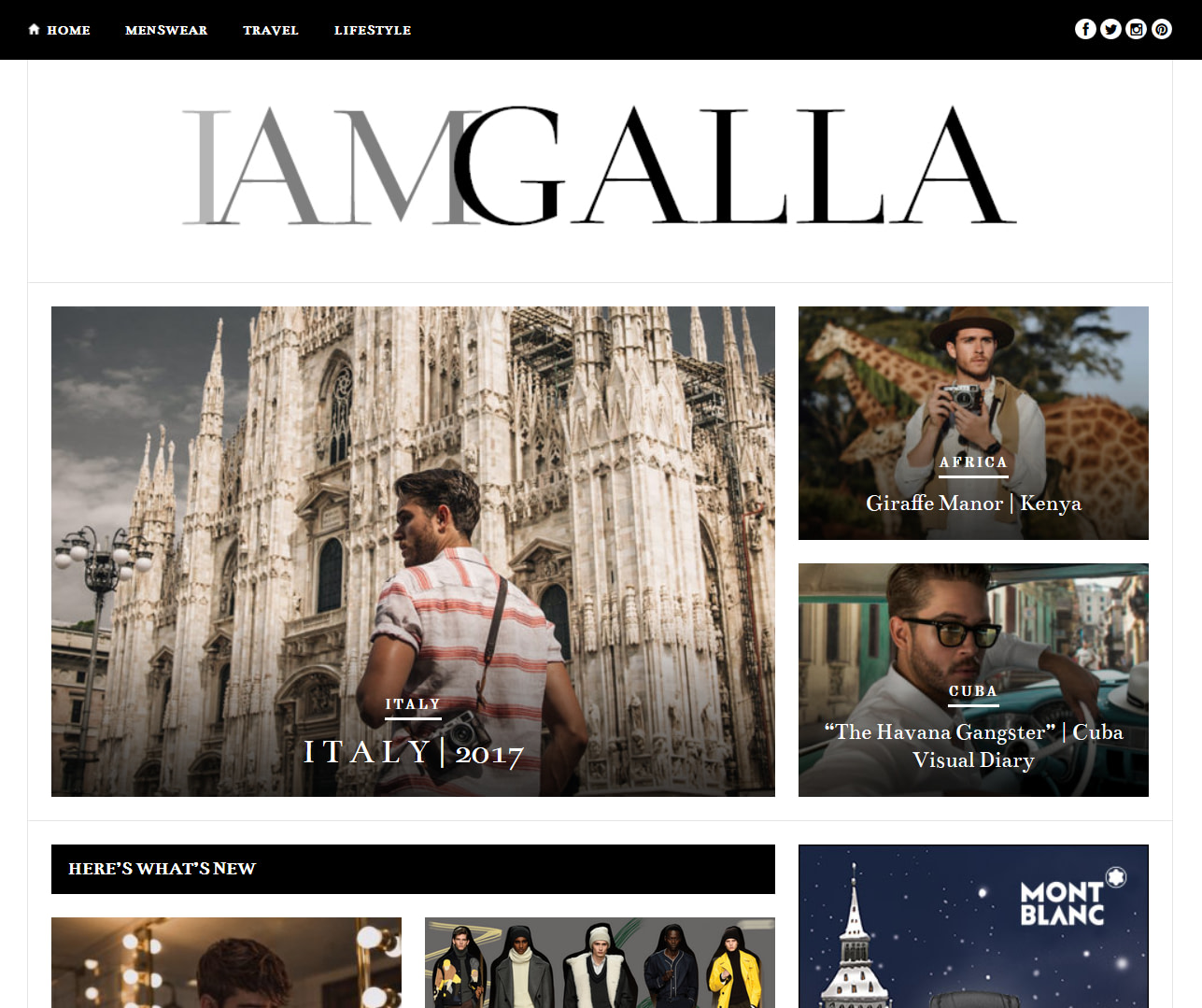 2. Get a domain name suited to your lifestyle blog
One of the neglected steps in how to start a lifestyle blog is finding your domain name. With a good domain name, you will make it easy for people to remember your blog and share it with their friends.
Finding that perfect name can be a challenge, but it will be much easier if you:
Once you have a good word list, I recommend using a domain name generator like Domain Wheel for two reasons:
It can provide clever, creative suggestions based on your keyword which you can then use to further refine the name.
It will provide you with suggestions that are available for purchase, as well as link you to hosting providers so you can purchase your domain name.
Example:
DeliciouslyElla is a vegan lifestyle blog which has recipes, products, living tips while also sharing an inspiring entrepreneurial journey. The name, while long, hints at the topics covered on the blog and is both catchy, and memorable. Is it brandable? You will find Deliciously Ella products in 6,000 stores across the U.K. (including Starbucks).
3. Decide on your platform & host
When you get this far into learning how to start a lifestyle blog it's important to carefully consider your platform and hosting options. There is no shortage of either and you can also find free blogging sites for your lifestyle blog.
However, if you plan to earn some cash online and you want to have flexibility for tweaking your blog as needed, we recommend WordPress.
Other options, like Squarespace, can also offer you a bundled hosting, domain, and editing experience but at a slightly higher price and without the dedicated community.
You have two choices with WordPress – either the .com or .org approach. There are some subtle differences between the two but mostly it comes down to .org being self-hosted and, overall, cheaper. Self-hosted WordPress also happens to be the best option for total freedom.
Fortunately, it is quite easy to get started with self-hosted WordPress because most major hosting companies offer a simple one-click solution for installing WordPress. We recommend WordPress because it is highly customizable, and it has the largest community support of all the major site builders.
Some quick tips on choosing the best host for your new WordPress site:
➡️ For beginners, we recommend SiteGround because:
4. Pick a theme
Your WordPress site's theme controls how it looks to visitors.
When you first thought about how to start a lifestyle blog, you may not have realized how much time you'd need to find the design of your dreams. With 11,000 themes on ThemeForest alone choosing the perfect WordPress theme can be time consuming. You can make it much easier with the following tips.
With all of these considerations, I am going to recommend Hestia. It is a good option for a lifestyle blog because it gives you the freedom to switch between list and grid layouts.
It even gives you the ability to select the number of columns in the grid which will allow you to display images in different sizes. You can also see in these images that Hestia has an option for a masonry style to be applied to your blog page.
5. Essential non-obvious plugins
WordPress plugins help you add new functionality to your lifestyle blog.
If you know anything about blogging, then you have heard that you 100%, absolutely, need Yoast SEO as part of a good SEO toolkit. However, if you want to build a successful lifestyle blog, you will need to focus on social media to generate traffic. Social media sharing and word of mouth are going to help you build your audience as much as focused keywords.
For social media sharing, you should go with Orbit Fox. Orbit Fox is our free plugin which gives you access to simple social sharing buttons on your posts.
Did I mention images yet? Images are one of the most important elements of your lifestyle blog. If you are trying to highlight your lifestyle, then you need to be able to show it to your users.
When considering how to start a lifestyle blog, you need to remember that images will make your page heavy. Image optimization is an essential consideration. For a total solution, you use Optimole because it will give you the most options for image optimization.
Apart from those, it also makes sense to add some side plugins that will further enhance your options when it comes to integrating your site with platforms such as Instagram and Facebook. Two ideas:
6. Monetize
The final and most exciting step in your how to start a lifestyle blog journey is, above all, turning it into cash money. The good news is that there's more than one way to turn your blog into money. In fact, there are at least 17 great ways to make money from lifestyle blog, but here are 4 of the best:
Wrapping up
Now you know how to start a lifestyle blog and you are ready to start the process of getting in front of readers. While the process might seem difficult, finding an audience for your lifestyle blog is definitely still possible.
Once you find the lifestyle you are passionate about promoting then you can start sharing it with the world.
Free guide
4 Essential Steps to Speed Up
Your WordPress Website
Follow the simple steps in our 4-part mini series
and reduce your loading times by 50-80%. 🚀
Free Access
* This post contains affiliate links, which means that if you click on one of the product links and then purchase the product, we'll receive a small fee. No worries though, you'll still pay the standard amount so there's no cost on your part.