Ready to create a WordPress blog? 🙋‍♂️ You've made an outstanding choice! Learning how to start a blog can be your path to an exciting new adventure. Lucky for you, WordPress is an excellent tool you can use for that. It's free, user-friendly, powerful, plus it also allows you to start your blog for free (almost).
Better yet – it's also surprisingly easy to create a blog on WordPress. That's why we say you can do it in under 15 minutes. ⏰
While the process is straightforward, having a comprehensive understanding of the steps involved is crucial to streamline your path towards becoming a successful blogger.
To make things easier for you, we've crafted a comprehensive step-by-step guide that navigates you through the process of how to create a WordPress blog. 🖱️ It comes loaded with easy-to-follow instructions and helpful screenshots, tailored for beginners like you.
Embark on your blogging journey today, with the power to express yourself and benefit from the numerous opportunities that blogging offers. You're just a few clicks away from making it happen!
How to create a blog: what you'll need
We're going to cover each of these steps in detail below, but for now, what you need to know is that neither of these steps requires in-depth technical knowledge. Yes, you really can figure out how to set up a blog on your own!
Once you get your free WordPress blog up and running, you'll probably want to start writing and likely tweak its appearance/functionality (e.g. completely changing your header or revamp your homepage).
👉 To help you do that, we'll also show you how to:
Write your first blog post using the WordPress editor
Change how your free WordPress blog looks using a "theme"
Add functionality to your blog using tools called "plugins"
As long as you know how to use social media sites, like Facebook or Tumblr, and have an overall confidence when it comes to "web stuff," you can follow this guide. We promise!
Step 1: Purchase hosting and your domain name 🌐
You've already decided on your blog niche? Great, then making your free WordPress blog accessible to people around the world or ready for search engine optimization requires two things:
✅ Hosting – this is the engine that powers your site. While you don't "see it," every single website on the internet has a hosting provider powering it.
✅ Domain – this is your blog's permanent address. For example, ours is themeisle.com. Check out this post if you need help coming up with a good name and finding out how custom domains work.
You can purchase your blog hosting and domain at the same time. Don't worry too much about the nitty-gritty details right now. But before you can do that, you need to choose a WordPress host. Because of WordPress' popularity, there are a huge number of WordPress hosts.
We've personally tested the performance and reliability of many hosting companies. With the results of all these experiments in mind, we can recommend Bluehost to new bloggers in the WordPress world.
👉 Here's why:
It's affordable. You can host your site for the price of a small latte each month – it's just $2.75 per month for your first 12 months.
You get a free domain name when you sign up. This ties in with affordability – your own domain would otherwise cost $10+.
You can easily install WordPress. With just a few clicks, you can launch the WordPress software and have a working blog. No tech knowledge needed!
It has enough performance to get you started. When you're just starting out, Bluehost offers plenty of performance to keep your site loading.
All in, it will cost you about $33 to host your blog at Bluehost for the entire year, which includes your free domain name. It also offers a 30-day money-back guarantee.
⭐ Check if your domain is available:
Here's a quick tool you can use to find out if the exact domain name you're interested in is available:
That's about as cheap as it's going to get if you want to create a WordPress blog.
How to sign up for WordPress hosting at Bluehost
To get started, click here to go to Bluehost and unlock their special offer for Themeisle users ($2.75/mo). Then click on "Get Started Now" button. You'll be taken to Bluehost plans.
For beginners, we recommend the cheap Basic plan because it packs plenty of power for your fledgling blog. Click the SELECT button to start the process: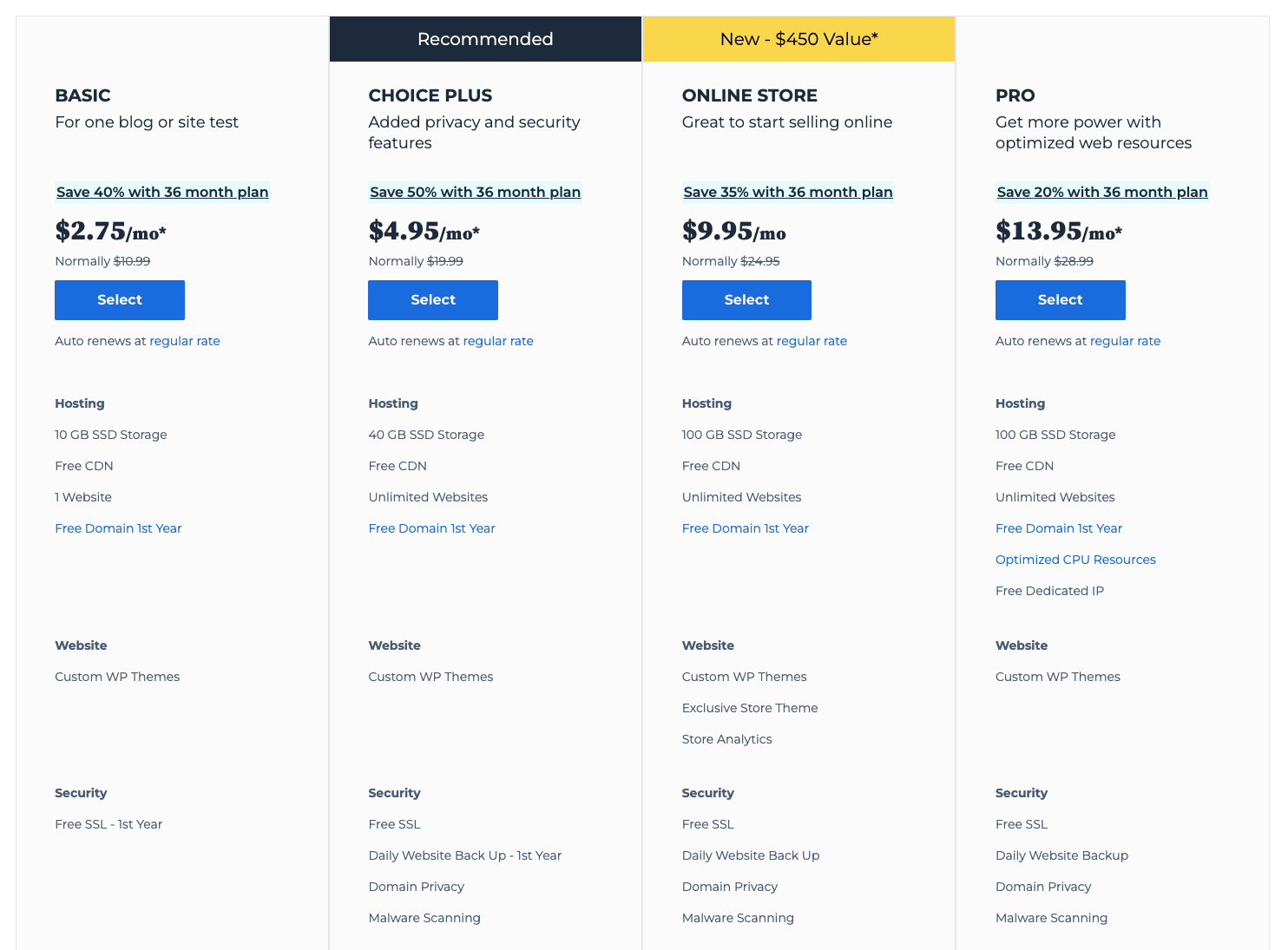 On the next screen, enter the domain name you want to use for your blog in the new domain box and click Next. Your blog name should truly reflect the scope of your interest and be pretty straightforward. If you are not quite sure about it, Bluehost has a FAQ dedicated to the topic. Remember – you get this for free:
One click and you land on the final screen, where you'll need to enter basic account and billing details at the top:
As you scroll down, you'll see a Package Information section at the bottom. Here, you can choose how many years of hosting service to purchase, as well as any add-ons that you want. While Bluehost will check some of these add-ons by default, you can safely de-select them:
All in, you should pay around ~$35 for your domain name and one year of a hosting plan.
Once you've filled in all the information, click SUBMIT at the bottom to complete your purchase.
All right! Now, you can install all you need for your new blogging platform.
Step 2: Install the free WordPress software ⚙️
If you want to create a WordPress blog, you're going to, unsurprisingly, need to install the WordPress software.
We know this might sound a little intimidating – but we think you'll be surprised by how easy it is to install WordPress.
When you completed the sign-up process in the previous step, you should have received an email from Bluehost with details on how to log in to the Bluehost Customer Area.
Go ahead and log in to Bluehost. 🤩
As soon as you log in for the first time, Bluehost will give you a simple wizard that takes you through the process of installing WordPress on your new site.
Don't see the setup wizard? No worries, it's still really easy to install WordPress with Bluehost. Just go to the My Sites area and click the Create Site button to launch the wizard:
Then, you'll be able to fill in all the important details for your site's name and the username/password that you'll use to manage your WordPress blog:
Once you finish the install process, you can access your new blog's dashboard by going to yourdomain.com/wp-admin.
Step 3: Brainstorm topic ideas 🧠🌩️
Brainstorming topic ideas is a crucial first step in creating valuable content that will engage your audience. One way to approach it is by starting off with the following three steps:
Identify your target audience. Understand who your blog is intended for. Define their interests, problems, and needs. This will give you a better understanding of what type of content will resonate with them.
Keyword research. Use keyword research tools to discover relevant keywords and phrases related to your blog's niche. An exceptionally helpful keyword research tool for new blogs with a low domain authority is LowFruits. LowFruits makes it easy to find longtail keywords where you'd have a chance at competing for a spot on page one of search results.
Competitor analysis. Analyze other blogs or websites in your niche to see what topics are performing well. Identify gaps in their content and find unique angles to cover similar subjects.
When you're done with that, you can create a list of buckets – not to be confused with a bucket list. 😉 A list of buckets is a way to organize and diversify your content by using broader categories of blog post types. Below are some examples to help you get started:
Address pain points. Think about the common challenges your target audience faces. Create blog posts that offer solutions, tips, or advice to help them overcome these obstacles.
Educational content. People love learning something new. Develop "how-to" guides, tutorials, or step-by-step instructions on topics within your niche.
Listicles and roundups. Compile lists of useful resources, tools, or products related to your blog's focus. Roundup posts can also highlight industry experts and their insights.
Trending and seasonal topics. Keep an eye on current trends, news, and seasonal events. Writing about timely topics can attract more readers and boost your blog's relevance.
Case studies and success stories. Share real-life examples of individuals or businesses that have achieved success within your niche. Case studies provide valuable insights and build credibility.
Personal stories. Connect with your readers on a deeper level by sharing personal experiences or anecdotes related to your blog's topic. This humanizes your blog and makes it more relatable.
Guest post collaborations. Reach out to other bloggers or experts in your industry and invite them to write guest posts for your blog. This can bring fresh perspectives and widen your blog's reach.
Q&A and FAQ sessions. Pay attention to questions your audience frequently asks. Use these as inspiration for blog posts to provide comprehensive answers.
Evergreen content. Include evergreen topics that remain relevant over time. These timeless pieces of content will continue to attract readers long after their initial publication.
You can use some or even all of the ideas above, in combination with keyword research and competitor analysis, to start planning your initial blog posts. Once you have a few topic ideas, it's time to move on to the next step.
Step 4: Go ahead and write your first blog post – you earned it! ✍️
Now that you learned how to create a WordPress blog, you're probably excited to get to blogging!
We'll show you how to change how your blog looks and functions in a second. But first, let's go over just how easy it is to start blogging on your new website.
When you first log in to your blog's WordPress dashboard, you should see a screen like this:
👉 To write a blog post:
Hover over Posts
Click Add New
This will launch the WordPress Editor, which lets you write your blog posts using a really intuitive block system.
To add text, you just click and type. For other content – like an image or an embedded YouTube video, you can add new "blocks." To help you use the editor, you can follow our detailed guide here or our more high-level guide here.
Step 5: Here's how to change how your blog looks 🎨
When you create a WordPress blog, one of the major benefits that you get is access to WordPress' huge collection of themes and plugins. Here's a quick overview of the two:
🎨 Themes – these change how your free WordPress blog looks
🔌 Plugins – these add functionality to your blog
We'll cover the former in this section.
As soon as you create a WordPress blog, you already have a theme active. This is either the default WordPress theme or the theme that you chose during the Bluehost Setup Wizard.
But there are actually thousands of blog themes available for WordPress sites (many of them are open source like WordPress itself), so you're by no means limited to that small selection that Bluehost shows you initially.
Where to find WordPress themes for your blog
When you go to choose a WordPress theme, you'll need to pick between free and premium themes. There's no inherent difference between the two, but premium themes often have more detailed designs and features.
To find free themes, the best place to search is the official WordPress.org theme directory.
To find premium themes, you'll need a broader approach. Not to sound too self-promotional, but our collection of housemade themes is always a good place to visit for those. 😉
If you want to skip the searching, we can confidently recommend our flagship theme, Neve, which comes in both a free version and a premium version.
Neve has been downloaded millions of times by users from across the web and has an extremely high approval rating in the WordPress repository. You can see the user rating above, underneath the star.
As you can see, it's not only us who think it's awesome. There are many reasons why it's earned such a strong reputation among WordPress users, but one of them that we'd like to draw your attention to right now is "starter sites".
Neve comes loaded up with over a hundred pre-built starter sites. These are fully designed websites created by our developers and filled with dummy content that you can replace with your own. Among those starter sites are several options that are perfect for blogs. All you have to do is click on the blog filter to see them:
Neve is also available as a block theme under the name Neve FSE. However, if you choose Neve FSE you won't have access to the starter sites library. Instead you'll get pre-built block patterns that you can use to speed up the creation of your blog.
Once you decide whether you want to use Neve, Neve FSE, or some other theme, you'll need to install it. We'll cover that next.
How to install a WordPress theme
Once you've found a theme that you love, WordPress makes it easy to add that theme to your site.
👉 Here's how:
Hover over Appearance
Select Themes
Click the Add New button
If you chose a free theme at WordPress.org, search for the theme by name and click Install.
If you purchased a premium theme, click the Upload Theme button and upload the ZIP file you should have received when you purchased the theme.
After installing your theme, make sure to click the Activate button to make it active on your site.
How to further customize your WordPress theme
You can treat your theme as a sort of template and further customize it by using either the WordPress Customizer (for classic themes) or the WordPress Full Site Editor (for block themes).
The Customizer lets you make certain tweaks to your theme to improve your web design, without needing to know code or HTML.
The Full Site Editor goes beyond the Customizer and offers a full-on editing tool that is based on the native WordPress Block Editor. It lets you easily create templates for specific pages that you can reuse and overall offers a greater degree of customization then the Customizer.
Using the WordPress Customizer
For classic WordPress themes such as Neve, you can access the Customizer by going to Appearance → Customize:
Depending on the theme that you chose, you may have a different set of options on the left sidebar. But in general, you can:
Make changes by using the options on the left
See a real-time preview on the website preview on the right
Make your changes live by clicking Publish
Using the Full Site Editor (FSE)
For block WordPress themes such as Neve FSE, you can get to the Editor by going to Appearance → Editor:
Once you're inside the Editor, you'll be able to select either Templates or Template Parts.
The easiest way to think about this is that Templates are for entire pages or posts, while Template Parts are for sections of your blog, like the Header and Footer for example.
Once you're inside the Editor itself, it functions almost identically to the native WordPress Block Editor (which is very beginner-friendly).
The blocks are organized into bits and pieces of different types of content like paragraphs, images, heading text, accordions, and lots more. You find the blocks you want to use on your post or page, insert them, and then edit them to your liking.
Step 6: Add functionality to your blog 👨‍💻
While themes are mostly about appearances, plugins are more focused on helping you add functionality to your free WordPress blog.
When you first create a WordPress blog, you pretty much only have the ability to write blog posts and create pages.
🔌 Plugins are what allow you to add more advanced functionality, like:
If you can think of a feature, there's probably a plugin for it. That's because the WordPress community offers over 60,000 free plugins, plus there are thousands of premium plugins.
Where to find WordPress plugins for your blog
Like themes, you can find both free and premium plugins.
Keeping the similarities rolling, the best place to look for free plugins is at the official WordPress.org plugin directory.
For premium plugins, the best method is usually to search Google for something like "best X plugin" and buy from a well-known developer.
Many free plugins listed at WordPress.org also offer premium versions with more features.
Must-have WordPress plugins for all sites
While there are plenty of niche plugins that are only good for specific uses, there are some must-have WordPress plugins that all sites, including blogs, can benefit from. Here are some of our suggestions:
How to install WordPress plugins
We already wrote a detailed guide on how to install WordPress plugins. But here's the quick version:
Go to Plugins → Add New
If you chose a free plugin at WordPress.org, search for the plugin by name and click Install Now.
If you purchased a premium plugin, click the Upload Plugin button and upload the ZIP file you should have received when you purchased the plugin.
Make sure to Activate the plugin after installing it.
You can always manage your existing plugins by going to the Plugins tab:
Step 7: Add Google Analytics to WordPress 📈
As you create a WordPress blog, you also want to be mindful of the concept of growth. After all, what's the point of writing publicly on the internet if nobody is going to read your writing?
Developing an audience is important, but it's difficult to grow if you have no understanding of how your blog visitors are interacting with your pages and posts.
💡 The idea is:
How can you improve something when you don't even know what needs improving in the first place?
That's where Google Analytics comes in.
Benefits of Google Analytics for WordPress
Adding Google Analytics to your new blog comes with a host of benefits.
For instance, it will allow you to track the growth of your blog (or lack thereof) over time. Although it's important to have patience, if your blog stays stagnant for more than a year – and assuming you are publishing regularly – then using Google Analytics could help you reevaluate your strategy.
As you become more proficient at managing your blog, you might set up sales funnels to try to sell an e-book or promote an affiliate product. Google Analytics can help you by identifying the leaks in your funnel. In more direct terms, it shows you which pages site visitors are exiting your site from.
For example, let's say you have a four page funnel, and Google Analytics informs you that the exit rate on the third page of that funnel is astronomically high. By having that information, you'll be able to take a closer look at the page and make adjustments. If you "plug the leak", then more potential buyers will make it to the last page, and hopefully purchase whatever it is you're offering. Without Google Analytics, you would never be able to identify the leak in such a scenario.
This is only one example, but the underlying benefit to Google Analytics is that it shows you how visitors to your site are interacting with it. You can then take action on that information to improve the performance of your WordPress blog.
Google Analytics tutorials for WordPress
Most tutorials you'll find on the web about adding Google Analytics to your WordPress blog approach it in either of two ways:
Manually inserting the code for Google Analytics yourself.
Using a WordPress plugin to install Google Analytics for you.
👉 We have tutorials that explain both options.
Create a WordPress blog FAQ 🙋
What is a blog?

A blog is a website or online platform where individuals or businesses regularly publish content in a chronological manner. The content is typically in the form of articles or posts, and it covers various topics, such as personal experiences, opinions, news, tutorials, and more. Blogs often allow readers to engage through comments and share the content on social media.

Below is a step-by-step video that explains how start your own blog on WordPress. You can consider it a summary of most of the steps we covered above.
Why start a blog?

Starting a blog offers several benefits, including:

Expression and creativity: Blogs provide a platform for individuals to express their ideas, opinions, and creativity on various topics.
Sharing knowledge: You can share your expertise and knowledge with a broader audience, helping others learn and grow.
Building an online presence: Blogging can establish your online presence, whether it's for personal branding or promoting your business.
Networking and community building: Blogs attract like-minded readers and create opportunities for networking and building a community around your niche.
Monetization: Successful blogs can be monetized through advertising, sponsored content, affiliate marketing, or selling products/services.
Improving writing skills: Regular writing can enhance your writing abilities and communication skills.
SEO and organic traffic: Blogs can improve search engine rankings and drive organic traffic to your website. This is an enormous benefit if you're running an ecommerce operation alongside your blog.
Learning and research: The process of blogging often involves research, allowing you to expand your knowledge in the chosen subject area.
Personal development: Blogging can boost self-confidence, discipline, and commitment as you consistently produce content.
Documenting life events: Personal blogs can serve as a digital journal, documenting experiences and memories.

Ultimately, the reasons for starting a blog will vary depending on your individual goals and interests.
How to plan your blog content strategy?

To plan your blog content strategy, follow these steps:

Define your audience: Understand your target audience's interests, preferences, and pain points to tailor your content to their needs.
Set goals: Determine the purpose of your blog. Are you aiming to educate, entertain, or sell products/services? Define specific and measurable goals.
Keyword research: Use keyword research tools to identify relevant topics and search terms your audience is using. Focus on keywords with a good balance of search volume and competition, and look for longtail keyword opportunities with low competition.
Content calendar: Create a content calendar to organize your blog posts. Plan topics, publication dates, and any relevant events or holidays to align your content with trends.
Content types: Diversify your content types, including articles, guides, videos, infographics, or podcasts, to cater to different preferences.
Content pillars and categories: Group related topics into content pillars or categories. This helps you cover a broad range of topics while maintaining relevance.
Quality over quantity: Prioritize quality content that adds value to your readers. Consistency is essential, but avoid sacrificing quality for the sake of quantity.
Call-to-action (CTA): Include clear CTAs in your posts, encouraging readers to engage, subscribe, or take a specific action.
Promotion strategy: Plan how you'll promote your blog content. Utilize social media, email newsletters, guest posting, and SEO to drive traffic.
Analyze and adjust: Monitor the performance of your blog posts using analytics tools. Analyze what works best and adjust your strategy accordingly.
Stay updated: Stay informed about industry trends and updates to keep your content relevant and fresh.
Engage with your audience: Respond to comments and interact with your readers to build a loyal community around your blog.

Remember that consistency, relevance, and providing value to your audience are key elements of a successful blog content strategy.
How much money do bloggers make?

The income of bloggers can vary significantly depending on various factors, such as the niche, audience size, monetization methods, and the blogger's level of dedication and expertise. Some bloggers make little to no money, while others can generate substantial income.

Here are some general income ranges for bloggers:

Low earnings: Many bloggers may initially make little to no money, especially when starting. It takes time to build an audience and establish monetization strategies.
Moderate earnings: As a blog grows in traffic and engagement, bloggers may start earning some income through advertising, affiliate marketing, or sponsored content. This could range from a few hundred to a few thousand dollars per month.
High earnings: Successful bloggers who have large and engaged audiences, especially in lucrative niches, can earn a substantial income. Some top bloggers make tens of thousands to hundreds of thousands of dollars per month.
Exceptional earnings: A select few top-tier bloggers, often in highly profitable niches, have been known to make millions of dollars annually through their blogs.

It's important to note that income levels can fluctuate due to various factors like changes in algorithms, industry trends, and economic conditions.

The monetization methods employed by bloggers can also impact their earnings. Diversifying income streams, such as combining advertising, affiliate marketing, digital products, and sponsored content, can contribute to higher overall earnings.

Keep in mind that these figures are general estimates. Bloggers' income potential is vast, but success usually comes with time, effort, and a deep understanding of the target audience and chosen niche.
What to do next? 🤔
Okay, so you've just learned how to create a WordPress blog, install your own theme, and add some functionality with plugins. However, unless you followed everything step-by-step while simultaneously doing it, then you're still technically at square one, but just armed with a whole lot of knowledge on how to make your way to the finish line.
So what does that mean?
Well, first you should probably bookmark this page unless you intend on creating a WordPress blog in the very near future and plan on doing it all in one go. That's certainly possible, but it's still a good idea to keep it bookmarked. That way you can easily come back to it if you need to.
Second, you should also know that there are other options to create a blog on the market besides WordPress. While we are staunch advocates for using WordPress for a multitude of reasons, it's not the only game in town. You can also check out Squarespace (👈 if you use this link you'll get 10% off their plans) and Wix.
Neither Squarespace nor Wix are as widely used as WordPress, but that doesn't mean they don't have dedicated users who love them. Check them out and maybe you'll become one of those dedicated users yourself. If you do end up using either one to create a blog, then you'll need a tutorial similar to this WordPress one you're reading right now. We've got you covered with a full Wix tutorial and a similar tutorial for Squarespace as well.
Otherwise, if you decide to follow our advice and go with WordPress to create your blog, then you might as well move forward with the first step. So, to secure a hosting plan and a domain name for your new blog – and take advantage of the discount we arranged for you – head on over to Bluehost to get started.
After you create your blog
When you finish launching your blog you're going to need some other resources to help you grow it in various ways. 😎
If you're like most people, you'll probably want to look for ways to:
You'll probably also want to create a blog content strategy and figure out how to come up with new blog post ideas. If you're not interested in running a personal blog sharing random thoughts, then filling your site with high-quality blog topics and doing keyword research is one of the most important tasks of a full-time pro blogger.
Once your blog becomes monetizable, you can even create your own newsletter and try your hand at email marketing, gathering email lists, or starting forums to engage your audience even more. A great blog is also a perfect addition to selling products (even when done via ecommerce marketplaces, like Amazon or eBay).
At this stage, you've been equipped with everything you need to create a WordPress blog, so get out there, put some hard work into your new content, and turn that new blog into a success!
Do you still have any questions about how to create a WordPress blog? All questions are good questions so leave yours in the comments below. We'll see you there.
Free guide
4 Essential Steps to Speed Up
Your WordPress Website
Follow the simple steps in our 4-part mini series
and reduce your loading times by 50-80%. 🚀
Free Access
* This post contains affiliate links, which means that if you click on one of the product links and then purchase the product, we'll receive a small commission. No worries though, you'll still pay the standard amount so there's no additional cost on your part.