Building a website can be pricey. You'll likely need to invest in web hosting and a few other tools. Also, not all platforms come with a drag-and-drop editor, which can be a deal-breaker for many beginners. Therefore, a free website builder might be worth considering for some projects.
While it's possible to launch a site for free, you should prepare for a few trade-offs. For instance, you'll likely have to use a generic subdomain, and your site will feature the provider's ads, which you can't monetize. You'll also be stuck with relatively low storage and bandwidth. Still, you'll be able to create a decent website with a simple visual editor and host it for free. Tools for tasks such as search engine optimization (SEO) may come built-in, too.
In this article, we'll give you an overview of our top six free website builders. Let's dive right in!
Best free website builder tools
Now that we've shared some of the limitations of free website builders, let's look at what you'll actually get on their free plans. Each of these builders offers generous features, so the one that is the best match for you will come down to what your website needs to succeed.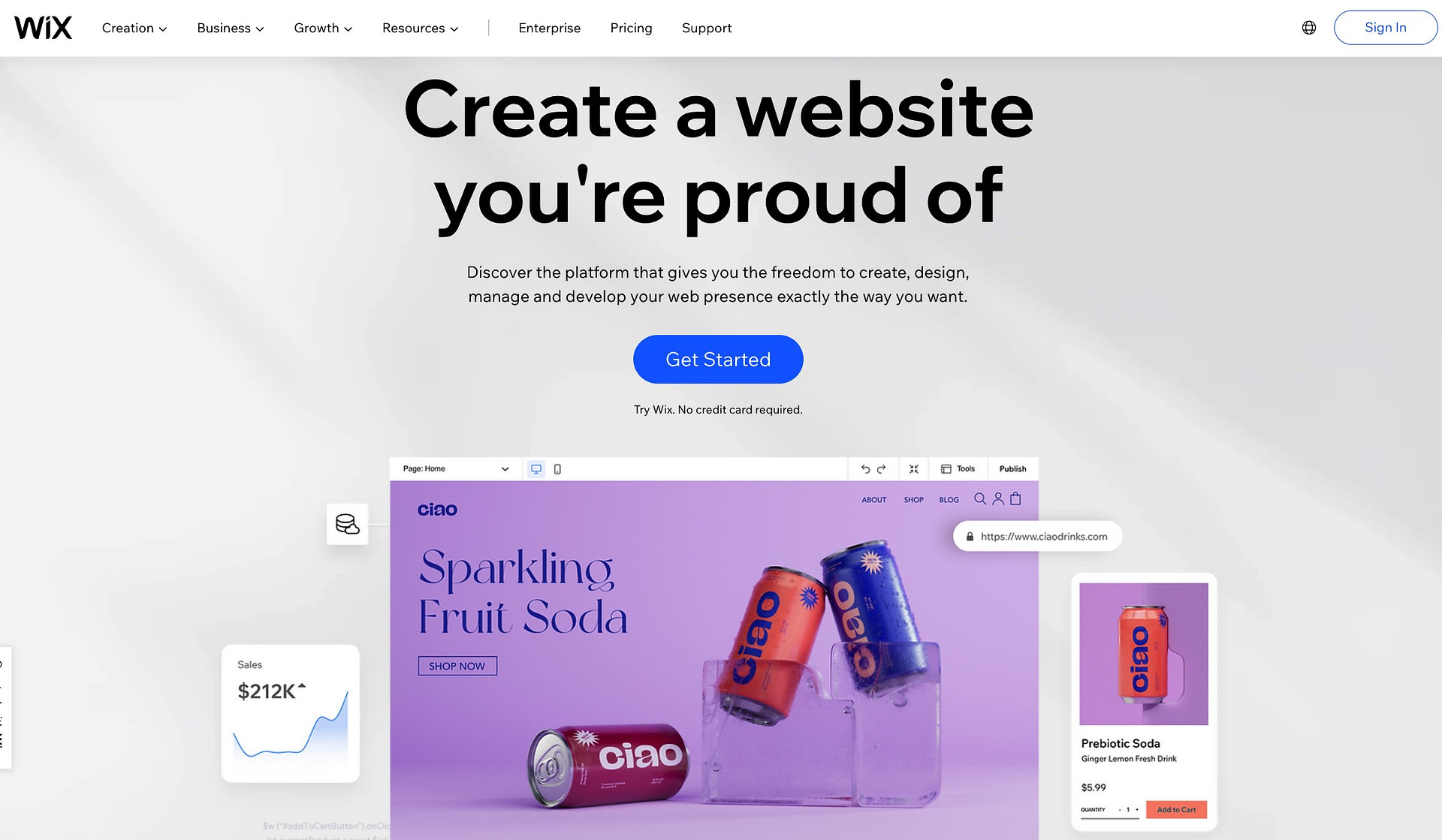 Our first recommendation as the best free website builder is Wix, one of the leading brands on the market. It comes with various beginner-friendly features as well as advanced options for professional designers.
Wix gives you access to over 500 templates, which you can customize with a drag-and-drop editor. If you need a website up and running in a short amount of time, you can also use Wix's Artificial Design Intelligence (ADI) tool, which will generate a full site for you based on a short questionnaire.
If you prefer, you can also skip the template and start your design from scratch, giving you full control over your site creation. You can even add striking elements such as parallax, video backgrounds, or various animation effects.
Besides all that, Wix gives you basic website analytics, SEO tools, and social media integration. However, the free version of this website maker won't allow you to remove ads. You'll also be stuck with a username.wixsite.com/siteaddress subdomain, which is not very user-friendly.
⚙️ Features:
Access to various apps // Mobile-friendly design // Stock photos // Unlimited webpages // Various marketing tools // 500 MB of storage and bandwidth // SSL certificate
You can check out some examples of Wix websites to see it in action.
💵 Pricing: If you'd like to increase storage, connect your custom domain, and remove Wix's branding, pricing starts at $16.00 per month.
👉 Insterested in Wix? Learn how to make a website with Wix
Next on our list is Weebly, another free website builder that's fully hosted. Like Wix, it offers a selection of professional designs that you can customize with a responsive editor.
Weebly's customizer enables you to drag various content elements and drop them into your editing screen. You can also edit your text like you would in a typical word processor and see your changes unfold in real-time.
Although the customization options are not as advanced as in Wix, you can still create various modern effects. For instance, you can add a video background, build a dynamic header, or use full-width sections for a contemporary design.
If you need eCommerce functionality, Weebly offers some excellent options at affordable prices. Its online shopping features are powered by Square, giving you access to state-of-the-art online retail tools.
However, if a free basic website is all you need, you'll get a simple yourname.weebly.com subdomain and features such as:
⚙️ Features:
Access to various apps // Mobile-friendly design // 500 MB of storage // Unlimited pages // Built-in SEO // SSL certificate // Lead capture and contact forms // Basic website analytics // Social media integration
💵 Pricing: You can connect a custom domain from $10 per month or upgrade to the Pro plan for $12.00 per month to remove Weebly ads and access additional features like phone support.
Jimdo is a relatively new free website builder, but it's quickly establishing itself as a worthy contender. This Germany-based provider enables you to launch a website using its AI technology.
Jimdo gives you access to two website building modes:
Dolphin will generate a tailored design based on a few questions. It will also populate your site with content that best suits your chosen niche. You can adjust most of the settings if you need to tweak the results. This is similar to the Wix ADI tool.
Creator, on the other hand, gives you more customization options. Instead of using the questionnaire, you choose a template, which you can personalize with a drag-and-drop editor. Advanced users can also add custom code.
The freemium version gives you a Jimdo branded yoursite.jimdofree.com domain along with:
⚙️ Features:
2 GB bandwidth // 500 MB of storage // SSL certificate // Mobile apps // Basic eCommerce functionality for up to five items // Responsive design // Built-in SEO // One password-protected area
💵 Pricing: If you'd like to connect a custom domain, remove ads, and access more advanced features, pricing starts at just $9.00 per month.
If you're looking for a one-page solution to showcase your portfolio or small business, Strikingly could be worth a shot. It's an excellent option for users who find most website-building tools too overwhelming.
Once you sign up, you get to choose from dozens of beautiful themes, which you can personalize with an intuitive visual editor. This free website builder will also suggest various calls to action (CTAs), which is a helpful tool for users with little design experience. Plus, you get access to a live support chat.
The free plan gives you a yourname.strikingly.com subdomain and features such as:
⚙️ Features:
5 GB monthly bandwidth // 500 MB of storage // Unlimited sites (with basic features) // Simple eCommerce functionality for a single product // Access for collaborators
💵 Pricing: You can claim a custom domain and increase storage from $8 per month with a yearly contract. More advanced users might want to consider the Pro plan, which removes Strikingly branding. It also enables you to create a membership site and add multiple pages for $16 per year.
Site123 is another relatively new, fully hosted platform you can use to create and launch your site in under an hour. It also promises to be the easiest website builder to use, which may or may not be accurate, depending on your expectations.
While the visual editor feels a bit dated, it's still quite intuitive and gives you a fair amount of customization options. Unfortunately, you're stuck with the themes available to the specific niche you select while signing up (for instance, personal blog). However, all designs generally keep to the same structure.
On the other hand, if you need to publish your site quickly, Site123 might be an excellent solution. All you need to do is replace the dummy content and images with your own and launch when you're ready.
The free option of this website creator gives you a branded yourname.site123.me subdomain with the following features:
⚙️ Features:
250 MB of storage and bandwidth // Mobile-friendly design // SEO tools // Access to stock images // Live chat support
💵 Pricing: Site123 has only one ad-free plan, which starts at $12.80 per month. It gives you a free custom domain for one year, ecommerce features, and more generous storage and bandwidth.
Our final recommendation is Mozello, a straightforward free website builder that enables you to create multilingual sites. Its free plan is also not as ad-heavy as the other candidates on this list, with just a small Mozello link included in the footer.
This platform comes with various designs, which you can customize easily with the visual editor. Like Site123, it doesn't offer much flexibility as every template keeps to the same structure. Still, you can easily change fonts, add images, and adjust the color scheme to your liking.
The free plan gives you a yourname.mozello.com subdomain and comes with a range of handy features. For instance, you can access decent SEO tools and create a basic online store for up to five products. Plus, you can easily add languages and translate your content as you build your site.
⚙️ Features:
500 MB of storage // Mobile-friendly design // Social media integration // Google Analytics support // Custom HTML // Online payments (PayPal)
💵 Pricing: From just $8 a month, you can claim a free custom domain, remove Mozello branding, and increase storage to 50 GB. If you'd like to launch an online store with unlimited items and include all payment gateways, pricing starts at $16 per month.
Try one of these free website builder tools today
Creating a website can become expensive. Fortunately, you can use a free website builder to launch a simple site or practice your blogging skills without any financial commitment.
In this article, we've discussed six of the best free website builders that suit various needs.
To recap:
Wix or Weebly are excellent options with professional designs, free SSL certificates, and responsive drag-and-drop editors.
On the other hand, Strikingly might be best for a simple blog or personal page.
If you're still on the fence about paying for your website builder, you can also check out our collection of the best premium website builders to see how they compare to the free options.
And if you've decided that Wix is your best option, you can follow our guide on how to make a website with Wix to get started.
Do you have any questions about any of these free website builders? Let us know in the comments section below!
Free guide
4 Essential Steps to Speed Up
Your WordPress Website
Follow the simple steps in our 4-part mini series
and reduce your loading times by 50-80%. 🚀
Free Access
* This post contains affiliate links, which means that if you click on one of the product links and then purchase the product, we'll receive a commission. No worries though, you'll still pay the standard amount so there's no additional cost on your part.