Managed WordPress hosting typically provides a better experience than shared platforms. It's definitely an option to consider if your budget can stretch accordingly – the only question is which managed hosting provider to pick. To help you in this endeavor, here's our Flywheel review for WordPress.
Flywheel is one of the most popular WordPress managed hosting providers available, and it's easy to see why. They offer a fantastic set of features for both regular WordPress users and agencies – but are they a good pick for your unique needs?
In this article, we'll go over Flywheel's WordPress-specific features, how their support team fares, performance benchmarks, and pricing information. Let's get this Flywheel review for WordPress on the road!
Flywheel review for WordPress – specific features ⚙️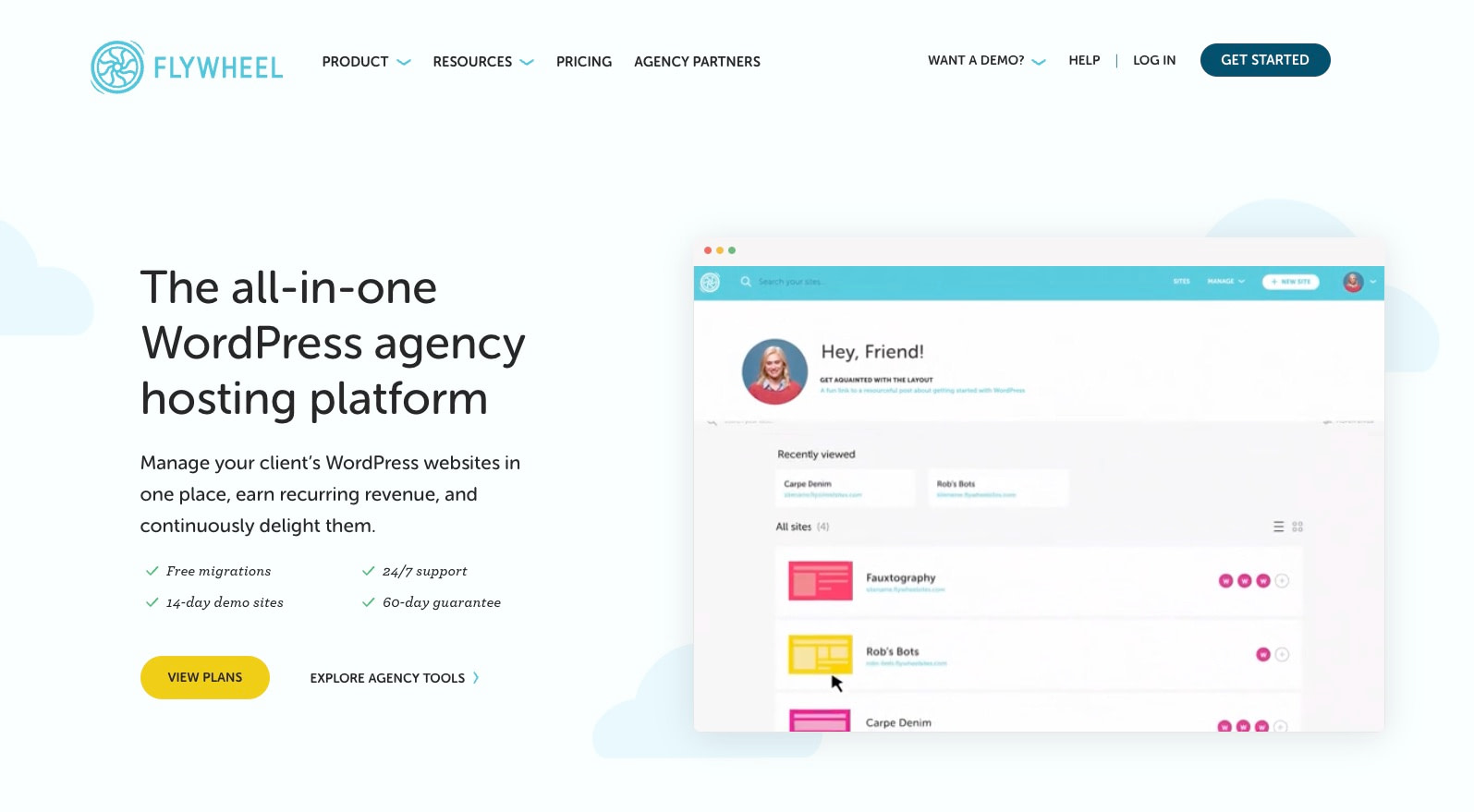 Aside from their WordPress managed hosting features, Flywheel is known for its extensive suite of tools for freelancers, designers, developers, and agencies. If you're looking for a web host that can help you grow your web development or design business, you definitely should consider them.
However, for the purposes of this review, we're going to focus on WordPress-specific features. Here's what Flywheel has to offer in that respect:
Optimized dashboard: Instead of a clunky cPanel, you get access to a streamlined dashboard for WordPress sites.
One-click staging sites: Test changes on your WordPress sites using staging environments.
Nightly backups: Flywheel backs up your WordPress sites nightly, for increased peace of mind.
Hands-on security: Protecting your site from malware and attacks is taken care of, removing the need to install security plugins.
No manual installations: Flywheel's Blueprints tool packs some frequently used themes and plugins into reusable configurations to auto-install them on new sites.
Overall, Flywheel lives up to its reputation with a comprehensive set of WordPress features. Let's see if that quality translates to support as well.
Support options 🖱️
When it comes to support, Flywheel doesn't disappoint. They offer several channels of communication, including plain email tickets, phone calls, social media, and live chat. For our Flywheel review for WordPress, we decided to test their live chat, since that's the channel most people tend to use.
All in all, we had a very pleasant experience. We waited for less than a minute for a support specialist to connect with us, and they answered our WordPress questions promptly and fully:
As far as documentation goes, Flywheel provides its users with over 100 articles covering everything from WordPress-specific issues to billing questions. Chances are you'll find what you need in there without even having to contact a specialist. But if you don't, use their 24/7 worldwide in-app support in no time.
Performance ⌛
As a managed WordPress web host, Flywheel takes performance seriously. That becomes clear when perusing the tools they offer:
WordPress optimization: Since Flywheel only hosts WordPress sites, they've fine-tuned their servers for it.
Custom caching engine: They offer a custom caching solution built with WordPress users in mind.
Free Content Delivery Network (CDN): A partnership with Fastly enables Flywheel to deliver enhanced load speed.
Powerful infrastructure: Flywheel also partnered with the Google Cloud platform for powerful performance.
To top things off, Flywheel offers server availability throughout the world, including the following locations:
USA: New York, Atlanta, Dallas, San Francisco
Singapore
Tokyo, Japan
Toronto, Canada
Amsterdam, Netherlands
Frankfurt, Germany
London, United Kingdom
That collection of features and server locations sounds great on paper, but does it translate into positive real-life results? Let's find out.
Page speed tests with Pingdom
For our first round of testing, we used Pingdom to measure page speed loading times from three different servers:
Melbourne: 2.20 seconds
New York: 0.59 seconds
Stockholm: 1.36 seconds
Our test website is located on Flywheel's New York servers, hence the discrepancy between the test results. All in all, these are pretty decent, except for Melbourne, as anything over two seconds tends to be problematic. Now, let's see how the website fares under a more thorough test.
Basic load testing with Load Impact
When it comes to performance, figuring out how a website fares under pressure is often more revealing than a simple speed test. Any site can load relatively fast with some optimization, but only high-quality web hosts provide comparable speeds under stress. Here's how Flywheel fared with up to 25 concurrent users loading the site:
Load Generator: Ashburn, USA
Test Server: Ashburn, USA
Minimum Response Time: 0.15 seconds.
Maximum Response Time: 1.19 seconds.
Aside from a single spike, Flywheel held steady at under 0.2 seconds during the entire stress test. That's a fantastic result, which places this web host near the top of the pile when it comes to WordPress performance.
In order to provide you with the best website performance, a server must be up and running effectively round the clock. For instance, if a hosting service claims to provide 99% uptime, they will be down 14 minutes each day.
Fortunately, Flywheel offers 100% uptime to keep your site available for your visitors.
Pricing 💵
Flywheel's plans cater to both business owners and freelancers (with an emphasis on agencies). They offer a wide range of offerings, but for this review, we'll focus on their Pay-per-Site plans:
TINY ($15 per month): This plan supports up to 5,000 monthly visits and is good for portfolio websites.
STARTER ($30 per month): This plan supports up to 25,000 monthly visits and is perfect for freelancers, small sites, and personal blogs.
FREELANCE ($115 per month): The FREELANCE plan is good for up to 1,000,000 visits per month and is an excellent choice for medium service sites or online stores. You can use it to create ten sites.
AGENCY ($290 per month): The AGENCY tier can handle up to 5,000,000 monthly visits. It's a reliable option for popular blogs and established eCommerce sites. It will allow you to build over 30 websites.
The first two plans we mentioned above only support a single WordPress site. They are not very expensive, as far as WordPress hosting goes, and in exchange for their price tags, they offer great quality of service and little need for micromanagement. If you want your site to run at top form at all times and can pay for the service, you should definitely consider Flywheel.
Overall pros and cons 👍👎
Before we wrap up this Flywheel review for WordPress, let's take one final look at this web host's pros and cons.
Pros
A good suite of WordPress-specific (and security) options.
Great support service.
Fast, stable performance.
Multiple advanced features for freelancers and agencies.
Cons
A higher price tag than some competitors, especially if you expect to host multiple sites.
Conclusion 🏁
Flywheel offers a solid managed hosting experience at near-budget prices. There are cheaper alternatives out there, but few can match Flywheel when it comes to the overall quality of service. If you're a WordPress user with a little room in your budget, Flywheel is definitely a choice worth considering.
If you want to see what else is out there before committing to a single WordPress host, check out some of our past reviews to guide you along:
Do you concur with the findings of our Flywheel review for WordPress? Share your thoughts with us in the comments section below!

Flywheel
Flywheel is a managed WordPress hosting provider that offers a user-friendly platform for designers and agencies to host and manage WordPress sites. Their plans include fast and secure hosting, easy site staging, and a collaborative workflow that allows teams to work together seamlessly.
Pros
Good WordPress-specific features
Cons
Higher price to host multiple sites
Free guide
4 Essential Steps to Speed Up
Your WordPress Website
Follow the simple steps in our 4-part mini series
and reduce your loading times by 50-80%. 🚀
Free Access