Searching for the best Elementor templates?
One of the biggest factors behind Elementor's rocket-speed growth to become the most popular WordPress page builder plugin is its huge library of pre-built templates, both those created by the Elementor team and third-party developers.
Many developers have created their own collections of Elementor templates that you can use to jumpstart your designs, either as standalone collections or part of a WordPress theme. We did our own part with Neve – Themeisle's flagship theme – where you can find more than 100 demos for Elementor.
In this post, we'll explore 40+ of the best professionally-designed Elementor templates, all provided by one of the most popular WordPress themes, Neve.
What are Elementor templates?
An Elementor template is a pre-built design that you can import into Elementor. Once you've imported the template, you can fully edit it using Elementor's interface just as if you'd created the design from scratch.
Basically, templates help you save time by letting you start from an almost-finished product instead of designing everything yourself. You just import the template, tweak it to match your site, and you're set to jet.
Best free and premium Elementor templates
These are some of the best-looking free and premium Elementor templates for all purposes (available in our theme Neve):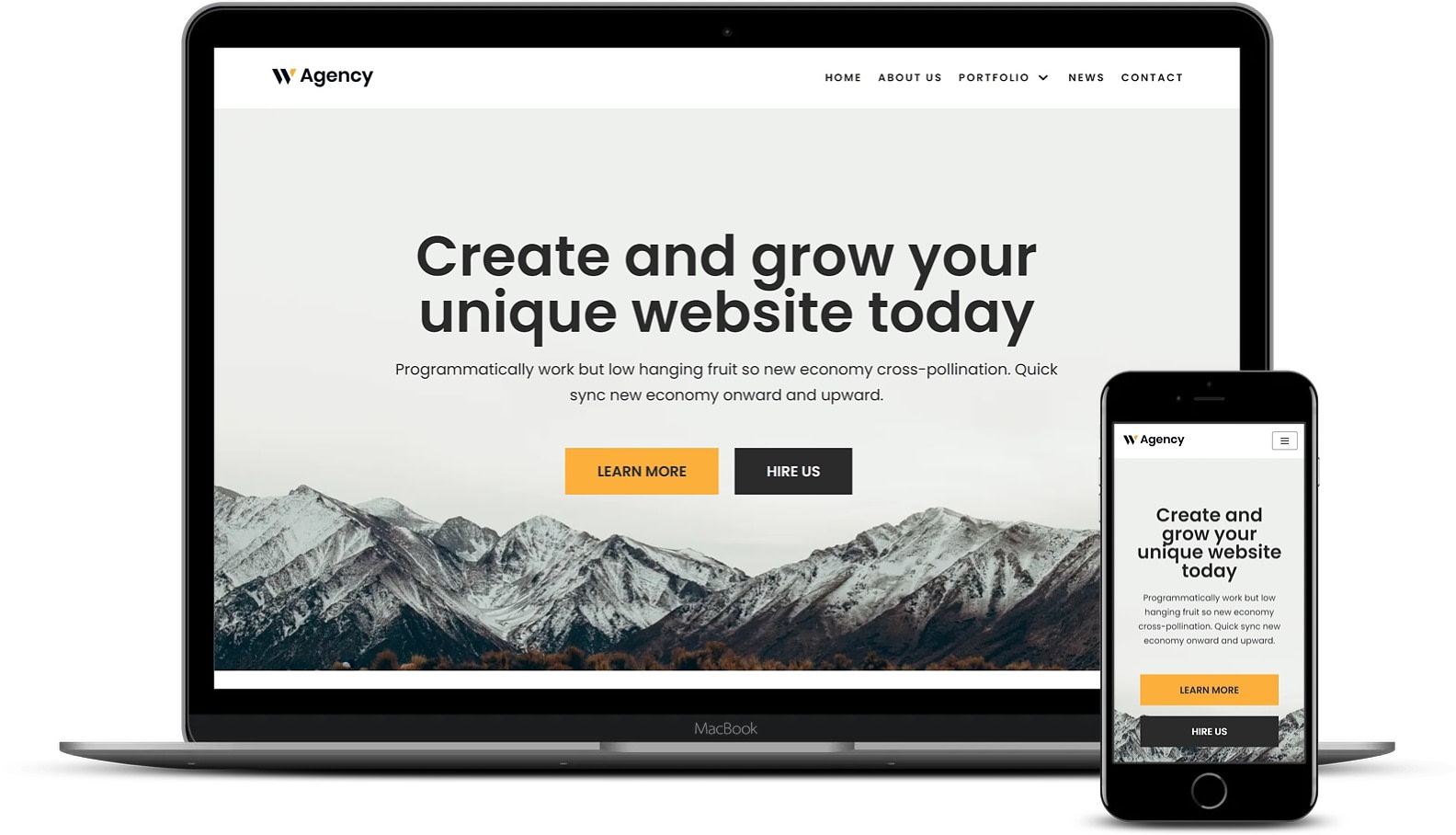 Free 
Web Agency is a template for small businesses, startups, agencies that offer web services, and teams of two or more people that collaborate on a project. It's great for showcasing your ideas, services, or any projects your team is working on. Here's a premium alternative.
 Free 
Blogger offers a modern way to write down your thoughts, opinions, or researched facts. You can use it to build readership around your content. If you want to start a WordPress blog, this template is a minimalist and beautiful option.
 Free 
Shop is for eCommerce. If you want to sell products of all kinds online, this template comes with a general, elegant look to make your online store appealing.
 Free 
The Photography template will help you promote your professional work as a photographer in a simple, classy portfolio. You can also use it to display events like exhibitions, sessions, meetups, etc. Its premium counterpart is here.
 Premium 
Movie Showcase is similar to the Photography template, but for movie creators who need to spread the word about their footage. Add your artwork here, on a template as artsy.
 Free 
Doctors is for those with a medical background who want to launch a medical office of their own or for associations of doctors. It's also good for clinics and general family care. There's an alternative to this template, also free.
 Premium 
News Magazine is perfect for newspapers and those media agencies that are looking to publish big loads of content. This template suits general media companies and has a minimalist design.
 Free 
Fitness is for those who want to help people stay in shape by opening a gym or a fitness/aerobic space. Your business has better chances to reach more sports lovers with a website. This template is a good start. If you're an independent fitness trainer and need a personal website, here's a template for you.
 Premium 
Product Launch is a template that only focuses on presenting your new product in a way that leads to conversions and customers. You can use its marketing-friendly design to put your software in the spotlight.
 Premium 
The University template is perfect for educational institutions. You can use it to invite students to your best courses and specializations. It has a layout that will highlight the benefits of applying to your school and the teachers' profiles.
 Premium 
Museum. Use this template to show people why your museum is worth a visit. The template has a professional design and a modern aura. Introduce your temporary and permanent exhibitions, together with the other events available.
 Free 
Lawyers helps you publish your most successful cases, practice areas, and rates as a professional lawyer. It's a good fit for both independent lawyers and law firms.
 Premium 
Real Estate. You can use this template to create a place online where real estate owners can list their buildings for sale. The template has a directory where people can browse through the options. Each property page has an intuitive layout that makes all the important details visible.
 Free 
Creative Portfolio is perfect for artists to showcase their work to the public. It's a good fit for everyone who creates stuff for the web, from design to illustrations, advertising campaigns, materials for printing, and any visual works.
 Free 
Charity is a design for those who want to create online fundraising campaigns for various purposes. You can use several forms for donations and causes, where people can contribute the way they prefer.
 Free 
Restaurant. If you plan to reach people's hearts (or stomachs) with delicious food, make a site so they can find you easier. This template will save you precious time, coming with most of the work done. You just need to customize it. Its premium counterpart is here.
 Premium 
Yoga Studio is for yoga instructors who need a cool online presence to reach out to their customers. Add classes, rates, schedules, and other details about your training methods.
 Premium 
Fashion. This niche couldn't miss from this list since it's one of the most popular in the world. If you're passionate about fashion and lifestyle and want to share your findings and creations with others, this template will get you started right away.
 Free 
Wedding is the modern way of sending invitations to your special event. While there are many people who still make paper invitations, you can just send your guests a link with a beautiful, simple website that has all the details they need to know.
 Premium 
Kindergarten is a catchy template you can use to build a website aimed at the parents in your area. Tell them why they should bring their kids to your kindergarten and share your educational programs.
 Premium 
Online Courses is the perfect template to get you started with your online teaching. If you're a teacher or an expert who wants to switch to online lessons, this template will help you skip the development part and get to work.
 Free 
Pet Shop is the perfect option for online pet stores or pet adoption websites. If your business consists of selling pet products or finding new owners for various pets, this template will get you closer to fulfilling your goal.
 Premium 
Conference is a beautiful template for business events. If you're part of the organizing team, make sure your conference website contains all the relevant information for the attendees. And also looks catchy, just like this template.
 Premium 
Podcast is a template that you can import if you want to start a podcast. No matter if you're already monetizing your podcasts and need an official site or you're just starting out, this template will help you upload all your audio files on a beautiful, modern design.
 Premium 
Car Rental is a modern template for starting a car rental business. It has reservation forms, car details, search by car brand, and car directories.
 Premium 

 
Adventure is the template you need if you want to sell experiences to your customers. Paragliding, horse-riding, hiking, off-roading, expeditions, extreme sports… these are just a few of the activities you can offer.
 Premium 
Church is a template where you can post information about your local church. You can add the weekly schedule, the contacts for events, live sermons, and more.
 Premium 
Personal Blog is a template you can use to blog about anything, be it about personal experiences or about topics you can monetize later on. It's a beautiful design for starting a blog and growing a community around it.
 Free 
Video Blog is similar to a personal blog, but with video content. Its core functionality allows you to post videos in a blog-like fashion, which you can embed from third-party video platforms.
 Free 
Music Band is a free template for bands that are just starting out and need visibility on the web. You can post your discography, news, your profiles on third-party streaming services, tour dates, and videos. Check out another free alternative here.
 Premium 
Job Listing is a template that gives you a nice opportunity to start a business through which people can find the jobs they're looking for. You can partner with companies and list their opening positions on your site.
 Free 
Life Coach is for trainers who are helping people achieve their goals in life and at their jobs. If you are a life coach or a business coach, you can customize this pre-made design and launch your site right away.
 Free 
Original is a general template for any kind of business, built with no specific niche in mind. You can use it for any purpose as long as its design meets your needs.
 Free 
Travel Agency is for agencies from the travel industry and has a section for trips, filters (by price, early birds, last-minute bookings), destinations – all showcased in a colorful design.
 Free 
Freelancer is a template for freelancers who offer web development and design services. It's great for dev-related projects, but you can customize it for other purposes too. If you're a freelancer practicing in other fields, it's also a good fit.
 Premium 
Sports Academy is for organizations or independent entrepreneurs who want to put on the table the best conditions for professional athletes. Showcase your classes, venues, coaches, rates, and facilities.
 Premium 
Christmas Market is a template for your business or city's annual Christmas market. Present the holiday schedule, sponsors, food providers, activities, and the local business owners who take part in the event.
 Premium 
Artist is mostly targeted to people who create visual art. If you're an artist, use this template to promote your work, post your events, sell your artwork via your online shop, and introduce yourself to the world.
 Free 
Architecture is for independent architects or architecture agencies, with a modern design that will put your projects first. It's good to describe your favorite works in detail and convince clients with your skills.
 Premium 
Wellness Spa is a template for businesses that provide body and mind relaxation services such as massage, detoxification, skincare, and other similar treatments. Showcase your subscriptions, services, and sessions in a minimalist layout.
How to use these Elementor templates
If you set your eyes on one special template for your business, it's time to start using it. These are the steps:
Install the Neve theme
In your WordPress dashboard, go to Appearance -> Themes -> Add New and search for "Neve". After you install and activate it, go to Appearance -> Neve Options -> Starter Sites. You should then see a prompt to install and activate the template collection:
Once you do that, you'll see all of the available templates. Select Elementor and you'll see a list of only the bundled Elementor templates:
Import the template
If your favorite template is free, you can just search for it and click Import. You can also choose to display only the free starter sites, by picking Free where it says "All categories" to the right of the search bar.
If you want to use a premium starter site, you need to upgrade to Neve's Business plan ($99) that includes all the premium templates. Once you upgrade, you will have access to the paid starter sites, together with other features available for the pro users such as advanced Elementor and WooCommerce features, custom layouts, header and blog booster, priority support, and more.
Customize pages with Elementor
After you import the Elementor template, you can edit it with Elementor just like you normally would. You'll see all of the content from the template and you can customize it just as if you'd created the design yourself:
Now over to you…
Which Elementor template do you like most? We would love to see your website, so share it with us in the comments section when it's ready.
Free guide
4 Essential Steps to Speed Up
Your WordPress Website
Follow the simple steps in our 4-part mini series
and reduce your loading times by 50-80%. 🚀
Free Access