Running your store single-handedly can be exhausting. Using an ecommerce fulfillment service can help you reduce your workload and focus on more important tasks, like product marketing. However, you may not know where to start.
Fortunately, we've put together a guide to help you 😎 choose the right fulfillment service for your store. By learning what to look for, you can ensure that your orders are processed efficiently and promptly. This can help minimize the number of complaints and increase your sales.
When to use an ecommerce fulfillment service
You're probably already familiar with the order fulfillment process if you sell physical items through your online store. At a minimum, it typically involves packaging and shipping the products.
Depending on the type of products you sell, you may also have to fetch the item from a warehouse or storage facility. Additionally, you might need to inspect it to ensure it's in mint condition before sending it to the customer.
If you run a small online shop and create your own products, you probably process your orders at home or from your garage. Perhaps you dedicate a few hours or so per day to preparing and packaging items.
However, larger stores require more work, space, and time when fulfilling orders. If this process is getting in the way of other essential tasks, like handling customer queries and promoting your business, you may consider hiring a third party to take care of it for you.
👉 There are two types of ecommerce fulfillment services you could use:
Dropshipping: When you partner with a company that can store, package, and ship your products.
Third-party logistics: This company takes care of every aspect of the fulfillment process, including inventory management and returns.
Using an ecommerce fulfillment service may be more cost-efficient, too. It can help you save money that you would typically spend on sourcing the packaging materials and using your own transport to deliver items.
Plus, it allows you to focus on other areas of your business. For example, you might prefer to dedicate more time and energy to advertising your store rather than handling tedious tasks like packaging products.
How to choose an ecommerce fulfillment service (3 tips)
If you've decided to outsource your order fulfillment, there are some things to consider before you select a third-party service provider. Here are some important tips for choosing the right company to handle your ecommerce orders!
1. Consider the needs of your business and customers
First, you'll want to think about your needs and your customers. For example, if you offer international shipping, you'll need a fulfillment service that can deliver your products to various locations in a timely manner.
Additionally, if you accept returns, your service provider should make it easy for customers to return unwanted items and get refunded. A complicated or costly returns process may discourage shoppers from making purchases at your store: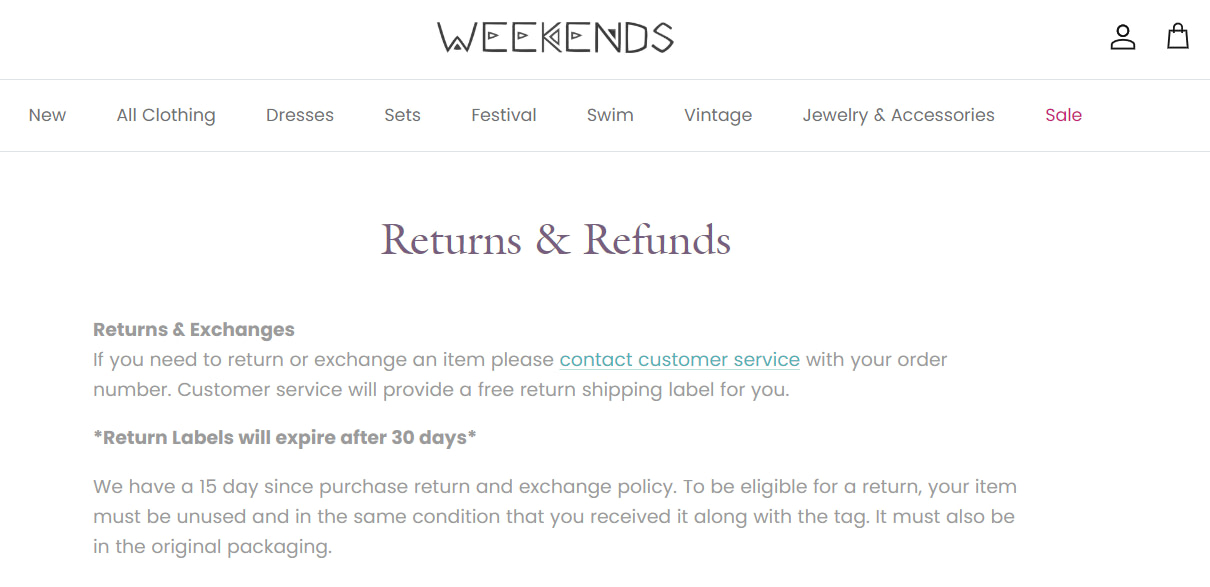 If you have a large amount of stock or make dozens of sales daily, you may also need a company that offers inventory management. This service can help ensure that you always have an adequate supply of products.
Running out of stock can lead to disappointment among your clients, especially during busy periods, like Christmas and Black Friday. This can prompt shoppers to turn to your competitors to fulfill their orders.
You may also want to consider choosing an ecommerce fulfillment service that offers real-time analytics tracking and data. This way, you can make informed business decisions and improve your customer service.
Finally, you'll need to ensure that the logistics company's software supports your ecommerce platform. For example, if you have a WooCommerce store, you'll need a service that integrates with the plugin.
2. Prioritize quality over price
If you have a tight budget, you may feel tempted to opt for the cheapest ecommerce fulfillment service available. However, selecting a company that offers competitive prices, but compromises on quality, can cost you more in the long run.
For example, an affordable service with longer delivery times may result in several disgruntled customers. Also, these low fees might translate to poor-quality packaging, which can reflect poorly on your business.
For example, dropshipping companies tend to use unbranded and cheap packing materials. These can harm your brand image and downgrade the perceived quality of your product.
Therefore, you may want to look for a fulfillment service that offers custom packaging with sturdy, good-quality material. This can help ensure that your products are delivered to customers in excellent condition. Branded packaging can create a more personalized shopping experience.
You'll also want someone who can handle batch fulfillment to prevent delays, particularly during busy periods. Ideally, they should offer 24/7 customer service so that you can reach them immediately should any problems arise.
Overall, it's often worth prioritizing quality over price. A logistics company that guarantees fast delivery times can result in happier customers.
3. Look for service providers with specialization in your niche
Finally, you may want to consider looking for service providers in your industry. Choosing a company with experience handling similar items to yours can help you deliver a better service.
This consideration is especially important if you sell perishable goods. A logistics company specializing in food products will know how to ensure that items are correctly stored and delivered well before expiry dates.
Likewise, if you sell fragile or heavy items, like wine and electronics, you'll want an ecommerce fulfillment service that provides sturdy packaging and careful handling of such products:
It's also a good idea to select a company that specializes in your shipping destinations and is, therefore, familiar with local customs and procedures. This familiarity can help prevent delays and any surprise fees when delivering your products.
Three efficient ecommerce fulfillment services
Now that you know what to look for in an ecommerce fulfillment service, here are some of the most popular options 🤩 for your store.
ShipBob is a global ecommerce fulfillment solution used by over 7,000 companies. It handles orders from the US, the UK, Canada, Australia, and the European Union.
The service integrates with a variety of ecommerce platforms, including WooCommerce, Shopify, Amazon, eBay, and Squarespace. ShipBob also partners with some of the most popular couriers, such as DHL, UPS, and FedEx.
⚙️ Key features:
Two-day express shipping coverage across the US
A customization suite that enables you to create branded packaging for your products
Automated dropshipping and distribution to your retailers and end customers
Streamlined fulfillment software that integrates seamlessly with WooCommerce and other ecommerce platforms
An end-to-end managed freight and inventory distribution program
Standard fees for ShipBob services include warehousing, inventory management, and shipping. They also offer tailor-made solutions to accommodate your needs. You can request a quote online.
ShipMonk is another popular ecommerce fulfillment service. You can ship your inventory from your supplier to ShipMonk, using the company's competitive freight rates.
ShipMonk will then perform quality control on your stock, pack the orders according to your requirements, and send the products to your customers.
The company works with FedEx, DHL, UPS, and other reputable couriers and ships to over 180 countries. Your customers will receive an email with a tracking number so that they can follow their orders.
ShipMonk integrates with WooCommerce, Shopify, Magento, and many other ecommerce platforms. It also offers fulfillment services for subscription boxes, crowdfunded campaigns, and retail businesses.
⚙️ Key features:
An omnichannel fulfillment platform that gives you complete control over your inventory
A reporting suite that displays low stock alerts, total orders and items shipped, and other important information
An automated claims portal where customers can report issues with their orders
A 'Delivery Protection' opt-in at the checkout page to help reduce problems with lost and damaged items
Pricing will vary depending on the number of orders per month and your storage requirements. However, you can contact ShipMonk for a quote.
Finally, let's look at Red Stag Fulfilment. This company offers solutions for both B2B and B2C vendors. They promise same-day fulfillment and 100% order and inventory accuracy. Plus, most US-bound orders are delivered within two days.
Red Stag Fulfillment offers seamless integration with WooCommerce, Shopify, BigCommerce, Magento, and other platforms. They also have a zero-shrinkage guarantee. This means that if your stock gets stolen or damaged, the company will reimburse you.
⚙️ Key features:
Same-day fulfillment
A full range of omnichannel fulfillment services, which include labeling, kitting, package inserts, and customization
Integration with the Amazon API so you can also fulfill orders through the marketplace
Multiple warehouse locations so you can store your inventory at the facility closest to your customer base for faster delivery times
Like other ecommerce fulfillment services, Red Stag Fulfillment offers custom solutions. Prices will depend on your needs and requirements. You can learn more by filling out a form with your information.
Try an ecommerce fulfillment service today 🚀
If you run a large store, you may be looking for an ecommerce fulfillment service to handle all of your orders. It's important to choose a company that provides high-quality packaging, fast delivery to your shipping destinations, and batch fulfillment.
In this post, we looked at 🔎 some of the best fulfillment services for online stores.
ShipBob promises 2-day deliveries in the US and lets you create custom unboxing experiences for your customers.
Meanwhile, ShipMonk may be a better option if you sell subscription boxes and want to offer delivery protection to your customers.
Finally, you might consider Red Stag Fulfilment if you're looking for a service that handles both B2B and B2C solutions.
If you're interested 👨‍🎓 in some other information about ecommerce fulfillment, you also might want to check out 👉 our full guide to ecommerce shipping methods so that you can choose the right approach for your store.
Do you have any questions about choosing an ecommerce fulfillment service? Let us know in the comments section below!
Free guide
4 Essential Steps to Speed Up
Your WordPress Website
Follow the simple steps in our 4-part mini series
and reduce your loading times by 50-80%. 🚀
Free Access