Are you having difficulty choosing between Bluehost and Namecheap? If so, then this Bluehost vs Namecheap review is just what you need to read.
In this comparison, we'll dig into the features and prices of the WordPress plans that both hosting providers offer, share the results of page speed tests that we ran, and take you through the experience at each host with real interface screenshots.
TL;DR: Overall, if you want access to more resources and best support, Bluehost is the winner here; read more why and how both hosts compare against each other.
Bluehost vs Namecheap: Comparing the features
Both Bluehost and Namecheap are reputable and well-established companies in the domain name and hosting spheres. Although Bluehost is the more popular of the two, Namecheap has recently shifted its focus, building on its reputation as a leading domain name registrar and providing an improved range of hosting packages.
Bluehost and Namecheap each sell a selection of shared hosting plans, which incorporate an assortment of WordPress appropriate features. Let's check them out…
Bluehost offers both shared and managed WordPress hosting. Here are some of the features you can expect to benefit from if you opt for shared WordPress hosting…
Free domain name (for the first year)
Unmetered bandwidth
Unlimited websites and storage (excluding the low-tier Basic package)
Automatic WordPress installs
Automatic WordPress updates
As you can see, these shared packages offer a selection of useful WordPress tools and features. However, if you are looking for more advanced WordPress hosting options, check out Bluehost's managed WordPress hosting packages.
Namecheap also provides both shared and managed WordPress hosting plans. Again, here we have focused on the shared hosting features…
One-click WordPress install (via Softaculous app installer)
Free .website domain name (for the first year)
Unlimited websites (excluding the bottom-tier Stellar plan)
Unmetered bandwidth
100% uptime guarantee
Backups (and automatic backups on top-tier plans)
Free website migration (this is unique as Bluehost does not offer free migrations)
For anyone wanting to access extra WordPress specific features, check out Namecheap's managed WordPress service called EasyWP.
Bluehost vs Namecheap: User experience
Now that you know what Bluehost and Namecheap are offering in the way of features, let's next check out the user experience you can expect if you sign up with either of these hosting providers…
Bluehost user experience
Bluehost (our review here) is extremely user-friendly, boasting an intuitive built-for-purpose dashboard and access to cPanel (if needed).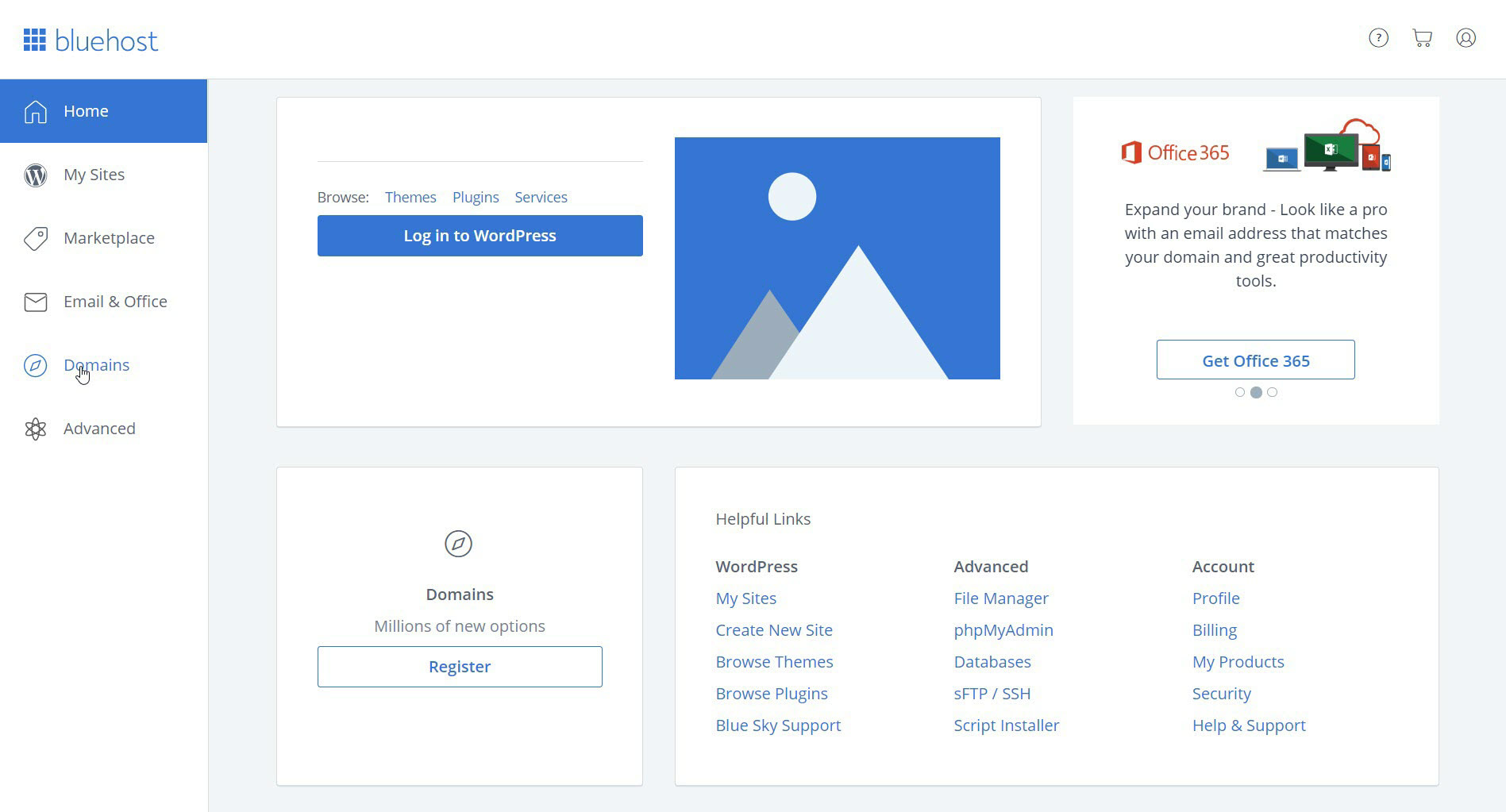 On the WordPress shared hosting plans, Bluehost automatically installs WordPress for you, making the setup process for a new website extremely quick and easy.
Within the new WordPress installation, you will find a Bluehost menu helping to streamline your website setup and design process.
The Bluehost menu can help users to…
Create pages and blog posts
Manage menus
Install WooCommerce
Set up a staging area
Activate caching
You can also purchase a selection of themes and plugins via the Bluehost marketplace.
Overall, Bluehost has tried to ensure that creating a new website is quick and easy, even for beginners.
Namecheap user experience
Namecheap is also very user-friendly, although it provides a slightly different experience to Bluehost. Once you have set up your account with Namecheap, you can view and manage your account, domains, and hosting plans within your dashboard.
However, unlike Bluehost, to set up a new website, you will need to do so via the Softaculous App Installer within cPanel.
Although the Softaculous App Installer is straightforward to use, it doesn't compare with the automatic WordPress installation that Bluehost provides – something beginners should bear in mind.
Namecheap will install WordPress with the free W3 Total Cache plugin, to help improve your site's loading times. However, unlike Bluehost, it does not come with any type of start-up wizard or menu.
One of the key user-friendly features that Namecheap offers is its website migration service. If you have an existing website hosted with a different web host, Namecheap will move this site for you for free. This is a service that isn't offered by Bluehost.
To conclude on 'user experience', if you are a beginner, or just feel like you will benefit from an extremely user-friendly hosting provider, then Bluehost is for you. That is not to say that Namecheap doesn't provide a good user experience – and for most customers, it will do just fine – but it just doesn't compare to the standard of Bluehost.
Bluehost vs Namecheap: Support
Both Bluehost and Namecheap provide good quality support. Each has an extensive knowledge base, containing articles and tutorials to help users troubleshoot any problems they may be having.
Namecheap also provides 24/7 ticketed email support and live chat, and Bluehost 24/7 phone support and live chat. So if access to phone support is important to you, Bluehost is the better option because Namecheap doesn't offer phone support.
Personally, I have used both Bluehost and Namecheap live chat services and was impressed with the answer time and the support given by the pair of them.
Bluehost vs Namecheap: Performance
Choosing a hosting provider that performs well and ensures fast loading times is vital. Therefore, we have tested both Bluehost and Namecheap to give you an idea of what you can expect in terms of performance from these hosting providers.
To run the tests, we set up new websites with fresh WordPress installations and tested the loading times of each using Pingdom, a popular WordPress speed test tool. Here are the results…
Bluehost:
Washington D.C.: 2.75 s
San Francisco: 2.86 s
London: 3.43 s
Sydney: 3.73 s
Tokyo: 2.87 s
Namecheap: 
New York: 1.1 s
San Jose, CA: 610 ms
Stockholm: 2.22 s
Melbourne: 3.14 s
As you can see Namecheap out-performed Bluehost across the board with consistently faster load times.
Bluehost vs Namecheap: Pricing
For many, the price of hosting is one of the deciding factors when choosing a new hosting provider. As mentioned, both Bluehost and Namecheap offer a range of plans, all with slightly different price points and promotional deals.
Bluehost's cheapest shared WordPress hosting plan, Basic, comes in at just $2.75. However, to benefit from this deal, you will need to sign up for a 36-month payment plan, which is payable in full when you sign up (in total $99). It is also important to note that once your three-year term expires, this plan renews at $8.99 a month.
Namecheap's entry-level package costs $1.58 a month. To get it, you need to sign up for a year's contract (the plan will then renew at $2.88).
One unique thing is that, with Namecheap, you can opt to pay month-to-month. So if you don't want to pay the full amount upfront, then Namecheap is a good option for you.
Both Namecheap and Bluehost offer initial terms that are similar in price. However, Namecheap provides more flexible payment options, as well as much lower renewal prices.
Both hosting providers also offer a 30-day money-back guarantee. This gives you peace of mind that if you sign up but then decide the service isn't right for you, you can get your money back.
Bluehost vs Namecheap: Which hosting provider should you choose?
Bluehost and Namecheap both have much to offer, but you only need one of these providers. Here's how to choose…
Choose Bluehost if…
You are a beginner or place high importance on user-friendly tools. In that case, Bluehost's intuitive dashboard and built-in WordPress installation will suit your needs well.
Bluehost is also your best bet if you are looking for a plan providing unlimited hosting resources (e.g. – unmetered bandwidth and storage, as well as unlimited websites and domains). However, to access these features you will need to choose either the Plus or Choice Plus packages (Bluehost prices begin at $5.45 a month for a three-year term).
If you want to learn more, you can check out our full Bluehost review.
Choose Namecheap if…
Namecheap provides much cheaper hosting packages, as well as the option of paying monthly. So if your main criteria for a new host is low prices, or you don't want to pay a large upfront fee when you sign up, then Namecheap is a good choice.
Namecheap also offers a 100% uptime guarantee and a free website migration service – both features that many look for when selecting a new host, and not something that Bluehost provides.
Namecheap also outperformed Bluehost when it came to site loading times. Although these Pingdom tests are only a snapshot of how these hosts perform, the results are worth consideration.
Final thoughts
If you're still not sure whether to choose Namecheap or Bluehost, our overall recommendation for most WordPress users is Bluehost. Its combination of ease of use, adequate performance, and support options make it a great starting point for most people looking to get online.
Do you have any remaining questions about Namecheap vs Bluehost? Leave a comment and we'll try to help you decide.
Free guide
4 Essential Steps to Speed Up
Your WordPress Website
Follow the simple steps in our 4-part mini series
and reduce your loading times by 50-80%. 🚀
Free Access
* This post contains affiliate links, which means that if you click on one of the product links and then purchase the product, we'll receive a commission. No worries though, you'll still pay the standard amount so there's no cost on your part.