Finding the right web host is never an easy task – especially if you want to find one with a high-level of WordPress knowledge. With that in mind, we're here to help you make a decision on one of the most popular solutions, with an in-depth Bluehost managed WordPress hosting review.
There's plenty that a dedicated WordPress host can offer you compared to a more general purpose solution. Much like SiteGround (the subject of our previous review), Bluehost is used by so many people that its functionality warrants a closer inspection.
In this review, we've picked the Bluehost offering apart – outlining its specific features, support, and performance – before giving you our opinion on whether its plans offer good value for money.
Let's get started!
Bluehost managed WordPress hosting review: features 📢
Unlike some other hosts, Bluehost is a little lean on WordPress-specific features. Let's take a look at what's on offer:
ManageWP integration: Bluehost offers native support for ManageWP, starting at five websites on their basic plan.
WordPress custom control panel: A dashboard designed with WordPress users in mind.
Considering some plans are marketed towards WordPress power users, we expected a bit more from Bluehost in terms of specific features. Let's check out how the host fares in other areas.
Support options 👨‍💻
The first stop in our Bluehost managed WordPress hosting review is support. An excellent support service is the backbone of any hosting provider, and you need to be assured of its quality before considering any other aspect. To begin with, Bluehost offers:
24/7 support via live chat and phone.
An in-depth knowledge base.
We decided to go a little deeper and test out their live chat service. We spoke to two of Bluehost's specialists and asked them a few WordPress-specific questions.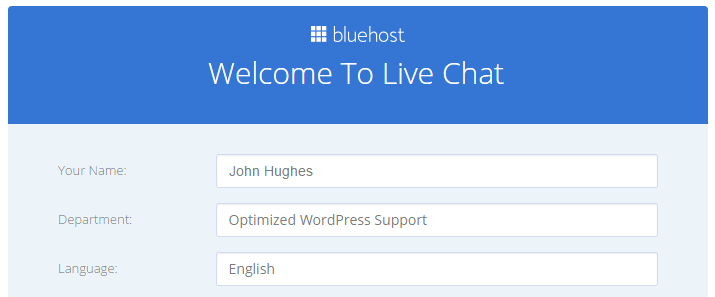 During our first query (which was right in the middle of a weekday), we faced a waiting time of approximately twenty minutes – a bit long, but reasonable. A second inquiry made during a Friday evening was answered in less than five minutes. Overall, we found support specialists were friendly and reasonably knowledgeable about WordPress, as well as up to speed on what kind of plans users should consider:
Performance ⚙️
Bluehost's WordPress-centric plans offer a wide variety of features to enhance performance. Here's the lowdown on them:
Virtual Private Server (VPS): Every site hosted on a WordPress-specific package gets their own VPS. This means they don't have to share resources with other users – a big plus point for speed and security.
NGINX: A leaner alternative to the Apache server, which is known for its resource efficiency.
Kernel-based Virtual Machine (KVM) hypervisor: This is a virtualization technology that isolates specific hardware resources, so other users won't affect your performance.
Data center locations also considerably impact the performance of a web host – having a low number of locations can result in overcrowding and long page loading times. Unfortunately, Bluehost doesn't share the locations of their data centers with customers. However, there are a couple of tools we can use to test its speed regardless.
Page speed test with Pingdom
For this test, we used a fresh install of WordPress with no customizations of any kind, then ran three different Pingdom tests using multiple server locations, and averaged the results. Here they are:
Melbourne: 2.01 seconds
New York: 2.00 seconds
Stockholm: 1.69 seconds
Considering the site in question is bare-bones – and given that 47% of users expect sites to load in two seconds or less – these results were worrying. It stands to reason that more complex sites will load even slower, which means Bluehost users could face high bounce rates through no fault of their own.
Basic load testing with Load Impact
This test is a bit more sophisticated than the last one. Load Impact measures performance by simulating up to 25 connections over a period of five minutes – this is perfect to test how a site would react under stressful conditions. Here's what we found:
Load generator: Ashburn, US
Test server: Ashburn, US
Minimum response time: 1.22 seconds
Maximum response time: 2.03 seconds
When averaged, these numbers paint a more positive picture than Pingdom. However, they're still on the high-end of the spectrum for our liking.
Pricing 💸
Bluehost offers several tiers for each of their products – here's what you need to know about each one:
Build ($19.95 per month): This package purports to support up to 300 million visits per month and will suit small businesses with moderate needs.
Grow ($29.95 per month): Handling up to 600 million visitors per month, this package is suited to e-commerce sites, given the inclusion of a Secure Sockets Layer (SSL) certificate.
Scale ($49.95 per month): This plan supports an unlimited number of visitors, and will be ideal for large-scale businesses with a need for enhanced security and an SSL certificate.
Before we move on, we feel it's important to highlight our skepticism when it comes to Bluehost's visitor claims. These numbers are so high that there's virtually no chance of disproving them – and, unfortunately, accurate data is hard to come by. With this in mind, we'd recommend that you start out with the Build plan, then scale upwards if necessary.
Overall pros 👍 and cons 👎
Taking into consideration all the points we've covered so far, here's a summary of our findings – both the good and the bad:
Pros
Their support team is reasonably knowledgeable about WordPress, and is available 24/7.
The hardware behind each plan is robust and scales well.
Bluehost includes advanced security features such as daily scans for malware and vulnerabilities.
Each plan includes a free Content Delivery Network (CDN) setup.
There's full support for ManageWP.
Cons
Support queues can get a bit long.
Their plans have a higher starting price point than other WordPress hosts.
Long page loading times.
Bluehost managed WordPress hosting review: Conclusion ⌛
Choosing the right web host is crucial for the success of any website. Our Bluehost managed WordPress hosting review found that it could do better regarding support and speed.
Considering Bluehost prices, we believe that you could do better too – in fact, you may want to consider checking out some of our other hosting reviews before making your decision:
If you'd like to go deep on our findings for a number of hosts, you may also be interested in the results of our massive hosting survey – it includes all the major hosting providers (including Bluehost) to help you make a decision. Some key insights from the survey data:
| | USER RATING | VALUE FOR MONEY | USER-FRIENDLINESS |
| --- | --- | --- | --- |
| Bluehost | 4.0 / 5 | 3.5 / 5 | 3.0 / 5 |
Do you concur with the findings of our Bluehost managed WordPress hosting review? Share your opinions with us in the comments section below!
Bluehost managed WordPress hosting
Bluehost is a web hosting company that specializes in providing affordable shared hosting plans for individuals and small businesses. One pro of using Bluehost is their user-friendly interface and reliable uptime, but an often cited con is their customer support is not as responsive as some users would like.
Pros
Robust hardware that scales well
Daily scans for malware and other vulnerabilities
Free Content Delivery Network (CDN) setup
Cons
Support queues can get a bit long
Higher price than other WordPress hosts
Free guide
4 Essential Steps to Speed Up
Your WordPress Website
Follow the simple steps in our 4-part mini series
and reduce your loading times by 50-80%. 🚀
Free Access