WordPress not your cup of tea? There are plenty of WordPress alternatives that offer a simpler (or more flexible) approach depending on your needs.
In this post, we've collected seven great alternatives to WordPress including everything from simple, hosted website builders like Wix to flexible, scalable content management systems like Drupal.
📚 Read on to find the platform that's perfect for you.
Best WordPress alternatives in 2023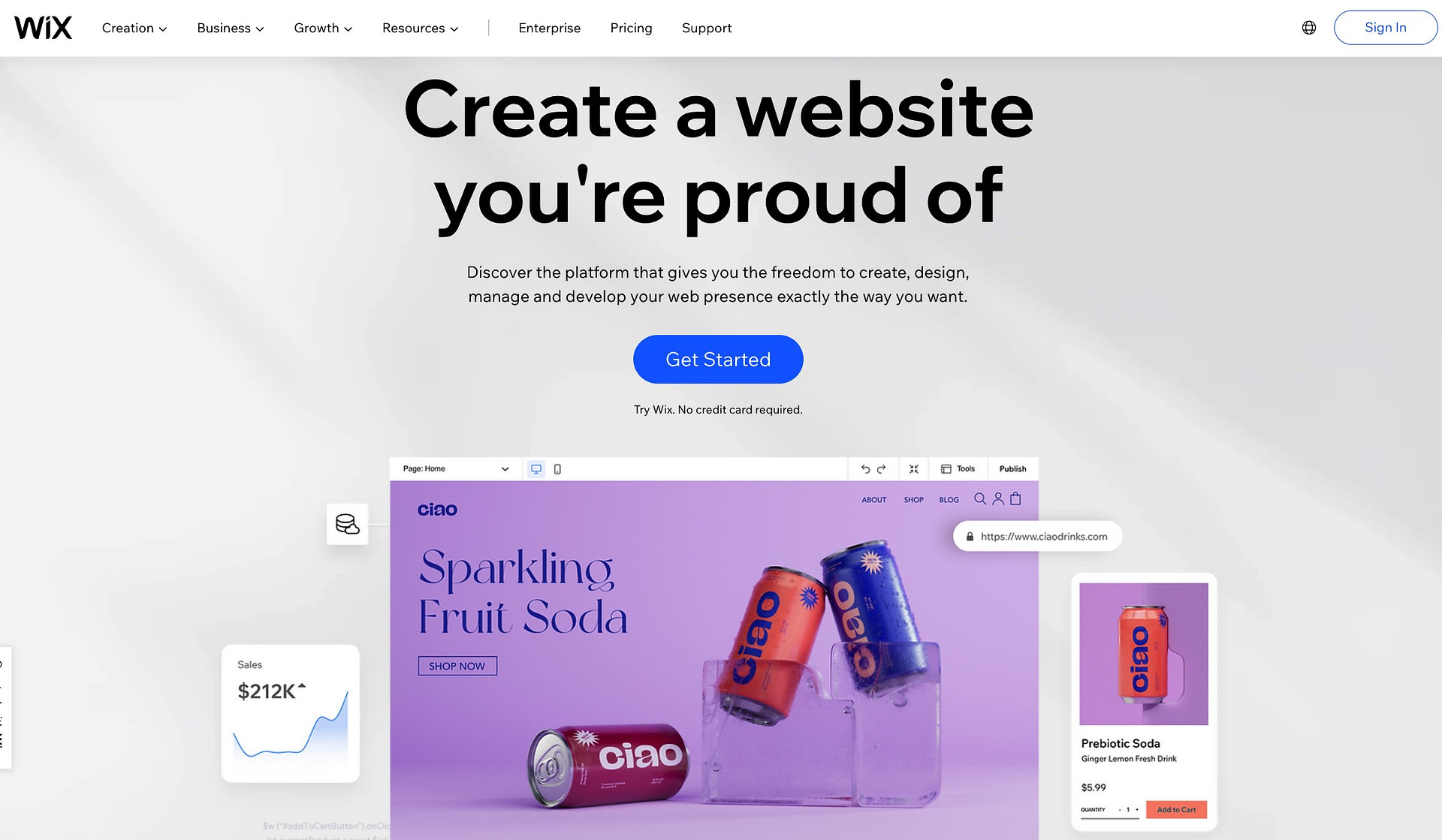 Wix is an intuitive website builder that contains most elements required for website-building. You just need to select and drag them around, choose between a few options and you're almost there. All without knowing a line of code. 125 million+ use Wix, so let's see what the team has gotten right:
Key features ⚙️
Packs in powerful, easy-to-use tools in a drag-and-drop WYSIWYG editor
The Wix Artificial Design Intelligence helps you build personalized websites
800+ design templates covering any and every type of website
Built-in tools to customize design and layout
Hosted solution with a powerful ecommerce platform
Hassle-free coding for advanced functionality
SEO-friendly, mobile-friendly, and includes mobile editor
Pricing 💰
Wix offers a basic branded plan for free, but serious webmasters will want a premium plan:
Combo – $16.00 per month
Unlimited – $27.00 per month
Pro – $27 per month
VIP – $45 per month
Business Basic – $32.00 per month
In some countries like India and the UK, there is a more basic plan called Connect Basic, that's cheaper than any of the plans listed above.
WordPress offers a huge library of themes and plugins, some of which can cause incompatibility, while Wix has a smaller number that are perfectly compatible in every way.
Unlike WordPress, with Wix, you're pretty much stuck with the template you choose.
Wix comes with a WYSIWYG editor, so you see the elements being added visually, whereas with WordPress, you'll need to use a preview button to see your updates, or alternatively, use a page builder plugin.
Like most WordPress alternatives, Wix offers limited payment gateways.
Wix lays stress on being user-friendly, while WordPress lays importance on being a flexible and customizable tool.
Wix packs in all the regular features needed for a website, but for something beyond the ordinary, WordPress offers more functionality.
Who should use Wix 🙋‍♂️
Anyone who wants everything taken care of and needs only the regular website features. However, bloggers may want to give this one a miss, as it lacks many blog-specific features. That's why some bloggers end up migrating Wix to WordPress.
Similar to Wix, Weebly is a website builder that offers all the tools you need to launch a website, everything bundled in the same platform. You get hosting, an easy-to-use editor, website templates, and site elements that you can drag and drop to your layouts. Weebly is more limited in terms of interface and functionalities than Wix, though.
Key features ⚙️
Drag-and-drop builder
Hosting included
Custom domain
SSL security
App center with free and premium integrations for traffic, marketing, social media, ecommerce, and communication
SEO settings
50+ templates for online stores, businesses, portfolios, blogs, events, and personal sites
Drag-and-drop design elements
Video backgrounds
Pricing 💰
Weebly does come with a free version that offers basic, limited functionality. However, to make the most of this website builder, you'll need to upgrade to a premium plan. Weebly's four pricing plans are as follows:
Free
Personal – $10 per month
Professional – $12.00 per month
Performance – $26 per month
Weebly is easier to set up since it is an all-in-one tool for building websites. To set up WordPress, you need to take extra steps, such as looking for hosting, searching for third-party premium plugins, handling site security by yourself, and more along those lines.
While Weebly is easier to set up, it doesn't come with the same complex functionality as WordPress. Weebly's package of features is significantly more limited compared to the latter.
At first sight, Weebly looks more user-friendly, while WordPress can seem overwhelming to people who are novices in building websites on their own.
WordPress has tens of thousands of themes and plugins that let you customize your website in any imaginable way. Meanwhile, Weebly has only around 50 templates and a few hundred third-party apps. So, WordPress is way more flexible and diverse.
Overall, setting up and maintaining a WordPress site yearly is more expensive if you want to use premium themes and plugins.
In terms of SEO, Weebly does come with such general settings, but WordPress gives you better optimization through free and premium plugins.
Who should use Weebly 🙋‍♂️
Weebly is the kind of website builder that you use if you need to put together something fast and in a straightforward fashion, without having to do thorough research or perform regular maintenance. It's best suited for personal and professional websites that have low-to-moderate traffic and no complex functionality requirements.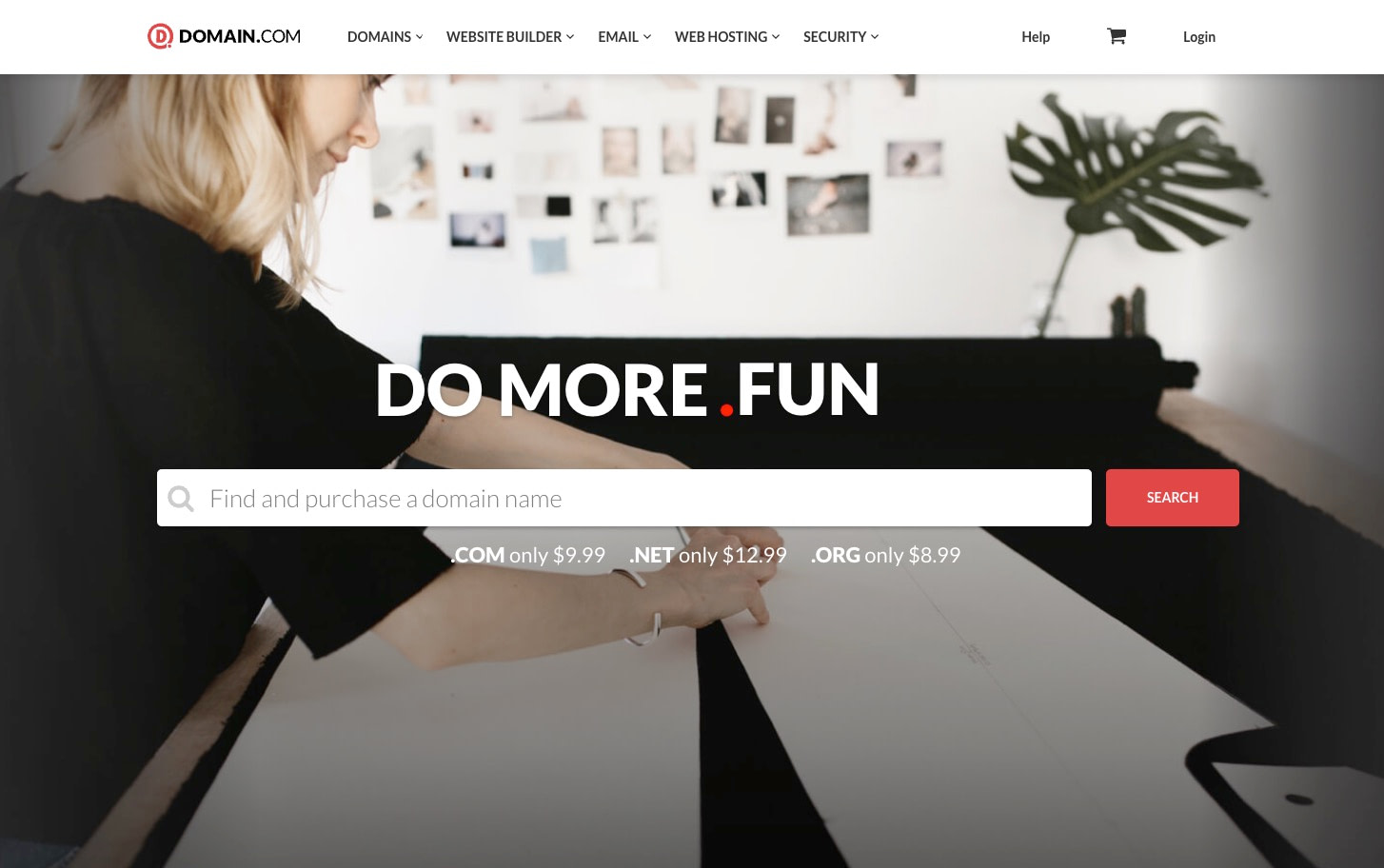 Domain.com is a hosted solution that allows anyone to create any kind of website, blog, or even an ecommerce store. It includes an easy-to-use website builder as well as a number of pre-built sections and page layouts.
Key features ⚙️
AI assistance to choose the right layout for your website, including images and initial content
Customization options with design protection to maintain professional look and functionality
550,000+ images in an included image library
Powerful online store equipped with inventory management tools for physical products
Capability to sell digital products as well, with coupons, discount codes, and integrated shopping
Social media sharing, lead capture forms and contact management tools to grow your audience
Pricing 💰
Domain.com offers three plans that are ideally suited for launching new websites, small businesses, or scalable online stores:
Starter – $1.99 per month
Business – $6.99 per month
Ecommerce – $12.99 per month
WordPress or Domain.com Website Builder? 🤔
Domain.com is more affordable. You can start a website for under $2 per month, with hosting included. WordPress by itself is free, but hosting and other set up charges can inflate costs.
Domain.com allows you to change domains easily. That gets a little complex with WordPress.
Domain.com comes with ready-to-go ecommerce capability, whereas WordPress needs some work before you can sell online.
There's little to no coding required with Domain.com. Same is the case with WordPress, although coding knowledge can help to customize a WordPress site better.
Who should use Domain.com 🙋‍♀️
Domain.com is a leading domain registration service. It makes sense for small users to host their website on their servers and manage everything from one place. Small businesses who wish to run an online store and have a one-stop solution for domain, web hosting, business email options and support, will be comfortable with Domain.com.
Shopify is one of the best WordPress alternatives if you specifically want to create an ecommerce store. Here's what makes Shopify a hit with store-owners:
Key features ⚙️
Completely hosted and provides 24-hour technical support
Numerous stylish, interactive contemporary Shopify themes and templates to choose from
Option to tailor-make your own theme
An easy-to-navigate backend facilitates adding products and other variants
Easy tracking of order and fulfillment-status, notes and comments
Offers a variety of payment options
A unique shipping and tax calculator
Tokengated commerce to connect crypto wallets to store
Exclusive NFT commerce experiences that let you link personal benefits to NFTs
Built-in B2B and Shopify point-of-sale (POS)
A vibrant third-party app store helps you extend your store
Pricing 💰
You can try Shopify with a 14-day free trial. After that, you can explore their full-featured premium plans. Three popular Shopify price points are below:
Basic Shopify – $29 per month
Shopify – $79 per month
Advanced Shopify – $299 per month
In addition, Shopify has a Starter Plan starting at $5 per month, which allows you to sell products through social and messaging apps, as well as Shopify Plus starting at $2000 per month for high volume businesses.
Who should use Shopify 🙋
Beginners who want a great-looking, fully functional store, without being too hands-on can pick Shopify.
Drupal is the most popular content management system (CMS) behind WordPress. It's open-source, fast-loading, highly scalable, and includes features to cater to every kind of website. Here's what makes it more suited to larger organizations:
Key features ⚙️
Modular structure that imparts flexibility to build versatile content. Themes help to vary presentation and add-ons enhance functionality
Packaged Drupal content or 'distributions' serve as starter-kits
Integration with external services and apps so you can scale Drupal's functionality
Drupal is reliable and highly secure
Rich media support for images, audio and video files
API driven, multi-channel content delivery in both decoupled and hybrid decoupled modes
Customizable workflows, mobile-first approach
Multilingual capability allows for seamless translations
Pricing 💰
Drupal is free. However, you'll have to find your own web host and pay for technical expertise, if you've got no coding skills.
Although a helpful host can make it easy for beginners, you'll likely need technical help to customize or update Drupal, whereas WordPress is way more intuitive and easy to customize.
Drupal is highly secure, which is true for the WordPress core, but many WordPress themes and plugins can cause vulnerabilities.
WordPress is SEO-friendly out of the box, and Drupal is designed with best SEO practices in mind.
Drupal is faster, though keeping it running smoothly is not really for D-I-Y types, while website speed optimization using WordPress is much more beginner-friendly.
Who should use Drupal 🙋‍♂️
Of all the WordPress alternatives, Drupal is perhaps best suited for building content-heavy websites with advanced features. The multi-level taxonomy and highly secure environment, coupled with flexibility and scalability make it a good fit for larger organizations with a hierarchical structure. Newbies brave enough to try it out can find the starter-kits helpful.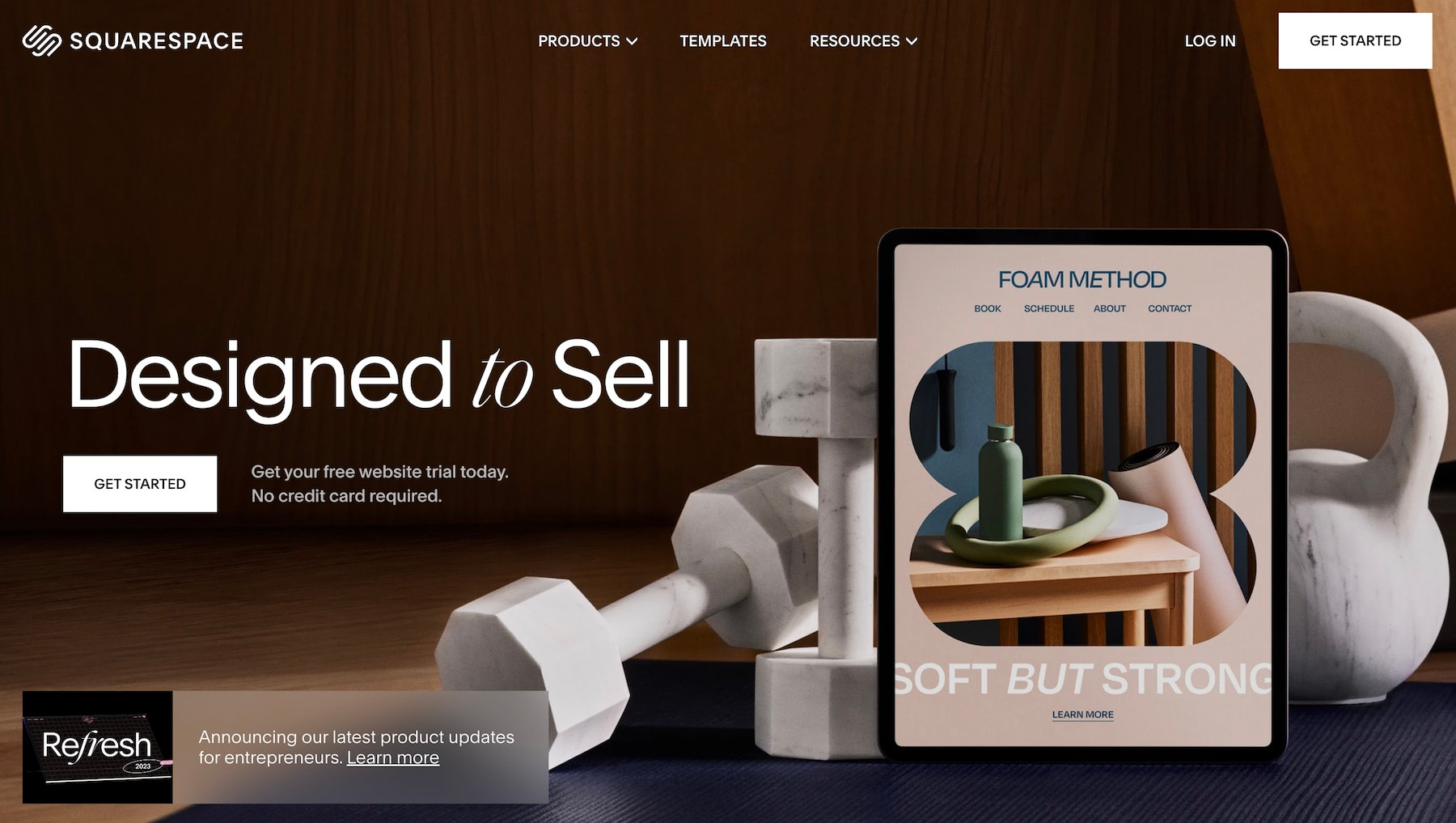 Squarespace offers an all-in-one platform for almost every type of website. It's a fully-managed website builder with something for everyone, and particularly suited to creative folks. Simply choose a template, edit it to suit your requirements and a stunning website is ready to showcase your work.
Key features ⚙️
A sufficient number of well-designed, all-in-one templates to make your website look professional
Customize by dragging and dropping entire sections
Wide range of features to help build any website, including ecommerce websites
Dozens of integrations to apps/services
Free, unlimited hosting with no limits on website storage space or bandwidth
Mobile optimized right from the start, AMP-compatible pages
Option to upgrade to new drag and drop editor, Fluid Engine, which offers greater customization options using a grid system
Branded email campaigns and social tools to grow your customer base
Pricing 💰
Squarespace offers a brief free trial, after which you'll need a premium plan:
Personal – $16 per month
Business – $23 per month
Basic Commerce – $27 per month
Advanced Commerce – $49 per month
WordPress has many themes with ready-to-use templates, but Squarespace templates really shine when it comes to design.
Unlike WordPress, customization with Squarespace is restricted to the features available in the customizer.
Squarespace includes a WYSIWYG section-based editor. With WordPress, you see the changes only in preview mode unless you use a page builder.
Besides many built-in tools required for a website, Squarespace allows some integrations with online services. The WordPress API is powerful to allow developers to greatly extend most functions.
Though Squarespace comes with unlimited storage and bandwidth for all plans, you can build cheaper websites with WordPress.
Squarespace allows only limited content export in an XML file (excludes product pages, audio, and video content). That's not the case with WordPress, where you can export everything.
Who should use Squarespace 🙋‍♀️
For any website that needs to display high-quality images in attractive settings, Squarespace is a great option. It has built-in blogging tools, so it's ideal for a creative's website that has an accompanying blog. The stunning display with great ecommerce features makes it a good storefront for small websites. But you'll feel restricted as your business grows, as design and external integrations are limited.
For anything and everything to do with blogs, magazines, publishing, or any kind of writing, Ghost is a wonderful platform. You can self-host your own Ghost- powered website or opt for the Ghost servers. Here's what can make it a writer's favorite:
Key features ⚙️
Fully managed secure service that includes a clutch of modern and powerful publishing tools
The fully extendible editor allows you to pull in dynamic blocks of content such as images, embeds, videos and text
Dynamic routing and robust tagging functionality allows you to create custom homepages, URL structures, and multi-language content
Complete SEO optimization, integrated AMP support, detailed structured data, full RSS feeds, subscription capture forms, and Slack integration hook – all help to distribute your content widely over social media and other forums
A JSON API that allows you to have full control over obtaining and displaying data, and totally customizing user experience
Create access level to posts using Membership tiers
Option to offer discounts
Send posts via tag based email as an alternative to publishing directly on your website
New features like product cards, GIFs and NFT embeds
Pricing 💰
Like WordPress, you can also self-host the Ghost software for free.
You can also pay Ghost to host it for you. After a 14-day free trial, here are the premium plans:
Starter – $9 per month (up to 500 members)
Creator – $25 per month (up to 1,000 members)
Team – $50 per month (up to 1,000 members)
Business – $199 per month (up to 10,000 members)
While Ghost is designed specifically for bloggers and publications, WordPress can be used for any type of website.
The WordPress editor separates the entire page into blocks. With Ghost, the WYSIWYG editor allows you to view the entire page.
WordPress has an extensive range of themes and plugins to cover the needs of a wide variety of websites. Ghost has a smaller number to support blogs.
Ghost uses Node.js, which makes it faster than WordPress.
Installing and starting off is harder with Ghost.
Who should use Ghost 🙋‍♀️
Ghost can be the ideal solution for any blogger looking for an all-in-one, clean blogging solution. The simple content creation process can be a huge draw for those looking for good WordPress alternatives for blogging.
Summing up these alternatives to WordPress
And that wraps up our collection of the seven best WordPress alternatives for a variety of uses.
To recap, you have:
Do you have any questions about which of these best WordPress alternatives is the ideal choice for your needs? Ask away in the comments!
Free guide
4 Essential Steps to Speed Up
Your WordPress Website
Follow the simple steps in our 4-part mini series
and reduce your loading times by 50-80%. 🚀
Free Access
* This post contains affiliate links, which means that if you click on one of the product links and then purchase the product, we'll receive a small commission. No worries though, you'll still pay the standard amount so there's no additional cost on your part.