WooCommerce is a powerful platform all on its own. However, there are some things it can't do. If you want to build a fully-powered online store, you'll need the help of some of the best WooCommerce plugins.
One of the helpful things about WordPress is that you can always find plugins that enable you to do more with your website. When it comes to WooCommerce plugins, there are hundreds of options you can use to extend its capabilities and give your store a boost.
🛒 Are you in the middle of building your own ecommerce store? Here's an in-depth guide on how to start an online store from start to finish.
In this article, we've compiled a list featuring some of the best WooCommerce plugins available.
Let's introduce you to some of our favorites! ⭐⭐⭐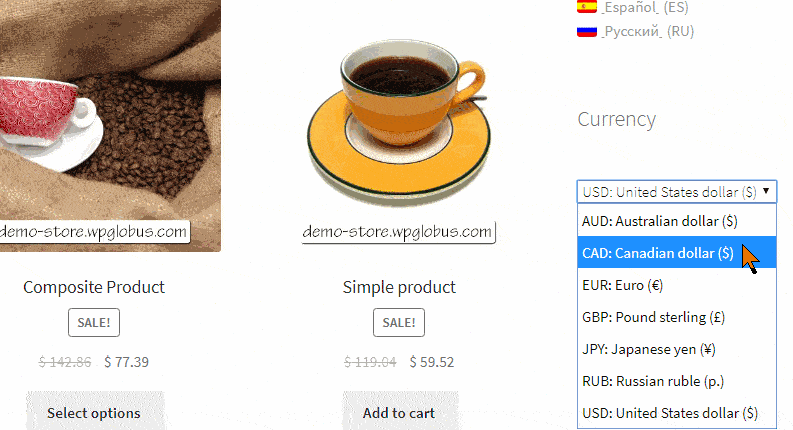 If you want to target shoppers from multiple countries, you need to show your prices in different currencies. With the first of our WooCommerce plugins, WooCommerce Multi-Currency, you can add custom drop-down menus that enable users to choose what currency they want to see prices in. Licenses start at $99 per year.
2. Popups by OptinMonster
Popups by OptinMonster isn't exactly a WooCommerce-specific plugin. However, you can use it to great effect with WooCommerce. This plugin generates opt-in forms to grow your email list, uses exit-intent popups to get potential shoppers to stick around, and more. Plans start at $9 per month (billed annually).
Sparks is a multi-functional plugin for WooCommerce that is focused on increasing your conversion rate. It offers eight different features to help you achieve your ecommerce goals. These include a comparison table, a wishlist, advanced product review, variation swatches, multi-announcement bars, and more. If you compare the price of Sparks to some of the other plugins on this list and you consider everything it gives you, it's arguably the best value on the whole list. Licenses start at $49 per year.
Wishlists enable customers to plan out their purchases in advance or let others know what they want to receive for special occasions. With WooCommerce Wishlists, you can let all of your customers create and share lists, drawing more visitors to your store. Licenses start at $79 per year.
The Personalized Product Fields Manager helps store owners customize WooCommerce products with a diverse range of additional fields, offering over 30 field types such as email, date, timezone, text counter, audio, emojis, and a lot more. This product offers valuable features like a friendly drag-and-drop editor, a repeater for duplicating product variations, an inquiry form for streamlined information requests, and cart editing capabilities for on-the-fly product option changes.
6. WooCommerce Quick View
It can be annoying to have to open multiple tabs to look at different products. Many online stores use 'quick view' screens instead, which let you look at product details without leaving the page you're on. That's precisely what WooCommerce Quick View does – and it's a free plugin.
7. WooCommerce Cart
Shopping carts are one of ecommerce's unsung heroes. If yours doesn't provide a strong user experience, your store will likely suffer as a result. WooCommerce Cart enables you to tackle this problem with attractive and easy-to-use side tabs, and it's free to download.
PayPal is the undisputed leader when it comes to online payment gateways. Having a trusted payment system for your store helps customers feel more comfortable making purchases, so using PayPal is a must. You can set it up for free with PayPal Checkout.
9. ShopEngine – Elementor WooCommerce Builder Addons
Elementor is one of the most powerful WordPress page builders you'll find. However, it could use more WooCommerce-related widgets out of the box. ShopEngine – Elementor WooCommerce Builder Addons aims to solve that problem by offering over 50 widgets that you can use to build a gorgeous store. It helps you build and customize the single product page, cart page, archive page, checkout page, order page, my account page, and thank you page from scratch.
10. Enhanced Ecommerce Google Analytics Plugin for WooCommerce
Analytics are essential for any type of website, but especially for ecommerce. Without analytics, getting real insight into user behavior is complicated, limiting your sales potential. With this plugin, you can track specific behavior related to WooCommerce in Google Analytics. Plus, it's free!
One of the hardest parts of running an ecommerce store is the paper trail. Even if you're 100% digital, you still need to generate invoices. WooCommerce Print Invoices & Packing Lists makes your job easier by taking care of both kinds of invoices. Licenses start at $79 per year.
One of the best ways to incentivize sales in your store is to offer discounts for large purchases. Dynamic Pricing enables you to set up discounts for people who buy multiple items, purchase from certain product categories, or take other specific actions. Licenses start at $129 per year.
Ideally, your ecommerce store should offer multiple payment methods. That way, clients can pick whichever one they prefer, possibly increasing sales. You can add Stripe as a PayPal alternative for free, using one of the most popular WooCommerce plugins.
One of the most stressful parts of making a purchase online is figuring out when it's going to arrive. The more detailed your shipment tracking is, the happier your customers will likely be. Using Shipment Tracking, you can enable your buyers to track packages delivered by FedEx, DHL, UPS, and USPS. Licenses start at $49 per year.
Usually, we recommend that you keep your checkout process as simple as possible. However, sometimes adding an extra field or two can improve the user experience, such as enabling customers to leave order notes. You can do that and more with Checkout Field Editor. Licenses start at $49 per year.
16. Booster for WooCommerce
Booster for WooCommerce is one of those plugins that does a bit of everything. Some of Booster's features include dynamic pricing, discount configuration, cross-selling, and more. You can start using it for free, or purchase Booster Plus. Licenses start at $11.99 per month (billed annually).
A lot of customers like to order personalized products, whether it's engraved jewelry, items with custom measurements, or simple notes to accompany their purchases. Out of the box, WooCommerce doesn't enable you to add this kind of detail to your orders, but you can change that using Product Add-Ons. Licenses start at $49 per year.
If you're already offering prices in multiple currencies, you can go a step further and create versions of your website in other languages. Having a multilingual WooCommerce store can open up entirely new markets for you. MultilingualPress provides you with the tools you need to get started (but you'll still need translators!). Licenses start at $99 per year.
Every store runs out of stock at some point. The problem is, if someone can't buy a product from you, they might go to your competitors instead. You can minimize this occurrence by adding a product 'waitlist' feature to your store to alert customers when the items they want are back in stock. WooCommerce Waitlist licenses start at $49 per year.
Email marketing is key to growing your online store. If you're a Mailchimp user, Mailchimp for WooCommerce will enable you to connect your store with the email marketing platform. That way, you'll be able to create and send campaigns targeted towards your customers, and move more merchandise.
21. All in One SEO Pack
Search Engine Optimization (SEO) is key for helping potential customers find your store. Without organic traffic, scaling your business can be hard, so finding a plugin that can help you tackle SEO efficiently is important. All in One SEO Pack is free, and integrates with WooCommerce out of the box.
Rewards memberships are an excellent way to drive users to take action on your website. When it comes to WooCommerce stores, offering rewards – such as discounts – through a points system can give users an incentive to make more purchases. WooCommerce Points and Rewards can help, with licenses starting at $129 per year.
WooCommerce enables you to add products to your store using the WordPress editor, which isn't a bad system. However, Fancy Product Designer provides you with a new product editor, which includes a friendly interface much like that of modern page builders. Licenses start at $69.
Using a system that takes variables such as a location, weight, and item count into consideration can help you and your customers save on shipping costs. WooCommerce enables you to handle some of those issues, but with Table Rate Shipping you get a lot more options to play with. Licenses start at $99 per year.
Abandoned carts are a serious issue for online stores. It's estimated that over 75% of users leave their carts. Reducing that percentage even a bit can have a massive impact on your bottom line. There are several ways to try and 'recapture' those users. Abandoned Cart Pro for WooCommerce enables you to send them abandoned cart reminders via email, text, and even Facebook Messenger. Licenses start at $149 per year.
Conclusion 🧐
WooCommerce plugins will help you tackle everything from running your email list with Mailchimp, to creating new products with Fancy Product Designer.
🧰 Plus, tools such as Sparks, PPOM, and Booster can take your marketing efforts to new heights.
Do you have any questions about WooCommerce plugins? Let's talk about them in the comments section below!
Free guide
4 Essential Steps to Speed Up
Your WordPress Website
Follow the simple steps in our 4-part mini series
and reduce your loading times by 50-80%. 🚀
Free Access