Do you want to create a beautiful website for your business without learning how to code? Have you tried Wix and decided you want something else? This list of the best Wix alternatives will walk you through everything you need to know to make an informed decision.
📌 Here's a quick summary of the tools we'll look at: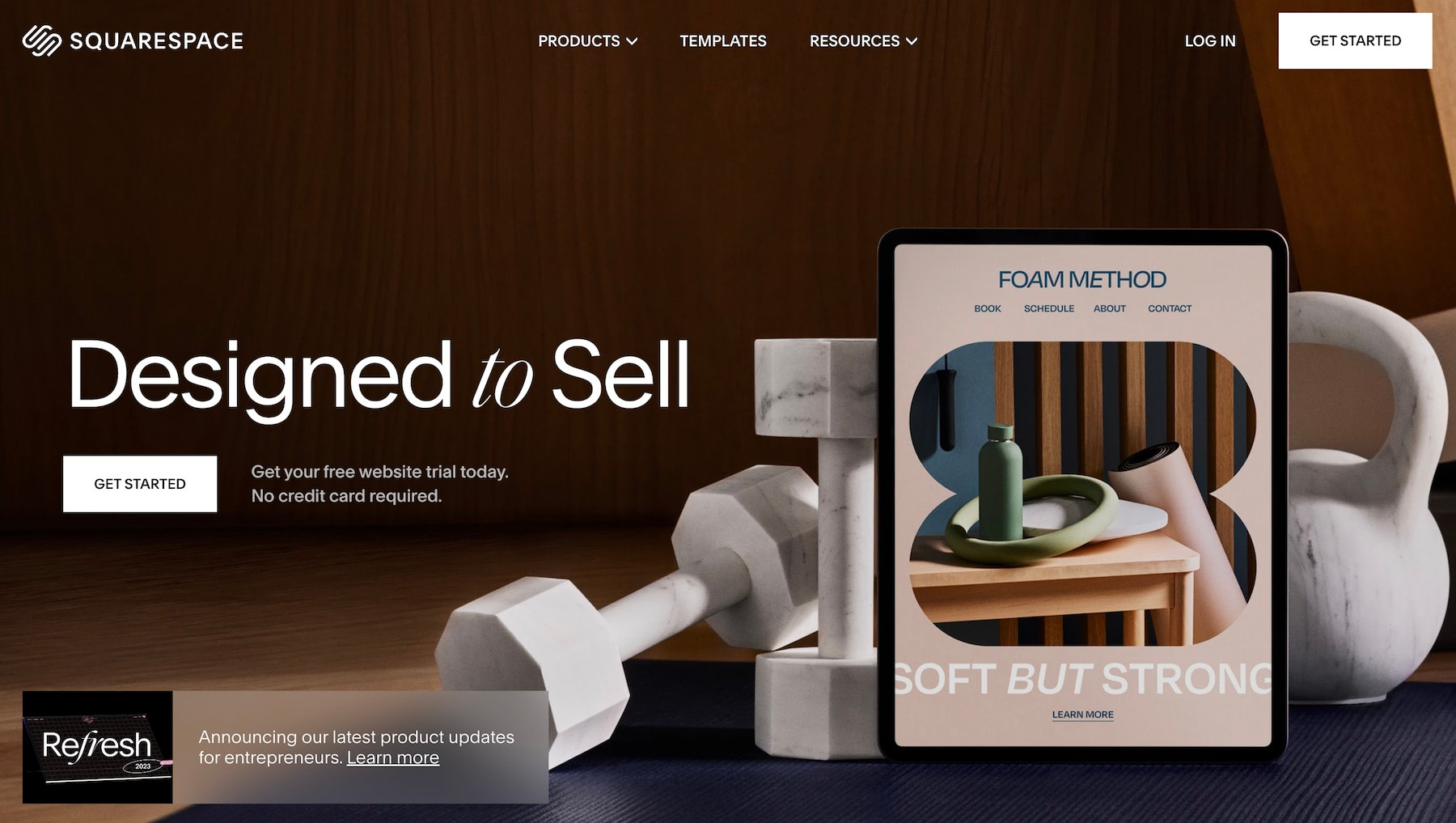 Squarespace is an all-in-one website building solution similar to Wix. You can buy your domain directly through them, choose from their wide variety of templates, customize your selection and get your business online in a couple of hours.
What separates Squarespace from other all-in-one website builders is access to a full platform for developers, including the option to code with Git. This allows you to go beyond Squarespace's templates and fully customize your site. However, this ability is only available with the Business plan. Squarespace users on the Personal plan only have the regular visual site builder.
All in all, Squarespace is a great choice for anyone who wants to build a beautiful website with minimal effort, but still have the option to add code manually in the future. It firmly belongs on any list of best Wix alternatives.
⚙️ Features:
The Personal Squarespace plan offers the following features:
Free custom domain (when you purchase an annual plan)
Unlimited bandwidth and storage
Access to hundreds of mobile-optimized themes
Built-in analytics tools
Connectivity with Google Analytics
SSL Security
24/7 customer support
Limited to 2 contributors
Squarespace also offers a Business plan with all of the same features plus a few more:
Unlimited contributors
Professional email account from Google
$100 Google Ads credit
Pop-up creator
Fully integrated e-commerce software, with the ability to sell unlimited products
Create a donation portal
3% transaction fee
Mobile Information Bar
Complete CSS and JavaScript customization
Announcement bar
Premium Blocks and Integrations
💳 Pricing:
The personal plan costs $16.00 per month when billed annually, or $23 on a month-to-month basis. The business plan is either $23.00 per month billed annually, or $33 on a month-to-month basis.
Hostinger Website Builder is a high-quality website building solution with dozens of professional templates to help you get started. Once you've chosen a template, you'll be able to edit it using Hostinger's drag-and-drop website builder. This editor is completely code-free and uses a grid system to help you effectively use space.
Hostinger Website Builder also offers a lot of other tools for building an online business including SEO tools, ecommerce features, and live chat integration with WhatsApp and Facebook. The company even offers AI-powered branding tools that can design a logo, create a slogan, and even choose a name for your business if all you've got is a concept.
All in all, Hostinger Website Builder is a great solution if you're looking for a website builder that comes bundled with a variety of marketing tools. Hostinger Website Builder is also a great choice if you're looking for a website builder that you can figure out in just a few minutes.
⚙️ Features:
Here's a quick overview of the features Hostinger Website Builder provides:
Free domain for one year
Unlimited bandwidth and storage
Free email
Up to 100 websites allowed per account
24/7 customer support
SSL certification
Website builder with designer-crafted templates
Ecommerce features
AI branding tools
Marketing integrations
💳 Pricing:
Hostinger Website Builder comes with four pricing variations based on the period you want to sign up for. The annual subscription for Hostinger Website Builder is priced at $3.19 per month, and the four-year plan is available at $2.99 per month. The standard monthly rate is $11.99. If you want to sign up for two years, you will pay $3.09 per month.
Weebly is another all-in-one website building solution that requires no coding experience whatsoever. They offer a wide variety of plans, including a free plan for personal websites (with Weebly branding attached to the domain).
Once you've chosen a domain, you can scroll through Weebly's large selection of themes. In the past, Weebly's themes have been less attractive than competitors' templates, but recent additions to their collection have closed this gap.
Weebly's drag-and-drop editor is more intuitive than Squarespace's, but it's also more limited. You can't use the drag-and-drop editor to change column width or background designs associated with your chosen theme. If you want to modify those aspects of your site, you'll need to use Weebly's CSS editor.
All in all, Weebly is quickly becoming one of the best Wix alternatives, with new features and themes being introduced all the time. In a previous article we compared Wix vs Weebly by taking a deep look into all differences.
⚙️ Features:
For the purposes of this article, we are only going to look at features for the Starter and Pro plans. Here are the features associated with the Starter plan:
Free domain
SSL security
500MB storage
Unlimited storage
Ability to remove all Weebly ads
Site search
Third-party apps
Lead capture (IE Newsletter sign up) and contact forms
Access to the community forum + Live chat support 24/7
The Pro plan offers all of these features plus a couple more:
Fully integrated shopping cart software
Accept payments through Square
Accept payments through a variety of third-party payment gateways
Advanced site analytics
24/7 phone support
💳 Pricing:
Free to host a site on a Weebly branded domain, and then three paid plans. The Weebly Personal plan is $10 per month, the Pro plan is $12.00 per month, and finally, the Performance plan is $26 per month. All prices are based on annual payments.
Shopify is one of the best Wix alternatives if you're in the market for an ecommerce-first website builder. This well-known platform allows you to create and customize your online store without any previous knowledge of code or design. You will, however, need to buy a domain from a separate domain registrar.
Once you've purchased a domain and chosen your Shopify plan, you'll need to "point" your domain at Shopify. This means that when someone types your custom domain into their search bar, it will automatically direct them to your Shopify store.
You can then dive into setting up your ecommerce store with a pre-made Shopify theme and their drag-and-drop editor. This process is a little more complicated with Shopify than it is with Weebly or Squarespace as it requires you to use both the editor and the dashboard. However, Shopify offers a unique inventory system that makes it easy to manage your store, even during periods of rapid growth. You can also add Shopify apps for extra functionality.
The final step of setting up your Shopify store is setting up individual product pages. You can also choose what forms of payment you want to accept.
All in all, Shopify is one of the best alternatives to Wix if your main goal is to create an ecommerce store, but it is a more specialized service that might not be appropriate for all business.
⚙️ Features:
Shopify has three plans, but for the purposes of this article, we'll focus on their Basic plan:
Ecommerce store
Blog
Unlimited products
Free SSL security
Up to two staff accounts
24/7 customer support
Integration with a variety of other sales channels, such as Facebook; channel availability varies by country
Manual order input
Abandoned cart recovery software
Shipping discount of up to 31% with Shopify printed shipping labels
Shopify Point of Sale (POS) app
Third party POS apps
Hardware peripheral support
Fraud analysis
💳 Pricing:
Shopify offers three plans. Their Basic plan runs for $29 per month, but they're having a promotion right now, where the first two months are only $1 per month. Then there is the Shopify plan for $79 per month, and the Advanced Shopify plan for $299 per month. Shopify also charges transaction fees that vary depending on your chosen plan. You can see the full fee structure on the Shopify Pricing page.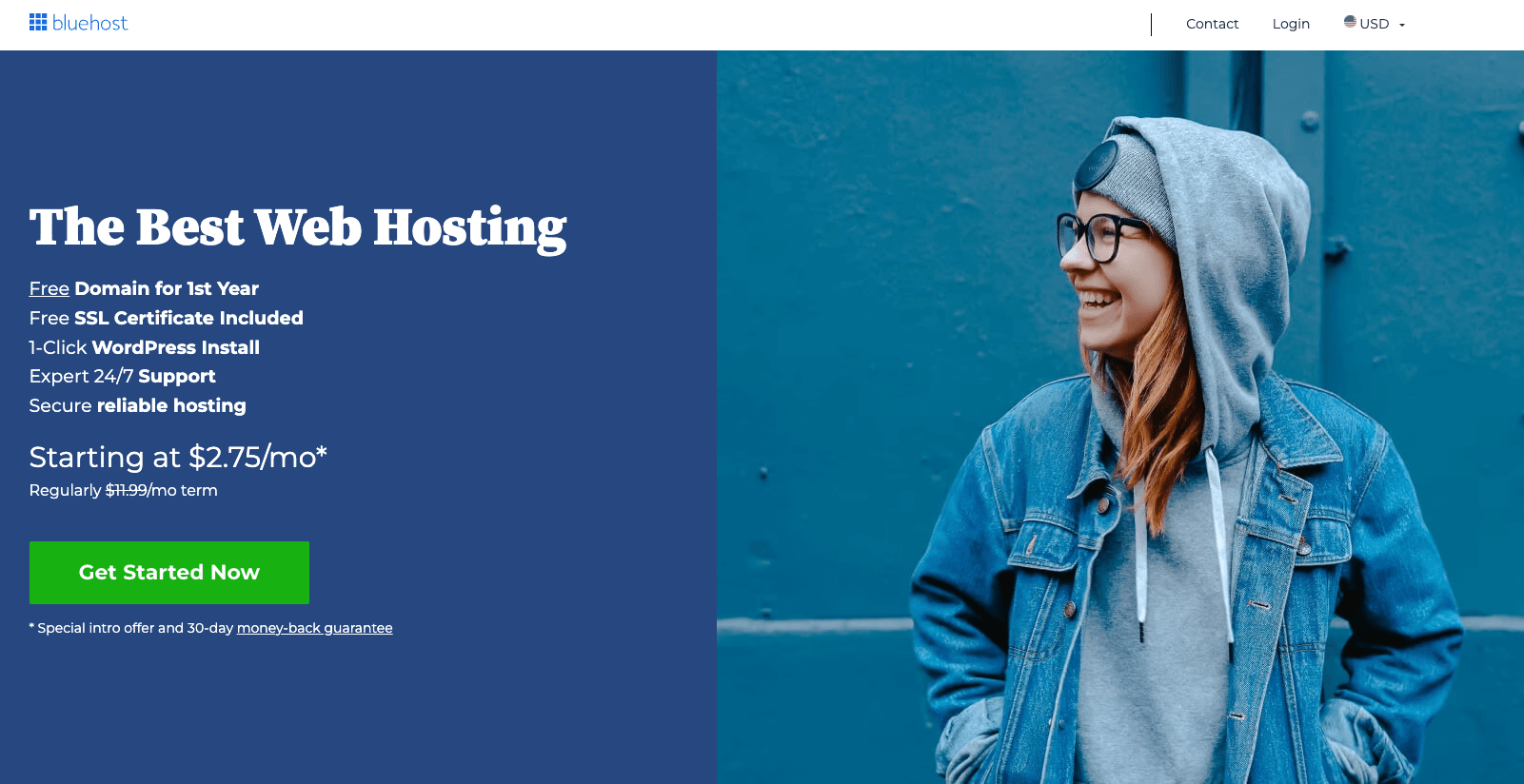 If you're looking at the best Wix alternatives because you want maximum control over your website's layout and software, WordPress hosted on Bluehost is your best option.
WordPress.com vs WordPress.org
There are two different types of WordPress: WordPress.com, which provides all-in-one hosting, and WordPress.org, which is open source software that can be installed on sites with existing hosting from a source like Bluehost.
WordPress.com is more of a direct competitor with Wix, offering everything you need to build a website in a couple of hours without any extra installation or previous coding knowledge. The WordPress.com system does not, however, feature a drag-and-drop editor at this time, making it slightly more complex to edit. There are also more limits on what you can do with websites hosted by WordPress.com.
WordPress.org software is an open source content management system you install on a site you already own. You can select a theme and go online with minimal editing or customize every aspect of your WordPress.org site with a combination of plugins and code. We chose this option for our list of best Wix alternatives because it gives you full control of your site and allows you to create without worrying about someone else's terms of service.
There are a lot of other reasons to use self-hosted WordPress, too.
How to set up WordPress.org + Bluehost
If you choose this option, the first thing you'll need to do is sign up for Bluehost. They offer WordPress optimized hosting, which includes a free domain for one year, for as little as $2.75/month.
Once you've created your account, you can use the Bluehost dashboard for one-click installation of WordPress.org software. Bluehost will get everything set up for you within a few minutes, and you can go directly to choosing your theme. Once you choose, you can customize your theme by going to your WordPress dashboard and choosing Appearance > Customize from the menu.
The options you'll find on the Customize page vary from one theme to the next. Some allow you to alter every color and image on your page, while others come with pre-set colors and only allow for minimal customization. However, even if you choose a theme with minimal customization options, WordPress.org software gives you access to all of the CSS, so you can customize the site's base code.
You can also use a page builder plugin like Elementor if you want access to a drag-and-drop editor like Wix offers.
The final step to setting up your WordPress.org + Bluehost site is to add some other essential plugins for things like SEO and social media automation. Many plugins are free, but there are also thousands of premium plugins built for almost every imaginable purpose. With plugins, you can create any kind of website you can imagine.
⚙️ Features:
Bluehost offers three plans. For the purposes of this article, we're going to stay focused on their Basic plan:
One website, domain included
Automatic WordPress installation
Automatic WordPress updates
SSL Certificate
50 GB SSD storage
The base installation of WordPress.org software offers the following features:
A selection of built-in themes
Theme customization
Drag-and-drop page and blog post editor with "block" system
Ability to access base code and customize your site with CSS and Javascript
Compatibility with thousands of plugins for advanced functionality
💳 Pricing:
The Basic Bluehost plan is enough for most businesses and costs $2.75 per month when you pay for a year up front. That makes it not only one of the best Wix alternatives, but also one of the most affordable.
If you really need more flexibility, you can get the Plus plan for $4.95 per month. They also offer a Choice Plus plan, which is sometimes available for as little as $4.95 per month as well, but the normal price for it is $14.99 per month.
The WordPress.org software and updates are all free, as are many of the plugins and themes. If you want to compare other important aspects, please check our in-depth Bluehost vs Wix comparison.
The verdict on the best Wix alternatives 🏆
So, out of this collection of best Wix alternatives, what is the best website builder for you? Well, it depends on what you're looking for:
If your main concern is affordability, then Bluehost + WordPress.org is a solid option from these best Wix alternatives. Hosting is $2.75 per month. After that, you can choose to spend more money on your WordPress site as your business grows, but it's never necessary.
If your main concern is simplicity, Weebly is the best choice. Their drag-and-drop editor doesn't allow you to customize everything, but it is intuitive to use even if you've never designed a website, and they offer a variety of great templates to start with.
If your main concern is quality ecommerce software, Shopify is the option for you. Their unique inventory system and easy integration with various sales channels make it easy to optimize your store for success.
Overall, if we could only choose one from this list of best Wix alternatives, then we'd recommend Bluehost + WordPress.org for the affordability, the variety of built-in customization options, and the sheer number of compatible plugins that can help you get more out of your website. 🌐🌐
Do you have any questions about the best Wix alternatives for your needs? Ask away in the comments!
Free guide
4 Essential Steps to Speed Up
Your WordPress Website
Follow the simple steps in our 4-part mini series
and reduce your loading times by 50-80%. 🚀
Free Access
* This post contains affiliate links, which means that if you click on one of the product links and then purchase the product, we'll receive a small commission. No worries though, you'll still pay the standard amount so there's no additional cost on your part.