Having a website for your podcast makes it look more professional and ensures easier contact with the media, potential interviewees, and likely sponsors. But what is the best website builder for podcasts? What features does it offer? How much does it cost?
👉 You'll find all the answers you need in this guide, including:
By the time you're finished reading, you'll know where you want to build your podcast website.
What to look for in a podcast website builder
There are many factors to consider when choosing a podcast website builder. First, there are the features you should look for in any website builder:
Custom domain. You should be able to use your own domain with the website builder. Some will even offer the domain bundled in with the cost of the builder and a hosting plan.
Storage. You want to make sure there's enough storage for your site to grow over time. Some builders even offer unlimited storage. Note that most podcast hosts consider audio a separate type of storage and offer a limited amount of audio storage per month.
Bandwidth. Bandwidth dictates how many people can visit your site during a given period of time. Many website builders offer unlimited or unmetered bandwidth, giving your site significant room to grow.
SEO tools. These tools allow you to control how your site appears on Google and improve your ranking.
Ease of use. The best website builders use visual design tools so that you don't have to learn code or other complex systems to build your site.
There are also a couple of podcast-specific features to look for:
Podcast-centered site templates. These are templates specially designed to display podcast episodes. You can also use blog-centered site templates in a similar way.
Podcast hosting. This is the ability to publish and store podcasts on your site through an RSS feed, which can then be distributed to major podcast players.
Podcast distribution. Some podcast website builders will also distribute your podcast to major players automatically when episodes are published.
⚠ Note that all of the website builders on this list offer at least one of these key podcast-specific features.
The best website builder for podcasts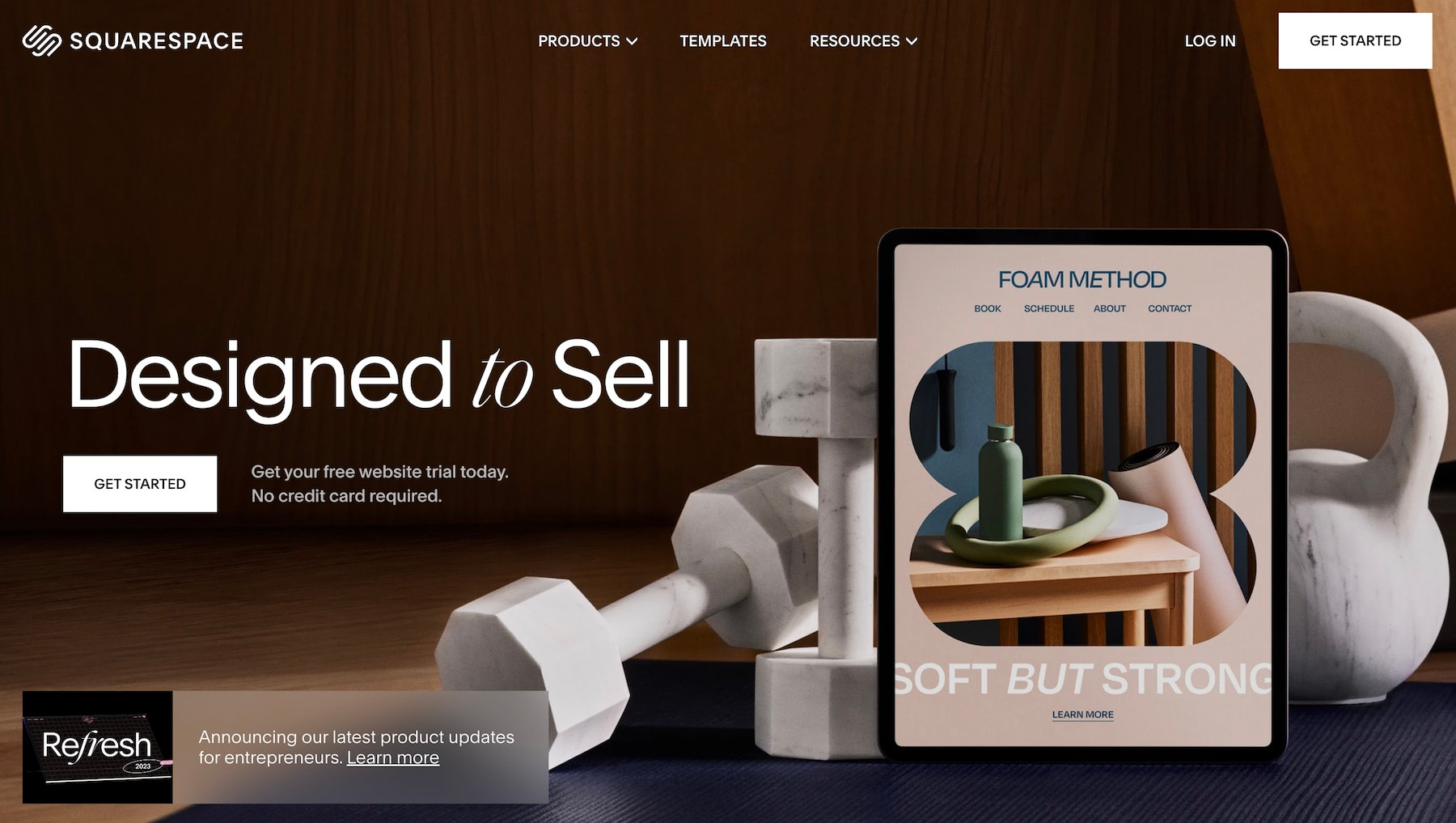 ⚙️ Notable features:
Podcast hosting
Free custom domain
Unlimited bandwidth
Unlimited storage
High-quality analytics and SEO tools
Ecommerce potential
⌛ Overview:
Squarespace is a fully-featured website builder that makes it possible to create any kind of website you can imagine. Higher-tier plans include ecommerce features, and you can get extensions for everything from email marketing to running paid membership programs.
For most users, the only drawback of Squarespace is that it isn't specifically designed for podcasts. This means that you'll have to publish your podcast as a blog and submit it to podcast players manually. You also won't find any podcast-specific themes, though Squarespace has many excellent themes for blogs and entertainment media.
All in all, Squarespace is a highly versatile website builder that offers both podcast hosting and the ability to use your website to create a variety of income streams.
💵 Cost:
Squarespace hosting starts at $16.00 per month when purchased on an annual basis. Ecommerce features become available at $23.00 per month.
🏗️ Who this website builder is best for:
Squarespace is ideal for people who want the option to build a robust business around their podcast.
⚙️ Notable features:
Podcast hosting
Podcast distribution
Podcast-specific themes
Support for video podcasts (on the Unlimited Plus plan or above)
100 GB bandwidth on a free plan; unmetered bandwidth on all paid plans
Embeddable audio players
Variety of monetization tools available through paid plans
⌛ Overview:
PodBean is both the best website builder for podcasts and a podcast hosting company. With PodBean it's easy to upload podcast episodes, submit your podcast for distribution with all major networks, and create a high-quality site for your podcast, so people can find it. There are also half a dozen podcast-specific site themes available, and the visual site builder offers extensive customization options.
Another great thing about PodBean is that its free plan is quite generous, with full access to the site builder and the ability to upload as many as five hours of audio every month.
Paid users can also take advantage of several monetization features including access to the PodBean Ads Marketplace, the ability to sell premium audio and video, and a Patron feature that works similarly to Patreon.
💵 Cost:
PodBean offers a free plan with up to five hours of audio recording per month. Paid plans start at $12 per month when billed annually or $14 per month when paid monthly.
🏗️ Who this tool is best for:
PodBean is a great choice for anyone working on a tight budget or anyone who wants to start their podcast for free with the option to invest in paid hosting later.
PodBean is also an ideal choice for podcasters who want to monetize their podcast but who aren't interested in also running an ecommerce store, selling services, or otherwise expanding their online business beyond the podcast.
⚙️ Notable features:
Ability to connect a custom domain
Podcast-specific templates
Customizable audio player
Visual website builder with numerous customization options
Ability to import podcasts from most podcast hosts
Automated episode import
YouTube import option
Import option for podcast reviews
Advanced SEO & analytics tools
Ability to add multiple podcasts to one site on higher-tier plans
⌛ Overview:
Podcastpage is a little different from other options in this list of the best website builders for podcasts in that it's designed to work with a podcast host. You can't publish your podcasts directly to Podcastpage. Instead, you import the podcast during setup and Podcastpage will automatically import all future episodes.
Once you've imported a podcast, it's time to build your site. Podcastpage has five podcast-specific themes that highlight your most recent (or best) episodes in a variety of ways, plus a visual website builder that lets you customize what different types of pages look like, set color schemes for the overall site, and more.
All in all, Podcastpage is a great website builder with some excellent podcast-specific templates and features.
💵 Cost:
Podcastpage plans start at $12 per month, billed annually. This gives you the ability to import unlimited podcast episodes, create your podcast website, and access SEO & analytics tools.
🏗️ Who this tool is best for:
Podcastpage is a great tool for anyone who already has a podcast and wants to create a high-quality website for it.
⚙️ Notable features:
Podcast hosting
Podcast distribution
Customizable embed players
Ability to connect your own domain
250 GB per month bandwidth
Advanced analytics
Ability to take advantage of podcast-specific add-ons like transcription & magic mastering
⌛ Overview:
Buzzsprout earns its title as the best website builder for podcasts by offering a variety of podcast-specific tools. With Buzzsprout, creating your podcast, publishing your first episode, and submitting it to directories takes just a few minutes.
Every Buzzsprout podcast also gets a website with a Buzzsprout URL, with the option to connect a custom domain. However, the websites are limited to two pages, a home page and a share page, and the customization options are quite limited.
Still, the podcast-specific publication and distribution tools make Buzzsprout a great choice for many podcasters. I especially like the option to access affordable transcripts ($0.25 per minute instead of the more common $1-2 per minute), as these are good for both accessibility and SEO.
💵 Cost:
Buzzsprout offers a free plan with a website, full analytics access, and the ability to upload up to two hours of audio per month, all paid for by ads hosted on your podcast site.
If you want an ad-free experience + the ability to take advantage of Buzzsprout add-ons, you'll have to sign up for a paid plan. These start at $12 per month for three hours of uploaded content per month. Note that Buzzsprout only offers monthly plans, not annual plans.
🏗️ Who this website builder is best for:
Buzzsprout is a great option if you want access to top-quality podcast publishing tools, and you're willing to accept a basic website in exchange for access to those tools.
Buzzsprout is also a great podcast hosting option if you already have a website and your main concern is high-quality podcast hosting.
How to choose the best website builder for podcasts
Still not sure which podcast website builder is best for you? 🤔
Consider your long-term goals for your podcast:
Not quite satisfied with the options on this list of the best website builders for podcasts? Many podcast hosts also offer website builders; check out our 👉 guide to the best podcast hosts for more info.
If you want to learn more about becoming a podcaster, read these two resources of ours:
What is your experience with the website builders for podcasts that we mentioned above? Let us know in the comments section below!
Free guide
4 Essential Steps to Speed Up
Your WordPress Website
Follow the simple steps in our 4-part mini series
and reduce your loading times by 50-80%. 🚀
Free Access