Kids are building websites now; who would've thought? From development boot camps for children to immersive internet access in school and social life, kids are growing with technology rather than learning about it later in life.
So, at some point, your 10-year-old may come to you (or not) wanting to build a website, and we're here to ensure you'll find the best website builder for kids to make that happen.
Why might a child want to build a website?
💻️ To write an online journal, blog, or book.
👨‍💻 To learn how to develop websites.
🖱️ To post their creative work – like videos, music clips, artwork – in a portfolio.
🚧 For building and advertising a small business, and even collecting money for donations, services, and products.
🎨 To create a site where they can curate their own fun activities, like games, puzzles, math problems, and crafts.
With these reasons in mind, it's essential to locate the right website builder, as explained below.
What makes a good website builder for kids?
Simplicity: We're talking clean, modern templates, drag-and-drop modules, and settings that don't go too far into coding or complex elements.
Some basic coding fields for educational purposes: Kids may crave the challenge of messing with simple HTML and CSS, so it's nice to have at least some exposure.
Free or inexpensive hosting and domain: Kids don't have their own money, and many of the projects are for fun, so the best website builders for kids offer free hosting and a free subdomain.
Minimal promotional content: The best website builders for kids avoid marketing to their customers too often, as kids should be there to learn and have fun, not receive ads.
Powerful built-in features with some free plugins/apps: The goal is to minimize "extras" that make it complicated for kids to make their own websites. Apps are good for some extensibility, but built-in features work best.
Widgets/features for kids: Think modules that allow for games, educational material, math problems, puzzles, science projects, crafts, magic, jokes, and fun facts.
No credit card required: This way, your kids can use the website builder immediately, and you don't have to worry about unexpected charges.
Best website builders for kids in 2023
I've tested the top website builders on the market and, using our requirements from above, found that only a few of them provide quality environments for kids.
I discovered many with high pricing, outdated templates, and complicated interfaces. So, I booted them in favor of the best website builders for kids, which are listed below.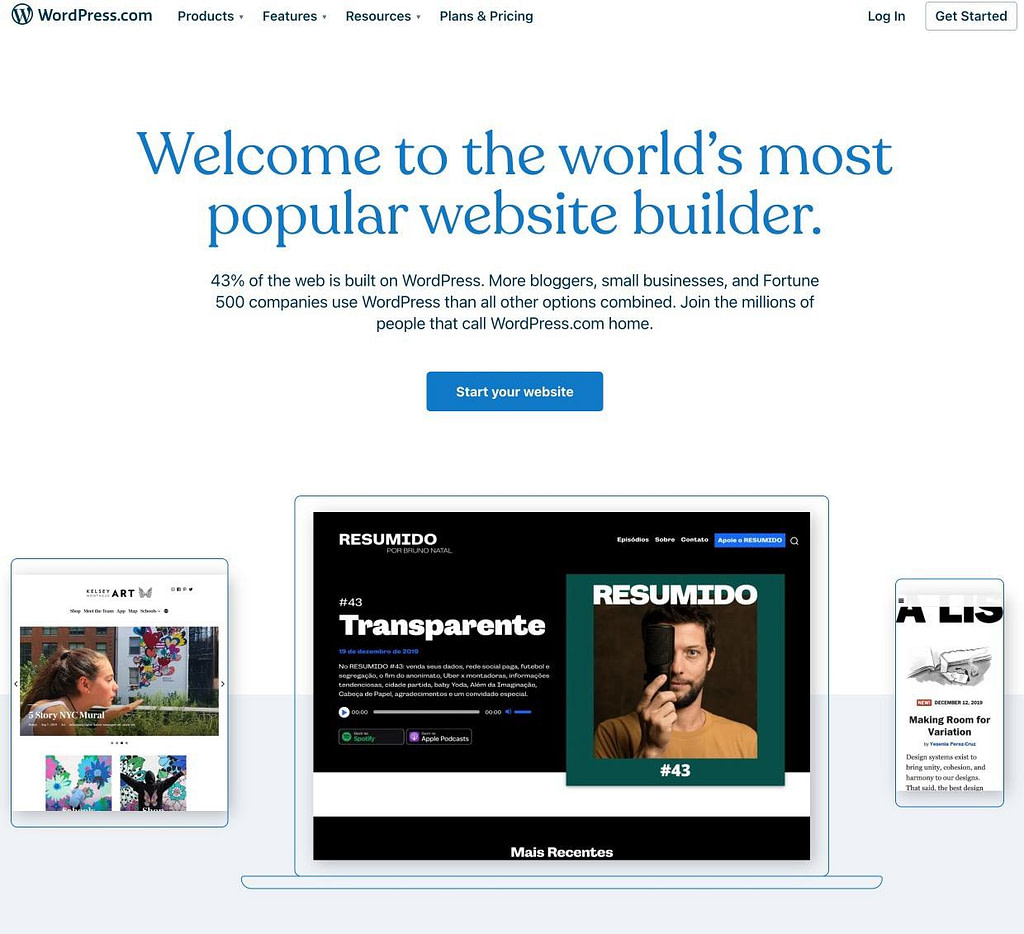 WordPress.com (not to be confused with WordPress.org – a far more complicated builder) offers kids an environment to launch a website within minutes. It features one of the largest collections of templates online, and you receive a free subdomain, hosting, and storage for content.
What makes WordPress.com one of the best website builders for kids? 🧒
Launch a website within just a few minutes.
Run a completely free website—subdomain and hosting included.
Pick from creative, fun themes that are often free to use.
It's one of the cleanest backend dashboards you can find.
Use drag-and-drop building blocks and visual design elements.
Upgrade to a premium plan for more advanced themes and plugins.
Access simple yet powerful custom coding sections.
Add widgets for fun, creative content.
WordPress supports media of all types and provides the most powerful blogging interface online.
Pricing 💵
Free: $0 for a WordPress website and/or blog, subdomain name, hosting, basic themes, and 1 GB of storage. This plan lacks access to most external WordPress plugins, but includes a few essentials as built-in features. It's an ad-supported, non-ecommerce plan.
WordPress Pro: $15 per month (billed yearly) for a WordPress website and blog, custom domain name, premium themes, external WordPress plugins, ecommerce support, increased storage, premium support, and removal of site ads.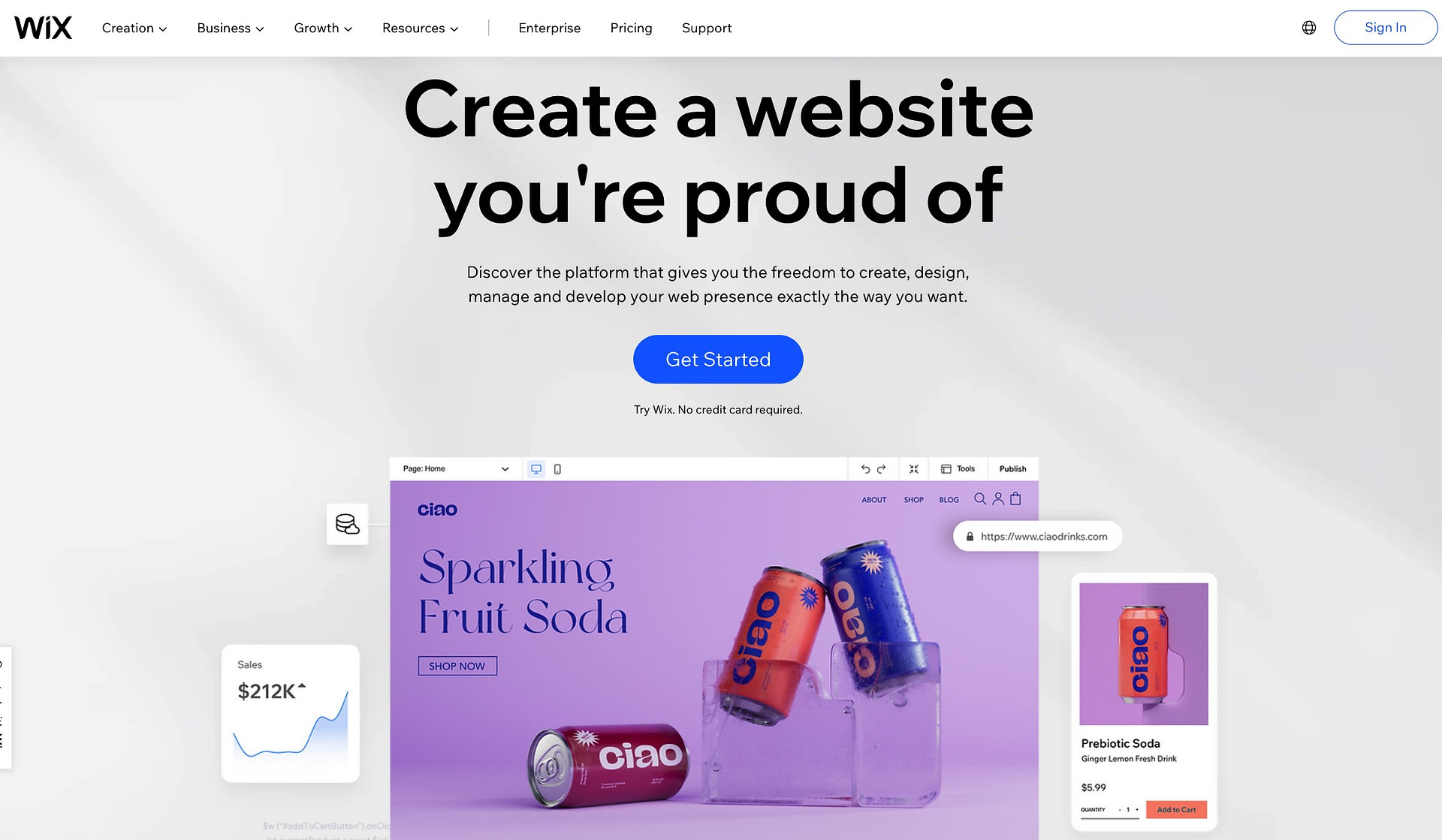 If you want an even simpler web design experience for your kid, Wix is the way to go. As the ultimate beginner website builder, Wix provides intuitive, modern templates, and a drag-and-drop visual builder that's unmatched by any competitor. Kids have the option to forget about coding and only use content blocks, or to access HTML and CSS fields for more advanced tinkering.
Not only that, but you don't have to type in a credit card for the "forever free" plan.
What makes Wix.com one of the best website builders for kids? 🧒
You can sign up without payment information and use a free plan with fast hosting and Wix subdomain.
Making a website takes just a few minutes.
It has a visual builder with draggable content blocks.
The theme library is plentiful and filled with whimsical themes suitable for kids.
Wix provides several affordable upgrades for adding advanced features like payment processing and custom domain support.
Wix doesn't get too crazy with its promotions to current users.
You receive a full blog and powerful media and widget support.
The App Store offers endless extensibility for adding games, designs, and specialty media.
Pricing 💵
Free: $0 for a complete website and blog, with access to the App Store, most built-in features, and limited storage. You get free hosting, a subdomain, and an ad-supported website.
Website Plans: $16-$45 per month for a custom domain, removal of Wix ads, some ecommerce functionality, more video hours, calendars, professional logos, social media tools, and customer support.
Business and Ecommerce Plans: $27-$59 per month for a complete online store with secure payments, customer accounts, custom domains, no Wix ads on the site, high storage space, customer support, and options for selling on marketplaces and social media.
Note: The Free plan isn't listed on Wix's pricing page, but you simply sign up for a free trial and never upgrade to one of the premium plans.
Weebly is one of the best website builders for kids, especially for creating basic sites and simple online stores for free. Square owns Weebly, but kids can still construct basic websites using just the Weebly tools, and no payment processing. However, we also like the Square integration for kids who want to make a free online store, or even collect in-person payments through a Square reader that syncs with their online store.
What makes Weebly/Square one of the best website builders for kids? 🧒
It provides both standard website building tools and a way to make a free online store with payment processing powered by Square.
Design a website with visual, drag-and-drop tools, and no coding.
Pick from a wide range of fun, colorful, and professional theme categories, ranging from personal blogs to portfolios.
You don't have to type in a credit card to make a site.
Each new site owner receives free hosting and a subdomain.
You gain access to an App Store for extending the built-in features.
Multiple inexpensive premium plans are available, but even setting up a standard online store is meant to be free.
Weebly provides excellent support for media items of all types, like images, slideshows, videos, and custom backgrounds.
Run a blog with powerful formatting and content creation tools.
Add forms and other widgets for interactivity and communication with friends and family.
Pricing 💵
Free: $0 per month for an ad-supported website, online store, or blog. This plan comes with a subdomain, a free SSL certificate, and the option to add 3rd-party embed code for kids to experiment with coding. The unique part of this plan is that it truly is a free online store. We also like the free Instagram feed for kids.
Personal: $6 per month to link a custom domain, sell digital products, add a shipping calculator, and enable popup notifications on the site.
Professional: $12 per month for unlimited storage, advanced site statistics, a free domain name, the removal of Square ads, password protection, and phone support.
Performance: $26 per month for PayPal payments, item reviews, abandoned cart emails, advanced ecommerce insights, and priority support.
Tips to help your kids build a website
😖 If you're nervous about your child building a website, follow these steps to protect them along the way, and guide them through the process:
Check for hidden or even predatory fees that the kids might not know about.
Make sure there aren't many ads on the backend. It's okay for their frontend websites to serve ads to users.
Find builders that offer privacy controls, like adding passwords to see website content. All of our recommendations have this functionality.
Visit the site builder's YouTube page and send tutorials to your kids to help them learn. These are usually easier to digest than knowledge base articles.
Consider assisting them with payment details if they're trying to run a small business or collect donations for a project.
Summary
Whatever it is your kids intend to build online, it's important to use the best website builder possible! In this article, you learned:
The elements that make up a good website builder, like free plans, subdomains, and drag-and-content modules.
That WordPress.com, Wix, and Weebly offer the ideal environments for kids to create websites. They're free to use, have visual builders, and offer upgrades if needed.
WordPress.com is best for kids to blog; Wix makes the most sense for a standard website like a small business, gaming, or as a portfolio site builder; Weebly/Square does the trick for making small business websites and online stores.
Some tips to help your kids build websites involve keeping them safe, ensuring they're not spending needlessly, and that they're using the right tools.
Are your kids planning on making websites? If so, let us know if you have any questions about the best website builders for kids. Share your thoughts in the comments below!
Free guide
4 Essential Steps to Speed Up
Your WordPress Website
Follow the simple steps in our 4-part mini series
and reduce your loading times by 50-80%. 🚀
Free Access