Unlimited hosting plans offer an attractive pitch – unlimited websites, bandwidth, and storage for one cheap monthly price. 💰
In this article, we get more into what "unlimited" actually means. Then, we'll share five of the best unlimited hosting plans, starting for as little as $3.75 per month if you're willing to purchase a few years upfront.
Here are the hosts we'll look at:
* May require a long-term commitment to get the cheapest price
Five best unlimited hosting plans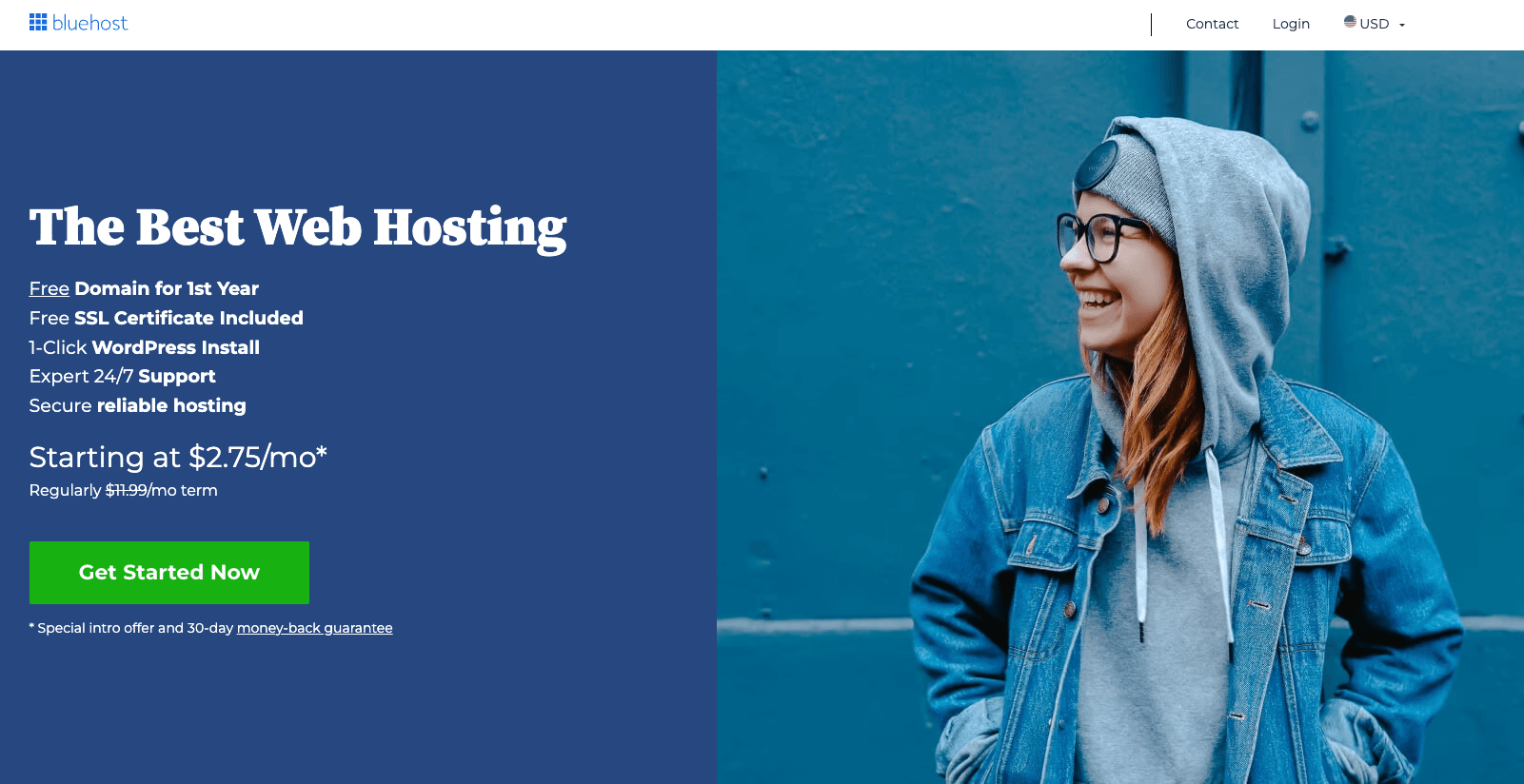 Bluehost is a popular hosting provider that offers a range of affordable hosting plans. Founded in 2003, Bluehost has grown rapidly and is now owned by Endurance International Group (EIG), hosting over two million websites worldwide.
Bluehost offers three shared unlimited hosting plans but our top pick is the Plus plan which caters to blogs and small websites. Features include…
Unlimited websites and domains
Unmetered bandwidth and storage
Unlimited parked domains and subdomains
Free domain name (for the first year)
Free SSL certificate
24/7 support
30-day money-back guarantee
Although this plan will usually cost you $14.99 per month, it is currently offered at a discounted price, which varies depending on how long you sign up with Bluehost. Here are the prices…
12 Months – $4.95 per month ($59.40 total)
36 Months – $7.45 per month ($268.20 total)
All Bluehost plans have to be paid in full upfront (there are no initial monthly contracts) and once your chosen term length has expired, the plan will renew at the regular price.
InMotion Hosting is another well-known hosting provider that offers a range of hosting types.
However, if you are looking for unlimited hosting, then the shared Business Pro hosting plan for growing websites and businesses is for you. With this plan, you get…
Unlimited websites and domains
Unmetered bandwidth and disk space
Unlimited email accounts and storage
Free SSL certificate
Automatic backups
4x performance (Access a greater level of resources than the lower end shared hosting plans)
Pro-level support
InMotion Hosting also will transfer your website from your current host to their servers for free, guaranteeing no downtime. So how much does this unlimited hosting plan cost?
1 Month – $19.99 for one month (renews at $27.99 per month)
12 Months – $14.99 per month (renews at $24.99 per month)
24 Months – $13.99 per month (renews at $23.99 per month)
Like Bluehost, if you select a 12-month plan, you will have to pay the full amount upfront.
Our full InMotion Hosting review 👈
HostGator is a well-known hosting company that's been in the hosting business since 2002. They power over two and a half million websites on the internet. The synergy of those twin forces – depth of experience combined with breadth of customer validation – makes them a hosting provider to be reckoned with.
HostGator offers two shared unlimited hosting plans – the Baby Plan and the Business Plan – but the Baby Plan is sufficient enough for most people. Its features include:
Unlimited websites
Unmetered bandwidth and storage
Free 1 year domain registration
One-click WordPress installation
24/7/365 customer support via chat, phone, email
Free email
Free SSL certificate
30 day money back guarantee
$500 Google Ads spend match credit
The Baby plan we're recommending normally runs for $12.95 per month if paying month-to-month, but they have a sweet promotion where you can get it for significantly less if you commit to 36 months up front. There are also discounts (though less attractive) for 12-month and 24-month commitments. Check out the details:
Monthly – $15.99 per month
12 Months – $4.95 per month ($143.40 total)
24 Months – $10.99 per month ($262.80 total)
36 Months – $3.75* per month ($126.01 total)
If you're only looking to build one website and your main reason for searching for unlimited hosting plans was for the unmetered bandwidth and storage, then HostGator also has the Hatchling Plan. This option offers the lowest price, at only $3.75 per month, and is the perfect unlimited hosting plan for someone looking to build only one website.
*After the initial 36 months, this plan renews at $9.95 per month ($358.20 total).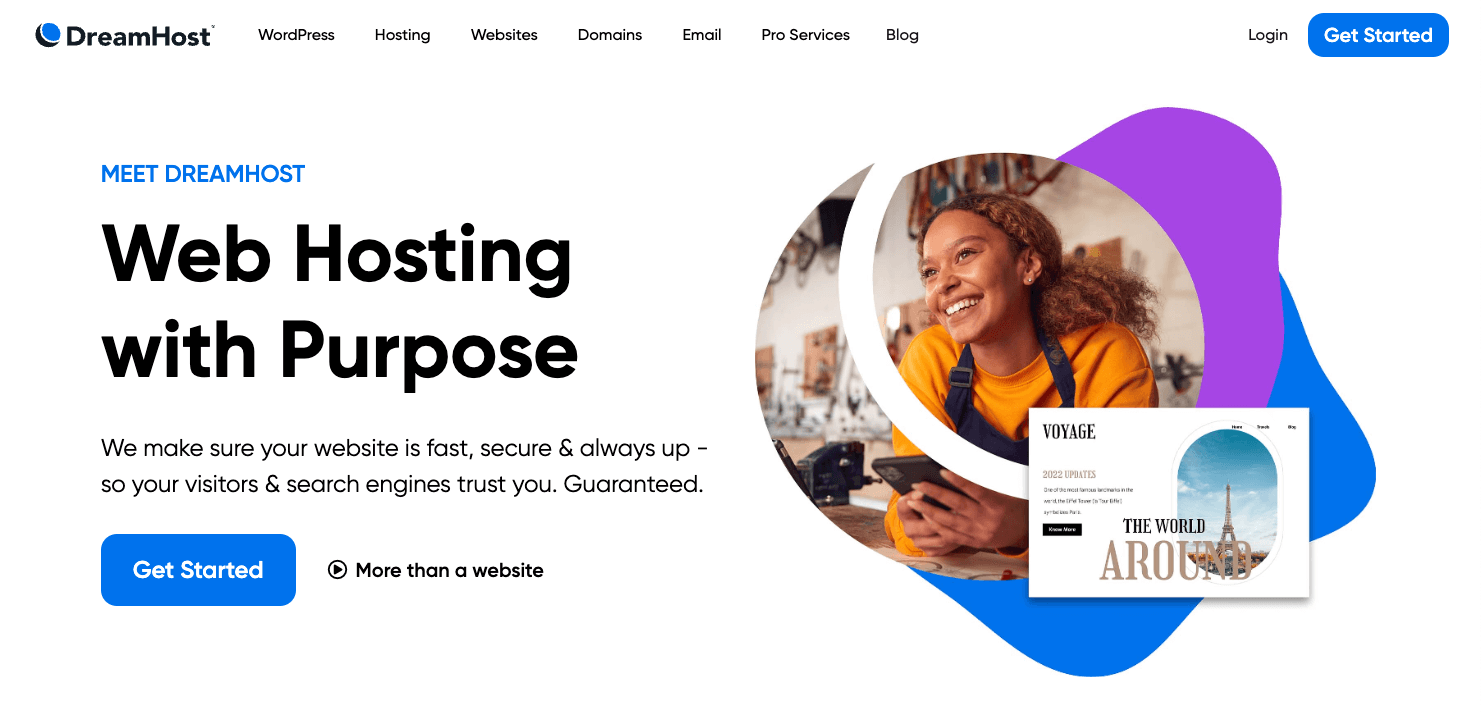 DreamHost is an independent hosting company that currently hosts over 1.5 million websites worldwide. From Shared, WordPress, WooCommerce, and Cloud hosting, to VPS and Dedicated Server hosting, Dreamhost has a lot to offer.
The Shared Unlimited plan is one of two shared hosting packages that DreamHost offers. However, it is only Shared Unlimited that, as the name suggests, offers unlimited hosting – unlimited websites, domains, bandwidth, and storage. Features include…
Custom control panel
Free domain name (if you select an annual term)
Pre-installed WordPress
Free SSL certificate
Unlimited emails (@ your domain)
Automatic backups
100% uptime guarantee
WP website builder
This plan also benefits from a 97-day money-back guarantee. So if you decide Shared Unlimited isn't for you then you can ask for your money back. But what about the price?
Monthly – $10.95 per month
Yearly – $4.95 per month ($59.40 total)
3 Years – $4.95 per month ($178.20 total)
If you opt for a yearly or three-yearly term length then you will need to pay the total cost upfront.
A2 Hosting is the last in this list of unlimited hosting plans. Offering a range of hosting plans, whether you are starting a small blog, or growing a large business, A2 Hosting will have something for you.
A2 Hosting has two shared WordPress hosting plans that offer unlimited hosting options. Both shared WordPress hosting plans come with WordPress pre-installed. A2 Hosting also allows users to select where they want their websites hosted, offering a range of global data centers to choose from.
Here at Themeisle, we recommend the Swift WordPress plan, as it is packed full of features which include…
Unmetered bandwidth and storage
Unlimited websites and databases
Free SSL certificate
SSD storage
Free account migration
99.99% uptime guarantee
Any-time money-back guarantee
24/7/365 support
Here's how A2 Hosting's pricing shakes out…
Monthly – $12.99 per month
12 Months – $5.99 per month
36 Months – $6.99 per month
As with most hosting providers, to save the most money you should sign up to the 12-month plan. However, bear in mind that you will need to pay the whole amount up-front.
What does 'unlimited hosting' really mean?
The term 'unlimited hosting' refers to hosting plans that offer an unlimited number of websites, domains, bandwidth, and storage. Let's take a look at each of these concepts in turn…
Unlimited websites and domains
If a hosting plan offers an unlimited number of websites and domains then it means you can host as many websites as you need, registering or using an equal number of domain names. This can be extremely useful for entrepreneurs who have numerous businesses and websites simultaneously running.
Unmetered/Unlimited bandwidth
Bandwidth generally refers to the amount of data that is transferred between your website's server and your visitor's computers. Plans that offer unlimited bandwidth mean that you will not be charged for the amount of bandwidth you use, or put simply, the number of visitors your site receives.
Unlimited bandwidth is particularly useful for business or eCommerce sites, as it means that if your website receives traffic spikes, it will continue running smoothly and won't be penalized by your hosting company. This means your on-site user experience and revenue shouldn't be affected by any downtime.
Unlimited storage
A hosting plan that provides unlimited storage will allow you to host an unlimited number of files on your website's server. This is extremely useful for large websites, photography blogs, or other sites that upload a high amount of images and media.
How unlimited is "unlimited?
It is worth bearing in mind, that although all of the plans we will mention in this article promote themselves as 'unlimited' in regards to bandwidth, and storage, there are some restrictions.
Most of the Terms and Conditions of these plans state that bandwidth and storage are unlimited in as far as customers can use as many resources as is 'reasonable' or 'normal' for a small business website or blog.
Basically, as long as you don't try to abuse the unlimited offer, you shouldn't have any issues.
Get started with unlimited hosting today
All of the five unlimited hosting plans that we have mentioned in this article are great options if you don't want any limits on the number of websites you set up, or the amount of bandwidth and storage that you use.
If you're looking for the best unlimited hosting to get started with, we at Themeisle recommend Bluehost because of its convenient dashboard, low prices, and unlimited offerings.
Once you know how to host your website and choose your host, your next step is to install WordPress. Check out our guides on how to install WordPress on Bluehost or how to install WordPress in general.
Do you have any questions about one of these hosts or unlimited hosting in general? Ask away in the comments and we'll try to help.
Free guide
4 Essential Steps to Speed Up
Your WordPress Website
Follow the simple steps in our 4-part mini series
and reduce your loading times by 50-80%. 🚀
Free Access
* This post contains affiliate links, which means that if you click on one of the product links and then purchase the product, we'll receive a commission. No worries though, you'll still pay the standard amount so there's no additional cost on your part.