Squarespace is a highly popular website builder used all around the world to create online stores and customizable blogs and sites. But is it really the most ideal option out there? Have you thought about using one of the best Squarespace alternatives instead?
Of course you have! That's why you're here and that's exactly what we're going to give you.
In this article, we will review some other popular website builders and we'll discuss whether they can make good alternatives to Squarespace. We will also explain what makes each one better suited for which type of project. So, let's get right to it!
What is Squarespace?
Squarespace is a website builder designed to help business owners and creative minds set up sites and ecommerce stores without having to worry about coding. All you need to do to start using Squarespace is open an account, pick a template, and publish your site. The platform will then take care of all SEO (search engine optimization), content structure, responsiveness, and social media integrations.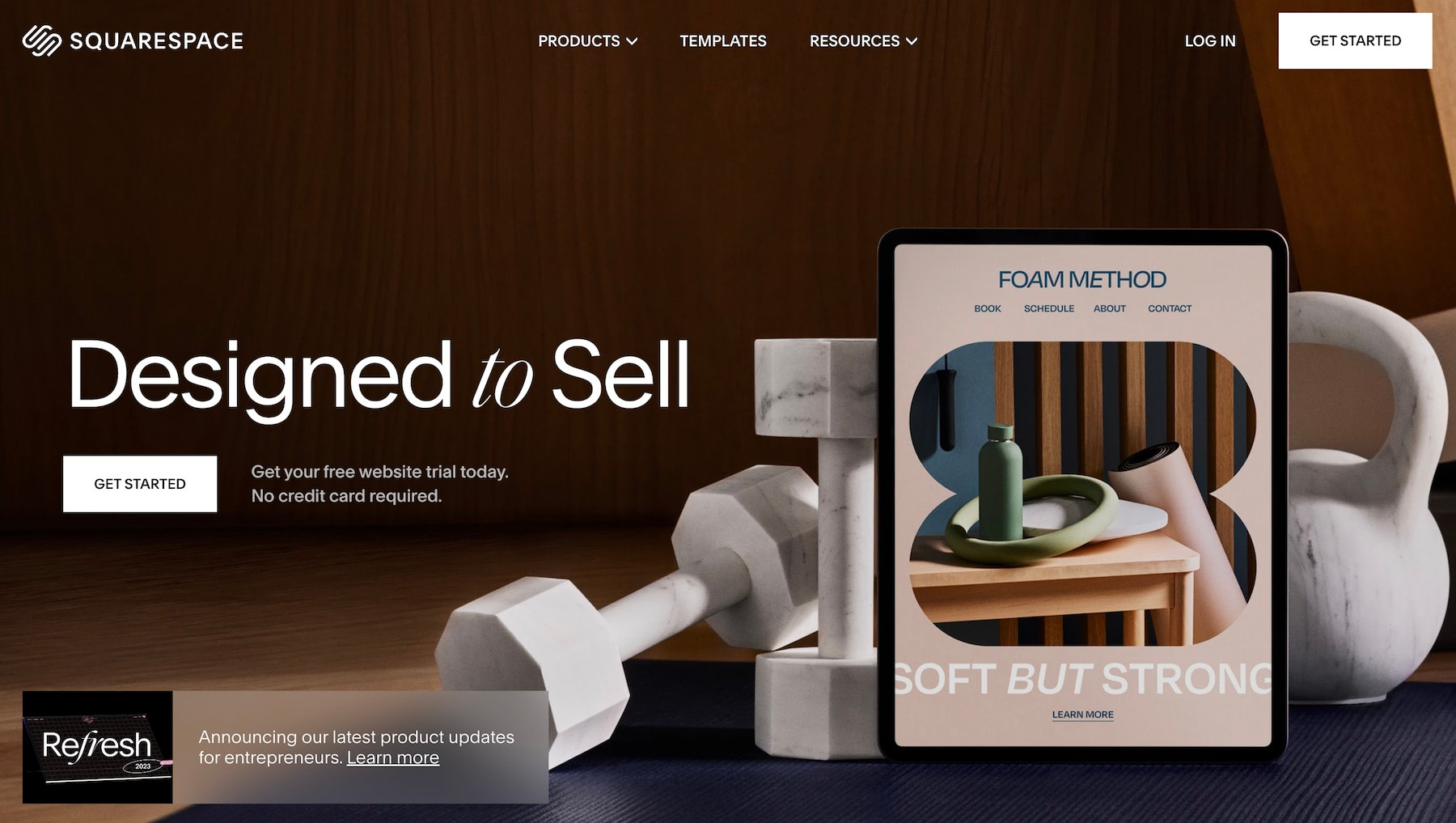 So, why would you need any Squarespace alternatives?
Well, for one, you might be looking for something a little more affordable. Or perhaps you want more customization. Or you are just more interested in advanced ecommerce features and integrations.
Whatever the case, it's always a good idea to see what best Squarespace alternatives are available out there and whether they might be a better fit for your business.
So, without further ado, let's look at some other website builders that can get the job done.
Best Squarespace alternatives for DIY website owners
There are a few website builders that can do what Squarespace does – and more. On this list, you'll find what these are, how much they cost, and their main benefits and downsides.
WordPress is one of the most popular website platforms out there because it can integrate with thousands of plugins and themes. In fact, this platform powers 43.1% of all sites on the internet!
You can build a WordPress website quickly by signing up for a Bluehost hosting plan and using that WordPress site as an alternative to Squarespace. However, although WordPress offers full customization for your sites and stores, it typically takes some more know-how than Squarespace. In short, if you're willing to deal with a slightly steeper learning curve, it truly is one of the best Squarespace alternatives available. Our comparison of Bluehost and Squarespace can help you choose the right platform for your needs.
WordPress + Bluehost pricing 💸
WordPress itself is free to use, but if you want to access one-click installation and make the process of building your site easier, you can sign up for a web hosting plan with Bluehost. Their plans start at $2.75 per month (with larger plans costing $4.95 for multiple websites, added privacy, and security features, and $9.95 if you want to run an optimized online shop).
WordPress pros 👍
The pros of using WordPress and Bluehost, are:
You can build any type of website, from blogs to portfolios, membership sites, and ecommerce stores. Plus, you can scale an existing WordPress site as your audience grows with you.
WordPress can be used with any host – such as Bluehost – while platforms like Squarespace only work if you host the site on their own servers. With WordPress, you are also not limited in terms of storage or resources that the platform can handle. In Bluehost's case in particular, you can also access a staging environment so you can test any changes before going live.
On top of the almost endless range of plugins WordPress offers to help you achieve any advanced functionality you require (including ecommerce tools, inventory management tools, and lots of features for more complex sites), a Bluehost managed installation also includes a dashboard to review your traffic sources, SEO, and share content directly on your social media.
It's highly customizable. You'll have the chance to adjust almost anything you see, from page layouts to ecommerce listings, using either the built-in block editor, or a third party drag-and-drop builder like Elementor.
WordPress cons 👎
WordPress' downsides, however, include:
There will be a steeper learning curve for newbies, as WordPress requires you to be more technically savvy to get started from scratch. If you want to access more advanced functionality and you're not good at coding, you might also have to hire a developer to help you implement things.
You might have to manage several updates and install plugins to achieve more advanced functionality. Additionally, having too many themes and plugins can make your site heavier and slower to load.
There's ongoing confusion about WordPress.org and WordPress.com. The first is a free software you can install using a hosting company of your choice, and the second is a for-profit company that simplifies setup and maintenance.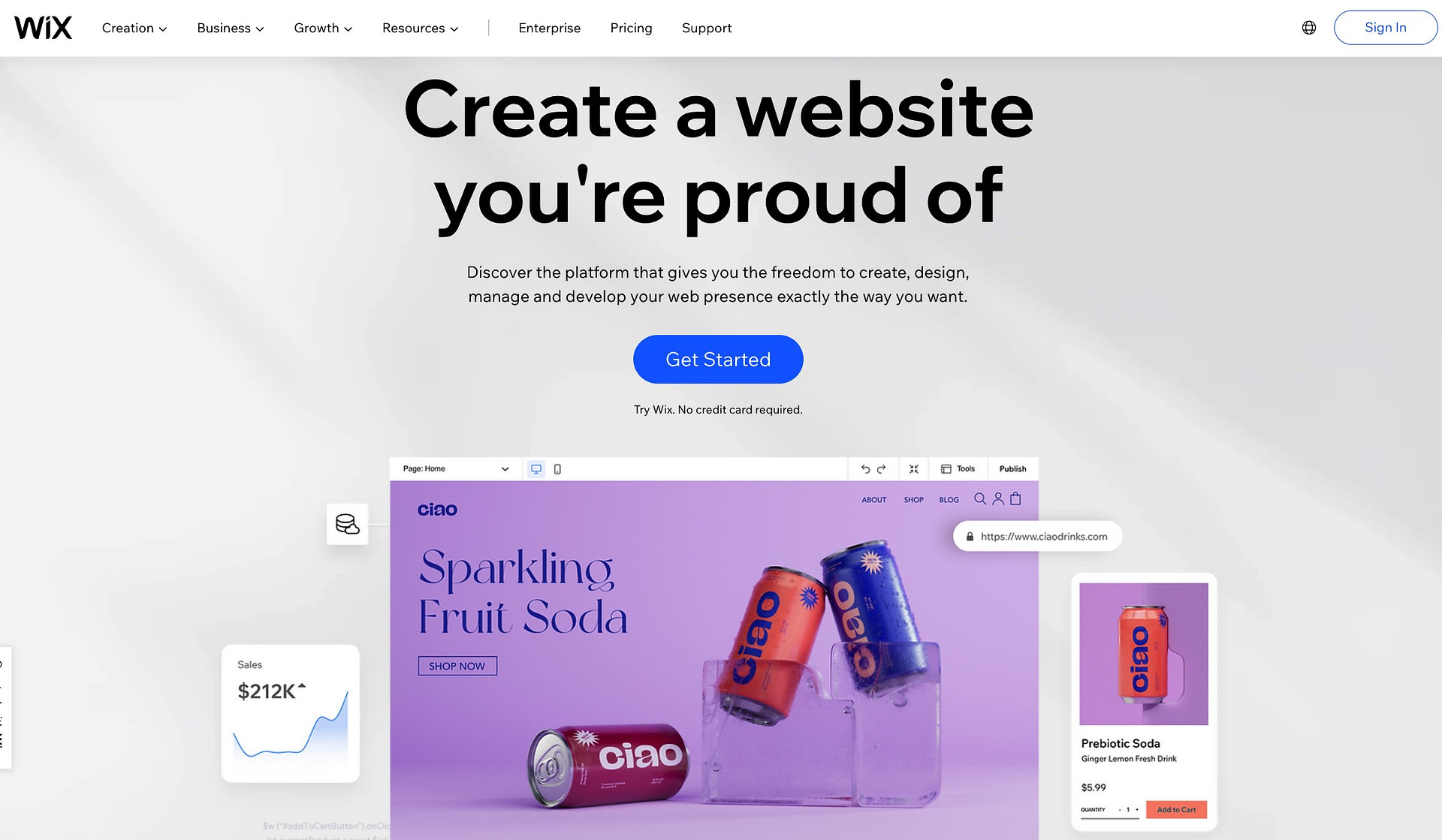 Wix is a trendy and flexible freemium site builder that gives you plenty of freedom to design and manage your web presence. This platform offers a suite of advanced functionalities, a good collection of templates, and a robust infrastructure that make it one of the best Squarespace alternatives.
👉 Read this for a head-to-head comparison between Wix and Squarespace.
Wix pricing 💸
Wix offers three primary annual plans. They also have two additional plans that are only available in select regions, as well as a separate set of business and ecommerce plans. However, for comparison's sake, Wix's three main plans are very similar to Squarespace in terms of pricing.
The smaller personal plan, for example, is $16.00 a month, with Squarespace also at $16.00 per month. Then you have $27.00 and $45 per month options, with Squarespace's higher tiers coming in at $23.00, $27, and $49, respectively.
Wix pros 👍
Wix's pros, when compared to Squarespace, include:
You'll have access to more than 500 templates you can customize to fit your business plan (you can apply your brand colors, choose fonts, and change most components to your liking).
Wix supports a range of ecommerce store tools, including POS systems, recurring payments, Instagram shop tagging, Print on Demand services, and more.
With Wix's infrastructure, you can safely scale, knowing you'll always have an enterprise-grade foundation.
Wix cons 👎
Wix' downsides, however, are:
The number of features is slightly lesser than Squarespace. The two platforms don't offer the same ones, but Squarespace just does a better job at what they do support. For example, they have excellent tools for including podcasts, forums, and ticketing to your site.
Unlike Squarespace, Wix does not support gift cards, back-in-stock, or low-stock notifications.
Wix's most popular plan (Unlimited) has a 10GB storage limitation, which might not be enough for larger sites.
Weebly is a free site builder that gives you access to customizable designs and an easy-to-use drag-and-drop web editor. This platform actually allows you to create pages and sections and publish your site in just minutes, making it a worthy contender to Squarespace. However, Weebly only has limited support for ecommerce features and has a reduced number of templates.
Weebly pricing 💸
Weebly has four plans that are, on average, cheaper than Squarespace's. There's a free plan with up to 500 MB of storage and other options for $10, $12.00, and $26 a month that include a good range of features.
Weebly pros 👍
Weebly's pros include:
A free plan, something you don't get with Squarespace, so you can try the platform before committing to paying for more functionalities.
Weebly offers support for over 380 apps, an impressive number compared to many other website builders.
You can use Weebly's drag-and-drop editor to quickly create all sorts of pages, something especially useful if you have a blog.
Weebly cons 👎
Weebly's cons, on the other hand, are:
It can take some time for beginners to get used to Weebly, and there isn't much documentation around as there is for Squarespace.
Weebly only offers 50 site templates that feel a little outdated. However, they are fairly intuitive to edit and customize.
There aren't many ecommerce features supported by Weebly, so while it is one of the best Squarespace alternatives for blogs and other types of websites, it's not a great option if you want to run an online store.
Shopify is a leading ecommerce website creator used by hundreds of thousands of merchants around the world. This platform has excellent ecommerce tools that allow for easy scalability, support, performance, and reliability. Compared to Squarespace, Shopify is a builder more dedicated to selling online, no matter where you are (and let's be clear, it's considered the "king of ecommerce" by many!).
Shopify pricing 💸
Shopify has three plans, including a basic one for $25.00 a month. Unless you use the Shopify plan ($79 a month paid annually), you will need to pay a 3% transaction fee. And, if you want more advanced analytics (such as a custom report builder), the Advanced plan ($299 per month) will be the best option. All in all, if you have a store, Shopify will be a more expensive Squarespace alternative.
Shopify pros 👍
These are Shopify's pros compared to Squarespace:
Shopify is an excellent ecommerce platform that gives you access to countless powerful tools, such as product management, payment systems, shipping options, and inventory management.
You can use Shopify to multi-sell across various social media platforms, such as Instagram and Facebook.
Although Shopify is very comprehensive in terms of third-party apps and builder capabilities, the tool is still quite easy to use.
Shopify cons 👎
And here are Shopify's downsides:
The final cost of running a Shopify store compared to a Squarespace one will always be higher, especially if you need advanced functionality.
You will need to pay hefty fees if you want to support alternative payment methods.
You can only pick from ten free templates (or 50 premium ones if you want to spend an extra $140-180).
Final thoughts on the best Squarespace alternatives 🧐
We've gone through some of the best Squarespace alternatives small business owners can use to create websites and shops. If you want more customizability, a website builder like WordPress would be a great option.
If you're looking for something simple, then Wix will do the job. Weebly is an excellent choice if you want basic features and a friendly drag-and-drop builder. And if you run a shop, Shopify will give you all the tools you need to succeed.
So what do you think? Which of these – if any – best Squarespace alternatives are you going to use to build your website? Drop a comment below and let us know.
Free guide
4 Essential Steps to Speed Up
Your WordPress Website
Follow the simple steps in our 4-part mini series
and reduce your loading times by 50-80%. 🚀
Free Access