The ecommerce space is teeming with platform options that help you run an online business. Even if you're a die-hard Shopify fan, it won't hurt to check out some of the best Shopify alternatives that are out there. After all, what's good for one ecommerce store may not necessarily be good for another.
What's the deal with Shopify?
We all know that Shopify helps you build a website and display products in an eye-catching manner using stunning, fully responsive templates. It allows you to sell across multiple channels, collect payments via multiple gateways, and grow your online store. All without having to go back to school to learn code. And to top it all, Shopify has different plans to suit you, whatever the size of your business:
There are three main Shopify plans: Basic $25.00 per month, Shopify $69 per month, and Advanced $299 per month. These plans include web hosting, SSL certificate, and domain name. The additional Lite Plan allows selling from your existing website or social media pages.
This sounds all fine, so why look for alternatives?
Why would you look for Shopify alternatives?
Here are a few reasons:
Shopify does not offer free plans, only a free trial period.
It's hard to display variations and options for the same product with Shopify.
If you're the kind that needs to be in full control of your store, Shopify may not work for you.
Using external payment gateways involves additional transaction fees.
Cost of apps can quickly add up as you add extra features.
Advanced customization requires you to be familiar with Liquid (Shopify's template-editing language).
Now, let's sift through some of the best Shopify alternatives out there:
The best Shopify alternatives
Now that we've shared a few reasons for considering Shopify alternatives, let's look at six of the best. Each option offers you an opportunity to build a successful ecommerce store, so the best one for you will depend on your budget and the special options you're after.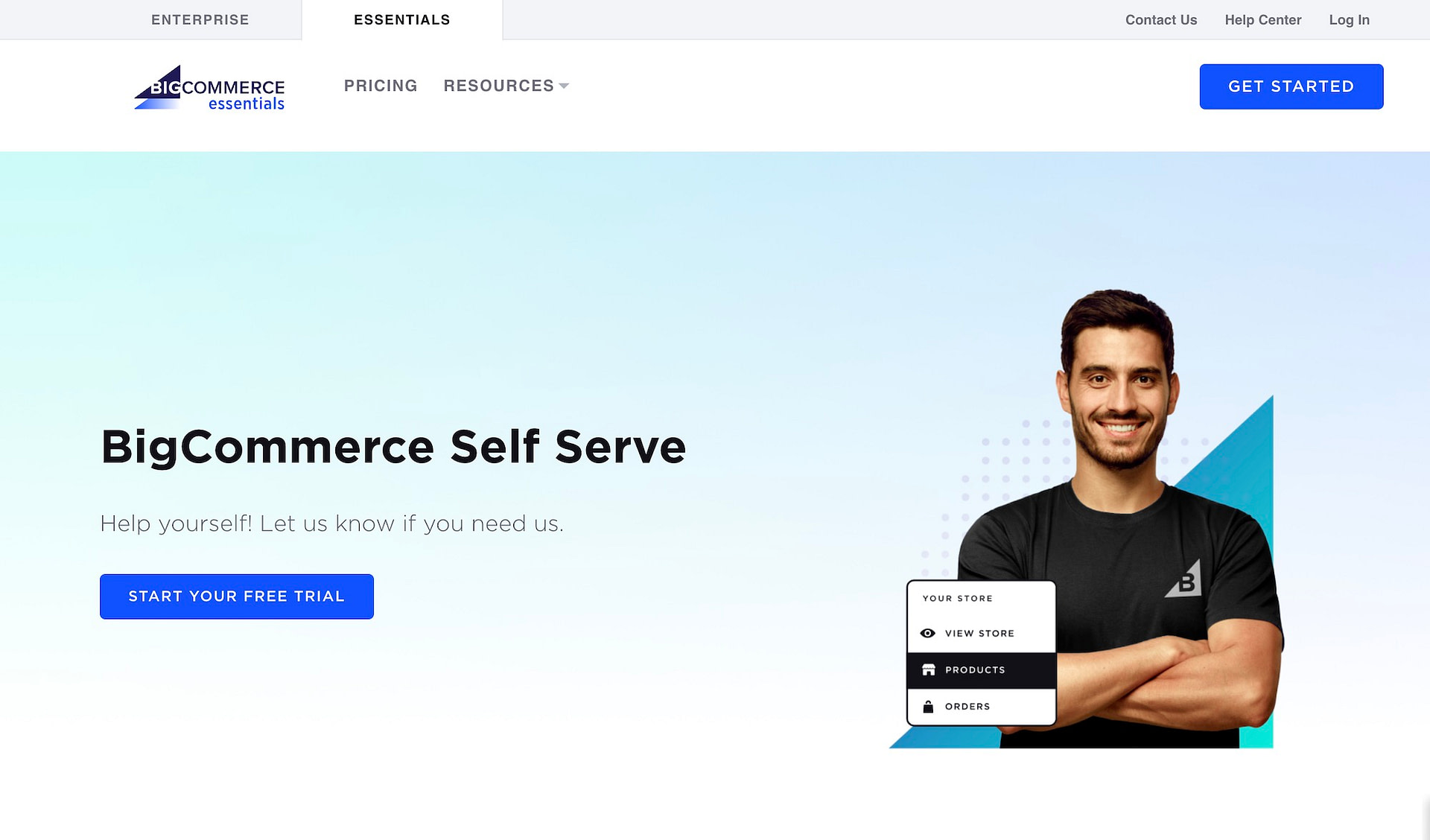 Let's start with BigCommerce, a cloud based ecommerce platform that lets you start small and scale up later. It's a fine fit if you're growing and looking for everything in one place. The tons of built-in features ensure you'll not be paying for additional apps.
💵 Pricing:
Start with a 15-day free trial when you use our link – no credit card required. According to the size of your business, you can then choose from three annual plans: Standard ($29.00 per month), Plus ($79 per month), and Pro ($299 per month). These plans are also available on a month-to-month basis, but at a higher per month cost. They allow online sales of up to $50K per year, $180K per year, and $400K per year, respectively. Beyond this, you can request a custom quote for Enterprise-level plans.
⚙️ Why BigCommerce is a good Shopify alternative?
You most likely won't need to purchase apps to add features.
Built-in CSS, HTML, and JavaScript allow a great deal of customization.
Built-in integration with sales channel, like Facebook, and marketplaces, like Amazon and eBay.
Fully customizable URLs for better SEO.
No transaction cost is another huge attraction.
Also, it allows multiple product options and variations for the same product.
70+ coupons, discounts, and gift cards, without third party app.
Built-in cart management Customer grouping, price lists, and bulk pricing help with B2B selling.
BigCommerce is a good fit if you need all core ecommerce features in one place. Shopify is better if you're looking for versatile features. BigCommerce keeps its focus on online selling, while Shopify supports multiple selling channels.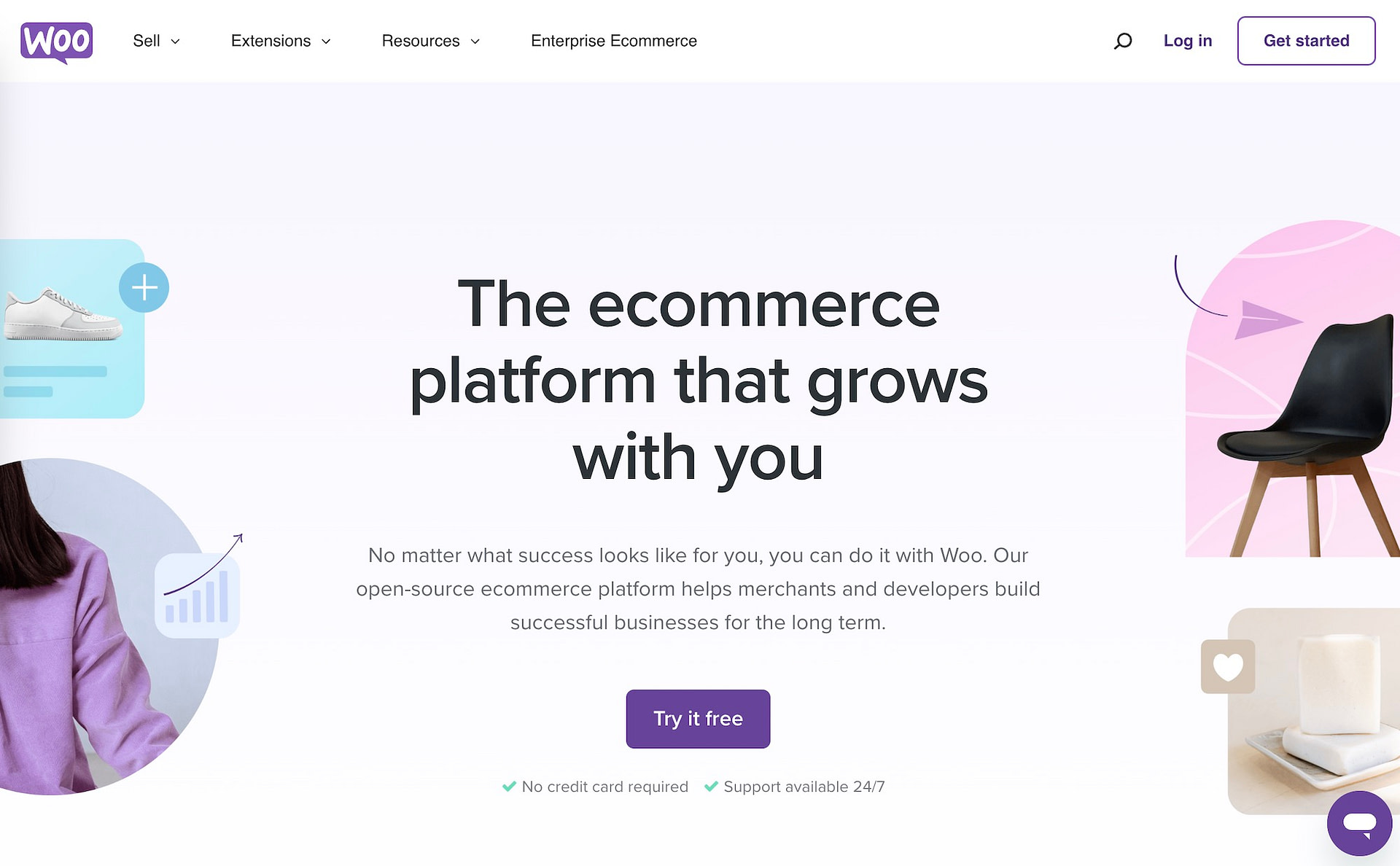 WooCommerce (an ecommerce plugin) teams up nicely with WordPress to create a popular platform option for online stores. Both are free and open-source. They allow you to sell both physical and digital products, and customize extensively. At the same time, you have total control over your website. Moreover, if you have the technical chops, you can code your way to design a website that you dream up.
💵 Pricing:
The basic WordPress software and WooCommerce plugin are free. And though you can very well get by without having to open your wallet at all, there are free/paid official extensions that enhance functionality. However, keep in mind that you'll still need to find a web host, install WordPress and WooCommerce, and then modify or extend it to suit your requirements. These costs can add up, but you'll find web hosts who offer specialized WooCommerce packages for reasonably low prices.
⚙️ Why WooCommerce is among the best Shopify alternatives?
Highly flexible and scalable, allowing you to add just the functions you need.
Being developer-friendly, it lets you keep your website bare-bones or add all the bells and whistles you want.
WooCommerce is set up on your own servers, so you have full control over your website.
Unlimited products and product variations, easy product search.
No transaction costs.
Customer accounts and secure payments, guest checkout option.
SEO friendly, and built-in blogging.
While WooCommerce offers a reliable platform that's more affordable, Shopify is the better option if you want everything taken care of in a single place. There's also only community support available for WooCommerce (unless, of course you purchase paid extensions). On the other hand, WooCommerce gives you full control over your website, you can also add a Shopify button to your WordPress site. This is something you don't get with Shopify.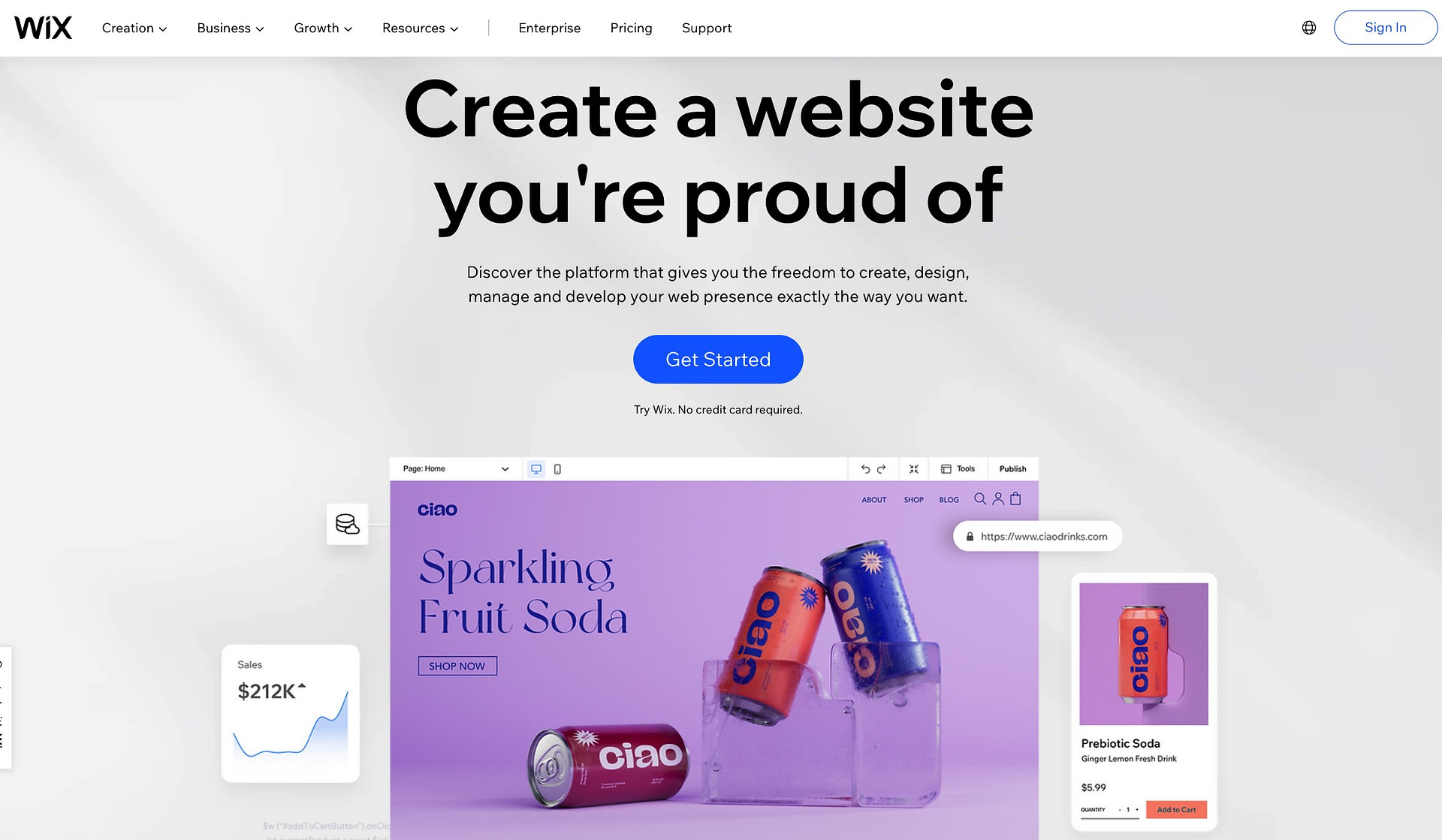 When it comes to Wix, it's the Business and Ecommerce plans that interest us since they are the only ones that let you accept online payments. This platform is affordable and offers complete design freedom using friendly drag and drop interface.
💵 Pricing:
Three plans are available – Business Basic $32.00 per month, Business Unlimited $32 per month and Business VIP $59 per month, billed annually. There's a free domain voucher for one year. All plans remove the Wix branding and offer unlimited bandwidth.
⚙️ Why Wix Ecommerce is a good Shopify alternative?
Wix's design flexibility will find favor with brand conscious businesses.
Drag and drop features, loaded with page layout tools, make website editing easy.
500+ beautiful templates (many of them free) to choose from, as compared to Shopify's limited template collection.
Built-in product videos function (five hours to unlimited video hours) to showcase and sell/rent your videos.
Cheaper plans and no need to worry about transaction fees.
Lets you modify the URL for each page and optimize for SEO.
Easy integration of your online store with your website.
At the heart of it, Wix is a general-purpose builder, while Shopify keeps its focus on ecommerce. Therefore, stores with a bigger budget that need strong ecommerce features will prefer Shopify as a long term option. However, you'll be able to manage all transactions and accept payments securely from the Wix dashboard.
Square started off as a tool to help business owners accept credit card payments. It has since gone on to build a broad set of flexible tools that can do a lot for any business. It doesn't matter if you're starting a new website, accepting payments on your current website, or accepting orders for your restaurant, Square has tools to help out. And conveniently, you pay only for what you need.
💵 Pricing:
There's no start up cost with Square, and you can launch your online store for free. However, you pay 2.9% + $0.30 for each transaction. To remove Square branding, choose the Plus plan for $29 per month (+ transaction fees).
⚙️ Why Square is among the best Shopify alternatives?
Sell online even without a website by simply creating Buy buttons, QR codes, and Payment links using Square Online checkout.
Add secure Square payments to existing site using integrations.
A number of versatile POS options that connect with Square hardware for easy built-in payment processing.
Share online via social media, email, text or on your website.
Fast and easy customized checkout pages with easy payment options, like Google and Apple Pay.
Able to accept tips and one-time/recurring donations.
Lets you track payments and fulfill orders through shipping and pickup, all without customers having an account or separate app.
Seamless integration with hundreds of third party tools.
Square can take over all the functions of a small business. If your business revenue comes chiefly from in-store sales, Square with no monthly fees and exclusive Square payment processing is a good choice.
Weebly is a hosted platform that is now part of the Square suite of products. It packs in a website builder and a bunch of professionally designed templates. What makes it an attractive ecommerce option is the set of strong marketing and ecommerce tools that it includes.
💵 Pricing:
To build an online store, you'll need to choose from paid plans that are pegged at $10 per month, $12.00 per month, and $26 per month, paid annually. All paid plans include a free custom domain, free SSL security, unlimited storage, and removal of Weebly ads. Most ecommerce and marketing features are included only in the higher plans.
⚙️ Why Weebly is a possible Shopify alternative?
Weebly keeps things simple.
Easy-to-use drag and drop builder and customizable themes help you with branding and personalizing your store.
Weebly doesn't charge on transactions.
It relies on Square Online to receive payments. There's Stripe and PayPal as well.
Assists in lead capture using pop-up notifications.
Weebly offers a free forever plan for basic use.
Hands down, Weebly is the more affordable platform. Consequently, it's a better fit for small stores and businesses. Shopify is way more expensive but is worth the cost in terms of the functionality it offers.
Zyro is a website builder that gives you all you need to start, manage, and grow your business online. It includes a number of advanced features, yet it's a great option for beginners. It offers stunning, designer-made templates that can be customized with zero coding skills.
💵 Pricing:
Using our link, reduced price plans start at $1.99 per month, with the ecommerce plan at $1.99 per month that allows you to sell online. That rate is applicable only for a one-year subscription. If you choose to pay monthly, the per month cost is higher. All plans include unlimited storage and bandwidth and regular ecommerce features. The ecommerce plan allows up to 500 products with over 20 payment options, email notifications, order management, and more.
⚙️ Why Zyro counts among the best Shopify alternatives?
Smooth and clean interface helps you launch your store in minutes.
Set of easy-to-use tools helps to build a full-fledged online store.
Zyro comes with AI backed marketing features, like Business Name Generator, Writing Tool, Logo Builder, and Slogan Generator.
100% commission free.
Access to a library of one million+ images.
Image upscaling, resizing, and background removal features available.
All plans come with a reliable cloud hosting and lightning fast page load speed.
All-in-all, Zyro is an easier-to-use website right from the start. It offers a greater number of free themes as compared to Shopify themes. Smaller stores may prefer to start with Zyro.
If you choose Zyro, we've got a special discount! Make sure you use one of the Zyro links on this page. Going through them will result in two things: (1) they are affiliate links, which means that we receive a small commission if you buy through them, (2) it will give you first 3 months for free + up to 71% discount for premium plans + free domain for a year. You won't get this discount if you visit the Zyro site in any other way.
Final words on the best Shopify alternatives
All these Shopify alternatives have the potential to set you up for success. The key is to know what you want your ecommerce tools to do for you.
Out of the Shopify alternatives featured in this post, we have three frontrunners that we can recommend:
If you're looking for a solution that gives you more features for the same price, go with BigCommerce.
If you want 100% control over your online store, your server, and your domain name, you need to go with WooCommerce. Here's how to get started with WooCommerce.
If you want an all-in-one website system – not just for the ecommerce part of the operation but the rest of the business's online presence – then use Wix.
Lastly, in case you're looking for free ecommerce options, check out this post.
Let us know what you think of these best Shopify alternatives in the comments below. Have you found your favorite here?
Free guide
4 Essential Steps to Speed Up
Your WordPress Website
Follow the simple steps in our 4-part mini series
and reduce your loading times by 50-80%. 🚀
Free Access
* This post contains affiliate links, which means that if you click on one of the product links and then purchase the product, we'll receive a commission. No worries though, you'll still pay the standard amount so there's no additional cost on your part.