Searching for the best photography WordPress themes?
Sharing your photographs with the world has never been easier, thanks to social media platforms. However, if you're a professional photographer, social media alone isn't enough – you also need a website of your own.
With WordPress, you can create a fantastic-looking website quickly. Combine this platform with the right photography theme, and you'll have everything you need to show off your pictures in all their glory.
In this roundup, we're going to introduce you to ten of the best photography WordPress themes. Let's get to it!
What to look for in a photography theme
It can be difficult to select a photography theme that actually benefits your website. If you explore some of your favorite photographers' sites, you may notice that a lot of them look stunning, but are a pain to navigate.
A surprising number of photography themes rely too much on animations or use galleries that don't work well when used to house large portfolios. As a result, potential clients might have trouble finding your best work or be driven away by slow pages.
With that in mind, here's what you'll want to look out for in the best photography WordPress themes:
Multiple gallery options
Simple navigation
In-depth customization settings
With photography themes, you may also get the occasional premium gallery or slider plugin bundled in. Those can come in handy, but you shouldn't base your decision on the freebies. Instead, focus on each WordPress theme's core experience, and its ease of use for your future visitors.
Ten best photography WordPress themes
Still not sure where to begin? Here are ten of the best photography WordPress themes to get you started, chosen based on the above criteria.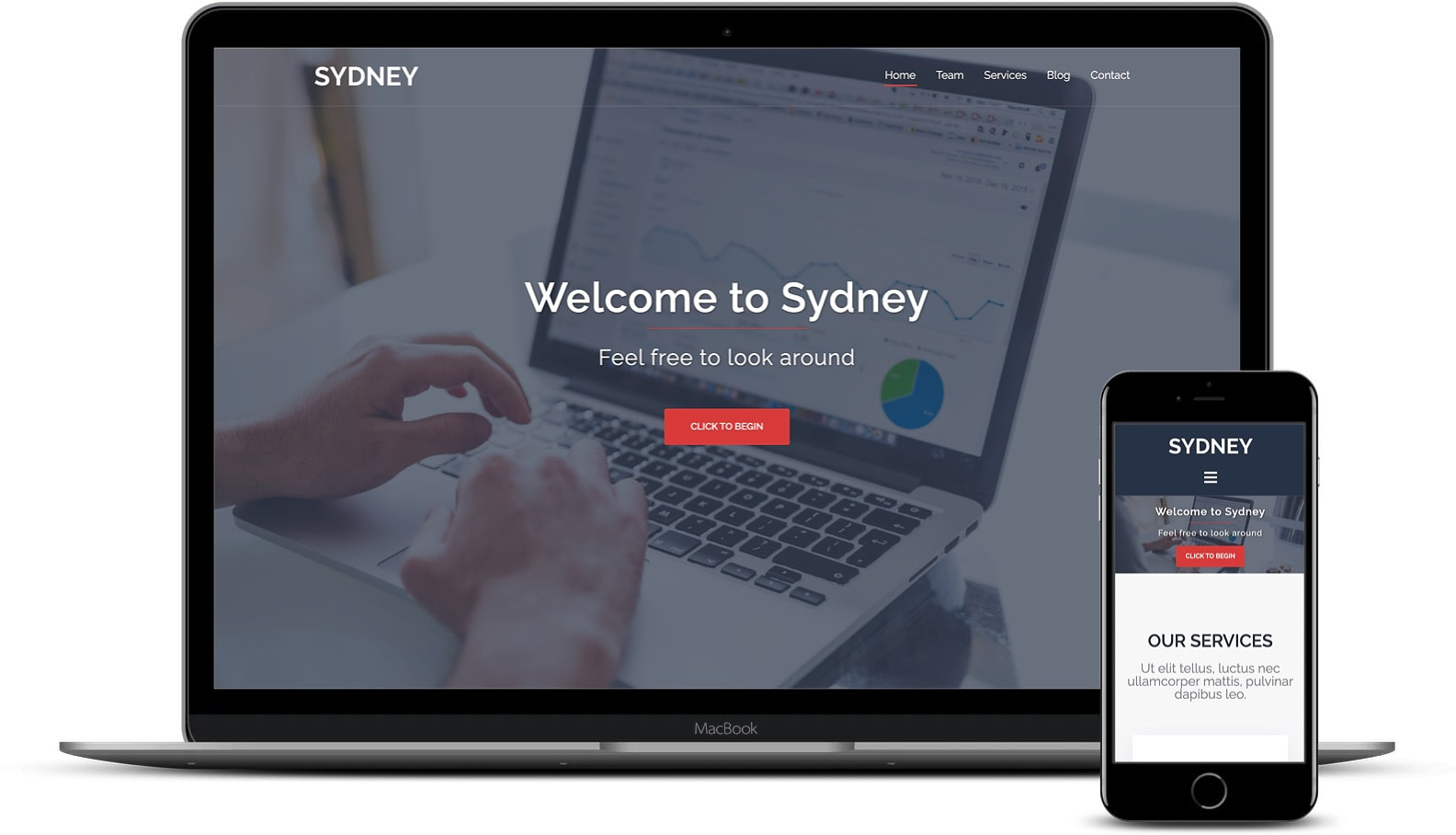 Sydney is a theme built with the needs of businesses and freelancers in mind. If you work as a photographer for hire, Sydney enables you to set up a portfolio site on WordPress that looks highly professional.
Using Sydney, you can include a breakdown of what services you offer, show off your work using galleries segmented by category, and even feature client testimonials.
Sydney offers a broad range of built-in options that you can use within the WordPress customizer. If you want to tweak its elements even further, it also integrates with Elementor Page Builder, enabling you to change any aspect of its style.
Key Features:
Offers a broad range of built-in customization options
Works seamlessly with Elementor
Enables you to include customer testimonials, service breakdowns, and social media icons
Neve is a lightweight, highly-customizable multipurpose theme. Its focus on performance is critical for photography websites since you'll likely be uploading a lot of high-resolution images.
With Neve, you can easily perfect your portfolio's layout using the WordPress Customizer. This theme also works seamlessly with most popular page builder plugins, which enables you to tweak any element you want even further.
The free version of Neve includes several designs for photography websites you can set up in minutes – and the premium version includes the stylish Photographer template. Neve Pro adds even more designs, compatibility with WooCommerce, and further options to make your life easier.
Key Features:
Is built as a performance-oriented theme
Works with Elementor, Beaver Builder, WP Bakery, Divi Builder, and more
Provides multiple layout options for portfolios
Airi is a multipurpose theme that's built for agencies, startups, businesses, and portfolio websites. As a photographer, you can take advantage of Airi's pre-built website demos to set up an online portfolio very quickly.
As far as customization goes, Airi keeps things simple. The theme includes a lot of built-in options you can use with the WordPress Customizer, and it works well with Elementor.
Airi also integrates with WooCommerce, which means you can use it to expand your photography business online. For example, you could sell prints or even high-resolution digital files of your pictures.
Key Features:
Offers plenty of options for building creative portfolios
Includes built-in theme customization features
Integrates with Elementor and WooCommerce
Divi is a multipurpose theme that offers options for almost any type of website. This theme's key strengths are its custom page builder plugin (the aptly-named Divi Builder) and the broad selection of site demos you can import.
Learning how to use the Divi Builder can take a while, but you get plenty of options for photography website designs right out of the box. If you have a tight budget, however, keep in mind that Divi licenses start at $89 per year.
Key Features:
Provides a broad library of website layouts
Includes a custom page builder plugin with in-depth customization options
Before we move on to more niche photography themes, let's go over one last multipurpose option. Uncode comes with a truly massive selection of ready-to-go designs. That includes 30 unique options for creative agencies and portfolio sites alone.
As far as style goes, Uncode's designs get top marks, although they do rely a little too much on transition effects for our liking (which impacts navigation). Furthermore, its front-end builder isn't quite as flexible or as in-depth as options like Elementor and Divi Builder.
Key Features:
Includes a massive library of pre-built page designs
Comes with a front-end page builder
Ohio is a theme designed specifically for photography portfolios and creative agencies. It includes over 20 ready-to-go templates, which look fantastic on mobile devices in particular (even better than on desktops).
What really sets Ohio apart, however, are its customization options. Ohio includes its own theme customization panel with dozens of settings. With those options, you can customize almost every aspect of the theme's style.
If you want to build pages from scratch, Ohio also includes over 300 custom shortcodes and elements you can use with the WPBakery Page Builder plugin.
Key Features:
Looks fantastic on mobile devices
Offers an in-depth theme customization menu
Includes hundreds of custom shortcodes for adding specific page elements
Boldlab is a smart option for photography portfolios and art shops. Its design is a lot more modern than most of the other themes on this list. That makes it an excellent choice if you want your portfolio to look unique.
Using Boldlab, you can experiment with different portfolio layouts, depending on how you want to show off your photos. This theme also includes a lot of microinteractions, which make it feel more dynamic without bogging the navigation down.
For easier customization, Boldlab works seamlessly with both Elementor and the WPBakery Page Builder plugin.
Key Features:
Provides multiple portfolio layouts to choose from
Incorporates an elegant use of microinteractions that makes navigation more dynamic
Works with the Elementor and WPBakery
If you're trying to launch a photography business, Reflector is the kind of theme that can make that process a lot easier. This theme gives you a lot of options when it comes to galleries, portfolio layouts, and image sliders.
On top of that, it also enables you to set up service pricing pages, and it works well with WooCommerce. The result is a theme you can use to sell your prints, services, and more, all packaged into a very classy design.
Key Features:
Offers service price lists for photography businesses
Includes pre-built service price inquiry forms
Works with WooCommerce out of the box
As you've probably noticed, most websites use vertical layouts. To move through galleries, you'll need to scroll down. With Fluxus, you can switch things up and use horizontal navigation to show off your pictures at larger sizes.
Moving through Fluxus' horizontal galleries feels fluid, and the theme enables you to use tags to filter the items you see. In case you're not a fan of page-builder plugins, Fluxus works perfectly with the Block Editor. It's a simple theme that enables you to set up a gorgeous, minimalistic portfolio quickly.
Key Features:
Offers a minimalistic horizontal gallery layout
Incorporates arrow-key gallery navigation
Works with the Block Editor
Photography includes all the functionality you could possibly want as a photographer in the digital age. This theme enables you to choose from dozens of pre-built designs, as well as multiple portfolio and gallery layouts, all of which look impressive.
You'll also get a lot of extra features with Photography. You can set up client accounts with private galleries, password-protect images, disable right-clicking on your site, and more. It even enables clients to mark approved and rejected photos in their private galleries, and it can sync your pictures with Adobe Lightroom.
Key Features:
Includes client accounts and private galleries
Enables you to password-protect images and disable right-clicking
Lets clients approve and reject photographs
Syncs your galleries with Adobe Lightroom
How to choose the best photography theme for your website
A lot of photography themes look stunning, but they're not easy to navigate because they prioritize style over functionality. The best photography WordPress themes are those that manage to balance both of those elements.
If you're still not sure which photography theme is the best fit for you, here are three suggestions, depending on what you need:
Choose Neve if you want a lightweight theme that's easy to customize.
Use Photography if you want access to client-management functionality.
Go with Boldlab if you want an easy-to-use theme that looks attention-grabbing.
Once you've picked your favorite theme, we have lots of great resources to help you get up and running:
Do you have any questions about WordPress photography themes? Let's go over them in the comments section below!
Free guide
4 Essential Steps to Speed Up
Your WordPress Website
Follow the simple steps in our 4-part mini series
and reduce your loading times by 50-80%. 🚀
Free Access