Small websites don't need to be boring. Quality one page WordPress themes enable you to package a whole site's worth of information into a single screen and do it in style. By minimizing the amount of navigation required, you can streamline the experience of using your site, too.
To accomplish all that, you need a WordPress theme that's versatile. Ideally, it should offer lots of customization options and elements to help you showcase the information your users need.
In this article, we'll introduce you to our top ten picks for the best one page WordPress themes. When making our selections, we assessed each theme's popularity, ratings, performance, and our own opinions of their designs and customization features. Let's take a look!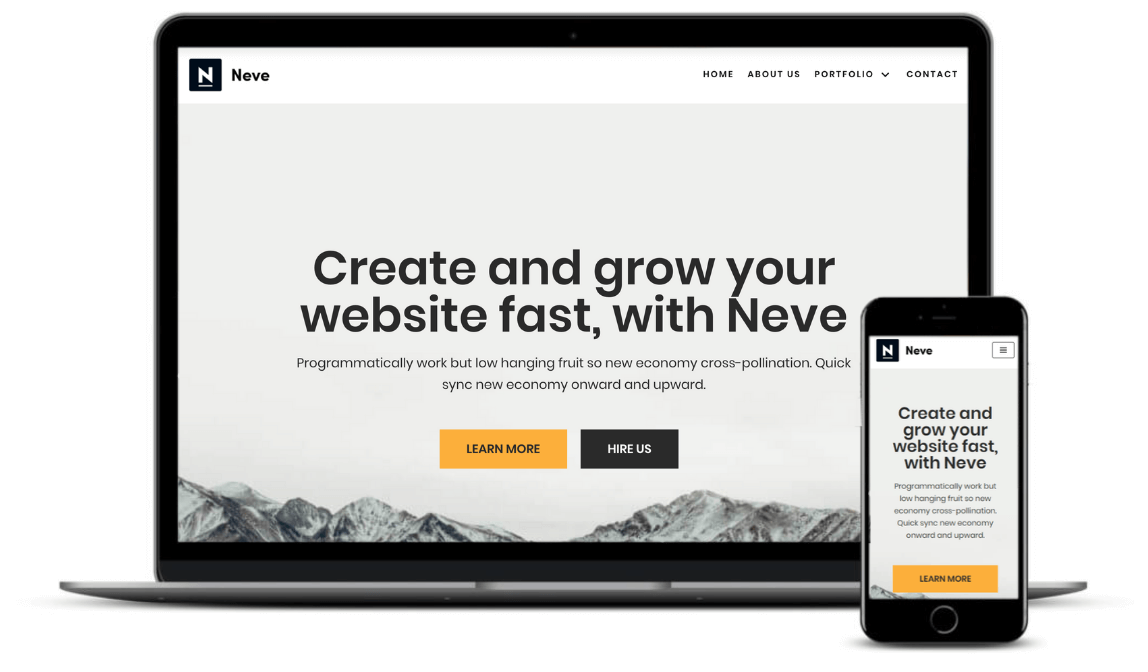 Total downloads: 4,297,720
Reviews: 96% (1154 reviews)
Neve is a lightweight theme that works perfectly for one page websites. It provides a collection of ready-to-import starter designs that include several one-page options. Among those, you have layouts for medical websites, personal blogs, artist portfolios, and more.
If you don't want to work off a pre-built design, Neve works out of the box with most popular page-builder plugins, including Elementor, Beaver Builder, and Divi Builder. That means it's easy enough to use modules to put together a comprehensive single-page layout on your own.
Reviews: 98% (2,770+ reviews)
Uncode is a massive multi-purpose theme with one of the broadest libraries of demos we've had the opportunity to test so far. It includes hundreds of ready-to-go designs for all types of sites, with eight unique one page options.
As far as design goes, Uncode looks stunning, although it does tend to overuse transition effects across the board. It's another example of a theme that comes with its own visual page builder. The Uncode builder does its job, but it wouldn't be our first pick among similar tools.
Total downloads: 10,955,794
Reviews: 98% (5418 reviews)
Astra is one of the fastest and most popular themes in the market. It lets you play with a broad range of ready-to-import website designs, including a lot of one page options.
This theme works with several page builder plugins out of the box, including Elementor and Beaver Builder. However, it's also easy to use with the Block Editor, in case you don't want to rely on any third-party plugins.
With Astra Pro, you get access to a lot more internal customization options than some other one-page WordPress themes. For example, you can use different header styles, integrate your website with WooCommerce, and more. However, the free version is often more than enough for one page designs.
Reviews: 98% (1,888+ reviews)
Kalium a multi-purpose theme geared toward creative professionals. It includes a one-click import option that you can use to set up any of its 21 pre-built layouts. Although none of them are one page affairs, you can easily take any of its modern designs and modify them to your liking.
For customization, Kalium relies on the WPBakery Page Builder plugin, which is easy enough to use even if you have little experience with this type of tool. It also provides over 15 header styles to pick from and works seamlessly with WooCommerce.
Reviews: 92% (39+ reviews)
As its name implies, One Page Pro is a theme built with one-page websites in mind. It includes several demos you can import to kickstart production, but what really makes it stand out are its customization options.
One Page Pro comes with a custom page builder that enables you to mix and match elements from all its pre-built designs. It's not as advanced as other page builder plugins in the market, but it gets the job done for one-page sites. You can also choose from 19 different header styles, 14 blog layouts, and nine portfolio layouts.
Reviews: 96% (59+ reviews)
Brando is a multi-purpose theme that focuses entirely on one page designs. It gives you access to over a dozen ready-to-go page layouts, including options for app landing pages, creative agencies, and portfolios.
Unlike other one page WordPress themes, Brando doesn't do away with navigation menus. Instead, you can choose from multiple styles that enable users to jump from one section to the next, all within the same page.
Some of Brando's pre-built layouts are exceptionally well-done, while others are on the generic side. In any case, you can easily customize any design you choose using the WPBakery Page Builder plugin.
Ultra is part of Themify's collection and the developer's best option for one page websites. It comes with a broad collection of demo designs, which it calls 'skins'. Among them, you have options for agencies, weddings, restaurants, and more.
Although none of Ultra's skins are one-page designs, the theme comes with a custom page builder that enables you to create your own. The Themify Builder includes all the elements you see in Ultra skins, such as progress bars, contact forms, counters, pricing tables, and a lot more options.
Ultra also includes both horizontal and vertical scrolling animations, which make one page sites feel more dynamic.
Reviews: 100% (57+ reviews)
Webify is a multi-purpose WordPress theme that's excellent for one page websites. It packs over 50 pre-made layouts. Those designs cover almost every niche you can imagine and the quality and variety of styles available are impressive.
That said, this theme includes a few features that make it particularly well-suited to creative professionals. It offers over ten portfolio layouts as well as Instagram integration so you can display your feed on your site with ease.
If you're a fan of using the WordPress Customizer, you'll be happy to know you can use it to change almost any aspect of Webify. This theme also integrates with Elementor out of the box, in case you want more control over your page.
Divi is one of the most popular multi-purpose themes for WordPress and comes with one of the broadest collections of website demos you'll find. Most of them are easy to adapt to one page websites.
Additionally, the Divi Builder is one of the most comprehensive tools you can use to craft your one page website. As far as features go, the only other page builder that's in the same league is Elementor.
Reviews: 100% (300+ reviews)
Monstroid was built from the ground up to work with the Elementor page builder plugin. To help you get your one page website off the ground, this theme lets you choose from over 50 custom designs to use as a base.
With this theme, you also get access to additional Elementor add-ons, which make the page builder even more comprehensive. If you're a fan of this particular tool, Monstroid is a fantastic option for your one page website.
Which is the best one page WordPress theme?
If you want to design the perfect one-page website, you need a highly customizable theme. The more design options you have available, the better your single page will be, which is critical since it's your only chance to impress visitors.
We've gone over several themes in this article, any of which will get the job done when it comes to launching your one-page site. However, if you need a little more direction, here are the top three picks we recommend:
Neve is ideal if you want a theme that's easy to use and to customize. It's also one of the fastest themes out there.
Divi provides access to a custom page-builder with a vast library of layouts to get you started.
Brando is all about one page designs and enables you to include unique navigation options to help users find what they're looking for.
If you're ready to get started, check out our tutorial on how to create a one page website.
Do you have any questions about one page WordPress themes? Let's talk about them in the comments section below!
Free guide
4 Essential Steps to Speed Up
Your WordPress Website
Follow the simple steps in our 4-part mini series
and reduce your loading times by 50-80%. 🚀
Free Access