Email is one of the most effective marketing channels for large businesses nowadays. However, mass email senders that deliver optimal results at affordable prices can be challenging to find.
An email blast helps you reach large audiences with ease. The best mass email senders will also enable you to track and resolve issues that may impact conversions. You shouldn't have to worry about whether your campaigns reach their destinations, so it's essential to choose a reliable provider.
In this article, we've compiled a list of five of the best mass email senders for bulk email blasts. Let's take a look!
Choosing a mass email sender for your bulk email blasts
Unlike a regular email marketing campaign, an email blast is less targeted. The goal is to reach as many subscribers as possible, which can be costly when using a regular email marketing platform.
You might be sending out thousands of high-impact messages to multiple recipient lists. Therefore, it's crucial to use a reputable bulk email service to ensure you don't get blacklisted.
When choosing a mass email sender, you'll want to look out for the following features, depending on your needs:
Contact management tools
High email delivery rate
Email and workflow automation
Detailed analytics
A drag-and-drop email builder
Integration with WordPress
We'll get into each mass email service in detail. But before we do that, here's a quick rundown of what you should expect to pay for bulk email blasts with each tool:
Keep reading to learn more!
Five best mass email senders for bulk email blasts
Now that we've discussed what to consider when choosing a mass email service, let's look at five of the best bulk email senders.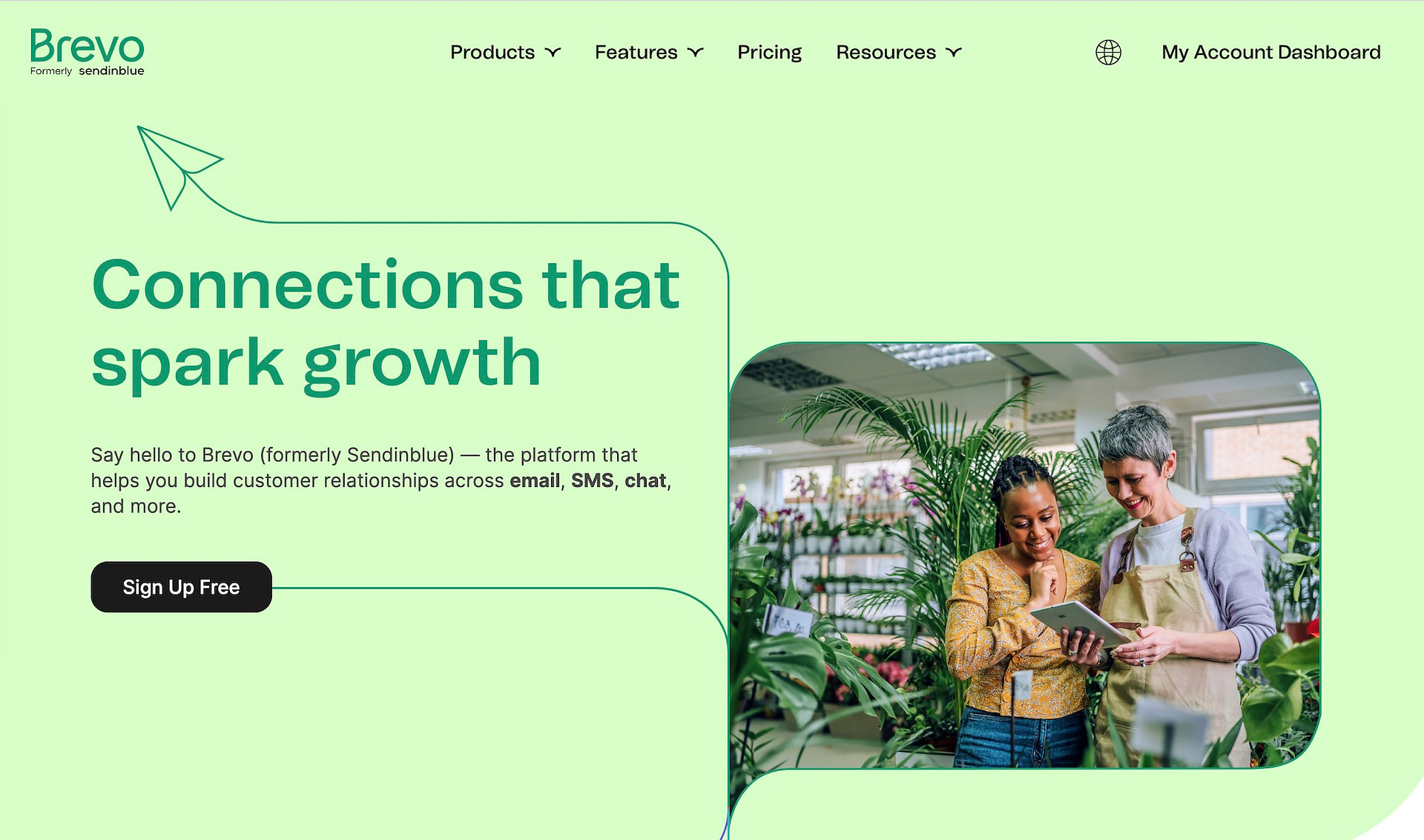 Brevo is an all-in-one email marketing service that offers excellent deliverability and lets you optimize your send time. You can manage all your contacts using your existing customer relationship management (CRM) tool as well as gain access to various resources to help you generate leads.
It also comes equipped with detailed reporting tools to monitor deliverability and performance. It's an optimal option for less tech-savvy users who want to set up bulk email blasts without much hassle.
Some useful features include:
Access to a variety of templates
An easy-to-use drag-and-drop builder
Customizable opt-in form
Email marketing automation with workflow templates
Seamless integration with platforms such as Magento and WordPress
Brevo's pricing is based on the number of emails sent. Different packages are available depending on your needs. For instance, you'll pay $65 for up to 100,000 emails per month when you opt for the Lite plan. There is also a flexible Premium option available if you intend to send more than 100,000 emails per month.
👉 Learn more in our full Brevo review
SendGrid is an excellent choice for users who need more advanced customization and integration options. It gives you access to scheduling, testing, and contact management tools all in one platform. Additionally, it enables you to set up effective workflows and automate almost everything based on simple triggers.
Even though it's a robust platform, SendGrid is still very user-friendly thanks to its drag-and-drop functionality. More tech-savvy users will be able to integrate the application with other software via SMTP API or web API. You can also add contacts via CSV file upload.
Other features include:
Access to real-time analytics
Support for multiple user roles
Ability to send emails via custom domains and dedicated IP addresses
Bounce, unsubscribe, and spam reports
Email template builder
Customizable landing pages
A/B testing functionality
SendGrid's more advanced API plans are adaptable to your needs. For 50,000 monthly emails, you'll pay around $19.95 per month. You can also scale up to the Pro plan, which allows you to send up to 1,500,000 emails per month.
Elastic Email is a powerful email marketing platform with an a la carte pricing system that lets you choose exactly which features you want. It enables you to schedule multiple campaigns at once with various settings such as send time and more. It also boasts advanced algorithms to help you identify invalid or duplicate messages.
You'll be able to effectively track your campaign's engagement and delivery results thanks to Elastic Email's visual analytics tools. Moreover, this platform is highly scalable, allowing you to send as many as 100 million emails per month.
Other features include:
Drag-and-drop functionality
Easy template modification
A/B email testing of multiple campaign variations
Contact management tools
Customizable forms
Elastic Email's pay-as-you-go pricing is extremely affordable. You'll pay $0.09 per 1,000 emails if you opt for the Email API plan with basic features.
There are also optional add-ons that might increase the price. For example, a private IP costs $1 per day or email attachments cost $1 per GB.
Amazon SES (Simple Email Service) is a highly advanced, cloud-based email marketing platform that integrates easily with developer applications. Like Elastic Email, it's an extremely scalable option that lets you pay as you go. It's not as user-friendly as the other solutions on this list, but when it comes to deliverability, Amazon SES comes highly recommended.
You can choose between various methods for sending out email blasts, such as SMTP or SES API. This tool also integrates smoothly with other AWS services, such as AWS IAM.
Other features include:
Advanced email personalization options
Advanced dashboard with real-time analytics
Easy tracking of sent and delivered emails
Sender reputation management
Email testing
Amazon SES is affordable, costing only $0.10 per 1,000 emails you send.
Additionally, if you host your application with Amazon EC2, you can send up to 62,000 messages per month for free.
Finally, our last recommendation is Mailjet, a reliable and user-friendly email service provider. It lets you create highly engaging emails thanks to its drag-and-drop builder. Additionally, you can integrate it with your current server configuration to send emails via SMTP or API.
Mailjet comes with a robust analytics tool to help monitor and optimize your campaigns. You'll also be able to convert your results into handy data to use in your segmentation efforts.
Some of Mailjet's other features include:
Extensive support documentation
Email personalization options
Intuitive layout designs
Real-time analytics
Contact management tools
For mass email sending, you can use Mailjet for $35 to send up to 100,000 monthly emails with no daily limit if you opt for the Essential plan.
Conclusion
Using a reliable mass email service provider can boost the effects of your marketing strategy and help you achieve your targets. However, finding a suitable sender that makes bulk email blasts hassle-free and cost-effective can be challenging.
To make your life easier, we've compared five of the best mass email senders for bulk email blasts:
When it comes to affordability and deliverability, you can't go wrong with Amazon SES. However, if you're looking for a beginner-friendly, all-in-one solution, you should consider Brevo (formerly Sendinblue) as it offers excellent support for your marketing needs.
Do you still have any questions about choosing a mass email sender tool? Let us know in the comments section below!
Free guide
4 Essential Steps to Speed Up
Your WordPress Website
Follow the simple steps in our 4-part mini series
and reduce your loading times by 50-80%. 🚀
Free Access
* This post contains affiliate links, which means that if you click on one of the product links and then purchase the product, we'll receive a commission. No worries though, you'll still pay the standard amount so there's no cost on your part.