Searching for a way to run your email marketing campaigns without breaking the bank? The free email marketing services on this list will all let you send thousands of emails every month without spending a dime. 📧🚫💰
No shade on Google, but if you consider yourself a professional user or even close to it, then you're going to appreciate these options a lot more than Gmail.
Continue reading for an in-depth look at each free email marketing service's sending limits and their pros and cons. At the end we'll also share our personal recommendations.
Best free email marketing services: a bird's eye overview
Before we get our hands dirty, below is a quick summary of the free email marketing tools that we'll cover, along with the various limits on each service's free plan:
Best free email marketing services in 2023
Now that you have a top-level understanding of the send and subscriber limits that each free email marketing service offers, it's time to dive deeper into the fine details. Feel free to click on any one of the top free newsletter platforms to skip directly to it.
📚 Table of contents:
💡 Note: While there are other popular email marketing solutions on the market as well (e.g., ConvertKit, HubSpot, GetResponse, AWeber, and SendPulse), we felt that their free offerings were either not up to par with the lineup that we settled on in the end, or were nonexistent. Keep reading for a deeper look at each service that made our final cut.
👉 For beginners: you can check our article what is email marketing? to find out how to get started.
1. Brevo (www.brevo.com)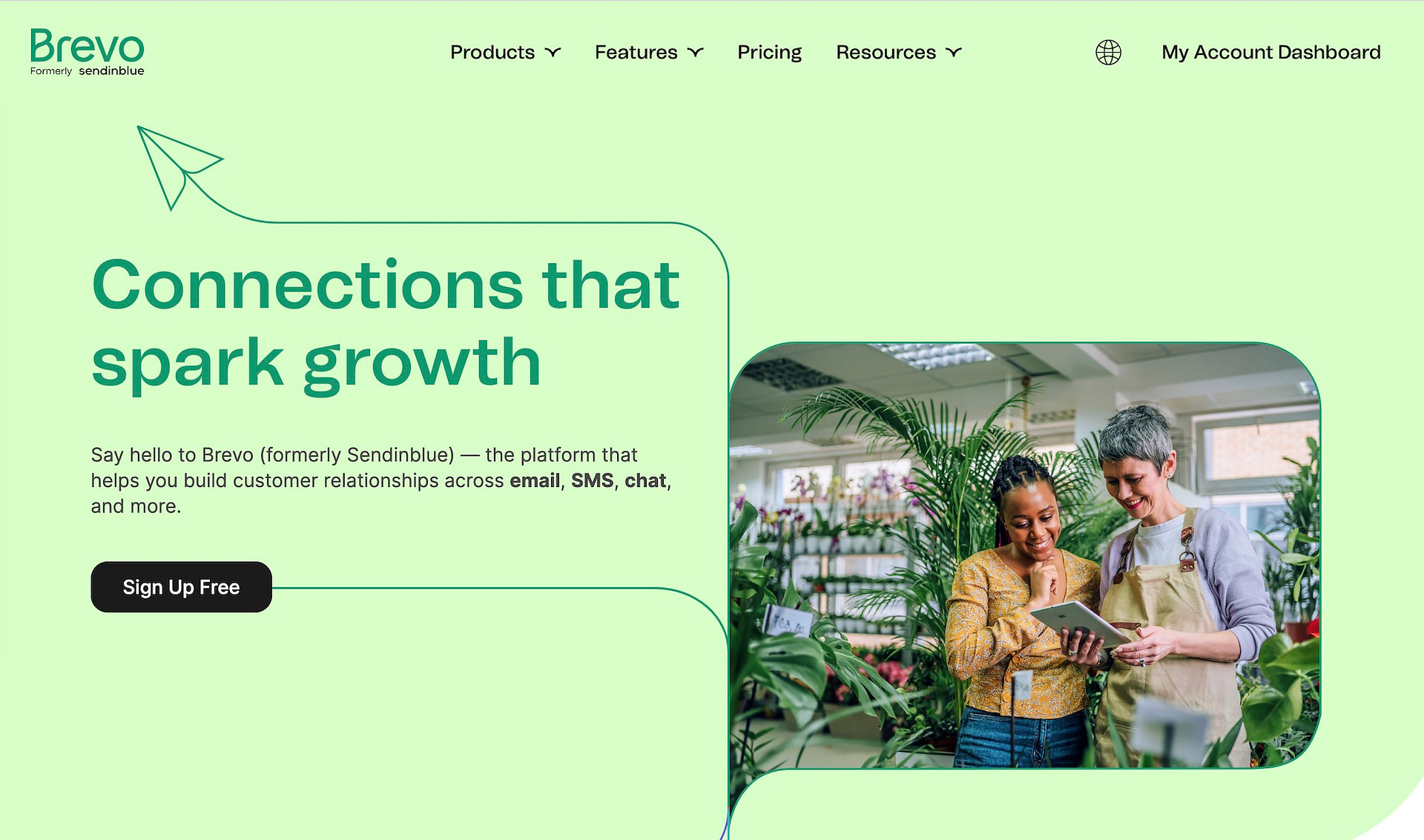 Brevo (formerly Sendinblue) has an excellent free plan (unlimited subscribers) along with support for SMS text message sending, transactional emails, in-depth analytics, and powerful marketing automation features all in the same dashboard. Brevo is also headquartered in France, so GDPR compliance is already built into the service, giving you one less thing to worry about.
📧 How many emails/subscribers do you get for free?
The free plan lets you have an unlimited number of contacts, but you're limited to 300 email sends per day. For that reason, this platform might not be a great option if you want to send out email blasts to all your subscribers at the same time. However, if you have lots of drip campaigns, it's quite flexible because there's no subscriber cap.
The first upgrade is called the Starter plan, which offers 20,000 email sends per month at $25.00 per month. Also, the daily sending limit is removed.
💻️ What makes this one of the best free email marketing services?
A strong drag-and-drop email editor with an email template library
Impressive email marketing automation with things like autoresponders, coupons in emails, and page tracking
Integrations with tools like Google Contacts, RSS, and Typeform
Email customer support
A shared inbox
A chat window to install on your website
Email and SMS personalization for adding customer contact information to the messaging
Customizable signup forms
Advanced segmentation to organize contacts and only send some emails to certain users
Integrations with top ecommerce platforms like Shopify and WooCommerce
Real-time reporting to view campaign performance
An integrated sales CRM (Customer Relationship Management) software for tracking customer interactions and team member workflows
🖱️ Who should use it?
Because of the way the free account works, Brevo is a great email marketing solution if you have lots of subscribers but you don't need to message them all at the same time. If you're only going to be sending below 300 emails each day, you won't have to pay for Brevo at all. It's also a good option for WordPress users because of its official plugin, and it has better analytics than many of the other free email marketing services.
As a fun side fact, we actually use Brevo here at Themeisle for our email marketing needs. This means if you sign up for our newsletter, it'll arrive in your inbox via Brevo. Oh, and if you were wondering, the answer is "yes, you should sign up for our newsletter."
2. Mailjet (www.mailjet.com)
Mailjet is one of the best free email marketing tools due to its clean templates, generous monthly email send limits, and unlimited subscriber limits. Not only that, but you're able to tap into webhooks, APIs, and SMTP Relays for integrations and a more customized email marketing experience.
The email marketing service includes email automation, and an intuitive email editor with no need to touch a line of code; it's an entirely drag-and-drop tool where you start with Mailjet email templates and utilize preset building modules.
Along with options to use SMS marketing and embedded forms, you can't go wrong with Mailjet.
📧 How many emails/subscribers do you get for free?
The free plan from Mailjet allows an unlimited number of subscribers, and 6,000 email sends per month. The daily email sending limit is 200.
The next stage in Mailjet pricing starts at $15 per month for the Essential plan, which has no daily sending limit but a limit of 15,000 emails per month. Also with that plan, you can remove the Mailjet logo, segment lists, and add a sub-account.
💻️ What makes this one of the best free email marketing services?
Unlimited subscribers
High monthly sending limit to support transactional emails and drip content for small businesses and startups
Basic statistics with numbers on open, click, and non-delivery rates
Access to webhooks, APIs and SMTP Relays for advanced configurations
A drag-and-drop email builder with beautiful templates
Integrations with ecommerce platforms like WooCommerce, Shopify, and PrestaShop
Simple subscription forms with GDPR compliance
Integrations with business tools like Click Funnels, Dropbox, Evernote, Facebook, Google Drive, Salesforce, Jira, and more
Personalization for all email campaigns
🖱️ Who should use it?
The free version of Mailjet, despite its modest daily sending limit, boasts a respectable monthly limit, making it a solid choice if your emailing habits involve smaller audiences per day. It shines particularly in applications like drip campaigns, transactional emails, and compact newsletter lists. Also, its comprehensive integration capability and API access make it a highly adaptable option if your requirements include interfacing with virtually any software.
3. MailerLite (www.mailerlite.com)
MailerLite is one of the best free email marketing services that's a little younger than much of its competition. Overall, that can be a good thing, considering it offers one of the highest monthly sending limits, and you gain access to a more manageable platform designed around simplicity.
MailerLite provides sleek templates, a simple email builder, and even some advanced tools that you'd more-so expect to find from behemoths like Mailchimp; we're talking ecommerce platform integrations, automations, and some premium options to sell subscriptions and digital products through your emails.
📧 How many emails/subscribers do you get for free?
The free plan has a subcriber limit of 1,000, and the second highest monthly send limit on our list: 12,000. And while the free version will give you access to nearly all of the essential email marketing features, you might have to miss out on some advanced features.
By that, we mean you won't get access to the entire collection of email templates, live chat support, heatmaps, or A/B testing. You can unlock all this (and activate unlimited monthly emails) for $9.00 per month. If you want to increase the subscriber limit to 2,500, you need to spend $15 per month instead.
💻️ What makes this one of the best free email marketing software?
Beautiful email newsletters with an intuitive drag-and-drop builder
Access to a portion of the email template library
12,000 monthly email sends for up to 1,000 subscribers in the free plan
1 website and 10 landing pages
Unlimited audience segmentation
Unlimited pop-up and embeddable forms for collecting email addresses
Interest groups, segmentation, and full subscriber management
Single-step automations with a builder to create your own
Ecommerce integrations like WooCommerce and Shopify
Optimization tools like A/B testing, quizzes, surveys, test emails, and specific timezone delivery
API documentation and access
All reporting, including data for list growth, ecommerce sales tracking, and automation reports
Basic email support
🖱️ Who should use it?
MailerLite can be used for creating landing pages (ideal for webinars), pop-ups, and surveys from a single dashboard. Coupled with heatmap testing, it's an optimal solution for startups, small to mid-sized businesses, and ecommerce stores seeking superior email deliverability. This is particularly beneficial given the generous monthly sending limits, which make it easier to send newsletters without hitting the limit.
4. Mailchimp (mailchimp.com)
Mailchimp is a favorite of many bloggers and small businesses because it was one of the first big email services to offer a completely free plan. Not only that, but Mailchimp has some excellent ecommerce and email marketing tools.
📧 How many emails/subscribers do you get for free?
The free plan includes 1000 email sends per month for up to 500 subscribers. The daily send limit is 500.
If you would like to upgrade to unlimited emails it costs $13.00 per month – the catch is that you can only have up to 500 subscribers – which isn't the case for some alternatives.
💻️ What makes this one of the best free email marketing services?
Support for 500 contacts
The drag-and-drop editor, along with the beautiful templates for a wide range of industries and occasions
A form builder and embedding tool
A landing page builder to promote products and send people to your website
Tools for Instagram and Facebook ads and posts
A marketing CRM to keep track of communications with customers
One free Mailchimp domain name to use for a website
A subject line assistant
Integrations with over 250 tools like Shopify, Eventbrite, and Salesforce
A "Creative Assistant" that lets you import fonts, colors, and images, then matches email campaigns with your brand
Surveys for gaining feedback from customers
1-step automation tools with options for abandoned carts, welcome campaigns, and product recommendations
Award-winning customer support available 24/7
🖱️ Who should use it?
We like Mailchimp for small business proprietors and bloggers who value superior design aesthetics and exceptional email deliverability that assists in boosting your open rates. It's also nice if you have an ecommerce store or intend on automating emails and you'd like to make your automation workflows more efficient.
The downside is that the free plan subscriber limit has been continuously reduced. Once renowned for a generous 2,000 subscriber allowance on the free plan, Mailchimp has gradually scaled this down to a current limit of 500. So, we mainly recommend it for beginner bloggers and businesses just getting off the ground.
5. Benchmark (www.benchmarkemail.com)
Benchmark boasts a speedy email designer made just for busy marketers. You can edit photos right in the editor and the templates are great for a wide variety of businesses. At the same time, their free email marketing tool is easy enough to use while still providing elements for lead generation, marketing automation, and reporting.
📧 How many emails/subscribers do you get for free?
The free plan lets you have 500 subscribers and send up to 3,500 emails per month, which only allows you to keep a small list, but you can then send multiple newsletters to those subscribers each month.
To upgrade, you'll pay $15 per month for 500 subscribers and unlimited monthly sends. That initial premium plan also opens up features like advanced lead generation, advanced reporting, and professional-level marketing automation.
💻️ What makes this one of the best free email marketing services?
A very fast builder with drag-and-drop elements for constructing campaigns in minutes
RSS email campaigns
Sign up forms and basic segmentation of your lists
Basic drip campaigns for marketing automation
Delivery management for all email campaigns
Polls and surveys to get feedback from users
Unlimited video storage and a 10 MB gallery for storing images
All the reports that you would receive in the premium plans, including statistics for opens, clicks, heatmaps, live engagement, opens per hour, and Google Analytics tracking
Over 1500 integrations for platforms and apps like Shopify, Zoho, Google Drive, WooCommerce, eBay, and Twitter
Basic online customer support
🖱️ Who should use it?
Benchmark is an excellent solution if you need free surveys, polls, segmentation, and drip campaigns. We like it best for businesses with very small lists that need to send out multiple newsletters each month, considering that's the only way you'd manage to keep it free with a 500 subscriber limit and 3,500 monthly send limit.
6. Omnisend (www.omnisend.com)
Omnisend is one of the best free email marketing services for users who are running online stores only. It quickly pulls products from your store and generates beautiful, fun emails and opt-in forms to grow your contact list.
The Omnisend platform is by far the top email marketing suite for ecommerce stores, particularly considering its incredibly smooth integrations with Shopify, WooCommerce, Wix, and Bigcommerce. All your products sync perfectly with the emails–even elements like product pricing and descriptions. The free plan is quite impressive, too, with A/B testing, pre-built automations, and stunning ecommerce-oriented templates.
📧 How many emails/subscribers do you get for free?
The Omnisend free email marketing plan offers you support for an unlimited subscriber list, along with 500 email sends per month. Keep in mind that it's unlimited for your subscriber list, but you can only contact 250 of those people, making it more restrictive than it appears. So, you can build your list as large as you want, but technically can only send 2 emails per month to 250 of those subscribers.
Upgrading depends on whether you need more emails per month or more advanced features. The pricing plans start at $16 per month for 500 subscribers and 6,000 email sends. The email count and pricing goes up with more subscribers.
👉 If you're interested in any of those paid plans, you can get a limited time discount of 20% – for Themeisle readers only. The discount is valid for six months on the Standard plan. Click here and redeem the coupon code INFLUENCES206 during checkout.
💻️ What makes this one of the best free email marketing software?
Unlimited subscribers on your email list, along with the ability to contact 250 of those subscribers, with a limit of 500 email sends per month
Up to 500 web push notifications
Up to 60 SMS messages
Professional templates that you can customize in the drag-and-drop builder
Basic sales and performance reporting
Automations and workflows, some of which are prebuilt, like for sending receipts or abandoned cart emails
A/B testing for all email campaigns
Custom audiences for Facebook, and the Google customer match tool
Automation splits for personalizing messages to certain segments
Conditional content blocks
Personalized ecommerce recommendations within your emails
Unlimited segmentation with contact profiles and customer lifecycle stages
Popups, landing pages, and a wheel of fortune tool
Pre-built forms for marketing, GDPR consent, and targeting
High-quality sales and performance reports for audience growth, campaign performance, and segment scoring
🖱️ Who should use it?
Omnisend is a great free option for ecommerce stores. You can still use this free email marketing software if you're not running a store, but you'll miss out on a lot of the unique functionality. It's mainly for startup ecommerce businesses that may eventually upgrade to a premium plan once they grow.
7. Sender (www.sender.net)
Sender is yet another email service with a wonderful free plan. In fact, it offers the highest monthly sending limit of all services on this list. It also provides push notifications to go along with its segmentation, integrations, and stunning designs that you can customize.
Filled with email automation features, multiple styles of email editing, and a product picker, the Sender service is definitely one to keep your eye on.
📧 How many emails/subscribers do you get for free?
The free plan lets you have up to 2,500 subscribers and send 15,000 emails per month.
The next upgrade is $8.33 per month for 2,500 subscribers and 30,000 emails per month. There are also pay-as-you-go plans.
💻️ What makes this one of the best free email marketing services?
The highest monthly send limit on this list, with 15,000 per month, along with a generous subscriber limit of 2,500
A SPAM checker
Google Analytics tracking
Email automation for things like welcome emails and drip campaigns–with automation splits and custom triggers
Pre-built workflows
Unlimited segmentation with contact profiles
Three types of email editing: HTML, plain text, and drag-and-drop
Access to email templates, an image library, image editor, and product picker
Personalization for all email campaigns
Multiple form types with popups, embeds, custom fields, and GDPR consent
Strong analytics that tracks audience growth, clicks, campaigns, and automations
Integrations with tools like Shopify, PrestaShop, and WordPress, along with access to the API
24/7 chat support
🖱️ Who should use it?
Sender keeps costs low as you upgrade, and the free plan has higher limits than most competitors, making it ideal for small businesses that plan on growing, but not too fast. The service provides more for startups and small businesses than it does gigantic enterprises.
Which of these free email marketing services is right for you?
All things considered, here are our final recommendations:
Have any other questions about the best ways to get started with email marketing on a budget? Let us know in the comments section!
Free guide
4 Essential Steps to Speed Up
Your WordPress Website
Follow the simple steps in our 4-part mini series
and reduce your loading times by 50-80%. 🚀
Free Access
* This post contains affiliate links, which means that if you click on one of the product links and then purchase the product, we'll receive a small commission. No worries though, you'll still pay the standard amount so there's no additional cost on your part.