The process of creating a new website can seem daunting, particularly if you have little experience with coding. One solution is to use a page builder like Elementor to design your site quickly, and customize it fully.
If you go that route, however, you'll also want a free WordPress theme that integrates seamlessly with your chosen plugin. With this in mind, let's check out 12 of the best free Elementor themes!
Best free Elementor themes in 2023
📚 Table of Contents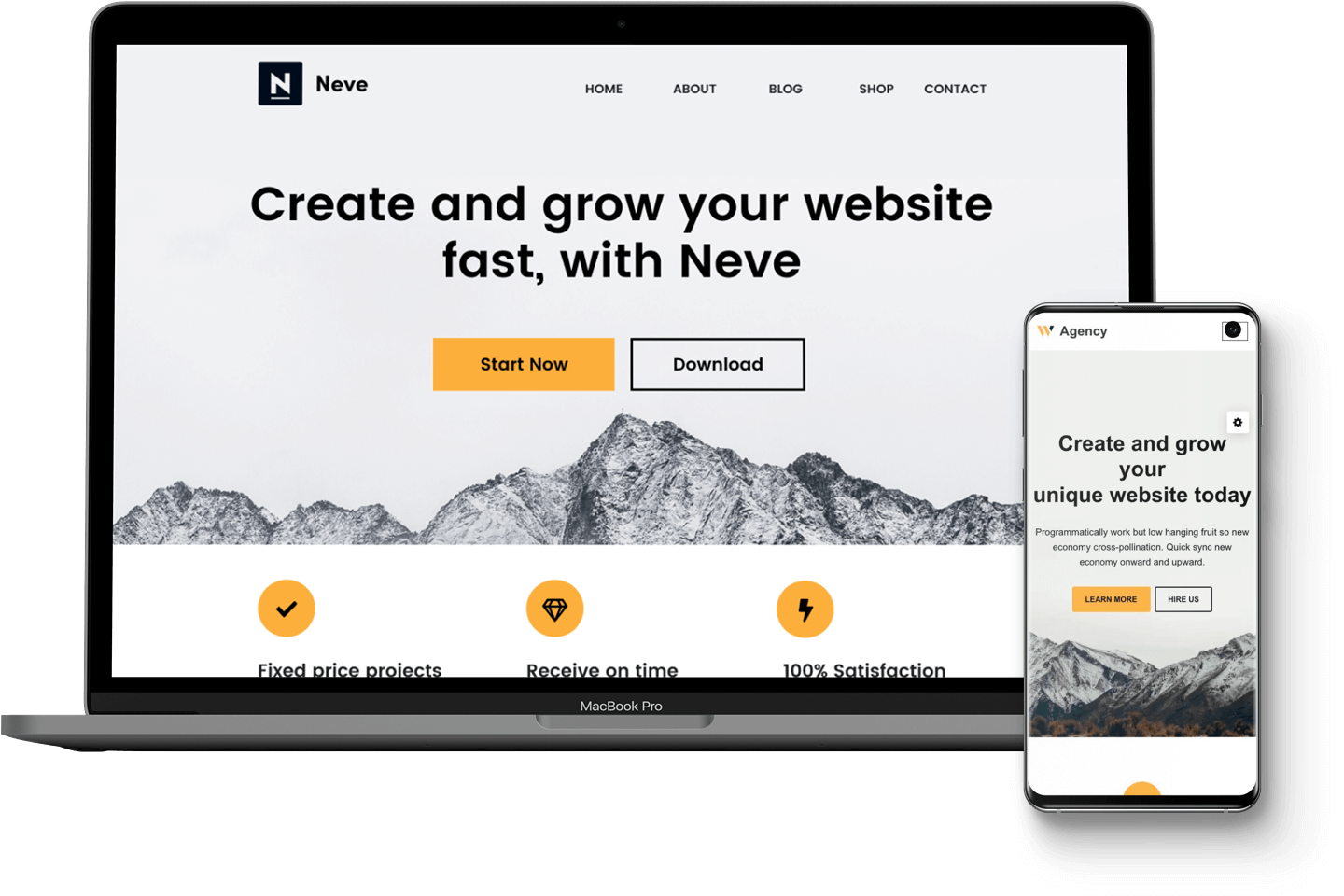 First up, Neve helps you create minimalist one-page sites for just about any purpose. This theme is also lightweight and fully-responsive, in order to give your site a Search Engine Optimization (SEO) boost.
Key Features:
Provides SEO-friendly structure and code, to create high-performing sites
Enables you to see real-time changes while editing in the live customizer
Offers demo content that you can import in a few clicks and use as is
Neve was built with page builders in mind, and its demos and live customizer provide even more tools that make it easy to create your perfect site. Most importantly, the demo content was built using Elementor, and you have the option to install the plugin automatically during the import process.
With this theme, you shouldn't ever have to touch a line of code to get the results you want. That means it's perfect for those with little experience, as well as professional developers who need to work quickly.
Sydney is a business-focused theme that provides a wide range of customization features. It puts the tools to create a conversion-driving site right at your fingertips, and is one of the best free Elementor themes for beginners to pick up.
Key Features:
Offers access to Google Fonts, parallax backgrounds, and social icons
Provides custom Elementor blocks to help build your home page
Enables additional customization with theme options and custom headers
If you're building a new site for your business, Sydney's front-page Elementor blocks will make the process a breeze. What's more, its extensive customization options help you incorporate your company's branding.

This theme stays true to its name, as it focuses heavily on customization. With Customify, you'll gain access to a header and footer builder, as well as the ability to make visual changes in the customizer.
Key Features:
Provides dozens of pre-made sites you can import and adapt to your needs
Includes a header and footer builder for extended customization
Offers fast performance with an SEO-friendly design
With five demos built specifically for use with Elementor, you'll be able to craft your site's pages quickly and effortlessly. Plus, Customify's additional customization features will help you tweak the demos to fit your needs.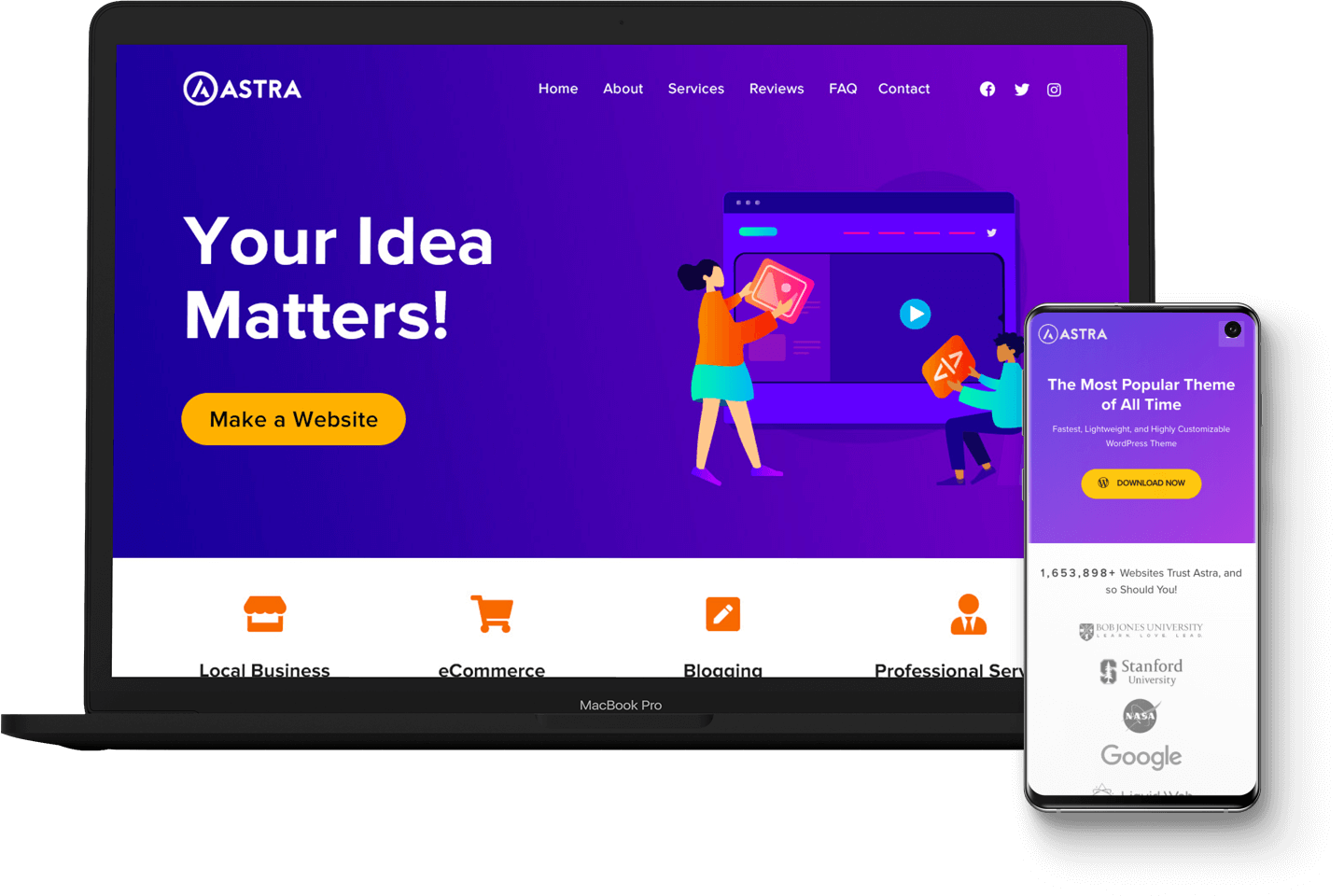 Customization is key to the Astra theme. In addition to page builder integration, it enables real-time previews in the native WordPress customizer, so you can feel confident in your changes.
Key Features:
Provides a huge selection of pre-built sites that are optimized for Elementor
Enables high performance, by eliminating jQuery
Includes a wide variety of customization settings, including layouts, header options, and more
Astra's expansive library of demos makes it one of the best free Elementor themes for any type of site. Pairing one of their pre-built sites for Elementor with the page builder itself will ensure that any additions or changes you want to make are simple.

With a name like Page Builder Framework, it's no surprise that the next of our best free Elementor themes is all about easy website creation. Flexibility is listed as a top highlight, and the customization process is quite streamlined.
Key Features:
Built to complement a variety of page builders, including Elementor
Provides ease of customization for color schemes, menus, and more in the WordPress customizer
Offers high page speeds with minimal bloat
By integrating seamlessly with Elementor (and plenty of other similar tools), Page Builder Framework makes building your site from the ground up easy. You'll have complete control, and endless customization options to explore.

Zakra is a free theme that has a focus on performance and security. Apart from effective functionality, expect good-looking templates and a straightforward interface. The theme dedicates over 60 demos to the Elementor page builder, all covering a diverse range of purposes.
Key Features:
Comes with almost 80 starter sites, among which 60+ are built for Elementor
Provides seamless integration with WooCommerce, so you can set up an online store with no effort
It's AMP ready, which means that your website will load fast on mobile devices
With Zakra's extensive library of ready-made demos, you can start online any type of business or personal project. It has various niche templates that you can simply import to your site in a few clicks. If you fancy a one-page website, Zakra has this option, too.

Hestia offers optimized code for creating clean and modern sites. It also works well with WooCommerce, which means it's a useful tool for putting together attractive and functional e-commerce stores.
Key Features:
Provides a lightweight structure, to get your SEO off on the right foot
Enables you to preview changes in the live customizer in real time
Includes demo content to get your site up and running quickly
Hestia is another top theme for beginners and development pros. It's flexible, making it useful for all kinds of website projects. Plus, Hestia's live customizer works seamlessly with Elementor to provide near-endless options, and it includes two templates designed from the ground up to be used alongside the page builder (an 'about our business' and a 'contact us' page).

OceanWP is a highly-popular option. It's scalable enough to work well for both small and large sites. Plus, it offers unique Elementor widgets to give your page builder an added boost and speed up site creation.
Key Features:
Provides over 60 demos to base your site on
Includes easy WooCommerce integration for online retailers
Offers fast page loading times and built-in SEO
OceanWP's Elementor widgets will mean smooth sailing when it comes to creating layouts and content. They make it easy to add functionality to your blog posts, image displays, and even your WooCommerce store.

Inspiro Lite is a lightweight portfolio & photography theme intended for photographers and videographers that want to make their work stand out.
Key Features:
Video background autoplay with YouTube, Vimeo, and self-hosted videos support
Elementor & Gutenberg integration with easy-to-use custom templates
Multiple Block Patterns to build pages easily with a unique design
All the features included in Inspiro Lite make it a perfect match for those who want to build a portfolio or eCommerce website. The theme features full integration with WooCommerce as well.

Few themes can boast as many Elementor-related features as Phlox. It provides a host of pre-built features that make it easy to set up pages and add individual elements.
Key Features:
Includes more than 30 exclusive Elementor elements
Provides access to a wide selection of demos and page templates
Enables the creation of compact, optimized pages without any coding required
Phlox's library of advanced elements provides additional functionality to Elementor, making it easy to add features such as testimonials and Google Maps. This theme includes the tools you'll need to build a portfolio site, blog, online store, or business site, with plenty of flexibility on offer. (read our full Phlox theme review here)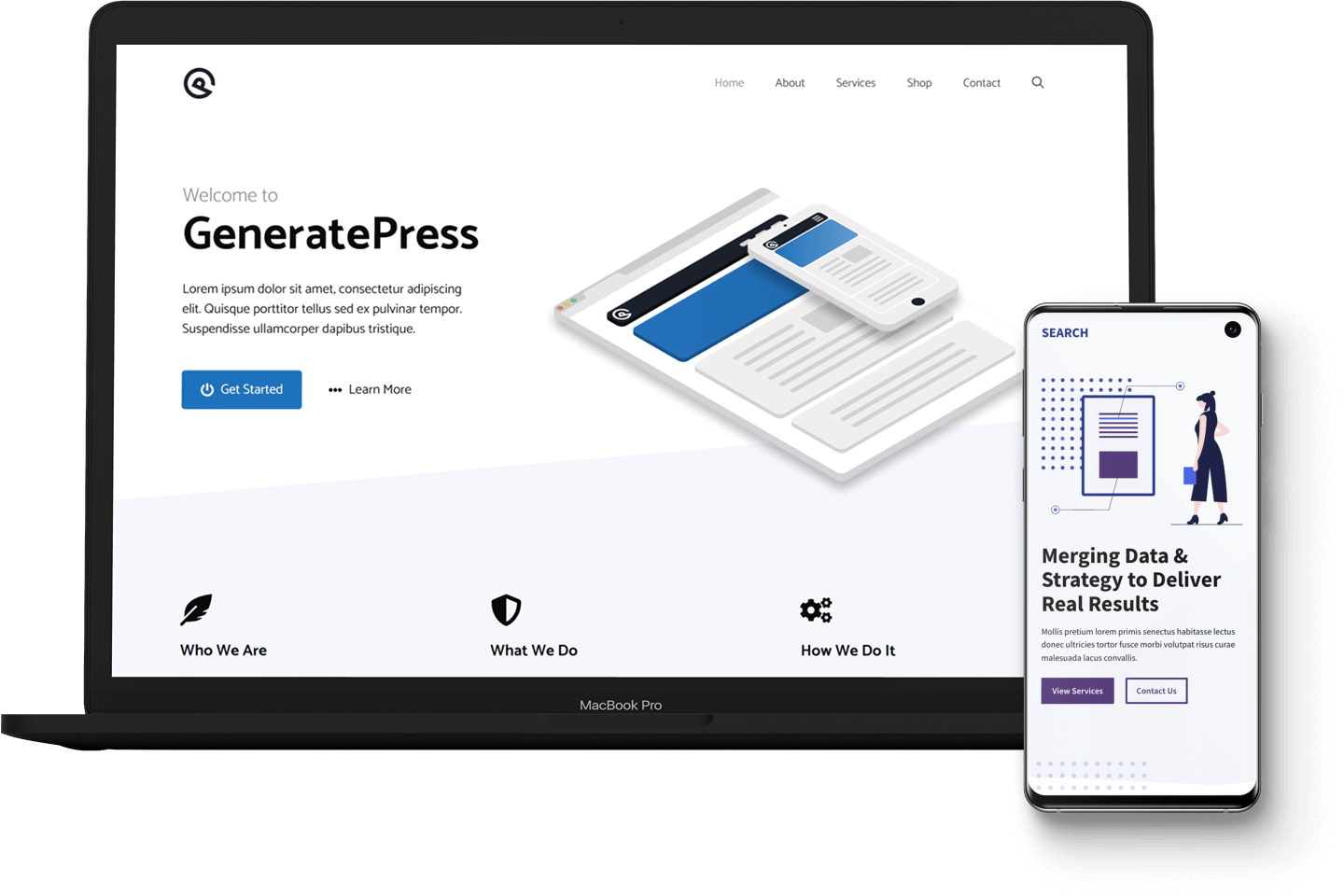 The GeneratePress theme prides itself on high standards of coding and accessibility. This keeps it stable and secure, as well as ensuring that almost anyone can browse your site.
Key Features:
Includes layout controls to customize padding, margins, sidebars, and more
Provides access to more than 10 Elementor-optimized demos
Offers a head start on SEO, with high page speeds
Combining GeneratePress' layout controls with Elementor enables you to customize each of your site's desktop and mobile pages. This simplifies the process of creating a responsive site that adapts well to whatever device it's viewed on.

If you're hoping to show off your content, Rife Free is a multipurpose theme that can help. It's ideal for portfolios and blogs, and has a one-page option for creating easy-to-navigate sites for small businesses.
Key Features:
Provides seven ready-to-use designs built for Elementor
Integrates with the Rife Elementor Extensions plugin for additional free templates
Offers access to post grid and writing effect features
For creatives, including writers and photographers, Rife Free is an ideal multipurpose theme. Its Elementor Extensions plugin and free demos give you more pre-built elements, so you can avoid any coding.

Best Free Elementor Themes: Performance Test Results
While page builders have a lot of merits, they're fairly 'heavy' plugins. In other words, they can have a tendency to slow down your site. Therefore, it's important to opt for a speedy theme to compliment your page builder.
That's why we decided to run a basic performance test on each of the best free Elementor themes we've looked at. To do this, we created a page template with Elementor, and then tested its loading times with each theme using Chrome DevTools.
Here are our results:
| | Score | First Meaningful Render | Time to Interactive |
| --- | --- | --- | --- |
| Neve | 69 | 3.4s | 4.1s |
| Sydney | 63 | 3.6s | 5.3s |
| Customify | 63 | 3.5s | 4.6s |
| Astra | 75 | 3.3s | 4.2s |
| Page Builder Framework | 72 | 3.3s | 3.9s |
| Zakra | 75 | 1.3s | 4.8s |
| OceanWP | 64 | 3.5s | 4.8s |
| Hestia | 63 | 3.7s | 4.4s |
| Inspiro | | | |
| Phlox | 50 | 4.4s | 7.1s |
| GeneratePress | 65 | 3.3s | 3.9s |
| Rife Free | 58 | 3.6s | 5.8s |
The "Score" column indicates the overall score assigned during the test. "First Meaningful Render" is when the page's main content was completely viewable (in seconds), and "Time to Interactive" indicates the moment when a visitor would be able to interact with all elements on the page. We'd suggest using this data, along with the features and other considerations discussed above, when choosing the best free Elementor themes.

Conclusion
When it comes to building your website, a page builder can take a lot of the potential stress out of the process. By combining the Elementor plugin and a theme designed to complement page builders, you can get a high-quality site up and running in no time.
Do you have questions about the best free Elementor themes we've introduced? Leave them in the comments section below!
Free guide
4 Essential Steps to Speed Up
Your WordPress Website
Follow the simple steps in our 4-part mini series
and reduce your loading times by 50-80%. 🚀
Free Access
* This post contains affiliate links, which means that if you click on one of the product links and then purchase the product, we'll receive a commission. No worries though, you'll still pay the standard amount so there's no additional cost on your part.