When it comes to choosing an ecommerce solution for your business, the possibilities can seem endless. When considering the best ecommerce platforms, you'll have to think about such things as your budget, what features and tools you need, and so on.

Since different platforms offer various features, it's important to choose one that aligns closely with your sales strategy and goals. To help you make that decision, we've put together a list of the top four best ecommerce platforms, including Shopify, WordPress, Wix, BigCommerce.

After we carefully go over the details of each one, we'll discuss how to choose the best ecommerce platform for your needs.

Let's get to it!

First up, Shopify is one of the most popular ecommerce platforms in the world. It's simple and easy to use, which makes launching a new store a breeze. It's especially well-suited to smaller brands with a low sales volume.
Key features 🗝️
Shopify uses a single dashboard to manage orders, shipping, and payments. This minimalist approach is perfect for new ecommerce owners.
In addition, this platform offers tools to help you create and build your business from the ground up. It will help you register a domain, design your website (Shopify themes), and market your business. You'll get support for running Google and Facebook ads, as well as for including title tags, meta descriptions, and product details in your store. Shopify also offers its own payment gateway (Shopify Payments), although you can still use other popular payment gateways like PayPal and Stripe (though Shopify charges extra if you use a different gateway).
If you're looking for a platform that can do a lot of heavy lifting on your behalf and that comes with plenty of support, then Shopify might be one of the best ecommerce platforms for your needs. On the other hand, if you are managing higher sales volumes or are a more experienced seller, then you may want to consider other platforms.
Customization options ⚙️
Shopify has few customization options for your store's appearance and functionality. If you are looking for a simple way to sell some products, it's a solid choice. However, larger brands may find that it lacks scalability and advanced functionality.
Ease of use 🚦
One of Shopify's greatest strengths is how easy it is to use. Its simple dashboard and straightforward system make it perfect for someone who is new to ecommerce and simply wants to hit the ground running.
Additionally, you won't have to worry about security and maintenance, as Shopify handles those things for you.
Price 💰
Depending on the features you want, Shopify plans range from $25.00 to $299 a month. The basic plan enables you to sell an unlimited number of products, while the more advanced plans offer more accounts and options. Shopify will also charge you extra if you want to use your own payment gateway instead of Shopify payments.

2. WordPress + WooCommerce (or EDD)
WordPress is a website-building platform that enables you to set up an ecommerce store using a dedicated plugin. Two popular options are WooCommerce and Easy Digital Downloads (EDD). Both offer full integration with your website and are a great way to sell online, especially if you already have a WordPress site.
Key features 🗝️
WooCommerce is an open-source ecommerce platform built on WordPress. It lets you sell physical and digital products, and is modular and fully customizable. You also have complete control over the appearance and functionality of your ecommerce store, including thousands of extensions for everything from payments and shipping to marketing and accounting.
By the numbers, WordPress/WooCommerce is the most popular way to create an ecommerce store – even more popular than Shopify.
As we mentioned, another option you can try is Easy Digital Downloads. This ecommerce platform is ideal for those looking to sell only digital products. It has a number of extensions available to fit your needs and does not put any restrictions on the number of files you can sell.
Customization options ⚙️
Both plugins come with a lot of customization opportunities, as long as you are willing to work in WordPress. Since they are open-source tools, developers are free to code in any functionality they'd like.
Ease of use 🚦
Either plugin is fairly easy to get started with, especially if you're familiar with WordPress. If not, there may be a bit of a learning curve, but you can still get a functional store set up quickly.
Price 💰
WooCommerce is a free plugin, though most store owners will need to purchase at least a few premium extensions. As for Easy Digital Downloads, there's a limited free version, along with premium tiers that range from $99.50 to $499.50 per year.
You'll also need WordPress hosting to power your store. Dedicated WooCommerce hosting can be a good option if you choose to go with WooCommerce.
In a previous article, we share the best platforms for creating free ecommerce websites in case you want to go with a DIY solution.

Wix is one of the simplest ecommerce platforms. It's actually a general-purpose website builder that includes ecommerce functionality, rather than a tool 100% focused on ecommerce.
It's the 'no-frills' option, making it perfect for new online stores that intend to keep things small. It offers just enough features to get you started, but may not scale well alongside fast-growing stores.
Key features 🗝️
Wix is equipped with a drag-and-drop store builder and a large selection of templates for designing your ecommerce website. It has a simple shopping cart and a seamless checkout process, along with a number of options for displaying and showcasing your products. Other features include mobile optimization and customized 'thank you' messages.
This platform can be a solid choice if your business is brand new, and you're looking for an all-in-one option. It offers online hosting for your store at a very reasonable price, and won't require complex setup or additional tools.
Customization options ⚙️
Although Wix is very simple to set up, it does not have many customization options. If you're happy using a simple site builder with a pre-designed template, it can get your online store up and running in record time. However, you do run the risk of ending up with a 'cookie-cutter' look.
Ease of use 🚦
Overall, this is a great platform for beginners, as it's very easy to use and manage. All you have to do is sign up, build a quick website, and you're ready to begin selling your products.
Price 💰
Wix is one of the most affordable options on this list. You can get an online store up and running for just $32.00 per month.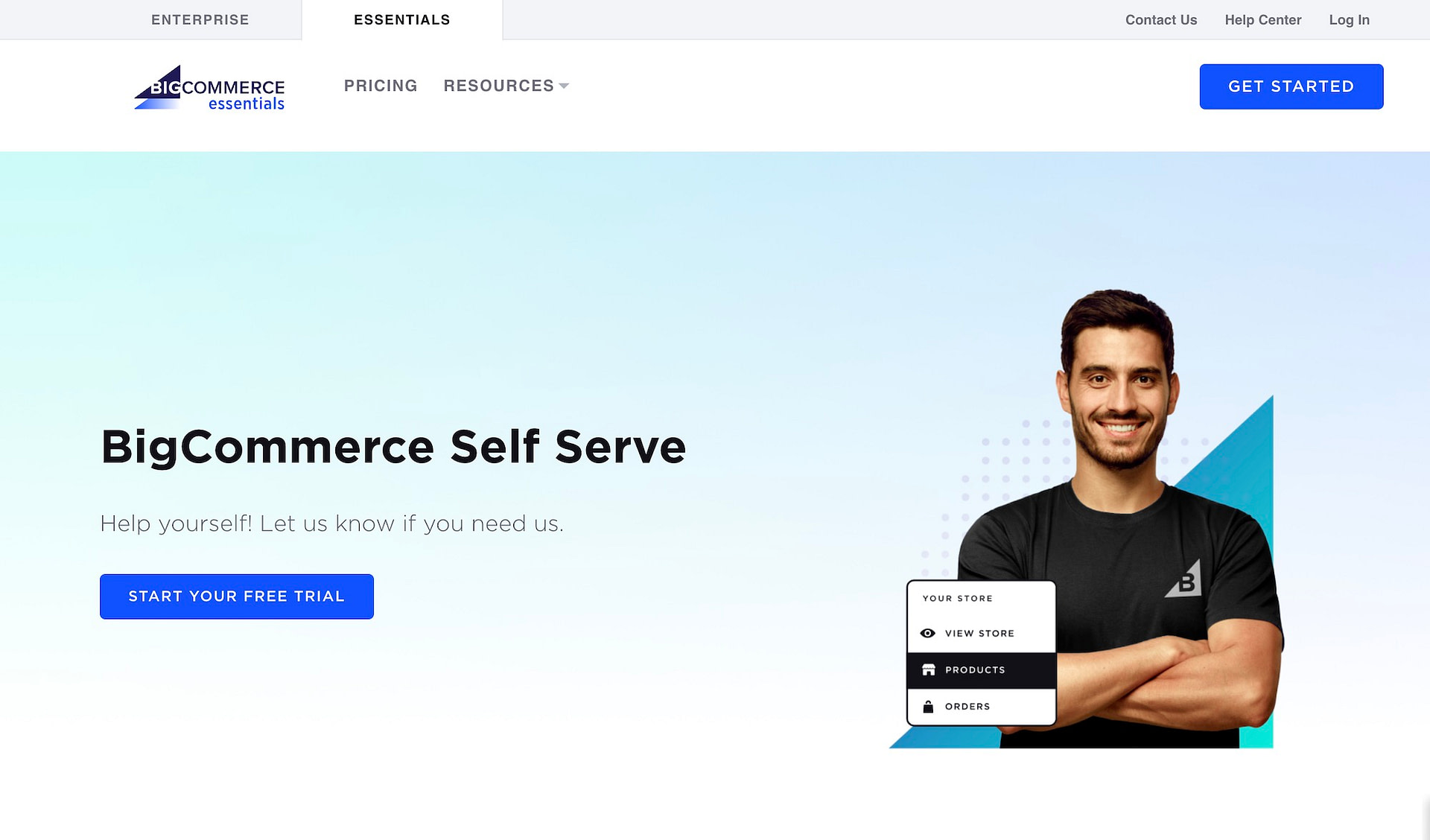 Finally, if you're looking for a fully-customizable platform that is used by new and enterprise-level ecommerce businesses alike, BigCommerce might be right for you. It has a wide variety of built-in features and options, so you can create your online store however you'd like.
Key features 🗝️
BigCommerce is an extensive platform. It has industry-leading uptime, advanced security, and integration with many different plugins and ecommerce apps. It also partners with all of the most popular payment gateways.
Furthermore, this platform is scalable. That makes it a great option if you think your business may grow quickly, and you need an all-in-one platform for building a full-fledged online store. If you're looking for an ecommerce platform that can do it all, BigCommerce is one of the best ecommerce platforms.
Customization options ⚙️
BigCommerce is highly customizable, with a back end that not only lets you manage your sales, but enables you to design your ecommerce website any way you choose. You can use the pre-built templates and other resources, or build your site from the ground up with the functionality that best suits your business.
Ease of use 🚦
This is a complex system with a lot of options and add-ons, which makes BigCommerce one of the more difficult platforms to get started with. However, it's not hard to use once you get past the initial learning curve.
Price 💰
BigCommerce offers both small business and enterprise plans. Small business plans start for as little as $29.00 per month.

How to choose from among the best ecommerce platforms
The bottom line is that when it comes to ecommerce, there's no one-size-fits-all option. The platform that is best for your business will depend on a number of factors, such as your sales and budget.
When deciding between the best ecommerce platforms, it may help to consider the following questions:
What payment gateways does the platform support? Are there any fees to use your preferred payment gateway?
Will it integrate with the other tools you plan to use?
Is there a way for customers to leave reviews?
How does the platform handle security and maintenance?
Can it scale as your business grows?
Is it mobile friendly?
If you're still not sure, our top recommendation for new ecommerce store owners is WordPress and WooCommerce. This combination of tools is very easy to get started with, yet incredibly flexible and scalable to meet your needs.

Final thoughts on the best ecommerce platforms
With so many options available for building your ecommerce store, it's hard to know which one to choose. The good news is that this surplus enables you to select the platform that caters best to the specific needs of your business.
To recap, here are four of the best ecommerce platforms to consider for your online store:
Do you have any questions about the best ecommerce platforms we featured here, or how to decide which one will fit your needs? Ask away in the comments section below!

Free guide
4 Essential Steps to Speed Up
Your WordPress Website
Follow the simple steps in our 4-part mini series
and reduce your loading times by 50-80%. 🚀
Free Access